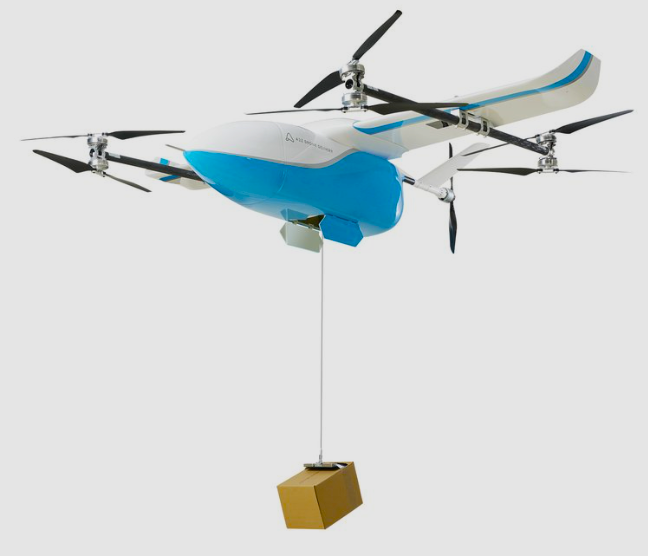 ---
01 June 2023
Delivery drones are uniquely capable of transporting payloads faster, cheaper and more sustainably than traditional vehicles or ships. While many last-mile terrestrial or seaborn deliveries are already possible with unmanned aerial vehicles, the unit costs of those deliveries need to continue to fall for the industry to truly scale.
At the recent AUVSI XPONENTIAL, A2Z Drone Delivery, Inc, developer of commercial drone delivery solutions, released its latest flagship commercial delivery drone, the A2Z Drone Delivery RDSX Pelican. With the RDSX Pelican's new hybrid VTOL design, A2Z has extended the range and payload capacity to handle up to 5 kg payloads on up to 40 km routes. The Pelican has also been designed to reduce the cost-per-kilometer of drone delivery, allowing drone service providers to more easily scale operations.
With its patented tethered delivery system, A2Z Drone Delivery, Inc. is developing innovative solutions to enable safe, accurate and low-noise drone deliveries. Focused on last-mile UAV delivery systems, A2Z is creating UAV delivery platforms capable of pushing drone delivery into the mainstream of logistics operations. Based in Los Angeles, C.A., A2Z originated as a drone delivery project at Brown University in 2016 and now services customers around the world which are leveraging its technology for a diverse array of applications.
A2Z Drone Delivery's first offering was its Rapid Delivery System (RDS), a drone agnostic winch system. By conducting payload deliveries from altitude, the A2Z solution enables deliveries from altitude where spinning propellers are kept far from people and property, mitigating consumer privacy concerns of low-flying drones while abating intrusive rotor noise. In 2022, the company rolled out the new RDS2 drone winch offering the highest payload capacity of any tethered delivery system on the market, and eliminating the need for specialty payload boxes. The just-launched RDSX Pelican can be purchased with the factory integrated RDS2 onboard.
RDSX Pelican Unit Economics
While localized labor costs are outside the manufacturer's control, in designing the new RDSX Pelican, the A2Z development team has put the unit economics of drone deliveries front and center. To maximize scalability of drone delivery ecosystems, the RDSX Pelican was designed to minimize operational costs for commercial drone delivery fleets. Boasting an attractive 13 cents/kg/km operating cost when fully loaded, the Pelican delivers the efficiency, payload capacity and reach needed to scale a commercial drone delivery operation.
A2Z was able to reduce these operational costs by simplifying the Pelican's airframe. With no ailerons, elevator or rudder, the Pelican's durable-yet-simple design eliminates common points of failure and exponentially extends operational time between maintenance overhauls. In short, the Pelican keeps the deliveries flowing longer. Designed to satisfy the 55-pound takeoff weight limitation for FAA Part 107 compliance, the Pelican is ready to go to work in the US and around the world.
"Here at A2Z Drone Delivery, our development is not just about maximizing performance, it's about creating usable tools designed to get work done," said Aaron Zhang, Founder and CEO of A2Z Drone Delivery, Inc. "A full-service drone delivery ecosystem will need a fleet of short, medium and long-range UAV platforms capable of depositing payloads in an array of settings. The new RDSX Pelican is the highly efficient, long range delivery platform in that last-mile fleet. It is thoughtfully designed to minimize potential points of failure, reducing the overall cost-per-kilometer of logistics operations, all while providing maximum payload flexibility."
Multiple Pelican Configurations and Availability
Available in multiple configurations starting at $29,000, the RDSX Pelican can be customized for an array of missions. The Pelican can be configured with the A2Z Drone Delivery RDS2 drone winch, or, for missions in which the drone is able to safely land at its destination, a simple servo-release mechanism can release payloads and expand the Pelican's payload capacity. Beyond logistics use cases like residential deliveries, the Pelican can be fully customized to suit unique mission criteria such as aerial mapping, drone inspection, forestry services, search and rescue operations, water sample collection, offshore deliveries, mining, and more.
The company is now accepting pre-orders for the RDSX Pelican which will be fulfilled on a first-come-first-served basis with initial deliveries expected for June 2023.
A2Z Expands Global Footprint
The company also recently expanded its global operations with a new test facility outside Shanghai, China. Dubbed "Ground Zero," the test facility allows A2Z's development team to test its next generation cargo drones and drone winches under real life conditions.
Over the last year, A2Z has been conducting daily autonomous beyond visual line of sight (BVLOS) parcel deliveries to real life consumers. With the facility situated near a mountainous bamboo forest popular with hikers, A2Z also partnered with a local campground to deliver food and beverages from the campground's café to hikers on the trails.
"The regulatory flexibility at our Ground Zero test facility really allows us to push the boundaries of autonomous unmanned deliveries, and the daily residential parcel deliveries we're conducting have given us amazing insights into how customers will interact with our drones," said Zhang. "While we've designed our just-launched RDSX Pelican to meet the Part 107 requirements for operations under current US rules, at Ground Zero our team is already developing the drone delivery solutions of tomorrow. Our testing there gives us the data needed to demonstrate our commercial UAV systems are safe, reliable, economic, and efficient. With the work we are doing there we can ensure our delivery drones are ready to take flight here in the US and around the world as the regulatory environments continue to shift."
Learn More