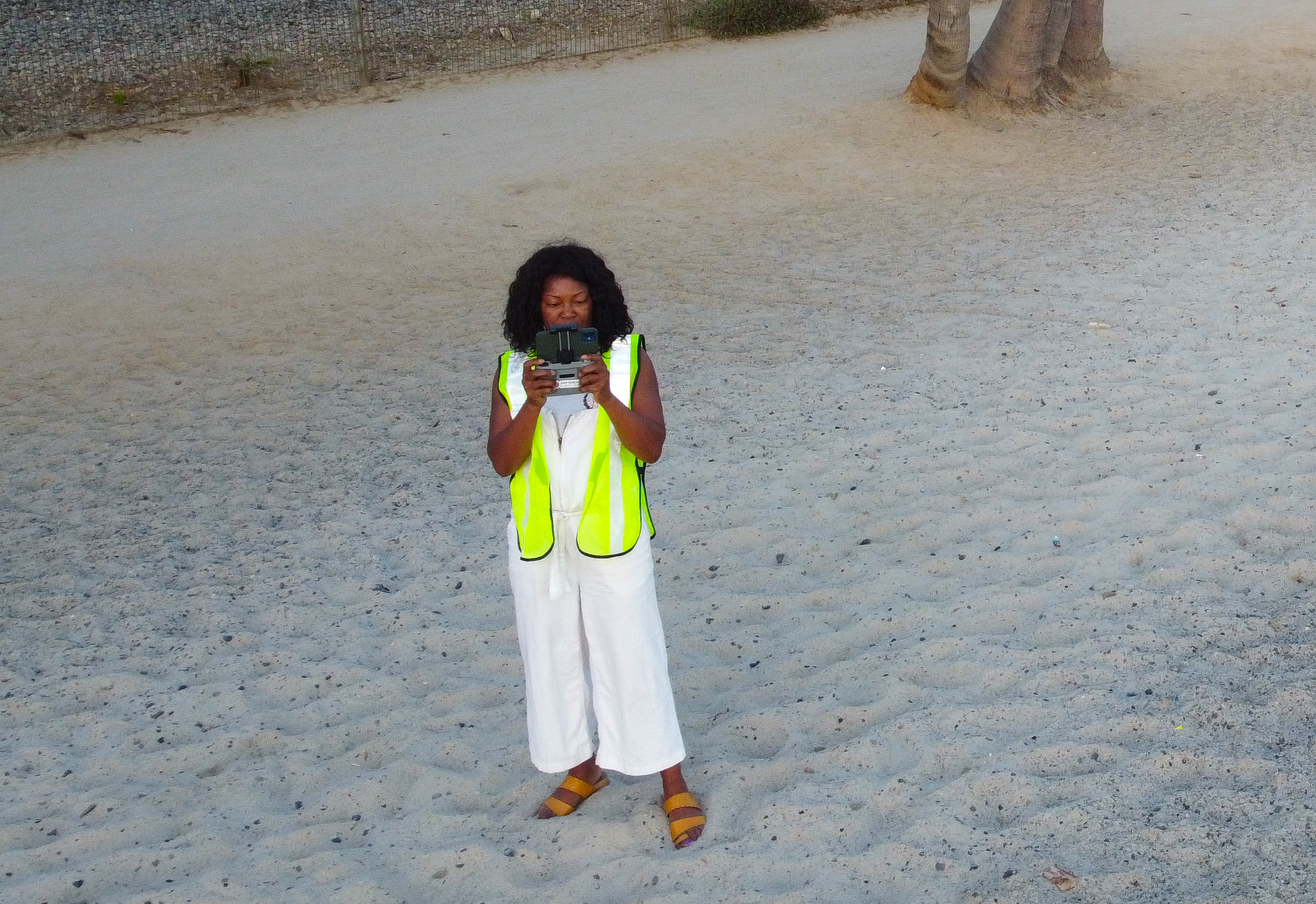 ---
On May 14, 2022, drone hobbyists will gather to enjoy a "Let's Drone" day at the beach in Fiesta Island, San Diego, California. This will be no ordinary day. Yes, we will have our beach chairs, umbrellas, coolers of water, but we will also have our drones for recreational use.
The organizer, Samantha Scully, is an FAA part 107 certified remote pilot. She is the Founder and Principal of Scully Staffing, Inc., a certified Women/Minority Business Enterprise and Veteran Owned HR Business. For more than 20 years, Scully has worked to build bridges between companies and highly qualified IT and business professionals.
The Let's Drone Flyway will allow new and existing drone users to share their experiences and drone hobbyist skills. This day will provide a fantastic time to practice your stick skills using various types of drones.
"The first Flyway I attended was last year with Skip Fredricks with the Grossmont Colege students from his Drone Technology training program," says Scully. "I started my day by driving from Hollywood to San Diego to join the other hobbyists. I networked with about 20 new droners, learned safety tips, learned the difference between yawing and pitching forward, and learned to command my DJI mini Mavic. After observing the others, I also discovered that I loved using my drone, and even better, I enjoyed capturing the pictures over the mission bay."
The Let's Drone day at Fiesta Island will be similar. It is for hobbyists, family, and kids who want to take flight or not. We will start at 8:30 am, an early Saturday morning, in an area away from people, and we will have a coned-off place. Bring your tables, chairs, and be more relaxed to stay hydrated from morning to noon hours. We will greet and fly responsibly for about five hours. We encourage everyone to bring their lunches because the islands are popular and get busy. No sign-up is required. Show up but email scullystaffing@gmail.com with questions and directions for the exact location.
Scully's strength is building strong industry relationships and strategically matching technology talent to high-tech jobs. Her diverse talent pipeline has earned her the reputation as a trusted STEM (Science, Technology, Engineering, and Mathematics) and Drone Industry resource.
For the UAS/UAS industry, Scully's focus is designing career-training resources for teens and young adults to help increase diversity and inclusions. In 2021, Scully became a licensed Drone Pilot and had been active with Women and Drones since 2020. She has also managed and designed career connection events for Interdrone 2020 and 2021.
Other events you catch Scully at include:
"Know before you Fly your Drone" hosted by The North Central Texas Council of Governments and the North Texas UAS Task Force on April 2, a virtual workshop.
Crypto Kids Camp, where she will teach 8- to 15 years year olds to fly a drone on April 11, in San Pedro, CA.
"I Believe I Can Fly"- Drone Career workshop hosted by The 5th Annual Girls to Greatness Teen Summit in Los Angeles, CA, on April 29.
US Drone Soccer: Scully has partnered with the company to promote and provide professional development training for Drone soccer leagues. This is an indoor team sport played with radio-controlled quadcopters in protective exoskeletons designed for collisions in the state of CA, TX, and AL.
SteamedDrones: Scully also has aligned with SteamDrones to use their curriculum to provide interactive lessons that guide individuals in setting high expectations through hands-on cross-curricular learning.
Disaster Response Workshop Lastly, Scully has been accepted to receive workshop training in College Station, TX, on May 2-6th. The workshop aims to introduce female pilots to missions, skills, and regulations applicable to various types of disasters and work with local agencies.
Scully has a rich history of education and honors, including a BBA in Management Information Systems and a United States Navy Medal of Commendation, Achievement, and Management Certification. In addition, she has multiple certifications, including Tech Recruiter, Instructional Designer, ScrumMaster, and Scrum Product Owner.
She is committed to community assistance and advocating for those that cannot. She always provides support for many groups, specifically women in technology, STEM, and Veterans. She continually volunteers her time to help others elevate their dreams and know that they always have choices.
"Military training provided me with the discipline to keep going," says Scully. "As a veteran-owned business, I am proud to give back and provide opportunities to those who have served."