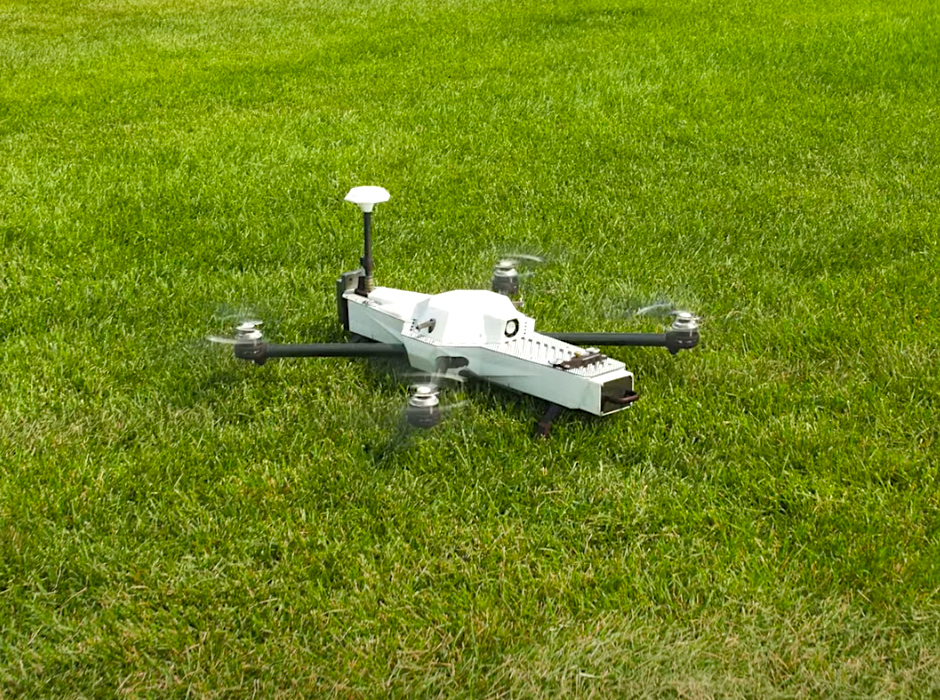 ---
Black Swift Technologies designs and engineers its aircraft specifically for challenging environments. For over a decade, Black Swift Technologies unmanned aerial systems (UAS) have been used around the globe for a variety of atmospheric research missions in extreme conditions, including monitoring and assessing volcanoes, tornadoes, hurricanes, and wildland fires. Based in Boulder, Colorado, BST is a specialized engineering firm with a legacy of engineering aircraft and flight management systems to address the most challenging environments you might encounter.
Advanced Autonomy
At the heart of every unmanned aircraft system developed by Black Swift Technologies is a highly capable autopilot system with unique networking technologies to enable cooperative control of the aircraft. These smart control systems provide industry leading sensor-based control of the UAS that minimizes operator workload while improving the quality of the observed data by autonomously modifying the flight path based on sensor inputs.
Our flight management system (The SwiftCore FMS) isn't another dronecode clone. We've designed all of our hardware and software ourselves from the ground up to provide the very best user experience.  This means every line was written only by UAS experts, with 1000's of hours of flying experience as well as PhDs in their respective engineering disciplines. This isn't a system with hobby roots—it was designed for commercial applications from the start.  We also manufacture our components locally, providing a high quality solution from a reliable source.
The capabilities of SwiftCore FMS are lauded by its users.
"I have not come across an autopilot that can handle fixed-wing aircraft as well as SwiftCore," says Daniel Hesselius, Director of Flight Operations, University of Colorado, Boulder.
The entire SwiftCore system is designed for ease of use along with accurate flight tracking, even in high winds.
 Data Focused Operations
Black Swift Technologies' SwiftCore Flight Management System (FMS) is a payload-focused control system enabling real-time telemetry and control through its autopilot data link. By autonomously modifying flight paths based on data from sensor inputs, operator workload is minimized while the quality of the observed data is enhanced. This advanced end-to-end avionics solution allows you to control, communicate, and command your UAS for fully autonomous flight.
 Proven in the field to provide a cost-effective, powerful, and easy-to-operate system, the SwiftCore FMS is engineered to meet the demands of nomadic scientific field campaigns in harsh environments. SwiftCore has been approved and used for major scientific missions by NASA, deployments by NOAA, research studies conducted by institutions including CU, UTSI, and by a growing list of commercial users. 
Modular, Robust, and Easy to Operate
Leveraging the SwiftCore FMS operators can program their Black Swift UAS in minutes to calculate the area under review and then begin collecting data for immediate analysis and decision making. With its intuitive user-focused interface, ­flight planning is simple and easy to accomplish. Mission monitoring and mapping is all done from a handheld Android™ Tablet loaded with BST's SwiftTab™ software. Gesture-based controls enable users to confidently deploy their UAS with minimal training while being able to collect data over geography that is topically diverse with confidence.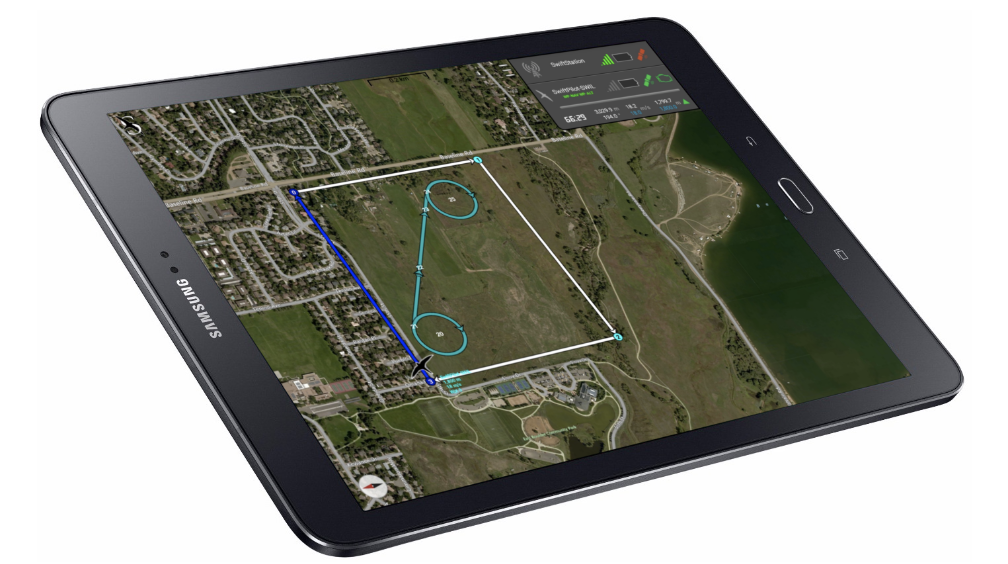 A Unified Solution: SwiftCore Flight Management System
Purpose-Built Aerial Platforms
BST is recognized as a leader in delivering reliable, robust, and highly accurate unmanned aircraft capable of flying advanced payloads in the most demanding atmospheric environments (high-altitude, arctic, desert, corrosive particulates, strong turbulence). Their family of aerial solutions include:
Black Swift S2 UAS
"NASA and similar scientific agencies require deliverables with a high degree of accuracy and reliability," says Dr. Jack Elston, BST Founder and CEO states. "The Black Swift S2 is designed to collect data in harsh environments and enhances the performance and utility of NASA's Airborne Science fleet."
With a payload capacity up to five pounds, the S2 can fly at 40 knots for 90 minutes at 6,000 MSL. Its avionics setup is modular and integrated. Each component has an intelligent board associated with it, which is connected over a robust onboard bus system. This allows for easy system configuration through the plug-and-play of other components, redundancy and subsystem/sensor monitoring and lifetime tracking and updating. Black Swift also deliberately designed the S2 aircraft for extreme missions. Operators can assemble it without the use of tools, an essential feature in minus 20-degree weather.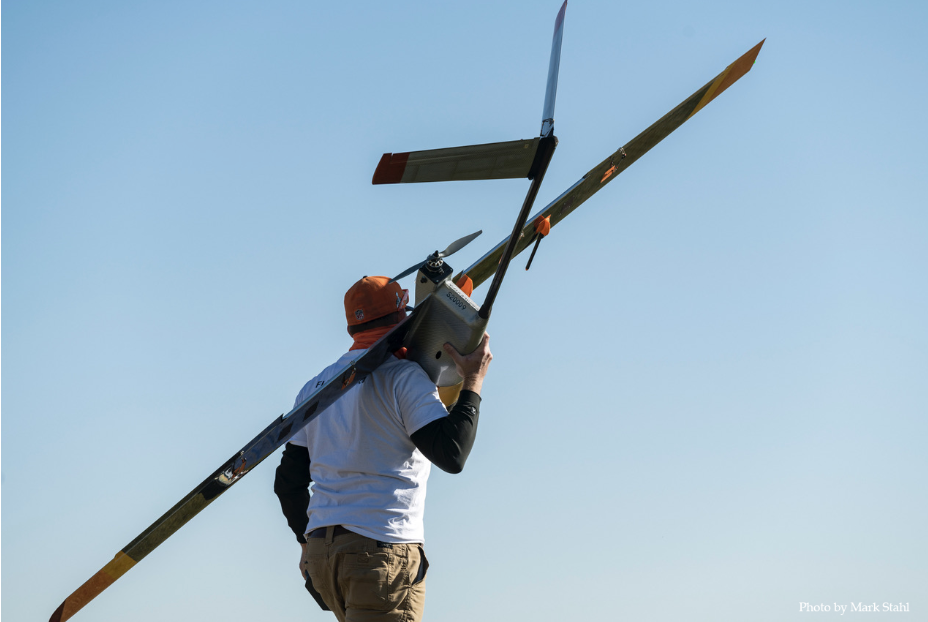 The Black Swift S2 UAS, BST's scientific workhorse.
Field Swappable Payload Options for a Variety of Missions
Indicative of its science-based missions and flight heritage, the Black Swift's flagship, the Black Swift S2 UAS features a unique modular field-swappable payload system designed to:
Ensure clean and uncontaminated measurements of the atmosphere by positioning the sensors in front of the propeller, completely enclosing the sensor suite and associated hardware within the nose cone, and

Enable rapid changes of the payload in the field using a common power, data, and mechanical interface without any specialized tools. This allows for at-altitude field calibration and different sensor suites to be rapidly deployed in successive missions using the same airframe and FMS, extending the utility of Black Swift UAS to numerous applications and missions.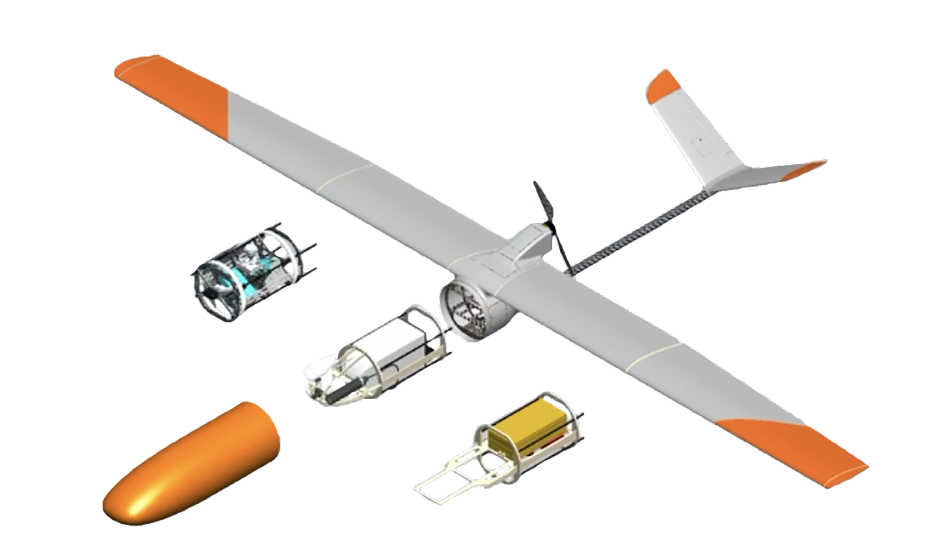 Black Swift Technologies has incorporated modular payload sensors for a variety of specialized applications including Soil Moisture Mapping (L-band radiometer), Wildfire Monitoring (CO2, CO, aerosol, RH, p and T trace gas sensors, multispectral camera), Multi-Angular Remote Sensing (531nm band monitor, Tetracam Mini-Multiple Camera Array Imaging System, multispectral camera), Volcano Monitoring (CO2 trace gas sensor, nephelometer, temperature, pressure, humidity and wind sensors), to name just a few.
 The Black Swift S0 VTOL UAS
When NOAA was looking to augment their fleet of unmanned aircraft with a low-cost, air-deployed UAS able to sample kinematics and thermodynamics of the lower part of the boundary layer, they chose Black Swift's S0 UAS. This aircraft is able to capture 3-dimensional wind measurements along with pressure, temperature, and humidity (PTH) measurements, sea surface temperature, and vehicle height from the water at lower altitudes. The Black Swift S0 is also rugged enough to enable sampling from the lowest and most dangerous regions of a tropical cyclone, a necessary capability as part of NOAA's hurricane research initiative.
These characteristics proved equally valuable to the United States Air Force in their search for a tactical weather drone able to autonomously conduct atmospheric profiling supporting more accurate cargo drops and improved localized weather forecasts for Air Force and Special Operations Forces. While NOAA required a tube-launch aircraft, the USAF required a vertical takeoff and landing (VTOL) aircraft. The S0-VTOL is capable of carrying a variety of sensors designed for observing atmospheric thermodynamics, yet it could be modified to carry other sensor suites like those used for trace gas measurement, or lightweight EO/IR cameras. An intelligent UAS designed for autonomous flights at altitudes up to 15,000 feet AGL, the S0-VTOL is able to operate in harsh weather conditions and perfect for commercial use in atmospheric monitoring. Its design enables rapid ascent and descent profiles and has custom wind estimation algorithms allowing the S0 to quickly and accurately capture 3-D wind profiles. Its intuitive user interface provides for automated sampling patterns and high-level mission scripting for "launch-and-forget" operations.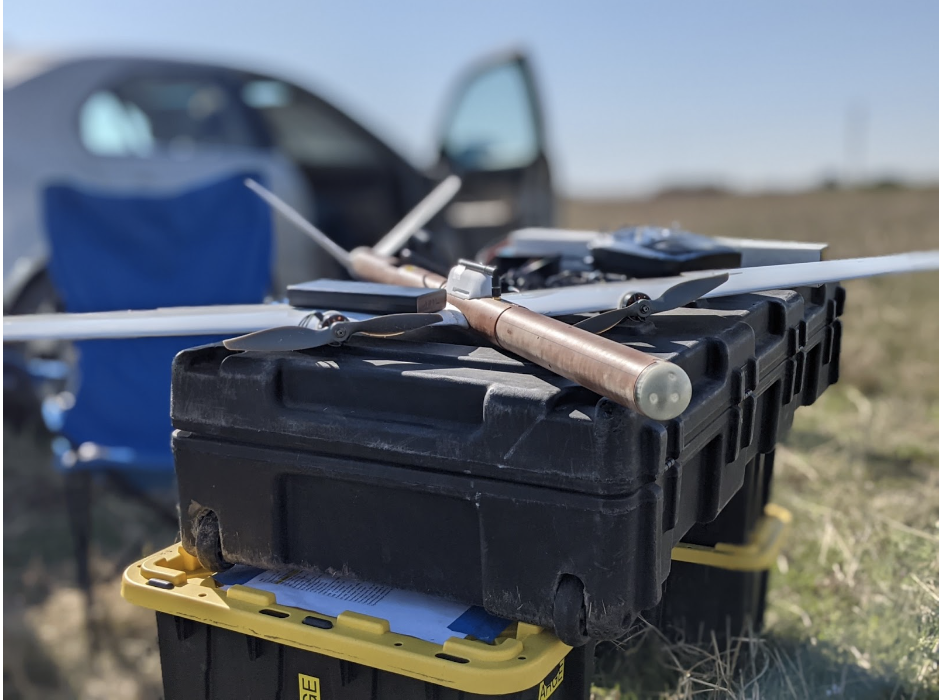 The Black Swift S0 VTOL UAS: Compact, Rugged, and Reliable.
The Black Swift E2 UAS
Designed, manufactured and serviced entirely in the USA, the Black Swift E2 was engineered from inception for structural and industrial inspections. With its advanced navigation technology, the Black Swift E2 facilitates highly accurate, up-close inspections of infrastructures, even in extreme environmental conditions. Able to leverage advances in computer vision and machine learning, the Black Swift E2 is an intelligent drone capable of completely autonomous flights. The Black Swift E2 provides precise, reliable and safe navigation around complex structures, while delivering real-time actionable data to its operator. The Black Swift E2 carries its payload up front rather than on the belly of the aircraft enabling operators to get full field-of-view, even looking vertical. Quick change payload bay enables swapping the E2's sensor packages. Its battery pack is also easy to change, while its placement is adjustable depending the payload weight the UAS is carrying. Typical payload includes an RGB camera, laser positioning and guidance system, and radio modem, but can be customized to the operator's individual requirements including LiDAR, thermal imagery, trace gas sensors, radiometers, and multi-spectral cameras.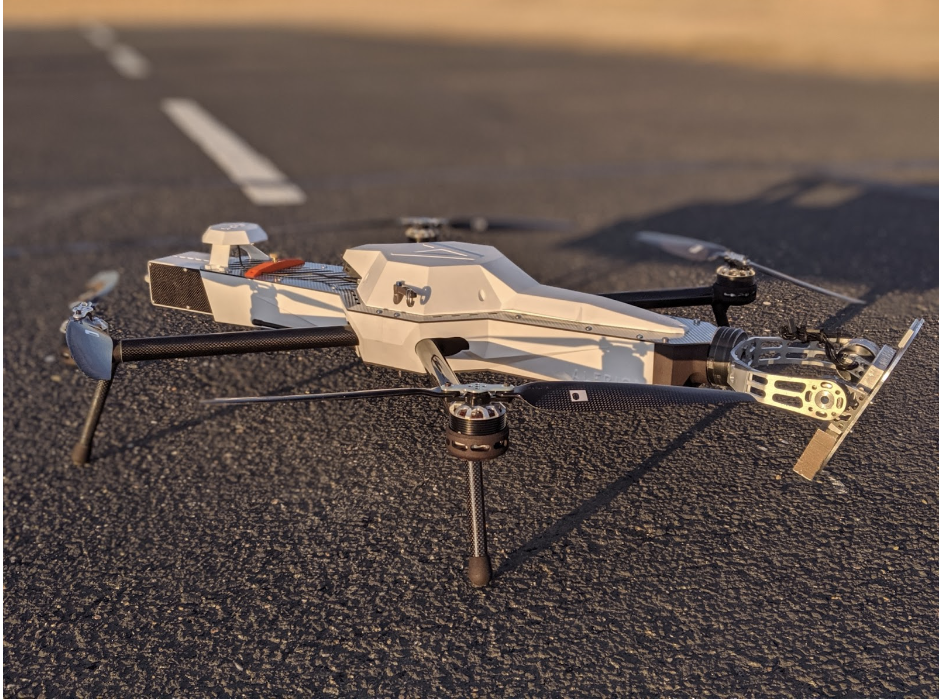 The Black Swift E2 UAS: the American-Made Autonomous Inspection Drone.
 Why Another UAS Option?
Black Swift Technologies is unmatched in its understanding of UAS.  Rather than relying on third-party software and hardware, BST designs its aircraft, avionics, flight control systems, payload interfaces, payloads, user interfaces and ground stations.  This is directly reflected in the performance of the systems, having been designed entirely by certified UAS experts, rather than a loose collection of developers.  It also allows for us to be responsive to the ever-changing ecosystem, allowing for the inclusion of new algorithms, sensors and designs without having to wait for patches or updates.  We push the state of the art through the design and manufacture purpose-built Group 1 Unmanned Aircraft Systems (UAS) and related Flight Management Systems (FMS) used around the globe for a variety of specialized atmospheric research missions in extreme conditions, including monitoring and assessing volcanoes, tornadoes, hurricanes, and wildland fires. Our customers include the USAF, NOAA, NASA, USGS, and leading research institutions and universities.
Where Do We See the Industry Going?
As our industry matures, we will see more autonomy (things done automatically without operator intervention) as well as multiple UAS flying simultaneously as a swarm or fleet, and beyond visual line of sight (BVLOS) flights becoming commonplace.  Key to making this vision a reality is the need to ensure safer UAS operations and flights. To this end, BST is actively pursuing a number of initiatives leveraging artificial intelligence (AI), machine learning and machine vision. 
Working collaboratively with the U.S. Air Force (USAF), we are developing an intelligent fault detection system capable of alerting users of possible system failures before they happen. By providing early warning and diagnostics of potential critical system failures on USAF drones, we can reduce the risk of mission failures, while increasing the safety and viability of operating UAS in the National Airspace System (NAS).
We are also developing advanced systems for unmanned aerial systems such as collision avoidance, GPS/GNSS-denied navigation, and on-board augmented intelligence enabling unmanned aircraft to safely land, without human interaction.
By making UAS operation safer for both operators and the public, BST can help serve as a catalyst for accelerating UAS growth and adoption. The compact form factor of this technology allows it to be incorporated into a wide variety of UAS platforms—enhancing the aircraft's reliability while allowing for active navigation around obstacles and rugged terrain, thus reducing adverse impact to either people or property.
More Info
Information on these advancements as well as BST's family of purpose-built UAS can be found at https://bst.aero.
WATCH!