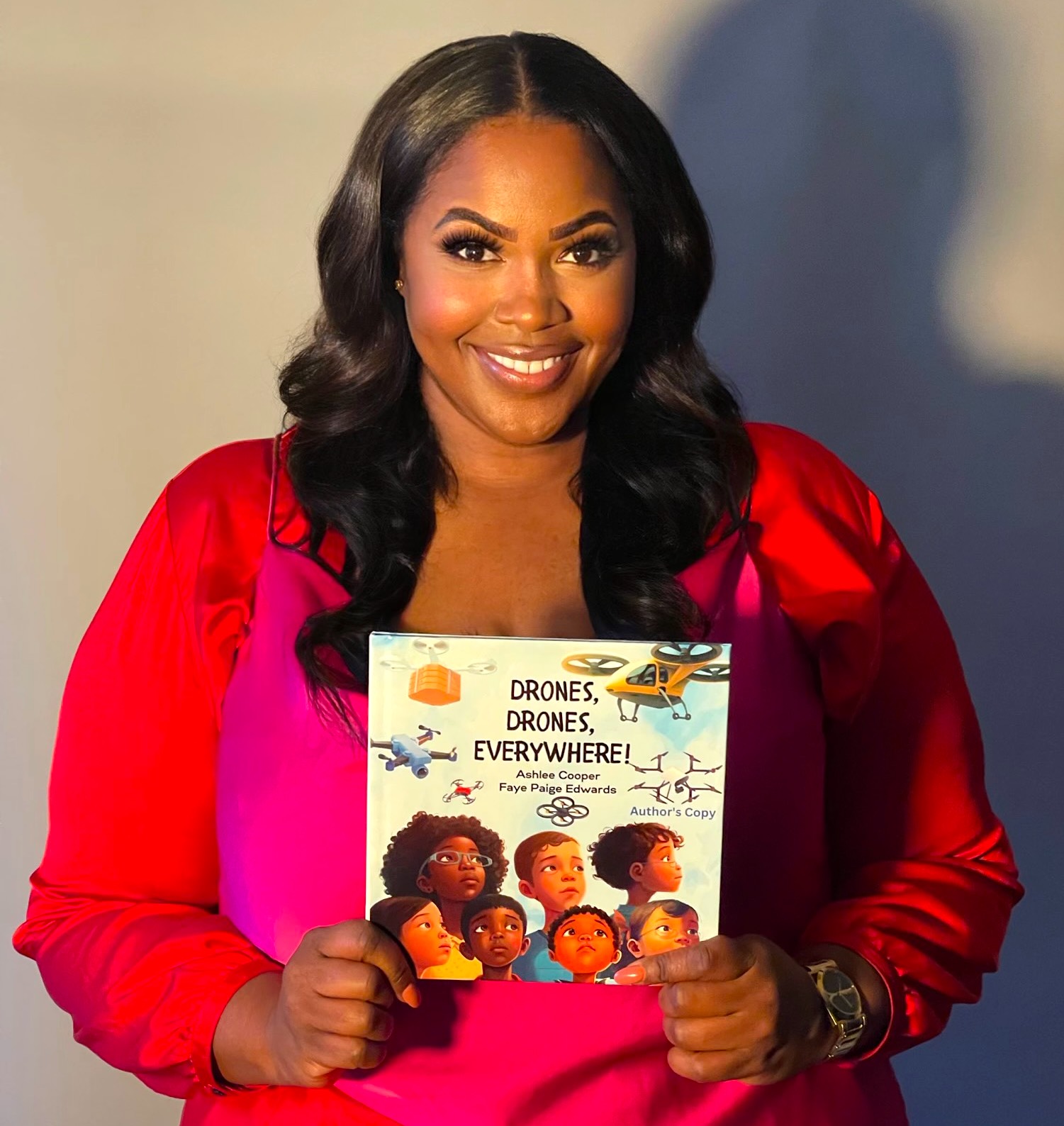 ---
Above photo: Ashlee Cooper, MLS(ASCP).
13 February 2023
By Michael Molenda, Editor, The Droning Company 
The colorful and educational graphic book entitled Drones, Drones, Everywhere! is designed to inspire young pilots about the joys, responsibilities, and technology of droning. 
Co-authored by Droneversity founder and president Ashlee Cooper ("Drone Boss Lady") and lead instructor/Solutionist Faye Paige Edwards, Drones, Drones, Everywhere! uses images of a diverse crew of youngsters and clever rhymes to reveal the various jobs drone do. The book also includes a handy glossary, a helpful "rules of the sky" section, and a self-test for children (and parents) to review their drone knowledge.
Drones, Drones, Everywhere! is scheduled for a March 2023 release, but you can sign up for notification at the Droneversity site HERE when the book is available in bookstores and/or ready to order.
As an exclusive bonus for The Droning Company readers, we were able to get Cooper to land long enough to answer some questions about this wonderful children's book on the field we all love.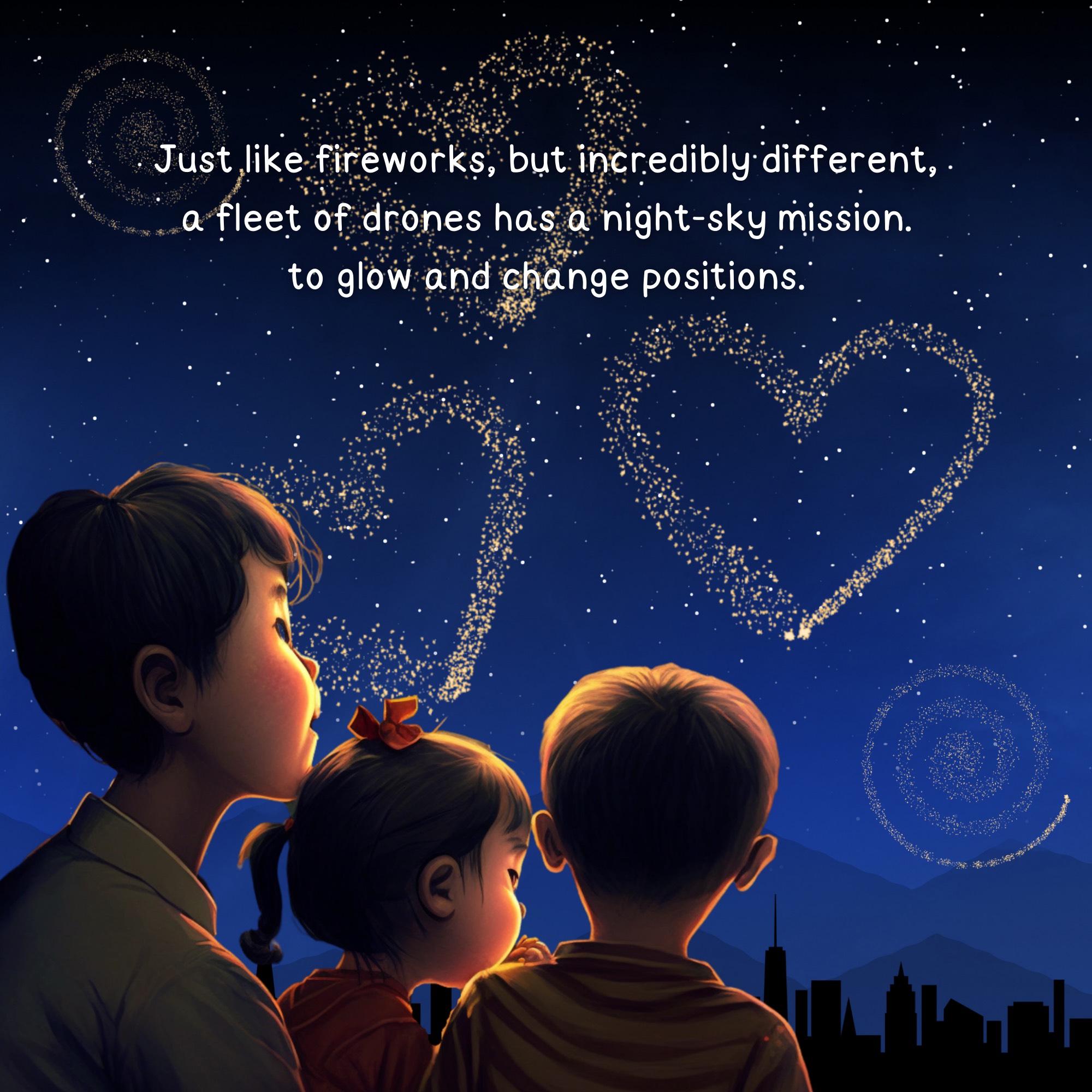 What was the inspiration and potential teaching plan for writing a droning book tailored to very young readers?
Cooper: My first student was my five-year-old daughter, who now codes and flies drones. STEM [an education system acronym that stands for science, technology, engineering and mathematics] will be a natural progression for her. I want that for all young people, regardless of where they live, the quality of their educational system, or what others expect—or do not expect—of them. 
What is the target age for the book?
Five to eight years old. 
What kinds of growth and opportunities do you feel drone piloting provides for children? 
Drones are a fun entry to STEAM [another acronym for science, technology, engineering, arts, and math] and aviation. Regarding droning, you only need to be 16 years old and pass an FAA initial aeronautical knowledge test—prep is taught by Droneversity—to earn money as a drone pilot. With the Part 107 exam under your belt and a remote pilot license in your wallet, you are ready to earn income in an industry projected to be $58.6 billion in 2026—which will provide lucrative entry-level jobs part-time and full-time employment. Many drone-related jobs pay at least $50 an hour. There is no age limit  to take the FAA TRUST for recreational operation of a drone. You are tested on basic rules for safe flight in the National Airspace.
It must be a challenge to create content on a very technical subject to reach and interest youngsters. Was there a "Eureka" moment when you discovered you had found the appropriate voice to both entertain and educate young people about drones?
Our Eureka moment happened at the start of our business, when we realized we had the skill set to provide the clearest explanations for non-aviators. If you thoroughly understand a subject, you can drill down to concise, clear language. Our core business is curriculum development and instruction in preparation for the FAA Part 107 exam prep. Our success has been in the ability of our team to write courses in lay language. 
Of course, young children don't purchase books—parents buy them. Are there any marketing and/or editorial strategies to get parents to pick up the book, and then have them trust the book is just right for their children?
Some children's books are more interesting for adults than others. Drones are a topic that interests all ages. The graphics are exciting and the content explains the many uses of drones. We will promote the book at gatherings where students and parents are—such as our newly launched Delaware Drone Soccer League in association with the Delaware YMCA. Co-ed teams with players at least 12 years old will learn to fly, code, and repair quadcopters in a plastic casing that forms the drone soccer ball. It is the newest eSport. In addition, we plan to share this with students, schools, libraries, and community-based organizations participating in our STEMulated programs.  
Learn About Drone Soccer
 How did you illustrate the book? 
I used Midjourney and Adobe Photoshop to create digital illustrations. This was the perfect creative control needed to bring my vision to life. 
You taught your young daughter, SaVannah Rose about drones. What types of things initially thrilled her about piloting, and what operations were perhaps a little more challenging for her to grasp?
This generation loves phones, tablet, and video games. So, there was a natural interest and gravitation. Her curiosity of a flying robot  was an opportunity for teaching. I use technical terms with her like throttle and pitch in repetition with hands on application to make it stick. Her generation grasps such concepts more quickly. She refers to herself as a drone pilot and loves sharing what she knows—hence the second page in the book. She knows the safety rules!
How young is the optimum age to introduce a child to droning?
SaVannah was three, so that is easily an optimum age. Of course, propellor guards, a safe flying space, close supervision, and attentiveness are required. 
What are the most important aspects of droning that a child should learn, and what do you feel are the most valuable experiences for young pilots?
Safety must be the major commitment. Parents should take the TRUST test at dronevesity.org. While the TRUST test has no age limit, young pilots will need parents to explain its contents in simplicity—such as "don't fly too high" and "never spy." Our book offers great simple questions to ensure an appropriate takeaway.
What do you hope your book achieves?
That it will inspire curiosity and a love of learning about drones, their capabilities, and how they're used in many industries. The hope is that more children than we can imagine will decide that STEM is fun, and that it is a space that says you and your imagination are welcome here.
Sneak Peek! See Possible Multimedia Pages 
 CLICK TO VIEW SHORTS: https://www.youtube.com/@droningcompany9844/shorts