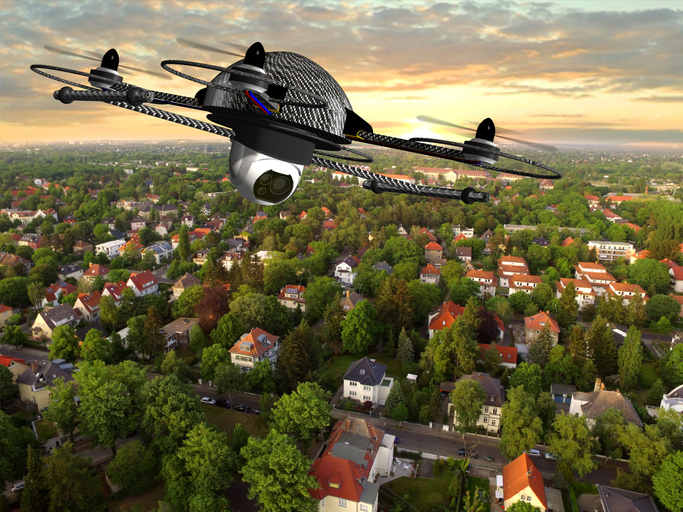 ---
There are many benefits of using drones for different tasks. In fact, one of the greatest things about drones is that they can get certain tasks done efficiently that would otherwise be dangerous for people. When it comes to inspecting tall buildings or power lines for damage, drones can certainly come in handy. Another good thing about drones is that they are extremely helpful for roof inspections, which is something that many households will need at one point or another.
There are many different types of drones that can handle the most complex tasks, which makes it a great resource for roof inspections to ensure optimal results. 
Why is a Roof Inspection Necessary?
While getting onto the roof may sound like a pretty straightforward task that may not require a drone for inspection, that outlook may change when it is your job and you have to do multiple inspections each day. For example, a person who deals with roof inspections daily can put employees' lives at risk when doing inspections the old-fashioned way. Additionally, doing roof inspections can be time-consuming; however, using a drone effectively can cut the time down drastically, saving time and money.
Here are some reasons as to why a roof inspection may be necessary: 
1. Determine the value of the property
Real estate agents will need to determine the value of the property before providing an estimate that is a fair selling price. This includes many different aspects of the property, including the roof. Using the most sophisticated methods of roof inspection while utilizing a drone will help provide a detailed assessment and will play a huge role in determining the value of the property.
2. Estimate for roof repair costs
When an experienced drone pilot is involved, a camera drone can be used to inspect the roof and provide a detailed report that can save a lot of time and money in estimating roof repair costs. 
3. Confirm insurance claims
In the event of a natural disaster, such as a tornado or hurricane, the roof can become damaged. As a result, insurance adjusters will need confirmation of such damage. A drone roof inspection can be extremely helpful in providing an accurate, safe, and efficient estimate of the damage.
4. Prepare for solar panel installation
Prior to a solar panel installation, a roof inspection will be necessary in order to ensure that the roof is in full working order. A drone roof inspection will provide a quick and efficient examination.
5. Home maintenance
Home maintenance is extremely important in preventing costly repairs later down the line. Having an effective inspection using a drone will give you an accurate idea of any wear and tear that may exist, which can become worse quickly if left unchecked.
Can I Use a Drone to Inspect a Roof?
Yes, drones for roof inspections are often used as they get the job done efficiently, quickly, and safely. However, it is always best when done by a professional with experience. This is because it is imperative that the roof inspector knows how to operate a drone and he or she will know what to look for to provide an accurate inspection report.
How Much Does a Roof Inspection Cost?
The national average cost for a drone roof inspection can range from $290 to $350; however, it ultimately depends on the project size, slope, material of the roof, and specific type of inspection needed.
Is it Ideal to Use a Drone For a Roof Inspection?
Using a drone for a roof inspection has many different benefits, including:
Safer: One of the most important reasons why people prefer drone roof inspections is because there are fewer risks involved. Studies have shown that the majority of injuries and deaths caused in the roofing industry happen from falls. With drone roof inspections, the risks are reduced to zero, as no one will need to be on the roof.
More efficient: Utilizing a drone roof inspection by a professional can reduce the time spent drastically. In addition, drones allow more detailed inspection reports and can examine areas that are hard to see otherwise.
It can inspect inaccessible areas: One of the biggest disadvantages of conducting a roof inspection the old-fashioned way is that even professionals can experience a difficult time getting a good look at certain areas, making it dangerous. A drone can inspect these inaccessible areas, without the risks involved.
Less equipment and hands-on deck needed: Drones make the inspection process quicker and more efficient, therefore, less equipment and hands-on-deck will be necessary. This will make the inspection process easier and less complex.
Advantages of drone technology: Many drones are equipped with a wide range of advanced technologies, which allows the drone cameras to capture high-quality images that can create 3D images.