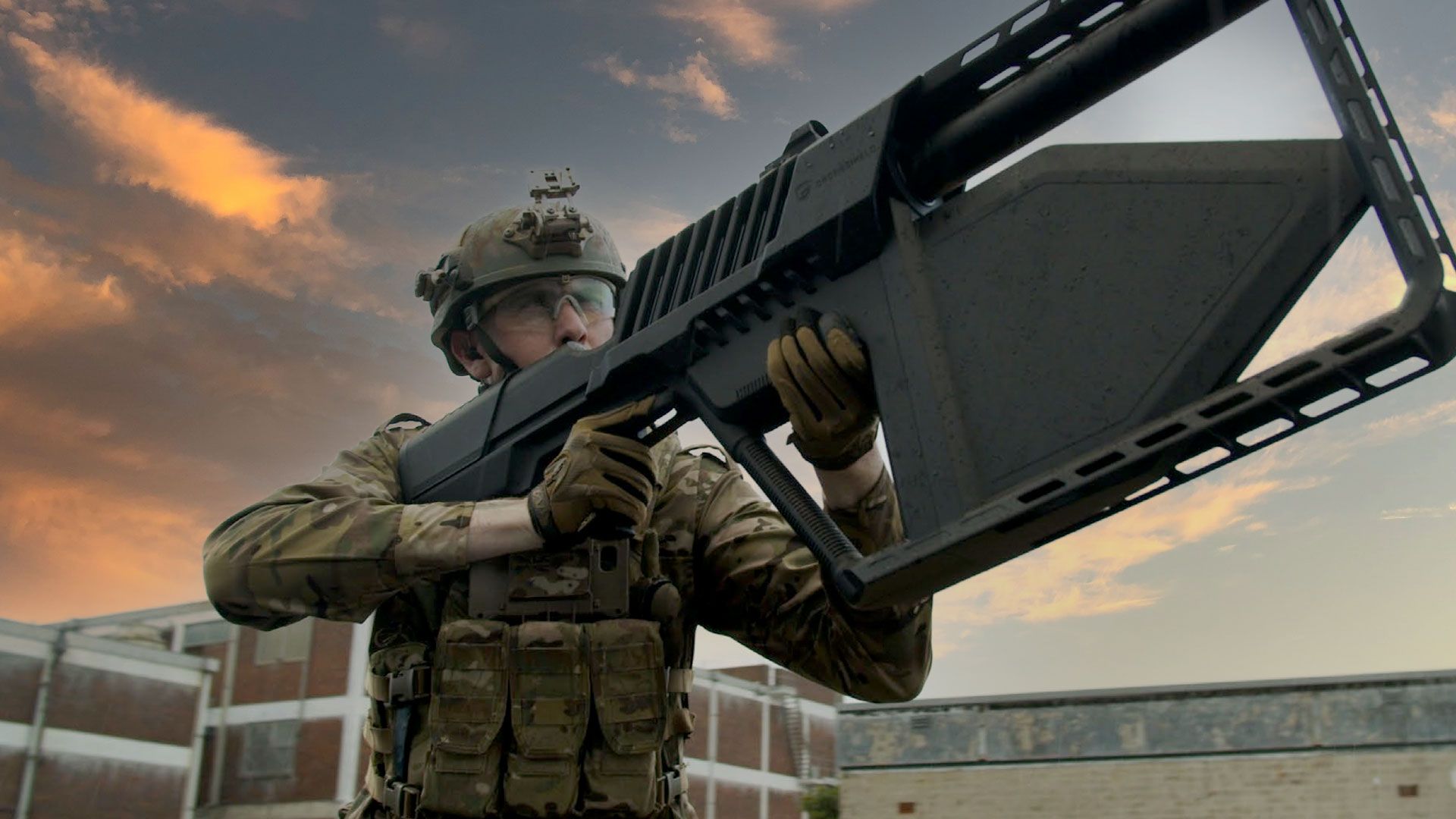 ---
1 November 2022
By Oleg Vornik
The world is quickly recognizing just how much of a threat drones can be to civilians and everyday life, and that conventional means of protecting against them don't work. That's not just the case for large drones specifically designed for the battlefield, but also the inexpensive devices stocked on shelves at your local retailer.
If we look at the war in Ukraine, it's clear it has become a textbook case study for the new era of high-tech, multi-domain conflict comprising traditional (ie.—tanks and planes), cyber, and drone warfare wrapped into one. Both sides are using thousands, perhaps tens of thousands, of cheap and expendable drones, both in isolation and in concert with high-end military assets.
In a reconnaissance role, drones permit Russians to target Ukrainian positions with rocket attacks from helicopters, as well as track civilian movements and individual military formations. In equally devastating situations, they are strapped with payloads to do direct damage.
Instead of costing $500,000 or more, these drones cost around $4,000, and often far less.
The rate of capability advancement for even modest commercial-off-the-shelf (COTS) drones is sobering.
In 2006, DJI was founded in a dorm room at the Hong Kong University of Science and Technology. A mere 16 years later, COTS drones, like DJI, are being used for ISR, contraband delivery, direct attack, and fully autonomous flight against personnel and strategic assets.
In fact, Russian Army General, Yuri Baluyevsky, said in August 2022 that the DJI Mavic's capability to spot for accurate indirect artillery fire proved "revolutionary" in Ukraine.
Complex Solutions for Complex Problems
DroneShield is an ASX-listed (ASX:DRO) company that provides multi-domain, multi-mission solutions. In a very basic sense, we provide interference to jam a drone launched by a rogue drone pilot. From comprehensive C-UxS solutions to maximising the performance of currently deployed third-party sensors with our AI-based sensor fusion and signal processing, we provide mission essential capabilities. Our sensors, effectors, and AI/ML can be integrated into our own Command-and-Control solution, but are also fully interoperable with third-party platforms for both government and commercial systems. 
DroneShield's C-UAS defeat capabilities do not involve protocol manipulation or "cyber" tactics, given the limitations of those methods. Our defeat technologies offer non-kinetic jamming for the controlled management of threats.
These proven capabilities have led to contracts with defense, national security, and other public and private sector organisations that protect people, critical infrastructure and vital assets, including the Five Eyes intelligence alliance and more than 100 countries.
In the US, our technology is used with various government agencies, including the Department of Defense, Department of Homeland Security, a high-profile law enforcement agency, an Air Force base, critical infrastructure sites, and overseas government agencies supported by the U.S. At our headquarters in Australia, we are engaged with Australian Special Forces, Australian Army, Australian Navy, AFP, Queensland Police, and a prison in Victoria, among others.
We also shipped equipment to Ukraine, which has helped in its defense against Russia.
A diverse, AI and ML Powered Arsenal
Our counterdrone products come in several forms tailored to a broad range of use cases. When disruption is triggered, UAS targets (such as drones) respond via vertical on-the-spot landing or return to its remote controller or starting point.
DroneGun Tactical is a highly effective UAS countermeasure designed for two hand operation and long range defeat. The product includes high-performance directional antennas in a lightweight robust rifle style design, and features an intuitive control panel user interface to select and engage the range of jamming frequencies for target defeat. The DroneGun Tactical provides a safe countermeasure against a wide range of UAS threats (e.g. drones), with no damage to common UAS models or surrounding environment.
DroneGun MKII is a compact, lightweight UAS countermeasure solution designed for one-hand operation. The product features a robust compact pistol shaped design with a control-panel user interface, allowing operators to select and engage RF disruption frequency modes. The device provides a safe passive countermeasure against a wide range of UAS models. In addition to landing or return to base, RF disruption activation will also interfere with any live video streaming (FPV) back to the remote controller halting the collection of video footage and intelligence by the UAS operator.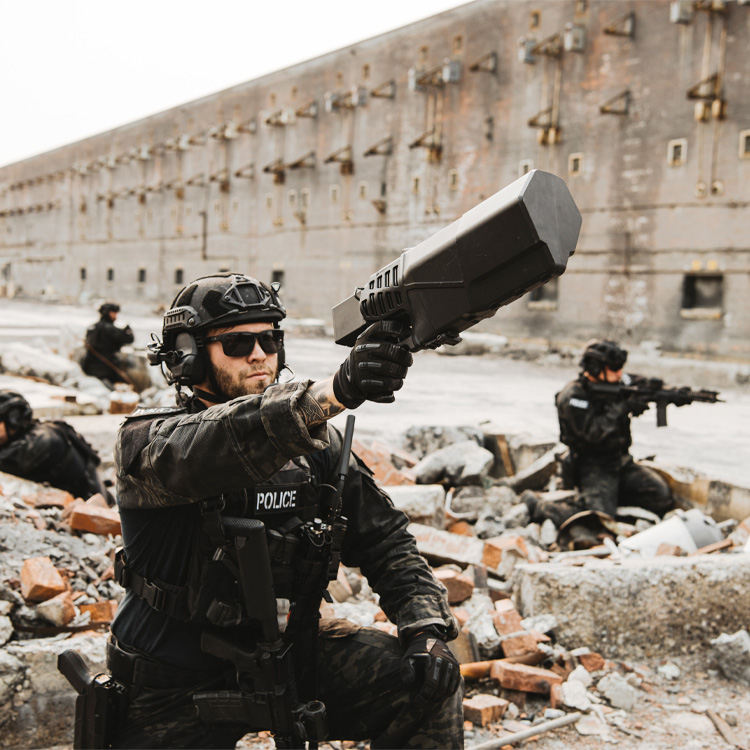 DroneGun MKII
RfPatrol is a highly versatile, completely passive/non-emitting wearable UAS detection device that can spot drones moving at any speed. The device offers the user real situational awareness without distraction or complex operation. It has been designed to be highly effective for a variety of operators in a range of demanding environments. The RfPatrol can be operated in two modes, Stealth and Glimpse, allowing the user to control how they receive alerts.
DroneSentry-X is a cross-vehicle compatible, automated 360-degree detect and defeat device. It provides awareness and protection using integrated sensors to detect and disrupt UAS moving at any speed—suitable for mobile operations, on site surveillance, and on the move missions. The robust compact unit can be mounted to standard vehicle roof racks or other fixed applications on a mast or tower. Alternatively, it can be deployed at a fixed site or as a temporary pop-up solution, with on site or remote operator access. With operator access through an included digital control panel and mountable display, users can control, access, and view real-time data and live map of local UAS activity. DroneSentry-X defeat capabilities can be automatically or manually set to counter and disrupt UAS activity within range.
Engineered for Electronic Warfare
DroneShield has invested in advanced capabilities to ensure countermeasures meet the rate at which UAS or drone threats are evolving.
If we take a closer look at the current conflict, it's clear Russia's invasion of Ukraine has been a testbed for new military technologies, with unmanned aerial systems (UAS) a prime feature. This follows similar events during the Armenia-Azerbaijan conflict, and in the Middle East prior.
Commercial technology advancements will continue to increase the threat level by incorporating swarming, thermal imaging, LiDAR, GPS-denied navigation, and more. Performance will also improve across range (ie.—20km range is not unusual today), speed (ie. close to 300km/hour recorded) and payload capacity (up to 20-30kg is routine for heavy-lift small drones).
These rapid advancements to COTS and nation-state drone capabilities have fueled the recent rise of counterdrone solutions as an adjacent solution requirement from the broader universe of Electronic Warfare (EW) capabilities. The ecosystem of counterdrone concepts and capabilities has grown rapidly, mirroring the advancements in drones themselves.
Modern warfare and tactics will continue to evolve. With two recent, full-scale wars, and the current fight in Ukraine, we now see asymmetric warfare tactics being adopted quickly by conventional forces.
This means locating enemy drones and being able to defeat them is now critical. Unit costs need to be comparable to the threat being faced. While a $2-million-dollar missile might be a tactically valid solution, budgets won't stretch for more than one or two. Affordable counterdrone guns leverage radio jamming and can be used again and again. Importantly, you can have lots of them.
These capabilities aren't just crucial on the battlefield, but can keep us and our assets safer on home soil. For example, critical infrastructure is highly vulnerable to drones. This isn't restricted to physical attacks (ie. short-circuiting power grids by dangling wires onto sites), but extends cyberattacks where perpetrators can land undetected drones near national or state assets for the purposes of crippling operations or stealing highly sensitive information.
They are also being used for drug smuggling across borders and into prisons, bringing airports to a standstill (even from negligence), disrupting and causing panic at large events, and threatening meetings of world leaders.
WATCH!