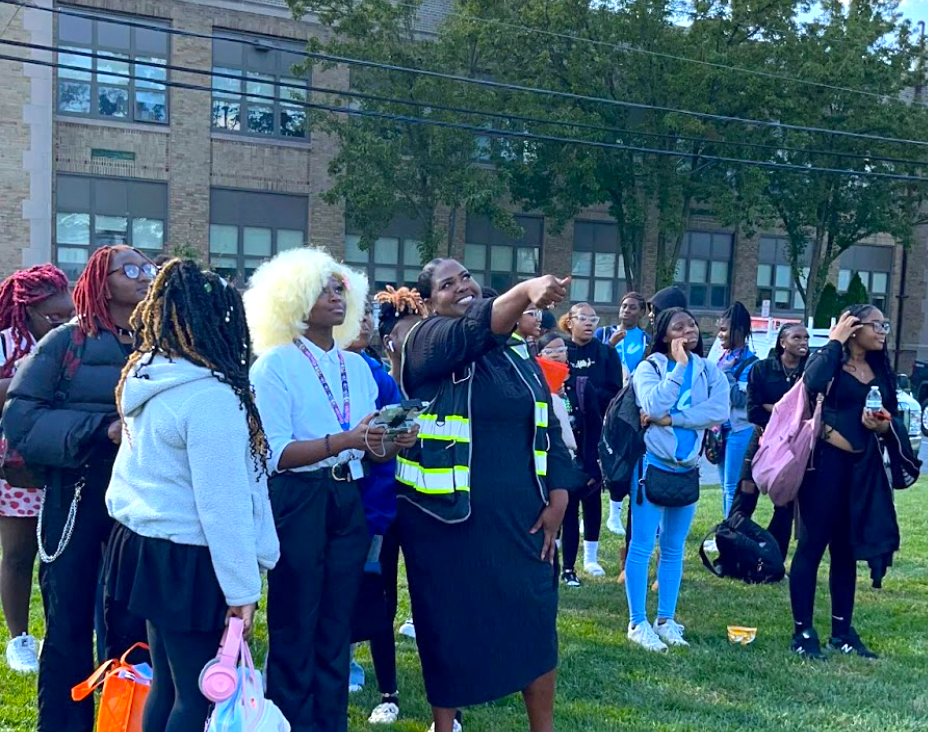 ---
21 November 2022
The strategy fueling Droneversity's success as an Edtech company is framing STEAM and aviation skill-building as fun—because they are.
Joining the Droneversity community offers students with different learning styles and a wide range of age groups the opportunity to strengthen their STEM and aviation skills, earn income as a certified FAA Part 107 pilot and instructor, and enjoy recreational piloting. 
Recreational Pilots must pass the free, online TRUST exam. To earn compensation of any amount flying a drone, the age requirement is only 16 years old with a score of at least 70 on the FAA Part 107 exam. The goal of the FAA is safety for all aircraft in the sky, people on the ground, and property. 
Droneversity provides the clearest Part 107 explanations. Its FAA Part 107 commercial drone pilot exam success rate is 100 percent, with many earning a score above 90. This shows the power of building a community of talented instructors from aviation and non-aviation backgrounds with strong female and African-American representation. Creating a space that definitively says "you belong here" boosts professional growth, regardless of background or prior experience. 
In the past if you weren't related to a pilot, knew a pilot, or if you were not in the military, the chances of becoming a pilot or having any type of aviation career was slim. The aviation industry is currently experiencing a shortage of crewed pilots and aviation support, and it needs educated, skilled remote pilots. The mission of Droneversity is to help alleviate this shortage by addressing the inequity of opportunity,
Droneversity was founded when STEM educator, molecular microbiologist, and pilot Ashlee Cooper, MLS (ASCP) stood on a chair to take pictures of balloon decorations she designed for a party. A passerby told her she needed a drone. The story has entrepreneurial twists, turns, and setbacks.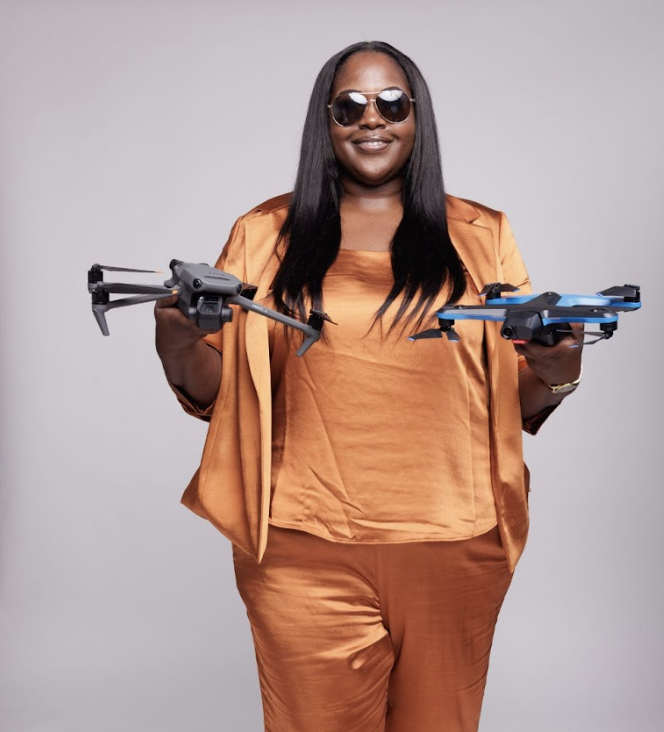 Ashlee Cooper
However, it is now a success story of her path to swap microscopes for drones. She taught at post-secondary institutions. However, her passion for STEM education extended beyond college students, and she often connected with high-schoolers in her college-outreach program recruiting activities. Cooper's ten years of STEM education experience was great preparation for the role she now enjoys as a drone-industry leader.
Cooper experienced first-hand how aviation-related foundational experiences shape aspirations from aviation to space exploration. Her first job as an instructor in a drone camp for high schoolers over the age of 16 was through the National Urban League. Inspecting cell towers using her first drone—a DJI Phantom V2O—for a cable company was her first field job, working alongside a high school student, They both earned $100 an hour. 
She is proud of her junior recreational pilot. Her five-year-old daughter has been flying for a year and also codes drones. Together, they spark serendipitous moments—like the one with Cooper photgraphing her balloon decorations. Her daughter initiates conversations anywhere—with the clerk at a Dollar Store, at church, passersby—and asks if they have a drone like her mom. She also lets them know her mom can help them become a drone pilot. The duo tells whoever will listen that drone education is a resume builder for students, an opportunity for those who may not know an exciting career awaits them, and proof of the current accessibility of careers that were generally unavailable for certain groups of people just a few years. 
Today, Cooper—known as "Drone Boss Lady"—is an FAA Remote Pilot with an sUAS rating, PA Drone Association Board Member, Federal Aviation Administration Safety Team Representative, and the first African-American woman FAASTeam Drone Pro in the U.S. Northeast Region.
Droneversity is an industry member of the FAA Unmanned Aircraft Systems (UAS) Collegiate and AUVSI. Alliances with colleges, universities, and targeted relationships with Historically Black Colleges and Universities (HBCUs) are being made—including with the renowned Delaware State University Aviation Program. The services of Droneversity range from residential and commercial real estate to supporting public safety, and, most recently, mapping for agriculture and 3D modeling.
The program's core competency is curriculum development and providing drone education for exponential access to the aviation industry and beyond. Dronevesity has seen how uncrewed fun leads to entrepreneurship, career changes, and even an interest in and pursuit of crewed piloting. Cooper has presented at a few Gaming Pandominums that led gamers to drone racing (and the most exciting cinematography shots). Droneversity is currently working with K-12 graders, veterans, re-entry workers, STEAM educators, and those preparing for, changing, or looking to add a career, as well as others exploring aviation-career options. They become STEM-ulated by membership in the Droneversity community.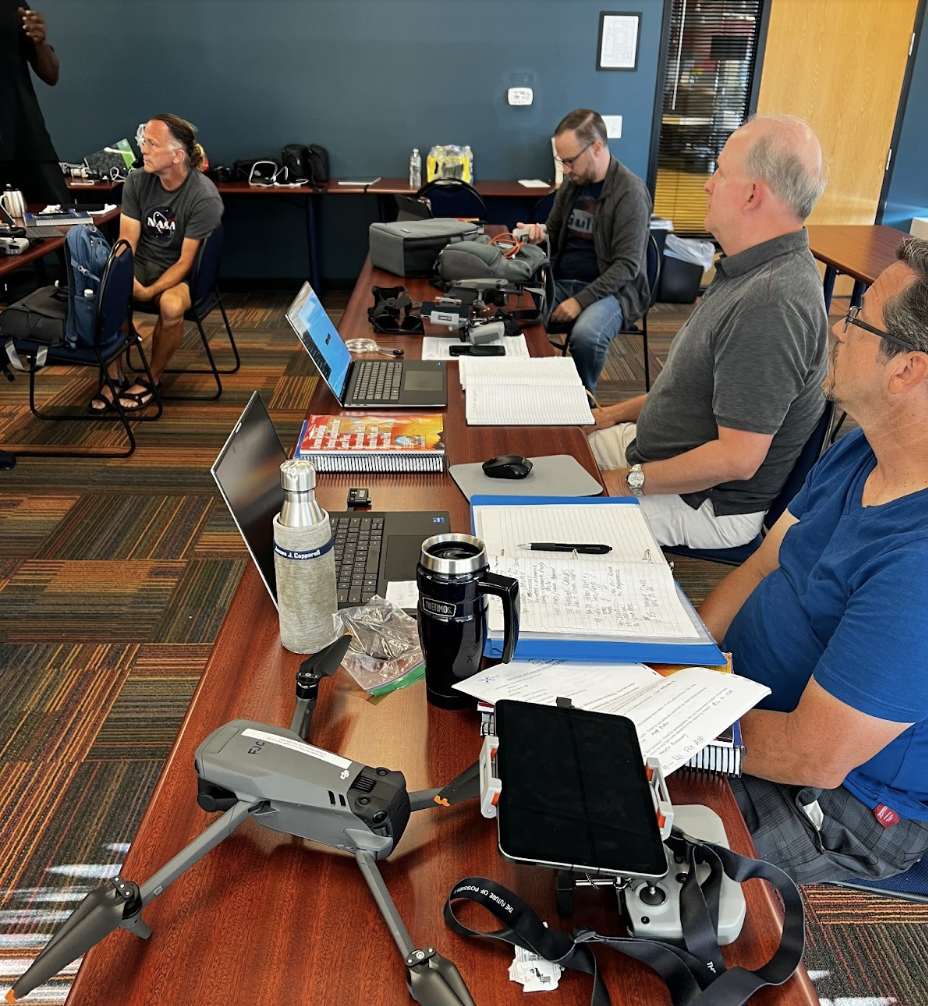 Teaching veterans with DWS Drone School.
Among Cooper's credentials is serving as a Delaware Drone Soccer Commissioner. The drone soccer ball is a drone inside a durable plastic exoskeleton. Drone soccer is played indoors in a netted arena by co-ed teams who defend a goal by intentionally colliding their soccer ball with the ball of the opposing team. This rapidly growing e-Sport is thrilling, sanctioned as a World Cup game, and is making aerospace education accessible through a comprehensive robotics program with direct-educator training and ongoing support. Drone soccer team success is achieved through communication, leadership, and collaboration. It is also a college scholarship route.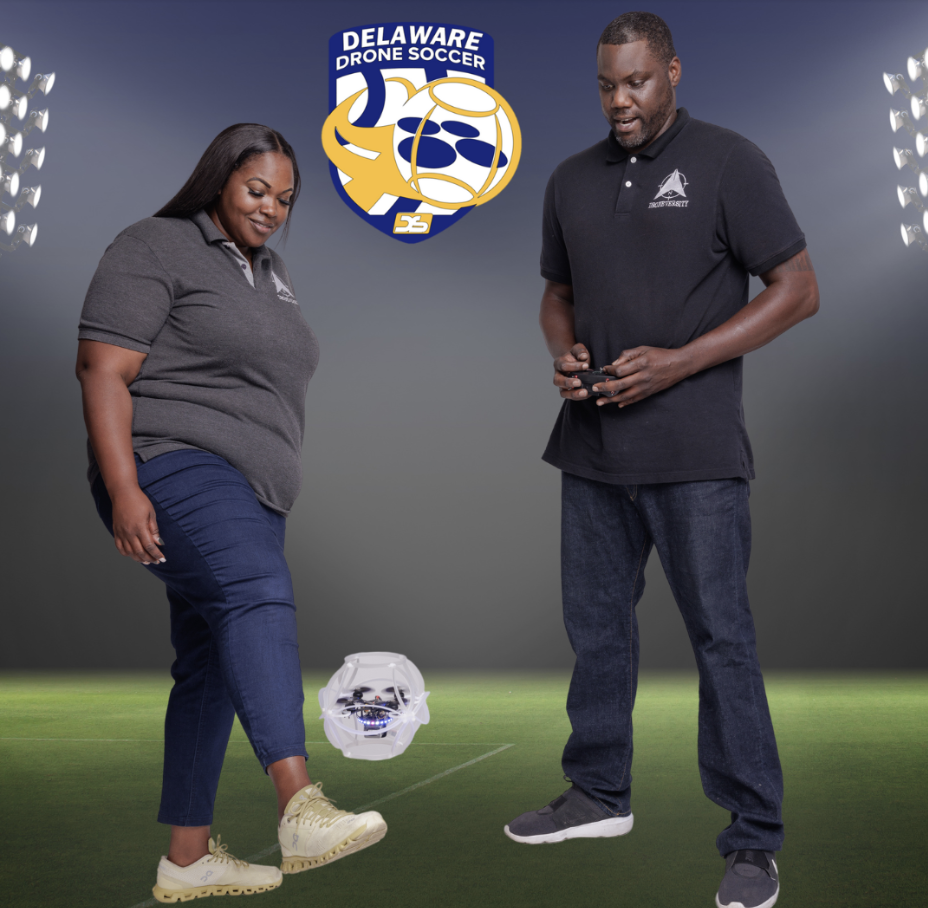 Delaware Drone Soccer
Droneversity's has several differentiators. Curriculum development in lay language has set Dronversity apart. The Ground School, which teaches Part 107 Exam prep, is rapidly growing. There is no flight requirement to become a certified FAA Drone Pilot. Of course, flight skills are necessary for employment and advanced flight-skills training can be difficult to find. Dronevesity's Flight School Instructors are outstanding and consistently receive five-star reviews. 
Droneversity provides Part 107 online courses with a live instructor. The learning-management system includes study guides and robust answers to typical Part 107 exam questions. Guest speakers offer insights to a variety of aviation-related opportunities. The extended support students receive includes review classes that are free preparation for the Part 107 exam.
D.R.O.N.E.S (Drones. Representation. Opportunities. Education. Safety.) is an acronym used by Droneversity to describe the guidance they provide in getting started in the industry. Drones are more than fun toys. Their design and uses are diverse. Representation shows there is no longer a need to be intimidated by aviation's historical racial and gender exclusion. Opportunities exist that will provide a career you may have never considered.  Networking is encouraged through drone meet-ups, workshops, and conference attendance. Droneversity emphasizes collaboration and partnership at a micro and macro level. Education assistance includes Part 107 and resources to various optional, but applicable, certifications. Partners like Global Air Academy can assist in building your business. Safety is first and foremost and promoted for industry growth through Remote Pilot respect. 
The year 2023 brings more ground and flight school courses, professional development for educators, and STEM-ulated fun for all ages.
"Droneversity is ready to welcome you to the next Part 107 course," says Cooper.
Enrollment is now open for Droneversity's next online and live course that starts Jan 4, 2023.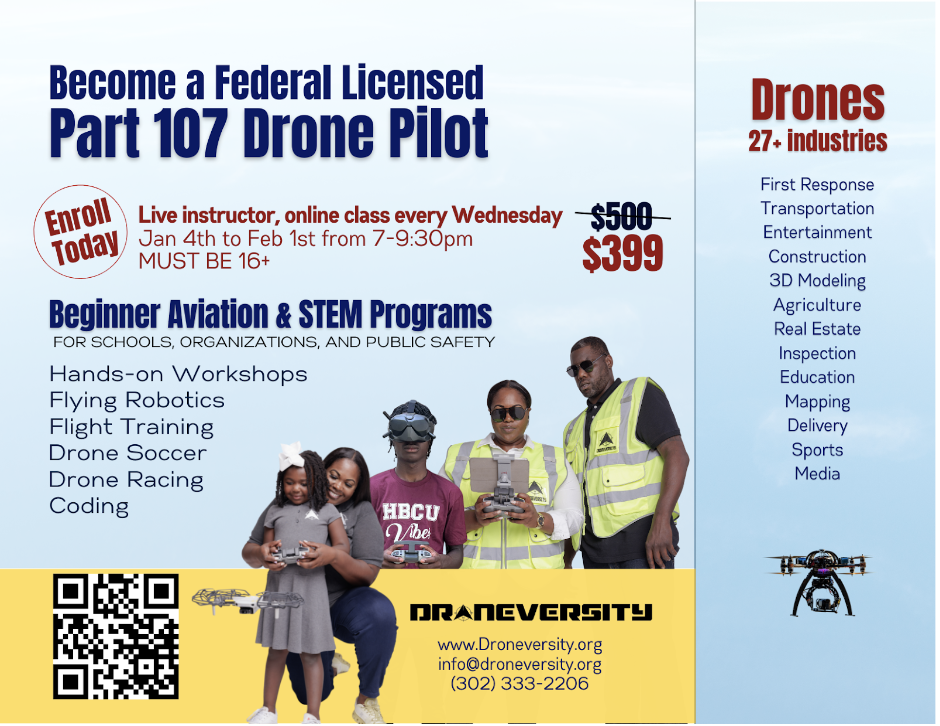 Watch!