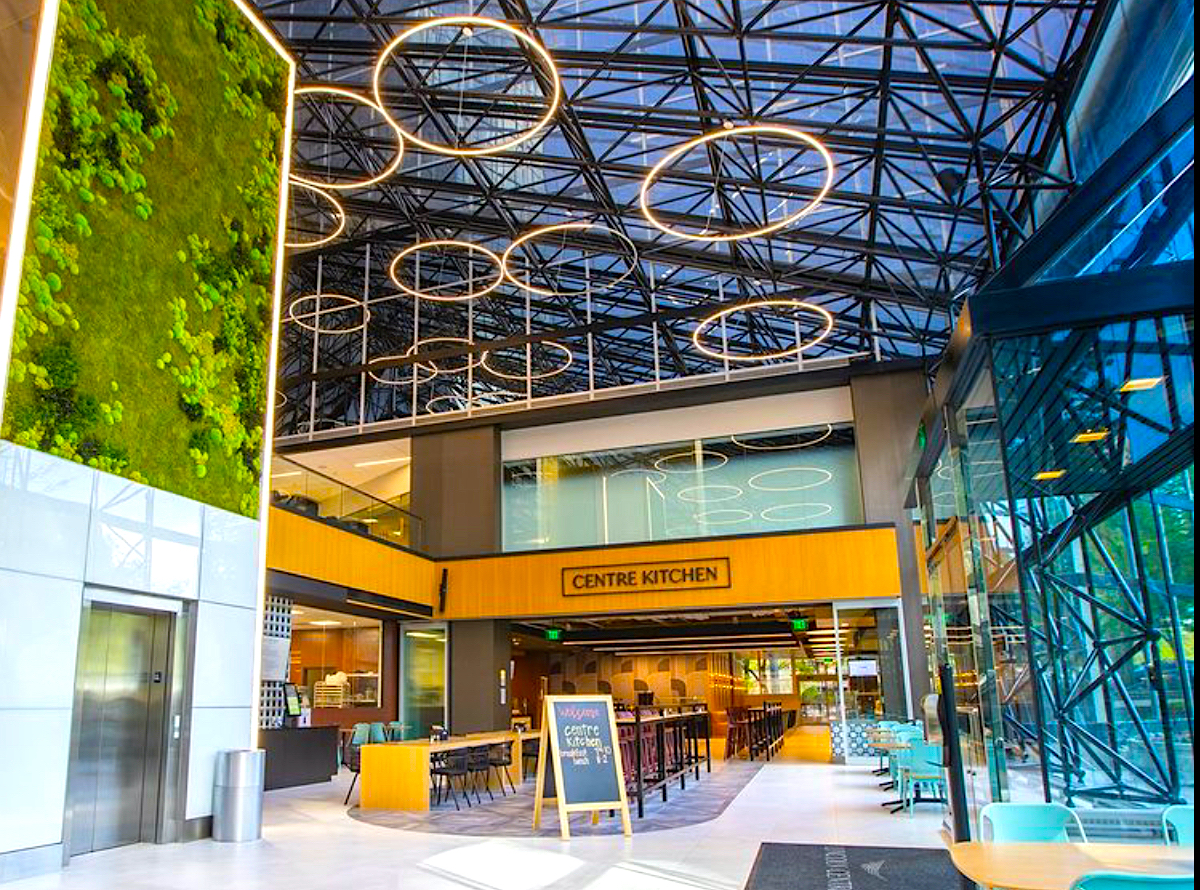 ---
August 16, 2022
The real estate industry was taken by storm in 2020 when a new type of virtual tour emerged.
While 360-degree tours, photography, and FaceTime have all been used to show properties, nothing takes you there quite like an indoor drone tour.
Enter Indoor Drone Tours
As the pandemic halted in-person real-estate showings, a new Chicago startup named Indoor Drone Tours was born and began introducing first-person view drones (or FPV drone technology) to commercial real estate companies, hotels, and other venues across the country.
The ability to create a virtual drone tour is a combination of new micro-drone technology, expert pilot skills, and post-production editing to make it all come to life. The result is a seamless video experience—often a few minutes in length—that takes you from room to room without any clicking around or dragging on a computer screen.
"It's the most efficient way to tour any type of building," says Zach Dulla, CEO of Indoor Drone Tours. "You just click play and a drone tour will glide you through the entire property." 
While traditional video tours do a great job of building emotion and focusing on details, it has always been tough for the viewer to understand the true layout of a property. Indoor drone video allows the viewer to move through a property efficiently—all while understanding how they got from point A to point B. From offices and apartment buildings to industrial warehouses and hotels, this new real-estate video is most often used by commercial rea- estate brokers and marketing teams in the promotion of selling or leasing a listing. Although the concept is still new across the industry, Indoor Drone Tours works with top commercial real-estate companies, such as Sterling Bay, Brookfield Properties, CBRE, JLL, and Cushman Wakefield.
Here are some examples of indoor-drone tours...
Tour an Office Building
Tour Luxury Apartment Complexes
Tour Industrial Real Estate
Tour a Hotel
There are a number of industries that use indoor drone tours and the sentiment about how and where they use them is similar. While 360-degree tours and arrow-clicking virtual tours have their place, it's the shareability and ease of distribution that makes an indoor drone tour so valuable when used correctly.
"Indoor drone video is the most shareable type of virtual tour available," says Indoor Drone Tours COO John Bach. "It can be uploaded to a client's website, posted across social media, emailed, or even texted to buyers or tenants." 
One another note, indoor drones provide an experience viewers haven't seen. These first-person-view drones can go where no camera has gone before. From gliding through an open window to circling an expensive chandelier, it's a functional virtual tour with a splash of creativity throughout.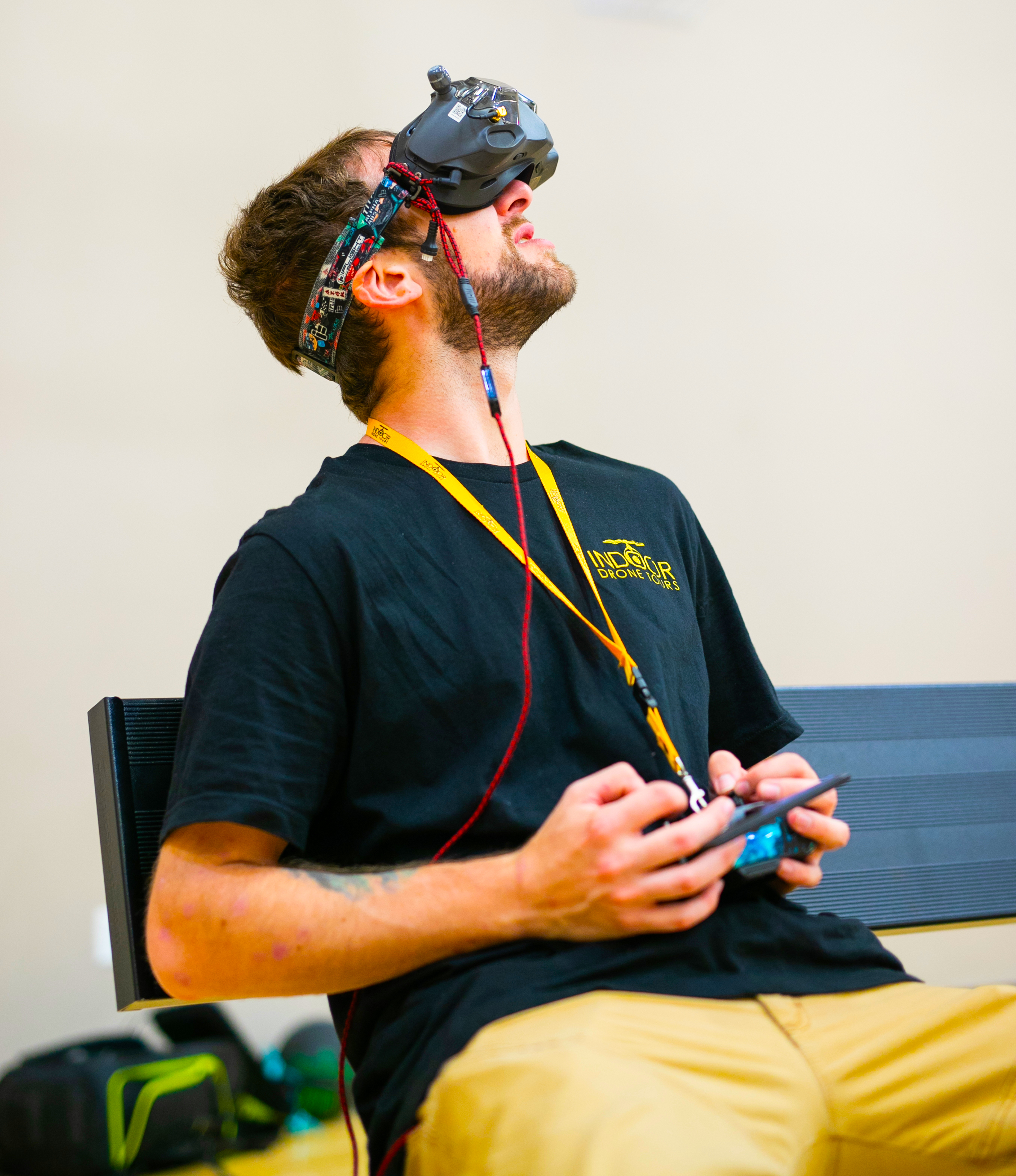 The pilots at Indoor Drone Tours are the department that makes the magic happen. Led by Cameron Goldberg and Stratton Ford, the Indoor Drone Tours pilots carry a bag with a variety of drones big and small that are used for different shots and purposes.
"All drones are purpose-built to ensure we have the perfect drone for any situation," says Goldberg. "Our pilots have everything from sub-250 gram drones to fly inside to larger drones capable of flying at high altitudes to capture wide angle views." 
Most of these drones—including the FPV drones that fly inside—connect to a pair of virtual-reality-like goggles that allow the pilots to see what the drone sees. This is how they can navigate around the property, flying room to room and up and down stairs with ease.
Indoor Drone Tours is a full-content shop that offers a suite of services such as outdoor drone, photography, property website, and other creative initiatives, but it's the tiny micro-drones that set them apart.
"FPV drones have been around for a long time, but the technology side of the industry has made it difficult for businesses to use the footage in marketing," explains Bach. "The cameras have just gotten there in recent years, and these drones can't be purchased at the local store right now. They require a lot of skill to build and maintain, so not everyone has been able to jump into it. I do think now is the time when we are seeing indoor drone video enter the mainstream." 
"The industry is catching on, and I think there will be a lot of companies offering indoor drone video services soon," adds Dulla. "Just in the last year, I've seen micro drones and FPV drones being used in a variety of new ways—from the PGA capturing golf flyovers to the Fan Controlled Football League (FCF) following players into the end, to Red Rocks Amphitheater hiring pilots to fly micro drones on stage during performances. But we've found our sweet spot. We're going to continue to innovate what we do and lean our real estate expertise to build new partnerships across the United States. Drone tours are here to stay, and we're excited to be trailblazing within this industry." 

Click link to learn more: www.indoordronetours.com