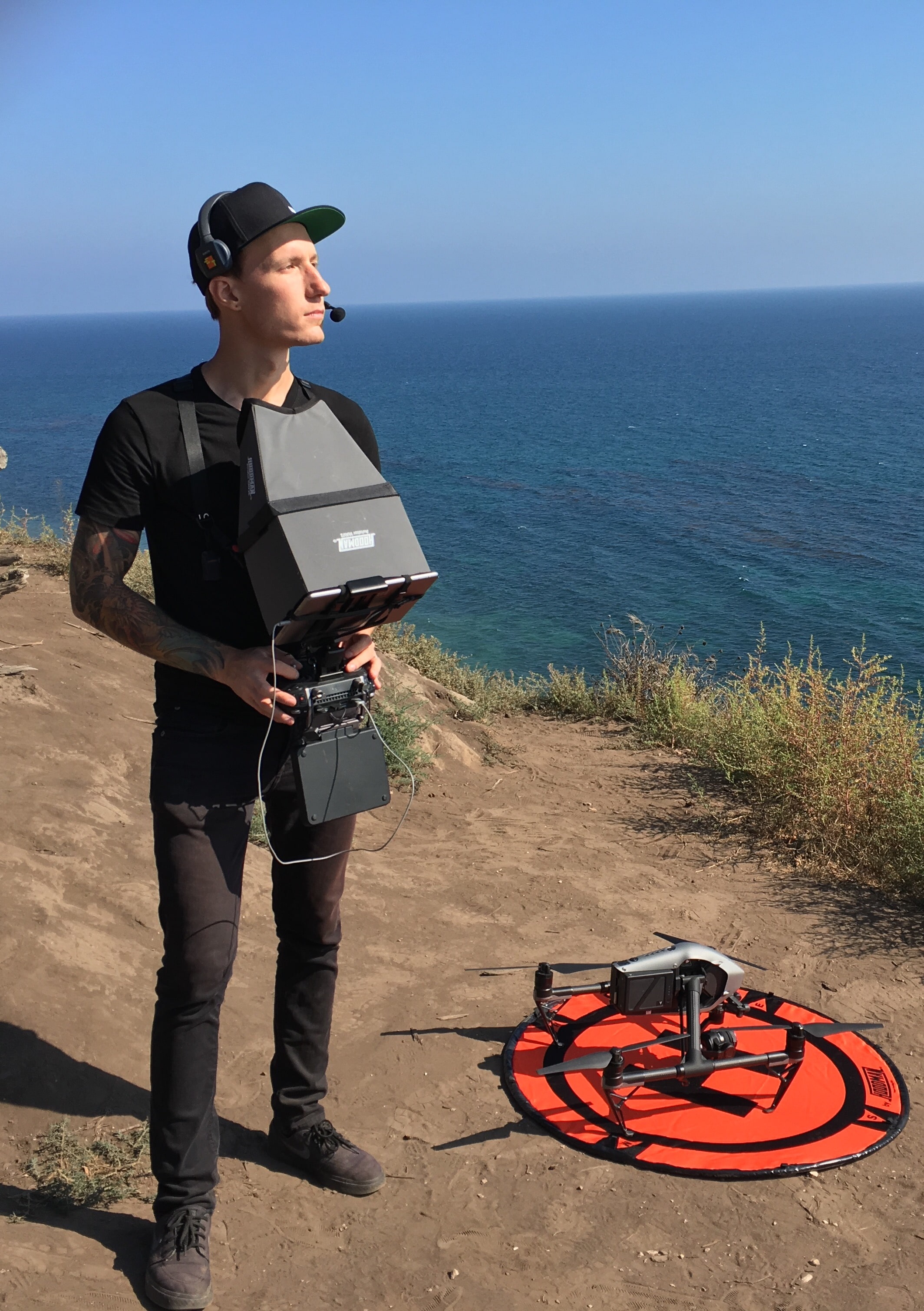 ---
I have been flying and running my aerial cinematography company Camera-On-Wings for seven years now, and I specialize in shooting aerial footage for cinema, television, and commercials. Over the years, I have had the opportunity to shoot for brands such as KIA, Mazda, Jeep, Dodge, Indian Motorcycles, Harley Davidson, Armani, RADO, and Lexus. I have also shot music videos for Kayne West, Post Malone, Jay Z, John Legend, and many others. In my column, I will be discussing all aspects of flying drones, and I am always open to suggestions for upcoming topics.
Here's a look at one of my favorite shoots—episode four of the Acqua Di Giò/Giorgio Armani series, The Scent of Life, that featured Italian wakeboarding champion Nicolò Caimi. I had worked with the producer of this series in the past on a few other shoots that went really well. As I was able to nail all the shots the director wanted, he thought of me when Armani greenlit production of this project. I received a call about a week before the shoot was supposed to take place, and we agreed on all the details and the schedule. This is one of the key factors for getting gigs—you work with someone from a production team, they see that you're professional and reliable, and they want you onboard next time.
My drone for this production was the Inspire 2, which gives you the ability to stay in the air for 20 minutes per battery pack, and reach a speed of 60+ mph when chasing a fast-moving object—in this case, Caimi on his wakeboard. The Inspire 2 works with a variety of prime lenses with different focal lengths, and its dual-controller setup allows for smooth gimbal-camera movements. It also has a small footprint.
The main challenge for me on this shoot was operating from a moving boat chasing another moving boat and a wakeboarder. Taking off and landing from a vessel is always challenging, and you must follow a specific procedure so that you don't lose the drone. Basically, you don't have a static RTH (Return to Home) situation, so you have to keep the signal stable. Otherwise, the drone will fly back to the point you took off from and land into the water, because by the time RTH is initiated, you've already moved. Ninety percent of accidents during operations over water happen when takeoff and landing occur from a moving vessel. The boat might be bouncing, and an inexperienced pilot can crash the drone very easily.
Getting ready to film with my Inspire 2
I have never had accidents during operations over the water, but, one time, there was a tricky moment while shooting a Netflix show in Miami. A drone lost connection to the master controller while shooting a yacht chase operating from a pursuing boat. I realized we had approximately four minutes before the drone got back to the spot we took off from. At that point, the drone would try to land—unfortunately, the landing spot would be in the water.
Here's another tip when operating from a moving vessel: Always maintain constant communication with the boat's captain. This is very important in cases like this, as I was able to ask the captain to turn around and rush to the spot where we took off from. The drone was climbing in altitude at the time, and I regained connection and took over. The aircraft was hand landed safely. Another tip: Set your RTH to hover when operating over water.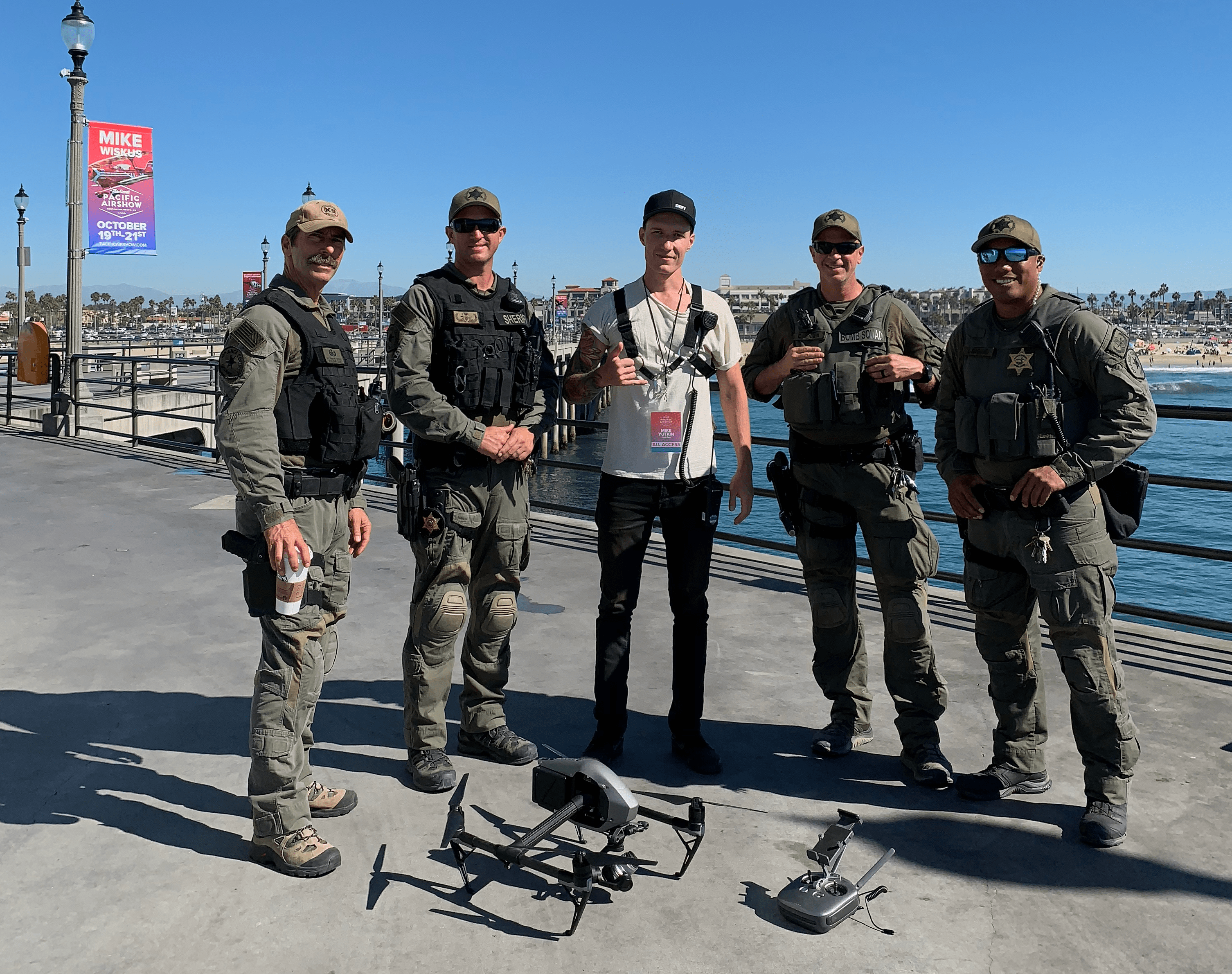 Working with the Orange County Sheriff's Department Bomb Squad Division
By the way, practicing good communication isn't just something you do for specific situations. Drone operations can be a little complicated, and most of the time, the client is not familiar with the process of safe operation, or the proper steps to achieve the best results. Sometimes, you have to educate your client—whether you are working with a director, a director of photography, a first assistant director, the producer, or anyone else who might coordinate with you and your drone team. I feel it's my responsibility to bring my best knowledge and experience onboard to collaborate with the client and get the best results. A drone on the set is always an attraction for everyone involved, so I try to communicate as much as possible to keep everyone informed of what's going to happen before and during takeoff, landing, rolling, cutting, the flight path, and so on.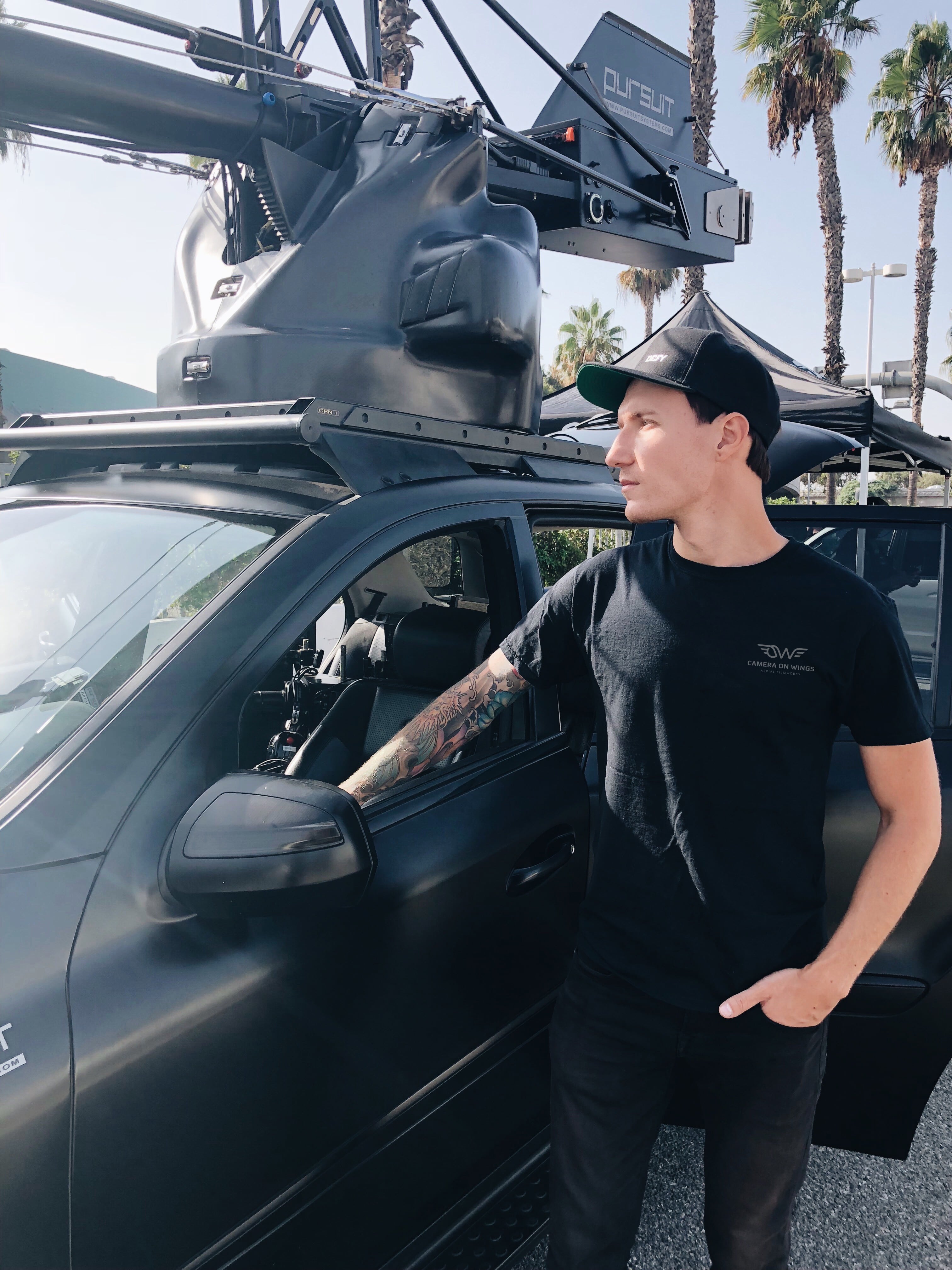 My Fleet
I thought I would also detail my current fleet for you. I have two main workhorses: The Inspire 2 with X7 camera, and a Freefly Alta 8 with the Movi Pro gimbal. Why these two? The speed of preparation for takeoff, the convenience of the ecosystem, and TB50 batteries (speed is up to 65 miles per hour with built-in video transmission). But the cherry on top of this cake is the X7 camera, which has a Super35 sensor and a choice of multiple lenses: 9mm, 16mm, 24mm, 35mm, and 50mm. I can't name my favorite right away, but perhaps it would be the 50mm. More on optics later.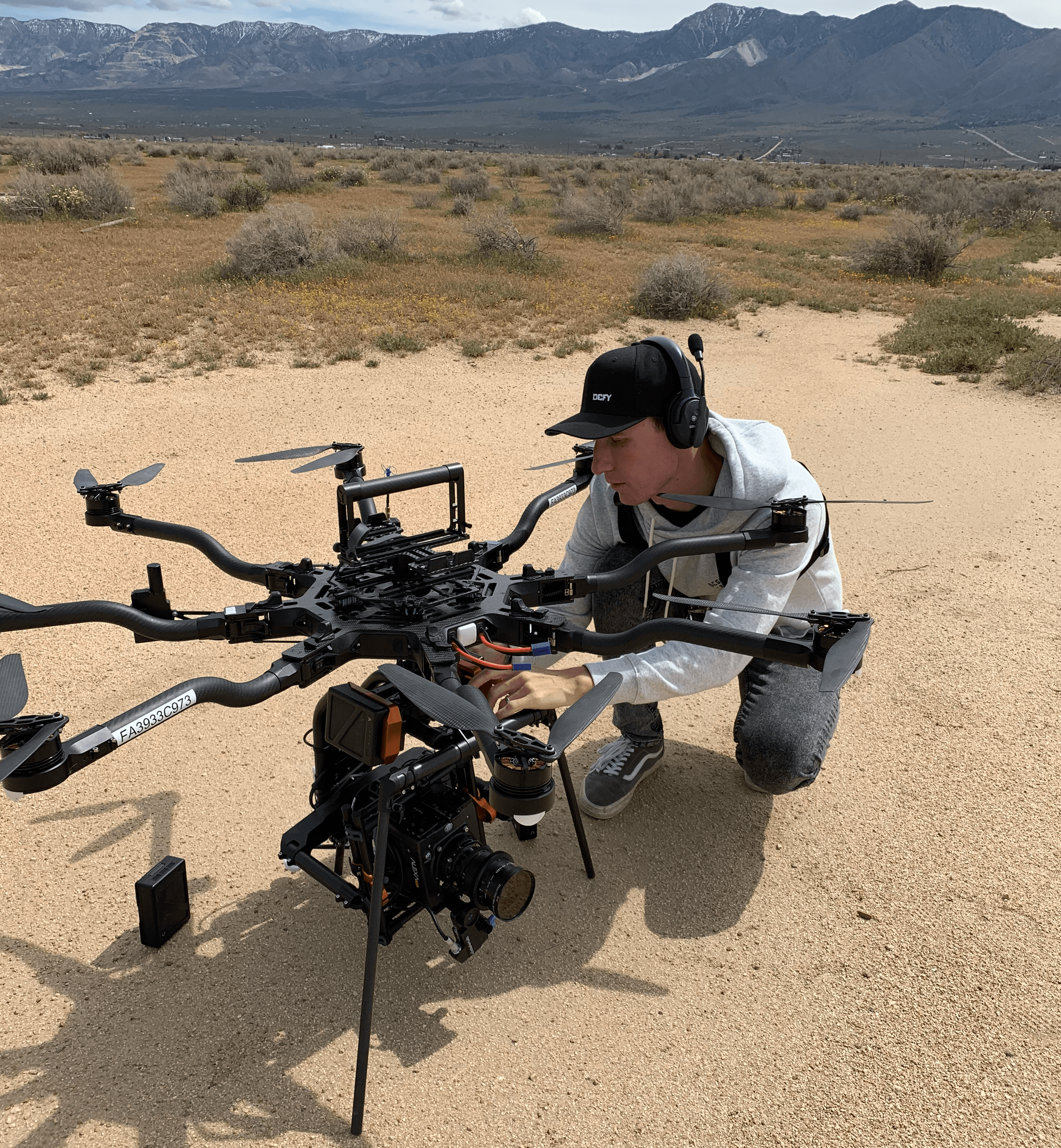 Setting up my Free Fly Alta 8
Recently, the direction of high-speed, first-person drones—or FPV (First-Person View)—are gaining more and more popularity. There are three FPV drones in my collection: a racing Stingy, a CineWhoop (a drone with prop guards for flying indoors or close to actors), and a DJI FPV. As an aerial cinematographer, I really enjoy capturing great action in the frame, along with a good mise-en-scène—from a fast chase to well-timed actor interactions—and my fleet helps me achieve the results I want. 
Michael Keeper
@michael_keeper
@cameraonwings