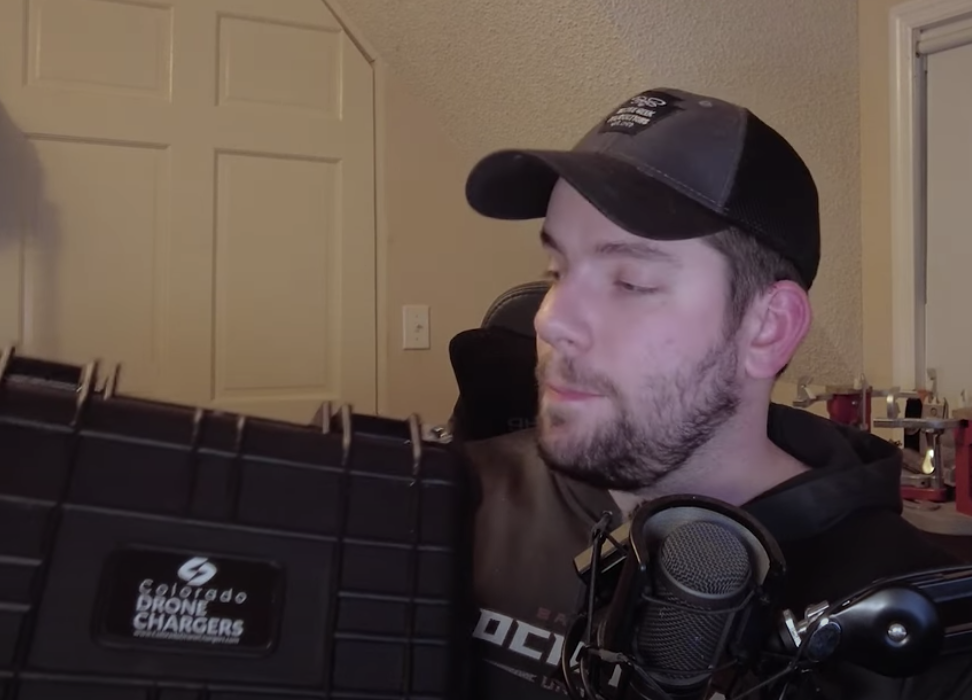 ---
19 December 2022
By Chris "The Drone Geek" Fravel
We have all been there before, You are out flying and you realize all of your batteries are drained. What now?
If you are flying recreationally, your options include:
Land your drone. Pack up. Go home.
Plug your batteries into the OEM charger and hope you can get one of them half-charged.
Ask your friend to borrow a battery, if possible.
If you are flying commercially, your only hope is to plug your batteries into the OEM charger and pray to whatever god to which you subscribe. That is never a good situation. Yet, over the last six years of my drone-flying career, this has been the fallback for when battery life was running short—a treacherous balancing act that left me looking unprofessional more often than I would have liked in front of clients.
Then, I met Patrick Ahern from Colorado Drone Chargers and everything changed.
Colorado Drone Chargers, based in the same state for which they are named, offers drone charging systems for industry-leading commercial drone brands such as: Autel, DJI, Parrot and Teal. Their chargers are designed to be durable and portable for the most remote and rugged environments. They're committed to providing the fastest and most efficient charging solutions on the market.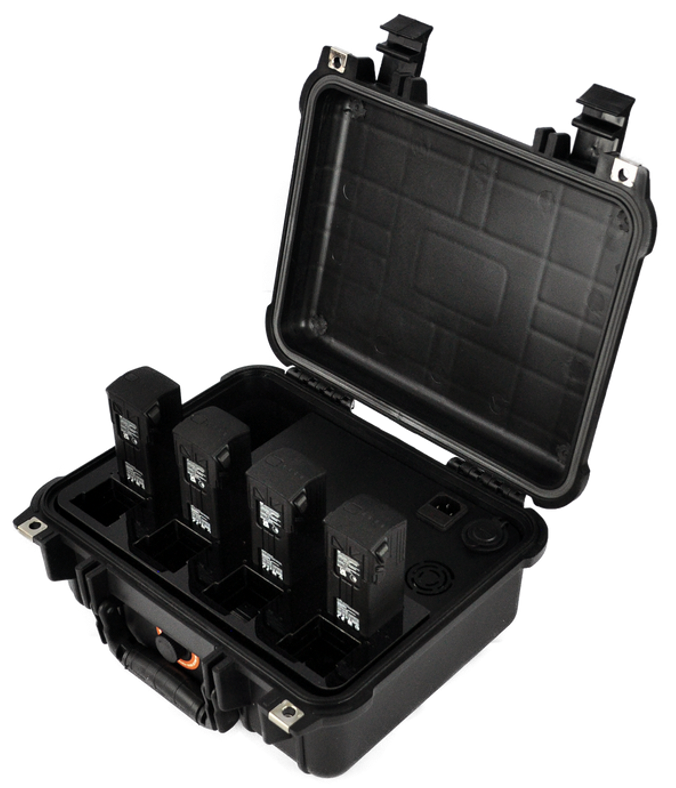 What really interested me, though, was the proprietary charging algorithm their portable charging stations feature. Colorado Drone Chargers offer drone charging systems that charge four drone batteries and one flight controller at the same time. These are rapid-speed chargers, but still safe for your batteries, utilizing a charging algorithm that manages each battery and device's current, temperature, and voltage levels. The average charge time, according to Colorado Drone Chargers, for batteries at a 20-percent charge to a 98+% charge is just 55-60 minutes, and that's the average time to charge all four batteries and a flight simultaneously.
After hearing this information, I knew I needed to see it for myself. Patrick and his team at Colorado Drone Chargers graciously sent me their Mavic 3 Portable Recharging Station (PRCS) to see what their product was all about. I mention this because I want to be totally transparent that the product I'm reviewing was sent to me (to keep) in exchange for the effort put into this written review and the video version of this review. That will not influence this review in any way, shape, or form and I am committed to being honest about this device's capabilities and utilization for drone pilots in the field.
We will start with the pros for this product and how I felt it performed in contrast to its billing.
Pros
• Water-tight and durable.
• Portable and nicely weighted for automobile travel.
• Peace-of-mind storage solution with four battery storage slots.
• Comes in three different colors: black, orange, and tan.
• Charges four batteries and controller at once.
• Charge Time from 20 percent to near-full-charge is Around 1 hour.
There is no question that Colorado Drone Chargers deliver on their promises with their portable recharging stations. Everything advertised about this product pulls through to real-world experience and the overall set-up and use is seamless. It is just as simple as unpack, plug-in, and charge. There is no updating required, no installation of applications or software, nothing – which is exactly what one wants when dealing with recharging their intelligent flight batteries.
As professional remote pilot, I can say to you with full confidence that I trust the Mavic 3 PRCS from Colorado Drone Chargers with each of my $210 M2 Intelligent Flight Batteries and my RC-N1 Drone Controller while charging and the exterior shell of the case has proven to me on several occasions that it is capable of top-tier protection while storing and transporting batteries. I've dropped it, kicked it around, had a forklift push it and knock it into a wall, had it in a dusty and grimey auto shop and more and not once did the Mavic 3 PRCS flinch under pressure.
While this product has won my trust, I would be remiss if I did not talk about where I felt the Mavic 3 PRCS fell short of my expectations.
Cons
• Not a travel-friendly device for airlines and weekend warriors.
• Disappointing lack of storage space for accessories besides batteries.
• No wireless charging feature for travel or short-term storage.
Yes, this product absolutely checks a lot of boxes for me as a professional remote pilot, but it definitely lost points in its ability to be travel-friendly and act as an accessory storage space too. Where it lost the most points for me and makes me hesitate to recommend this product to everyone is its lack of wireless charging capabilities. If this had a smaller or more convenient form-factor, was able to store at least the drone's remote controller, and was capable of wireless charging, I would absolutely say this product is for everybody who flies drones – recreationally or commercially.
Because it does not have an ultra-convenient form-factor, is not able to store accessories easily, and does not have wireless charging capabilities, then I would say this portable recharging station is really only able to cater to the needs of commercial remote pilots. It is a great fit for commercial pilots who need something sized-well for automobiles and even without wireless charging – most commercial sites will have access to power so this can be plugged-in and utilized to charge batteries efficiently and simultaneously during flight operations. This translates to a near perpetual flight time for the remote pilot and the ability to go for as long as the job requires.
All-in-all, the products offered by Colorado Drone Chargers are top-notch. My experience from beginning-to-end with the Mavic 3 PRCS has been nothing short of wonderful and if you are a commercial remote pilot that runs into frequent battery charging issues and cycles, Colorado Drone Chargers is the perfect solution for you. One final note to consider is service after sale. Colorado Drone Chargers prides themselves on offering premier customer service and support and a testament to that is their "no questions asked" warranty that comes on all of their portable recharging stations. If you have ANY issues with your product and its performance all you have to do is contact Colorado Drone Chargers and they will honor the warranty with absolutely no questions asked. You do not get any better than that service-wise.
If you are interested in purchasing a portable recharging station for your drone batteries, check out Colorado Drone Chargers' website and feel free to contact them with any questions this article may not answer for you.
Learn More!