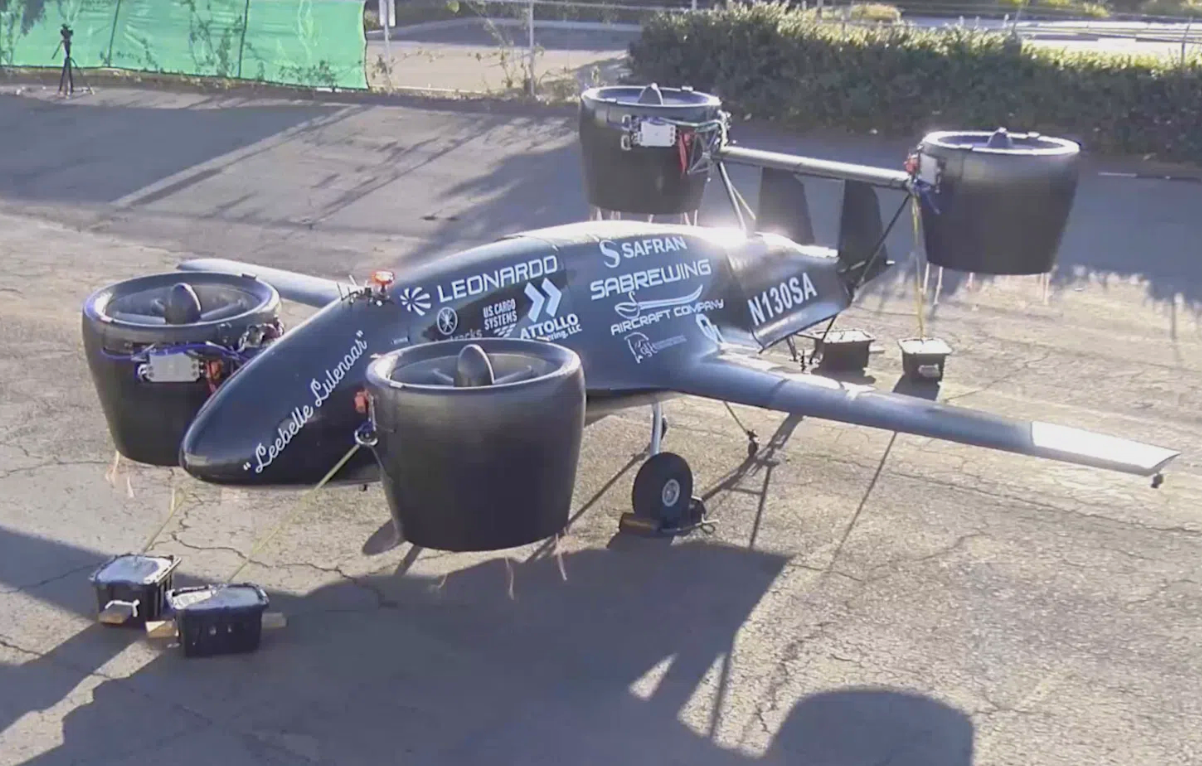 ---
29 September 2022
As most current delivery drones can't manage more than a few pounds of payload, don't expect your new washer to be delivered by UAV any time soon.
Well, unless the Sabrewing Rhaegal RG-1 is on the job. 
A pre-production Rhaegal recently trounced the previous world record for a dead lift by a vertical takeoff drone by lifting 829 pounds of payload.
But there's even better news. 
When the aircraft takes off conventionally—meaning not vertically, such as a helicopter—it can reportedly carry more than two tons of cargo up to an altitude of 22,000 feet, and outrace those Amazon vans at a speed of 230 mph.
"This is only a fraction of what this aircraft can carry," said Sabrewing CEO Ed De Reyes. "But it proves we're able to lift more cargo on our maiden flight than any previous cargo UAV that has ever flown."
Based on a helicopter engine developed by Safran—which uses a turbine-based motor called the Ariel 2E—Rhaegal can use 50-percent sustainable, eedstock-based aviation fuel, and its electric generator powers electric motors in four ducted fans. Power comes via a turbo-electric drivetrain systen that uses electric generators to convert mechanical energy from a gas- or steam-powered turbine into electric energy—a method used by some warships and merchant ships.
By making improvements to the blades, ducts, and shape of the aircraft's fans, Sabrewing was able to increase thrust by 30 percent—which was enough of an improvement to shatter the payload record.
"We're able to generate more propulsive energy—and much more efficiently—with a turbo-electric drivetrain and ducted fans than with batteries or directly driven by the turbine," says Sabrewing's chief technology officer Oliver Garrow. "The Safran motor is currently cleared to use 50-percent sustainable aviation fuel, and we expect to be one of the first aircraft manufacturers to use hydrogen ,after Safran completes testing on their motor in the next couple of years."
Sabrewing has had some help in creating the Rhaegal. Leonardo Aerospace contributed to the avionics, Toray provided composite materials, Garmin assisted with navigation, Attollo Engineering worked on Light Detection and Ranging (LiDAR) sensors, remote positioning technology from Spider Tracks, and software developed by California State University Channel Islands and three U.S. universities.
WATCH!