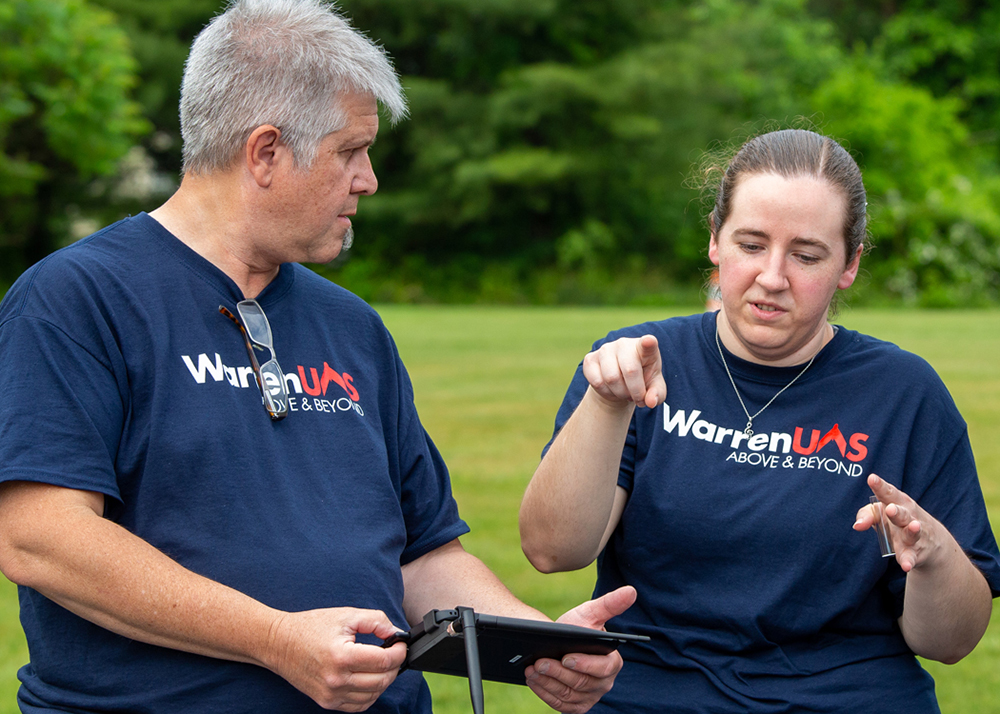 ---
Above: Amanda Moberg explains details of autonomous flight mission planning to her instructor.
By Jim Paterson           
Amanda Moberg loved the grace and loft of hot-air balloons, but also the pin-point precision of things like a small motor or the software running an effective phone app. She found her jobs in education and in marketing didn't line up with those interests.
Then, she found drones.
"I thought they were just fancy cameras flying around in the air—toys," says Moberg. "Then, I learned about them, and now I can clearly see they have endless possibilities. And I have opportunities in the field, too."
Moberg is among the first graduates from the acclaimed Warren County Community College Drone Education program, which has gained attention for its rigorous, sophisticated training regimen and cutting-edge equipment—soon to be housed in a new Center for Aeronautics and Robotics facility on the college's main northern New Jersey campus.
The program has been bolstered recently by collaborative agreements with the top, higher-education drone-training schools in the country, and with other training and employment agreements in the industry. It also received a rare waiver this month from the Federal Aviation Administration allowing Warren to fly drones BVLOS—or long distances out of sight of their pilots—giving its students and opportunity to learn the unique knowledge and skills those flights require.
"I was on the Warren campus on the ground crew for a hot-air balloon festival when I saw a presentation about its drone training program," says Moberg. "I was hooked. I always loved flying and mechanical things. This was the perfect fit."
Moberg enrolled at Warren right away, and after graduation plans to move on to online courses and a bachelor's degree at Embry-Riddle Aeronautical University, which has a matriculation agreement with Warren. She has an interest in the growing use of drones in agriculture and public safety, and believes she'll work in the industry in the Warren County region, where she's from. She has also been exploring underwater drones—a new area of study at Warren.
Edward Beckendorf—another graduate this year who is headed on to Embry-Riddle—similarly found the career he wanted with drones after working in the hospitality business.
"I thought I might become a mechanical engineer, but I was taking general education courses at Warren when I came across the drone program and it seemed like a good fit," he says.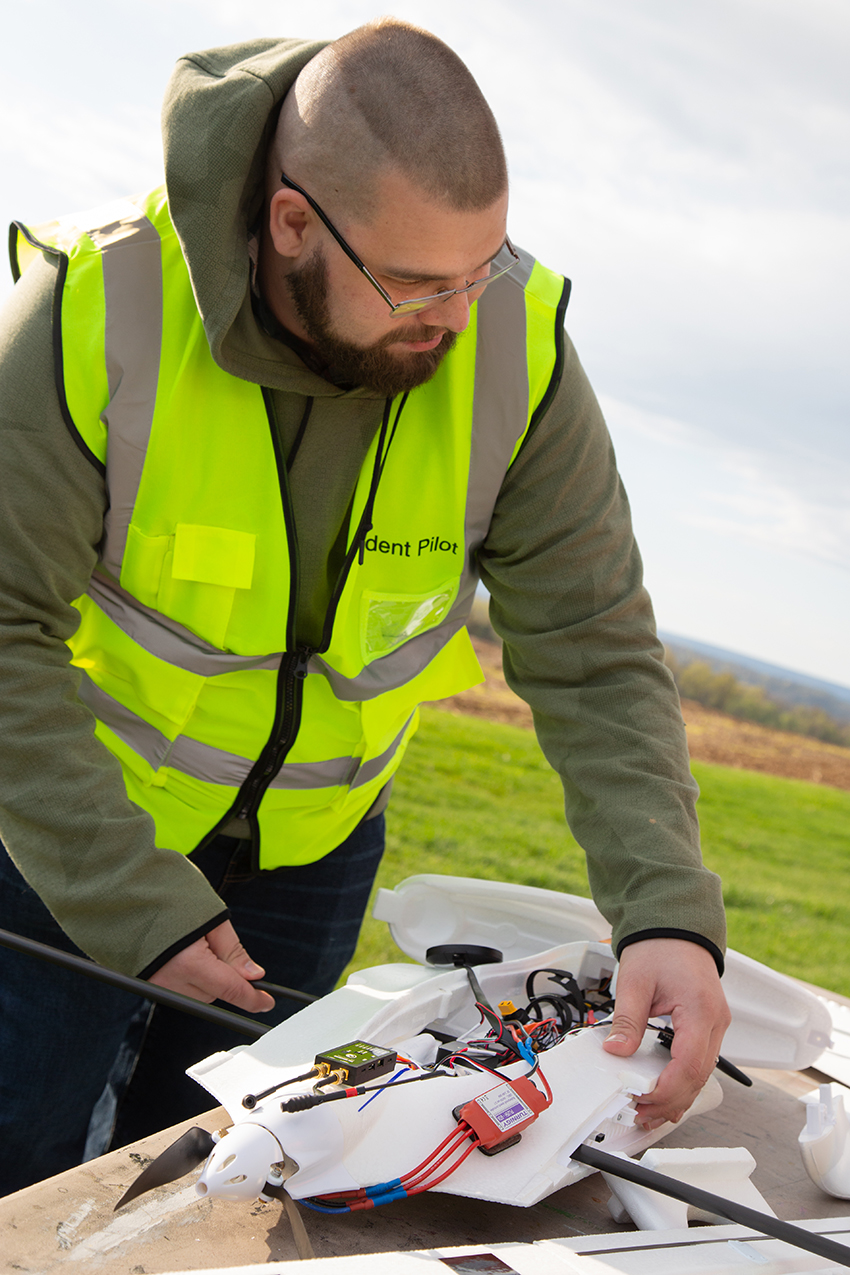 Beckendorf prepares a fixed-wing drone for test flight that he customized with upgraded electronic components in his Advanced UAS Systems class.
Beckendorf—who has served in the National Guard—sees the possibilities for a career with drones in the military and the growing opportunities as drones are used more often for surveying. He also has considered teaching.
Moberg credits Warren President Will Austin with stirring and building her interest in a career working with uncrewed systems.
"He showed us how interesting this work could be and the number of opportunities it offers," she says. "I remember so well him saying that, not long ago, knowledge in the technology field was doubling every 18 months—a phenomenon known as Morre's Law—and now research suggests that may be happening within a single semester of school. There's a lot to learn. It's exciting."
Austin—who is a pilot himself—sees huge growth in the use of drones as certain regulatory issues are resolved, as technicians like Moberg are trained, and the equipment continues to evolve. Society and the business community also have to adapt to the new technology.
"I don't think we are yet prepared for how drones and robotics—which we both explore in our program'are going to change the world," says Austin. "Drones, for instance, will simplify and speed mundane and dangerous tasks such as inspection of huge, remote electrical towers or swaths of farmland or mountain terrain at risk of a fire—or even help thwart a mass shooting. And, before we know it, they'll be delivering packages regularly and even passengers to their destinations."
Currently the FAA strictly regulates the flight of drones over populated areas, and Warren officials believe the college is close to having a previously-approved waiver renewed, giving them that capacity. The school also recently received a waiver to fly drones beyond the line of sight of their pilots, which industry analysts say is rare. The FAA typically turns down 99 percent of such waiver requests and few colleges have such a clearance, an industry analyst reported.
Austin and Warren, meanwhile, have worked closely with one manufacturer of a system that allows disabled drones to land safely, and another that builds the drones and elaborate tracking systems that allow flight as far as 50 miles from the operator.
"These waivers are an indication of where our program is headed, and where the industry will go," says Austin. "The use of unmanned systems will boom as we develop the technology that will allow us to tap into their full capacity. But it will also require structures that train people to design and manufacture these systems or maintain and operate them. That's what we're trying to build."
Austin predicts the biggest growth in the industry will occur in precision agriculture, package delivery services, and advanced urban mobility in the next five years.
Meanwhile, the biggest hurdles it faces involve responding to the legitimate concerns of the FAA by both improving the technology and "training and informing the public and potential commercial users about the ways drones and robotics can be immensely helpful to us."
While the drone and robotic program at Warren is only four years old, Austin and his team now can train students with about 50 uncrewed vehicles and a variety of robotic systems. It has grown from three students at its inception to 40 now, and is projected to enroll as many as 200 once the new, roughly 4,000-square-foot Center for Aeronautics and Robotics and 1,000-square-foot advanced manufacturing maker labs are completed this fall.
The facilities will train students in the design, assembly, and operation of drones costing from $100 to $100,000, but also will increasingly offer instruction—in class and online—about the development of related robots and other types of remotely controlled robotic vehicles and the "business of automated mobility." It includes the evolution of drones as human and cargo transportation vehicles, which are currently active around the world and awaiting approval for use in the United States.
Warren's program also specializes in "precision agriculture"—an emerging field that uses data collected by drones to inspect property, assess crops, and improve production. This is a logical field of study for the college, given its location in the midst of farmland.
It's collaboration with Embry-Riddle is creating pathways for students like Moberg, and connections between the schools allow the sharing of staff and research. One recent gathering for faculty from both schools involved sessions about advanced technology, including work with WCCC's sophisticated robotic dog, "Spot."
"That is a good example of the way expensive equipment (Spot cost about $200,000) can be shared and explored by both campuses in a field where equipment and software is expensive and changes rapidly," says Austin, who was recently named Member of the Year by the Association for Uncrewed Vehicle Systems International (AUVSI), the world's largest organization dedicated to the industry. Participants represent corporations and professionals from more than 60 countries working with autonomous systems in business, government and education.
Another collaborative effort by the school is linking Warren, Embry-Riddle and six other colleges in group that hopes to create standardized curriculum for drone training and build the drone programs on the participating campuses, which are located throughout the nation.