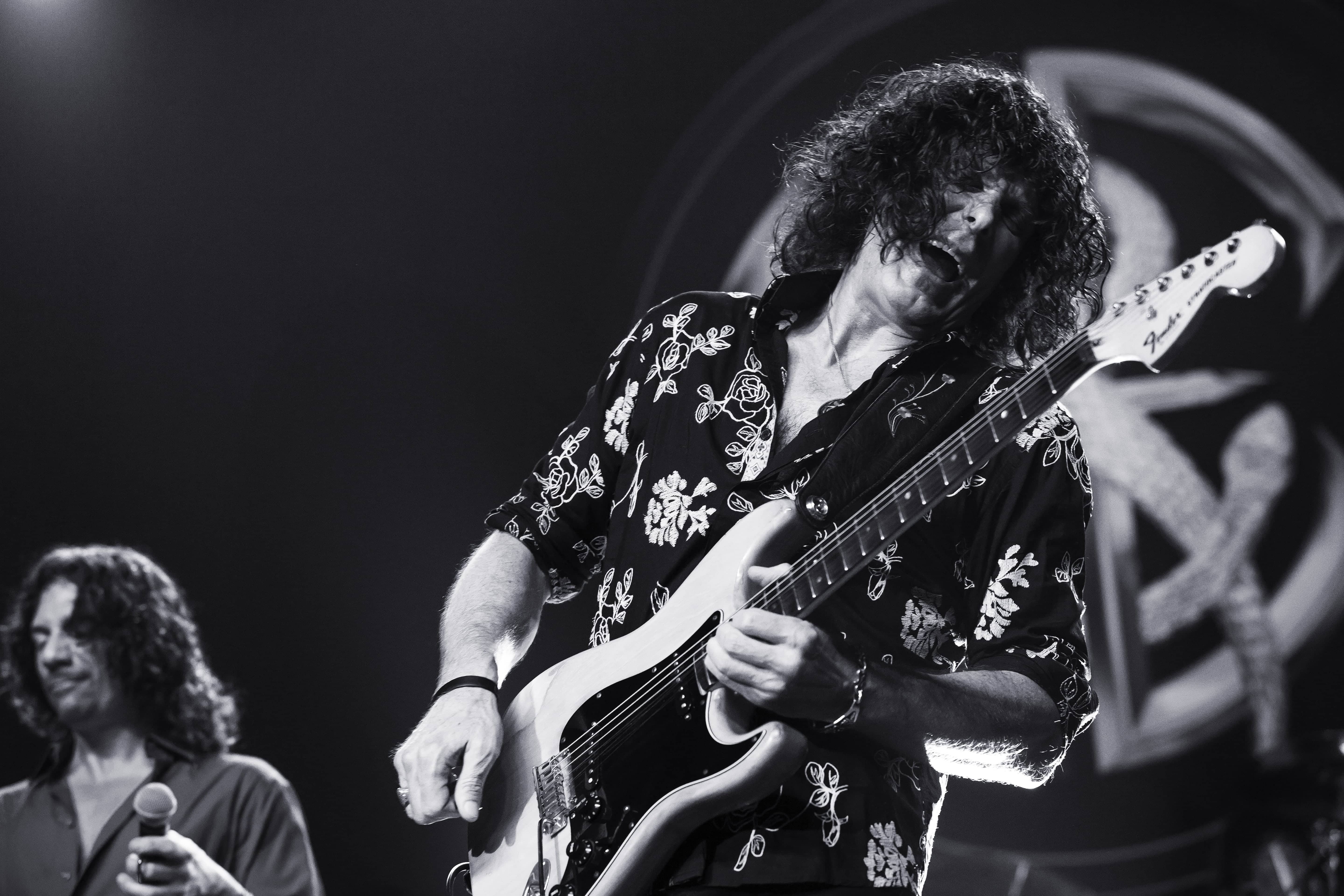 ---
I have spent most my life playing guitar around the world with numerous bands—for the last decade and a half with my own group, Heaven & Earth. I was bitten by the drone bug about three years ago, and I bought myself a Mavic Pro 2—mainly just for the fun of it. But then COVID hit, our world tour was cancelled, and I was supporting a teenage daughter, so I needed to create a secondary source of income. I decided to produce a website called The Droning Company (a play on Elon Musk's The Boring Company) to showcase my own amateur drone footage. However, after seeing the amazing work that way more qualified pilots than I could ever hope to be, were doing, I decided to change direction and do something I actually knew about.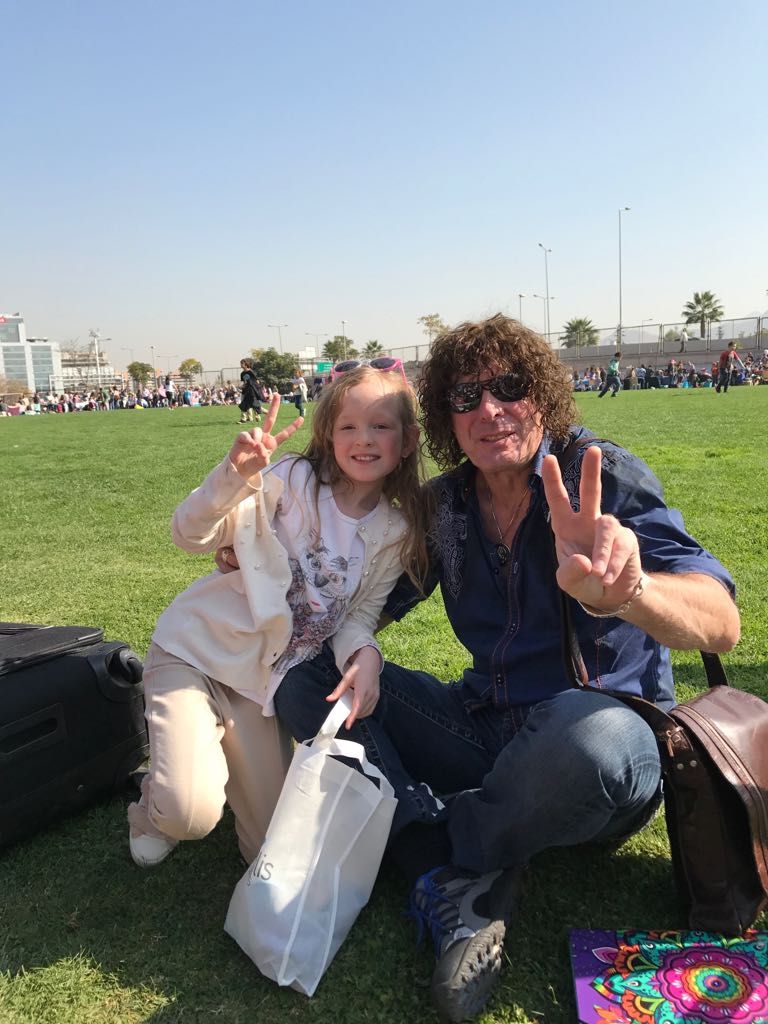 With my daughter Sophia Stormy
Seeing that there was a gap in the market, I decided to start a job agency to find work for all of the amazing pilots out there. After much thought and discussion amongst other drone pilots, I decided to not only make The Droning Company a job agency, but to also incorporate a high-end online magazine dedicated to the rapid changes happening within the droning industry.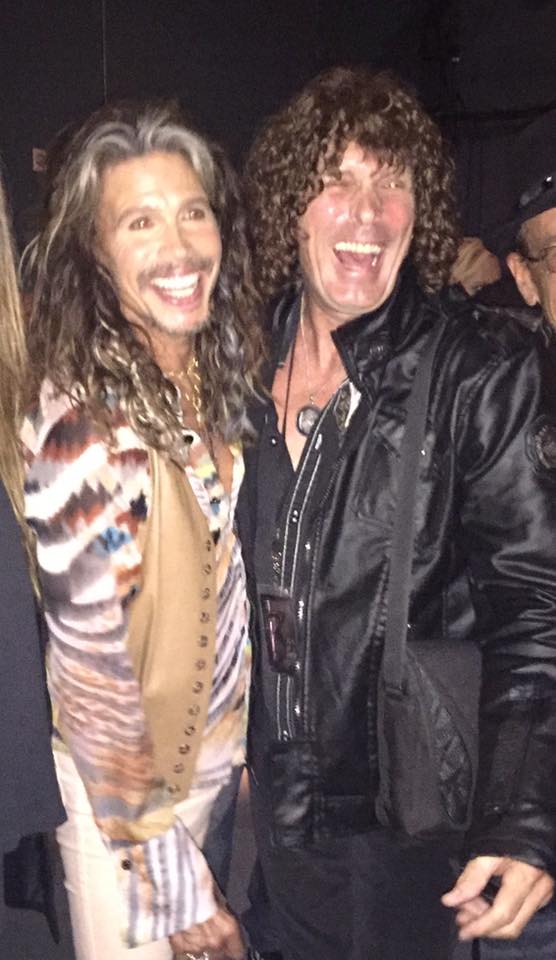 Stuart and Steven Tyler
Now, for those of you who know what you're doing in this arena, you may want to leave this column right now, as what I have to say is strictly for the uninitiated.
After excitedly unboxing my Mavic Pro 2, I powered it up to try it out in my back garden. I almost dunked it in the swimming pool, reversed it into one of my pygmy palm trees, and plowed it straight into my back door. Luckily, all I suffered were a couple of broken propellers, but my lesson had been learned. I needed to know what the hell I was doing before I decided to fly this thing again.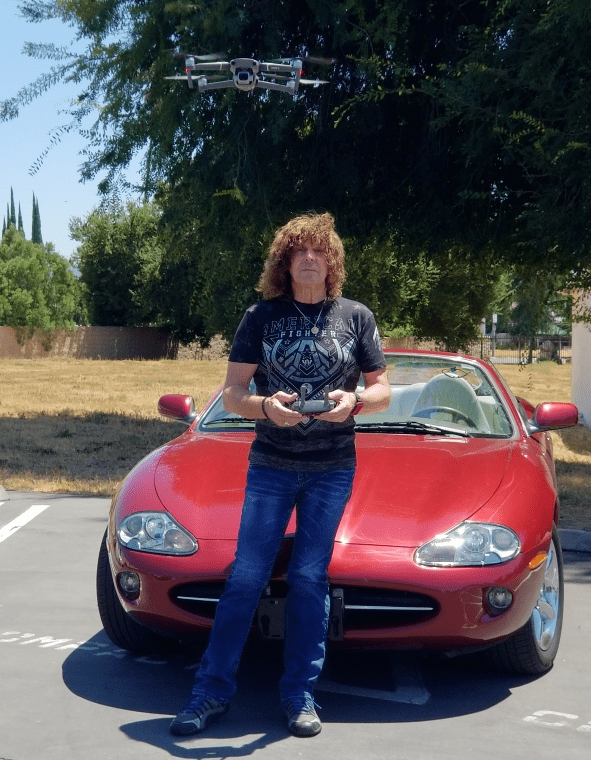 This is where I learned what an incredible community the drone world really is. First, I went on You Tube and watched a few videos on how to properly set up my drone before attempting to fly it. Little did I know that you have to calibrate the damn thing before you even take to the air, along with myriad other things. After gleaning all the information I could from these helpful videos, I came across the DJI Drone Forum, and it was there I discovered how close knit the droning community really was.
Point in fact, a close friend of mine is eight-time Grammy winner David Paich from the band Toto who wrote "Africa" and "Rosanna." One night, we were lamenting the state of the rock-music business. David told me the reason rap artists were kicking our collective asses was because they all support each other by either appearing on each other's albums or by giving shout-outs to other artists they deemed worthy. That being said, we decided to form a rock cartel whereby we would call upon all our friends in the business to do the same things. It fell upon deaf ears.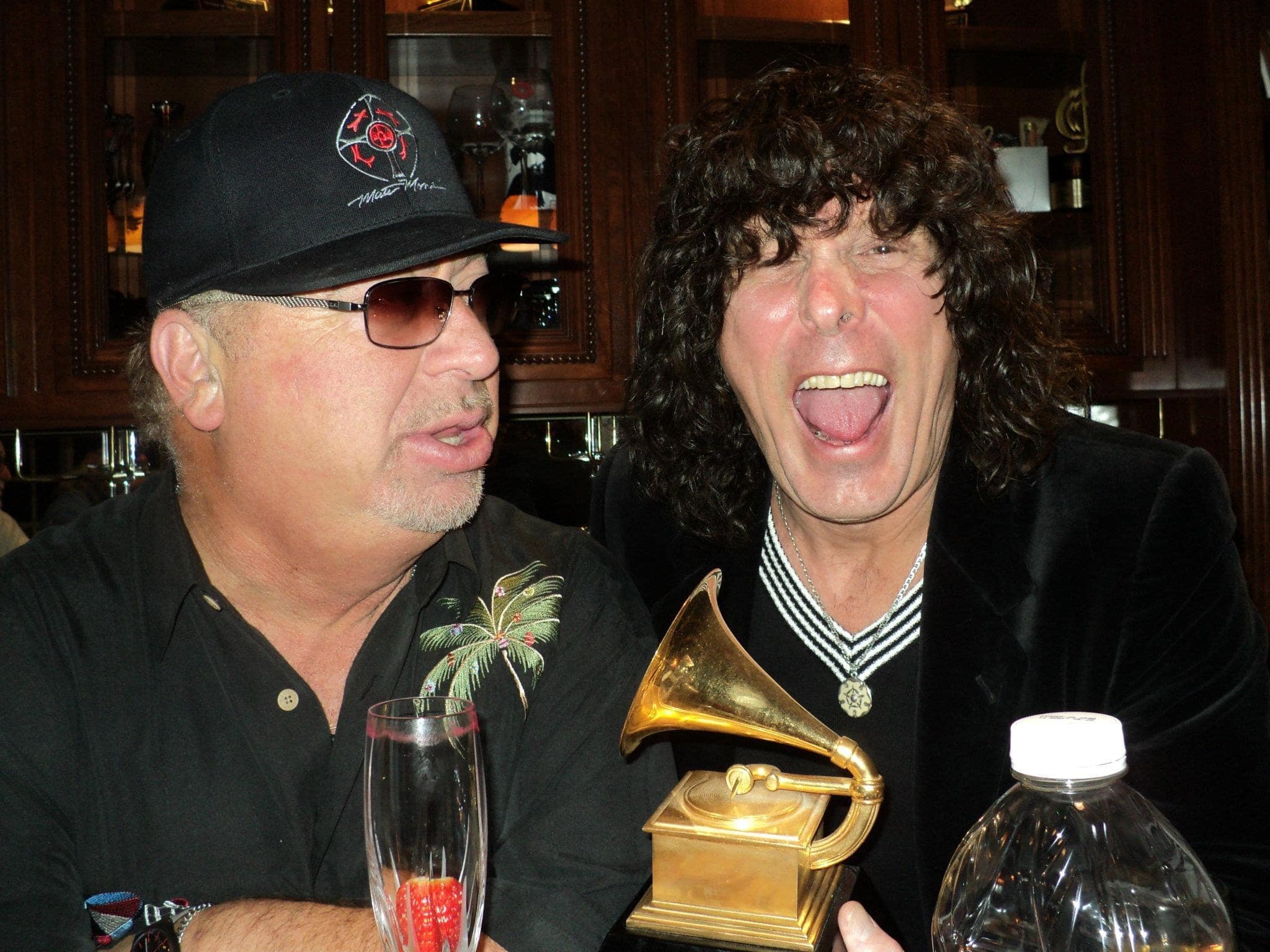 Stuart with David Paich
Not so in the droning community. On the DJI Forum, I saw many beginners asking what I viewed as really simple questions that could have been answered by checking out YouTube, or by reading their manuals. Yet, there were plenty of experienced pilots that were only too happy to share their knowledge with them. The more I got involved with flying my drone, I met many other pilots, and I found they had the same sort of helpful attitudes. They had no problem answering my questions and showing me their drones and equipment.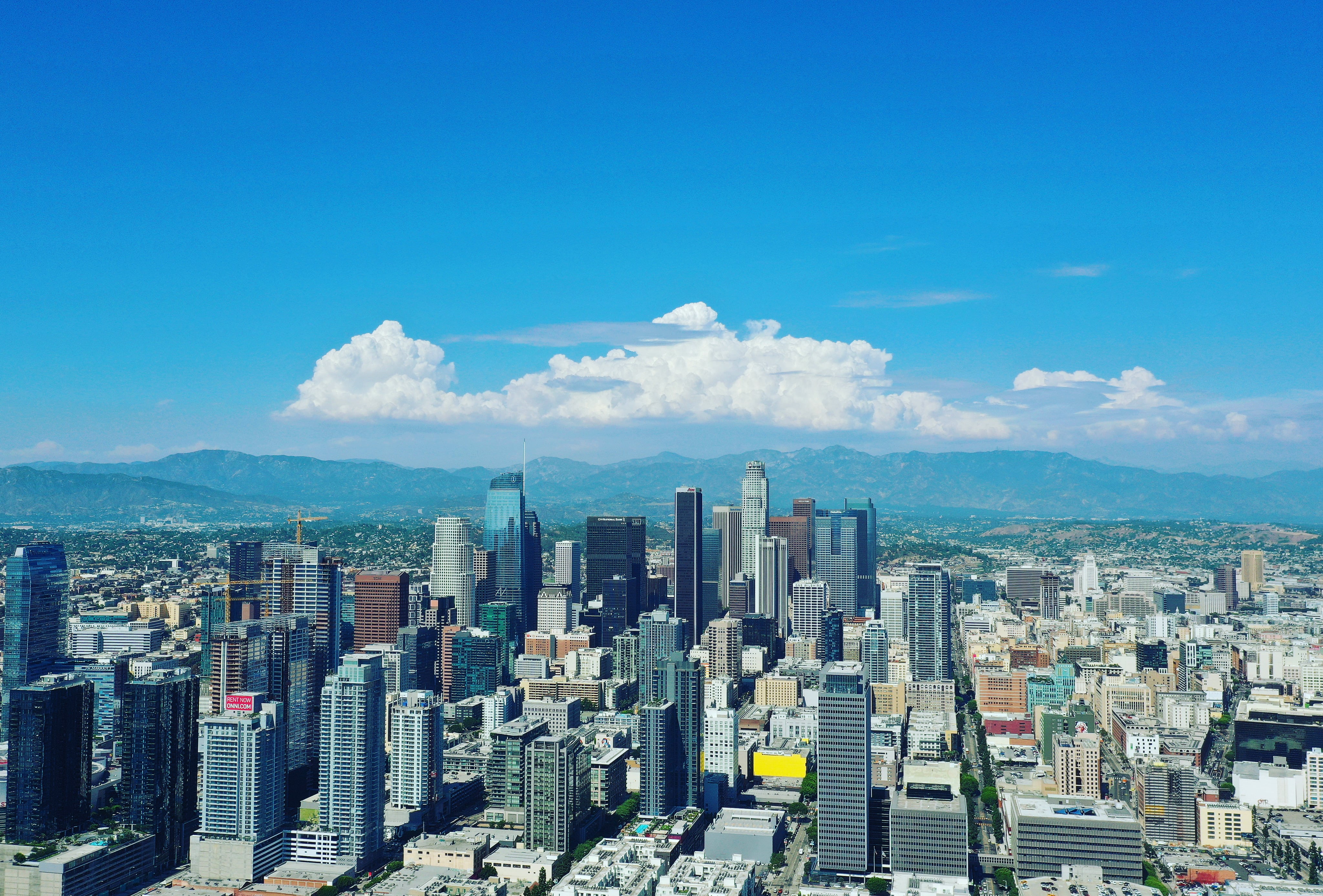 The first photo I took with my DJI Mavic 2 Pro
I will outline here are what I consider the necessary steps to take when beginning to fly a drone for either a hobby, or to someday become a professional.
           [1] Rather than do what I did and buy a reasonably expensive drone right off the bat, get yourself one of the many drones out there in the $200 to $300 range. Learn to fly that model first, because chances are you're going to have a few crashes before you get the hang of it. It's best to take it to a field—or somewhere with plenty of open space—so that you can become familiar with taking off, landing, and flying. When you do upgrade to a more professional drone, it will be worth your while to practice with an online simulator. You can find a simulator that will be relevant to your drone by searching on Google.
           [2] Register your drone with the FAA. If you are flying a drone less than .55 pounds (250 grams) as a hobby, you do not need to register it. Any drone above that weight needs to be registered. It costs just $5, and you can register it here: https://faadronezone.faa.gov/#/
           [3] If you are unsure about where you can fly your drone—ask. You can always find a wealth of information on the DJI Drone Forum, or you can post a question there that will be quickly answered.
           [4] Always keep your drone within visual line of sight (VLOS).
           [5] Learn drone terminology and abbreviations. You can find a comprehensive list here: https://www.nwcg.gov/sites/default/files/publications/pms515-uas-terms-and-abbreviations.pdf
           [6] When you feel you're ready to go out and start making money, the very first thing you must do is study for and pass the FAA Part 107 Commercial Drone Pilots License test. The reasons for doing this are many. First, most reputable clients won't hire you if you don't have your FAA Part 107. Second, if you get caught flying commercially without it, you're looking at up to a $10,000 fine.
            There are many ways to study for your Part 107, as there as numerous companies offering online courses, as well as lessons on YouTube and books. You will also find pilots that give lessons on how to pass the test. These cost $173 at an FAA-authorized testing facility to get your certificate. A commercial drone license is a lifelong certification, unless revoked by the FAA. The privilege to fly remains valid for 24 months, after which you'll need to pass a recurrent knowledge test that grants you the right to fly for another 24 months. I do not recommend attempting to pass the FAA Part 107 test without taking lessons or engaging in some serious study.
           [7] Get insured. If you're going to be flying commercially, you're going to need drone insurance—not only to cover your drone from any unforeseen accidents, but also to cover yourself in case you're flying on a movie set, lose control of the drone, and it crashes into someone. Again, you will probably have to prove to clients that you are suitably covered. Drone insurance is available for either the one-off job or year-round coverage. Prices vary, so shop around.
           [8] Recreational and commercial drone pilots must request authorization through LAANC or FAA DroneZone before flying within five miles of an airport or in controlled airspace. As the rules regarding flying near airports seem to be constantly changing, it's probably best to check with the FAA here: https://www.faa.gov/uas/commercial_operators/uas_facility_maps/
           [9] As well as the more interesting jobs which drone pilots are hired for—such as commercials and video shoots—there are many what I'd describe as 9-to-5 permanent jobs. These jobs include inspecting power poles and cables, working for large real estate firms, being a civilian contractor for law enforcement, and doing aerial inspections for the oil and gas industries. Although these jobs are not as glamourous as some of the more exotic ones, they do pay extremely well, and they are ideal if you are looking for a bit more job security. We will have companies posting these jobs in the "Drone Jobs" section, which is available to all members of The Droning Company.
Well, that's about it from me for now. If you have any ideas you would like to see featured, or if you would like to write an article for The Droning Company, please drop us a line at info@thedroningcompany.com.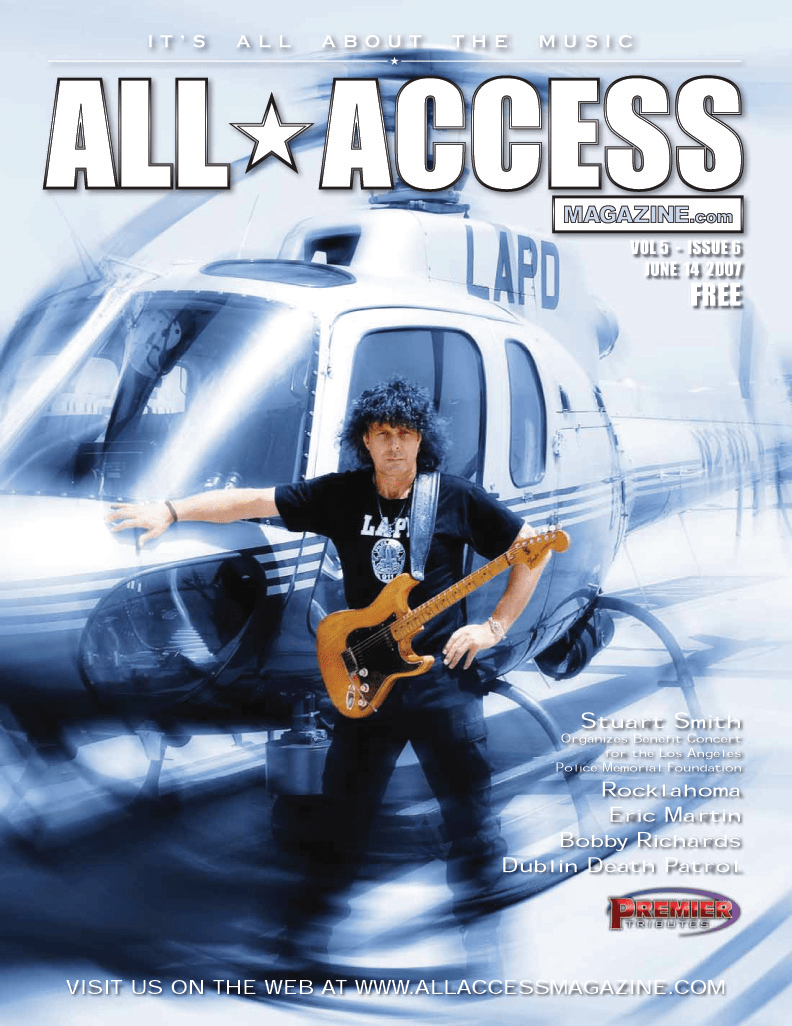 The cover of All Access Magazine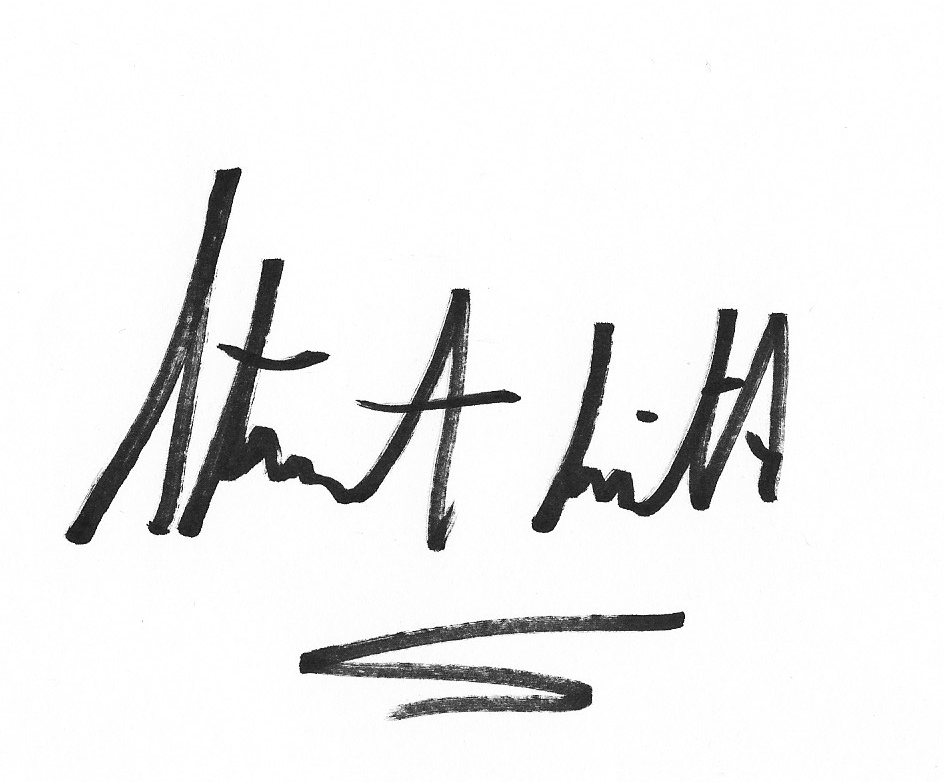 Stuart Smith
Founder, The Droning Company