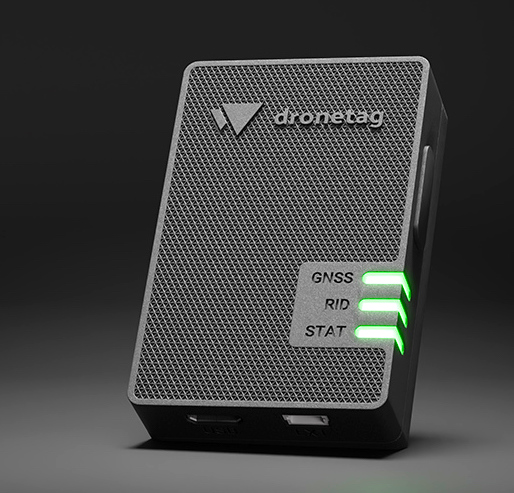 ---
31 March 2023
By Chris "The Drone Geek" Fravel
There is one thing that drone pilots nationwide and the characters from the hit HBO series Game of Thrones have in common—something inevitably controversial is coming.
In our case, it's remote identification. Yes, in 2023 remote identification will become required for all pilots conducting drone operations to broadcast while their unmanned aircraft is airborne.
Like it or not, we are all going to need to figure out how to stay compliant with this new regulation or face potential consequences for neglecting to do so. That's where the company Dronetag comes into play.
Dronetag CEO Lukáš Brchl sent us one of his company's remote identification modules to put through our paces. The model we received was the Dronetag Mini. A compact device that is the first FAA-approved broadcast module for remote identification. After unboxing the Mini, I found that while it is small in relation to most things, it was actually a bit larger than I had anticipated. It also came with a dongle for updates on its firmware as well as a 3" micro-USB cable for charging purposes. Outside of that and a few pieces of literature about the Mini and a sticker, that was all that came with the product.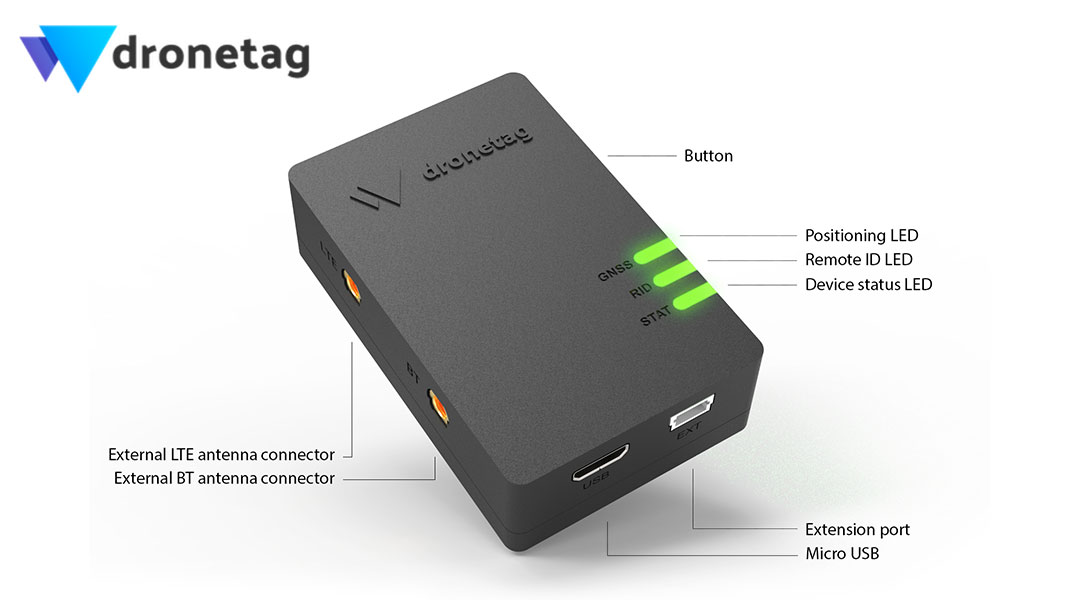 The initial setup was a bit confusing as the dongle that comes with the Dronetag Mini was not a very detailed and fleshed-out part of the process. After updating the firmware, installing the Dronetag application on my iPhone, creating a Dronetag user account, and charging the Mini to a full-battery, I was ready to get going.
It's the transitional period between winter and spring in north central Pennsylvania, so my opportunities to fly have been few and far between. However, I was able to get two test flights in for this initial review of the Dronetag Mini. One flight was conducted on the back of my DJI Mavic 3 (literally, that's where I mounted the Mini) and the other was conducted with my GEPRC Cinelog 35.
While not abundantly necessary to test with the Mavic 3, as DJI is taking steps to incorporate remote identification broadcasting in an on-board unit of its UAV platforms, I felt it was important to see just how far the Dronetag Mini could broadcast data and my DJI workhorse drone was the only unit I had that could adequately do that. The Dronetag Mini utilizes GPS satellites to triangulate its position, so it should have been no surprise that it can transmit data pretty much anywhere.
The small-ish stature of the remote identification device paired with the power of the Mavic 3 meant almost no affect on total flight time and an experience that was smooth and satisfying. Where I began to see some variation in my flight experience was pairing it with the drone that actually needed a remote identification module – the GEPRC Cinelog 35.
The primary challenge I encountered right out of the gate was where in the world I was going to mount the device to the FPV drone. I finally settled on mounting it to the top-plate of the drone's body, right beneath the battery. This brought to mind a few issues that could arise while flying, but nothing ventured, nothing gained. My maiden flight did not yield any issues relating to the Dronetag Mini sitting under the drone's battery, but testing throughout the rest of this summer should tell me if there would be any issues with doing this long-term. While the loss of flight time due to the added weight on the drone was marginal at best, there was a slight decrease in flight time efficiency that I noticed after adding the module to the body of the drone. Other than that, the overall flight went well with little-to-no noticeable difference in performance and the data transmitted from the Dronetag Mini was just as accurate as it was on the Mavic 3.
My only true critique of the Dronetag Mini was its battery life. It seemed that I only got about an hour worth of flight time with it before it needed a recharge and when left in storage for a day, the battery discharged completely and required a recharge from 0-percent.
All-in-all, I really enjoyed the interface with the Dronetag Mini. While there is definitely some "fat" that could be trimmed in the registration and set-up process as well as improvements to be made to the physical footprint and the total battery-life and long-term charge retention, this product feels like it will be a success long-term.
My initial review score for the Dronetag Mini is a 7-out-of-10.
This review video and article are meant to convey my initial thoughts and reaction to the Dronetag Mini on a very high-level summarized level. I'll be testing this unit throughout the summer of 2023 and will follow-up with a more comprehensive review of the product as well as its "little brother" product around Q3 of this year. Please check-back again in September for more information about my experience with the Dronetag Mini.
Watch! Fravel on the Dronetag Mini