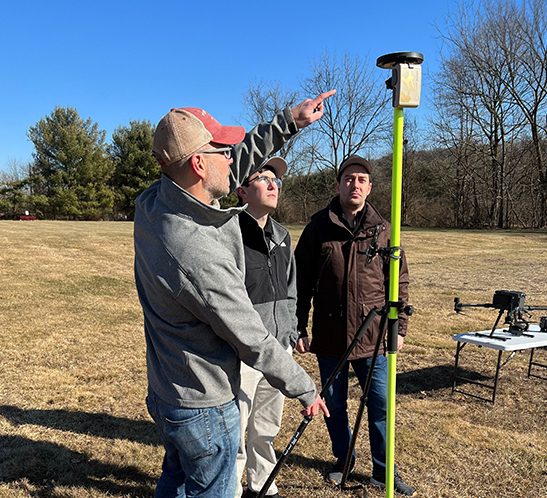 ---
5 February 2023
AlphaRTK—a four-constellation real-time kinematic (RTK) network service provider—formally announced today it will provide students and faculty of Rutgers University, West Chester University, and Warren County Community College access to its global navigation satellite system (GNSS) correction network. 
Launched in the summer of 2021, as the most affordable RTK subscription network to fully support four-constellation GNSS corrections, AlphaRTK is currently available for use in New Jersey, as well as both the New York City and Philadelphia metropolitan areas.
"These educational institutions perform a tremendous amount of geospatial research and instruction," says AlphaRTK founder Chris Kahn.  "We believe they should be equipped with this powerful resource, as it will enhance their abilities to perform modern geospatial data collection."
A real-time kinematic (RTK) network, like Alpha RTK, is a network of base stations that uses data from navigation satellites (GPS and others) to provide centimeter-accurate horizontal and vertical real-time coordinate data to users in such fields as GIS (geographic information systems), engineering, construction, agriculture, environmental, municipalities and utilities.
"Warren specializes in precision agriculture using drones," says Dr. Will Austin, Warren County Community College President. "The AlphaRTK network will provide our fleet with centimeter accuracy, further enhancing our analytical capabilities."
Typically, field technicians use wireless data in their phones or tablets to receive the correction data directly into a mapping application, such as Esri ArcGIS Field Maps. However, AlphaRTK also records raw RINEX data that can be used for post-processing workflows, such as with PPK drones. Additionally, in southern New Jersey where wireless coverage is weak, Alpha RTK has added UHF radio transmitters to broadcast real-time data wirelessly.
"The use of the AlphaRTK network with our turf farm research is a game changer," says Dr. James Murphy, a plant biology professor at Rutgers University. "We have tens of thousands of individual turf specimens spaced only inches apart on our farms. The location accuracy from the AlphaRTK service enables us to map and analyze growth patterns with unprecedented accuracy."
One key feature of an RTK base-station network is its centimeter-level accuracy. This is achieved using advanced algorithms that continuously compare the reference station's measurements to the satellite signals, and make real-time corrections as needed.  The resulting accuracy enables extremely high precision in research projects, such as those conducted by Dr. Murphy and his peers.
"I am excited to utilize the AlphaRTK network this spring in my geophysics course," says Dr. Martin Helmke, a West Chester University geology professor.  "Students will be using RTK technology when they graduate, so it's important to give them exposure to this technology now." 
"At AlphaRTK, we view supporting the Geospatial Community as a responsibility," says Kahn. "Educational institutions are encouraged to contact us about our partner program."
Watch for Info on the Warren UAS Program