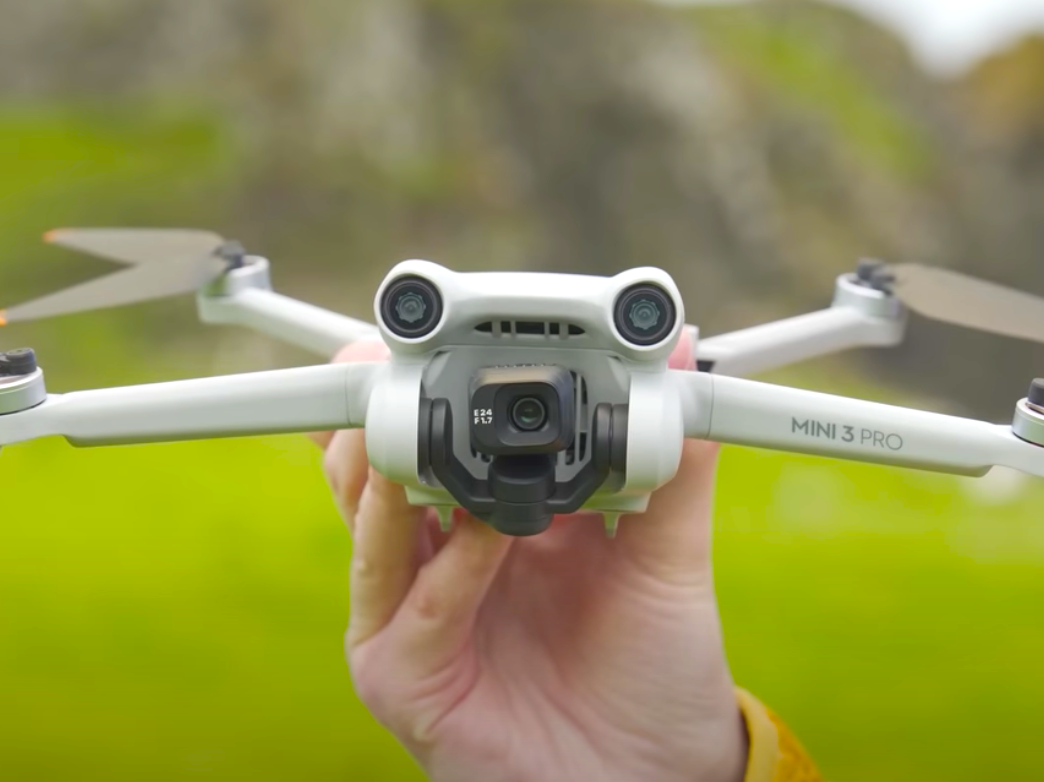 ---
17 July 2023
By Chris "The Drone Geek" Fravel
Here we are at roughly the mid-way point of 2023 and the number of drones being sold globally continues to climb at a rapid pace. People the world-over are taking more interest in remote aircraft and flying them for a variety of reasons, ranging from photography and video to mapping and thermography.
No matter what your why is though, we all start in one of two categories of drone pilots. We either start by flying GPS drones like those made famous by DJI and Autel or we start by flying FPV drones. Whether or not those two worlds cross over in the future is entirely up to the journey of the individual pilot, but it is fair to say you either start as one or the other more often than not.
Today I am going to talk to those looking to start in the GPS category of drone pilots. We will cover great beginner options for FPV drones in an article to come in the near future.
By the end of this article though, I will have introduced you to a few GPS drone platforms on which a novice pilot may easily cut their teeth in 2023.
What Is a GPS Drone and What Does It Do?
A GPS drone is broadly defined as a drone that uses GPS positioning to hold its spot in its airspace in all three dimensions. Many of these drones also have the ability to return to its launch point when signal is lost between the operator and the drone or when the battery level becomes critically low.
While I do not like to over-generalize, GPS drones are more often better for beginners to learn on when it comes to minimizing crashes and out-of-pocket expense compared to FPV drones because of these positioning capabilities.
In theory (best not in practice) an operator can put their drone's controller down and walk away from it and the drone will hold its position in the air until it is time to land due to low battery.
All of this said, here are my top-5 choices for GPS drones for beginners in 2023:
#5
DJI Mini 2 SE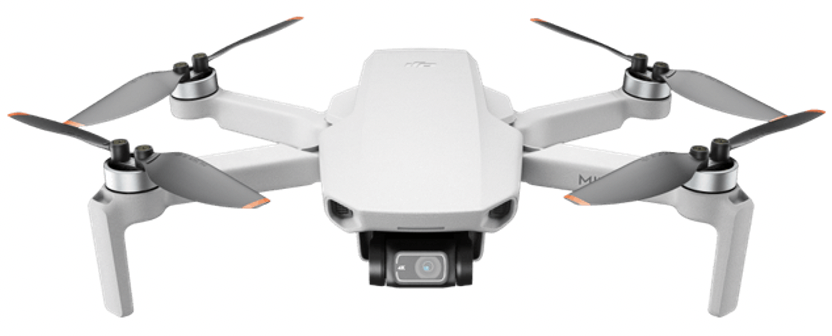 Camera Sensor:
1/2.3″ CMOS | 12MP

 

Max Video Resolution:
2.7K at 30fps

 

Photo Formats:
JPEG & DNG (RAW)

Video Bitrate:
40 Mbps

 

Operating Range:
10 KM (6.2 Miles)

 

Maximum Flight Time:
31 Minutes
When you are eyeing up options for your entry-level GPS drone, the DJI MIni 2 SE is a great compromise of capability and cost. While not the most advanced or high-performing drone on this list, it certainly is economical coming in at just $339 for the drone, the controller, one battery, and a handful of helpful basic accessories.
As the saying goes though, "you get what you pay for," and it rings true in the case of the Mini 2 SE. It has the lowest video resolution of all the options on our list at 2.7K and also lacks an obstacle avoidance system outside of its downward landing sensors.
Aside from those two major drawbacks, the DJI Mini 2 SE has all of the same capabilities of its predecessor the DJI Mini 2. The Mini 2 SE was designed to cannibalize parts DJI had in-stock from the production of the Mini 2, but at a lower price-point for consumers.
Do not let the "Frankendrone" nature of the Mini 2 SE deter you from purchasing it! It's an impressive and capable little machine that will make for a great entry-level drone for any beginner of at any range of skill.
#4
DJI Mini 2

Camera Sensor:
1/2.3″ CMOS | 12MP

 

Max Video Resolution:
4K at 30fps

 

Photo Formats:
JPEG & DNG (RAW)

Video Bitrate:
100 Mbps

 

Operating Range:
10 KM (6.2 Miles)

 

Maximum Flight Time:
31 Minutes
The DJI Mini 2 is one of the best mini drone platforms on the market today and it has been out for years. When it first hit shelves, it was the drone everyone wanted the original Mavic Mini to be, touting a maximum video resolution of 4K and with the ability to shoot RAW photos.
The only place the Mini 2 falls short is in its less than spectacular sensor size (for today's market anyway), its lack of obstacle avoidance sensors, and its inability to shoot in D-Cinelike. It is rather rigid and inflexible in its camera capabilities as a whole, but hey, it still shoots 4K which will leave a lot of content creators and entry-level drone enthusiasts totally satisfied.
The DJI Mini 2 drone is no longer available on the DJI website, but if you dig enough you can still find them for sale on third-party sites for around $400. If you are comfortable purchasing drones second-hand, you could possibly find it for even less.
#3
Autel EVO Nano+

Camera Sensor:
1/1.8″ CMOS | 50MP

 

Max Video Resolution:
4K at 30fps

 

Photo Formats:
JPG & DNG (RAW)

Video Bitrate:
100 Mbps

 

Operating Range:
10 KM (6.2 Miles)

 

Maximum Flight Time:
28 Minutes
The only drone NOT made by DJI on our list, the Autel EVO Nano+ is a hearty little mini drone that packs a ton of punch. I actually had the privilege of conducting a full-scale review on this drone on my YouTube channel, you can check it out by clicking here.
The only place the Nano+ falls short compared to the number 4 and 5 drones on our list is in flight time. The marketed flight time is just 28 minutes, which really translates to 20 to 24 minutes in real world conditions.
Overall the Nano+ is an extremely capable drone with a larger sensor than the first two entries on our list, which allows for more detailed and sharp images off the camera as well as fantastic performance in low-light conditions for a drone of this size.
Not to mention it is the first drone on this list that offers tri-directional obstacle avoidance sensors (front, back, and bottom). This obstacle avoidance system will help to prevent crashes in some of the tightest airspaces you can imagine.
#2
DJI Mini 3 Pro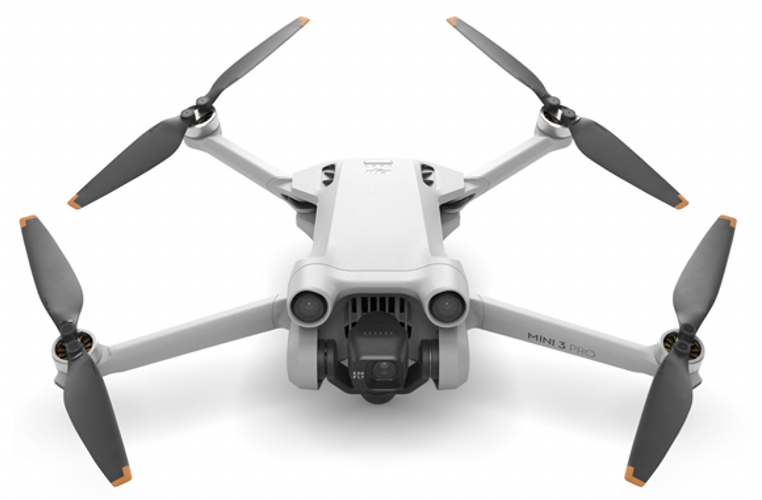 Camera Sensor:
1/1.3″ CMOS | 48MP

 

Max Video Resolution:
4K at 60fps

 

Photo Formats:
JPG & DNG (RAW)

Video Bitrate:
150 Mbps

 

Operating Range:
12 KM (7.4 Miles)

 

Maximum Flight Time:
34 or 47 Minutes
Talk about a game changer for the mini drone market. The DJI Mini 3 Pro packs a TON into a very small package. Capable of 4K video at 60fps, RAW photos, and an increased sensor size of 1/1.3″, this thing absolutely BANGS. Plus the added feature of true portrait mode shooting makes it the perfect aerial imaging solution for content creators that focus mainly in the realms of TikTok and Instagram Reels.
It also comes with a tri-directional obstacle avoidance system that makes everything else in this category pale in comparison. Throw in a flight time of 34 minutes with the base batteries or up to 47 minutes with the Intelligent Flight Battery Plus and you have a mini drone that can keep you creating for longer than ever.
The best part about this drone is its performance-versus-price-point. You can purchase the DJI Mini 3 Pro with the DJI RC (smart controller) for just $909. If you can live without the smart controller, you can also purchase this powerful little package with the DJI RC-N1 (basic controller) for $759 — an incredible amount of power for a pretty low price.
#1
DJI Mini 4 (Pro)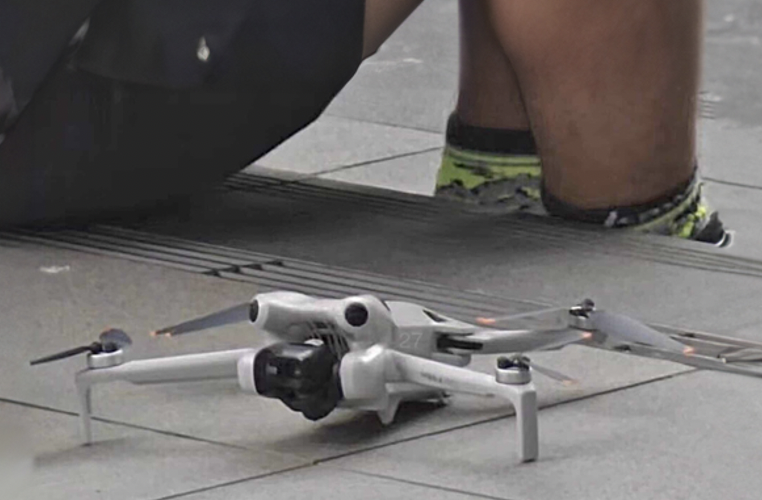 Note: Speculated Specifications
Camera Sensor:
1/1.2″ CMOS | 48MP

 

Max Video Resolution:
5.1K at 30fps

 

Photo Formats:
JPG & DNG (RAW)

Video Bitrate:
200 Mbps

 

Operating Range:
12 KM (7.4 Miles)

 

Maximum Flight Time:
45 or 57 Minutes
The relative unknown of the list also happens to come out at the top of the list. Recently images of what appears to be the DJI Mini 4 leaked and it all but ensures we are going to see a new version of the DJI Mini drone again this year. While we do not have any concrete information regarding a potential Mini 4's specifications, I did my best to reasonably predict what we might see from it.
I believe we will see a slight increase in quality and performance across the board on this drone. It will maintain its ability to shoot true portrait mode with its 90-degree gimbal rotation function, will include a slightly larger sensor for even crisper and more-detailed images and videos, a max video resolution of 5.3K at 30fps, a maximum range of 12 KM, and an improved flight time from 34 minutes with the standard battery and 47 minutes with the Battery Plus to 45 minutes with the standard battery and 57 minutes with the Battery Plus.
The DJI Mini drone series has had very little to criticize since the release of the DJI Mini 2 and I believe that will continue to be true moving forward. The only place DJI could improve on the Mini series of drones is by continuing to work to build up wind resistance for the drones, which are prone to getting pushed around in high winds.
Closing Thoughts
Getting your very first drone is always exciting. The idea that these machines are capable of opening up a whole new perspective for us is magical. It can be as wonderous as giving you views of a mountain range or ocean from a bird's-eye-view to as simple as eliminating the need to ask somebody to take a photo of you or your family on vacation.
No matter how you intend to use them, drones are powerful tools for anyone looking for a new way to look at the world.
If you choose to purchase a drone from this list, it is my professional opinion that you will not be disappointed in any of the options. They all have their own strengths and weaknesses at the end of the day, but they are all extremely capable UAV platforms that will leave you wanting to fly more and more.
Learn More: Best Beginner Drones for 2023