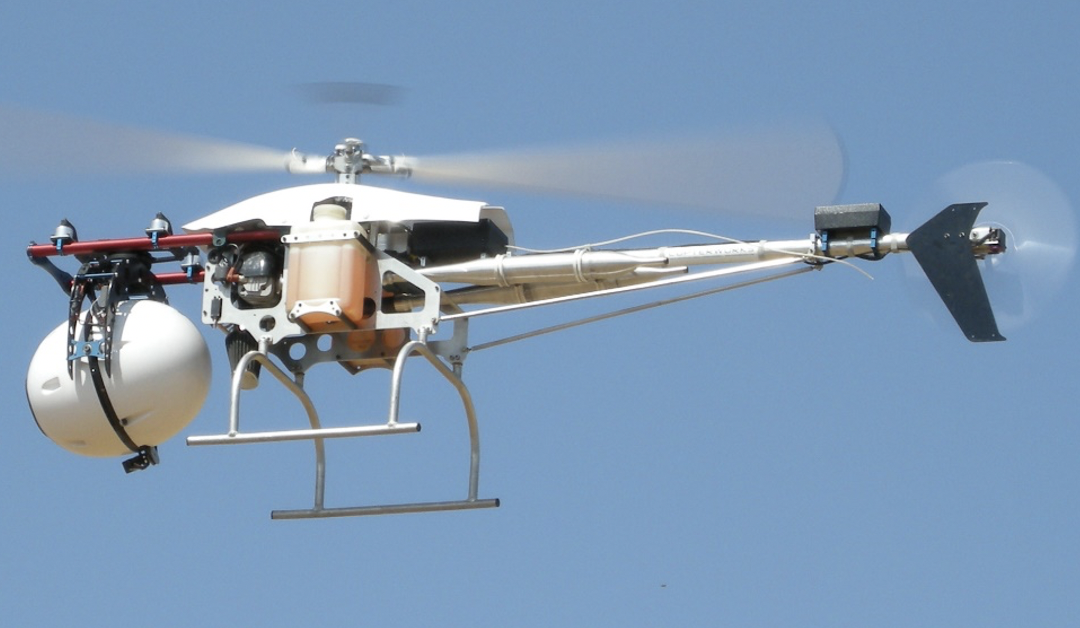 ---
26 May 2023
Photo Above: AF25B w/3-axis gimbal, circa 2005.
Copterworks is a manufacturer of small unmanned helicopters founded in early 2000's, specializing in single rotor, gas-powered airframes. Along with production of their very first model, they introduced a companion three-axis camera gimbal—large enough to hold certain 35MM motion picture cameras, and light enough to be carried by their helicopters. The three axes of movement were actuated by modified RC servos and stabilized by helicopter Piezo gyros of the day. Their customers attached these gimbals to cranes, dollies, dune buggies and ultralight aircraft, in addition to their helicopters.
Throughout the years, the primary focus of the company has been providing general-purpose vehicles, as "off the shelf" components for UAS developers of all types. Offering the airframes with no flight control electronics means a simplified and expedited export process. Considering that historically, the majority of their customers have been from overseas, this has enabled them to export more helicopters, than total units sold by all their competitors combined.
Today, the majority of tasks performed by such helicopters have been taken over by multirotors, and to a smaller degree, electric helicopters. To keep up with these trends, they have added a line of unique quadcopters, making them one of the few manufacturers offering two distinctive types of aircraft.  All Copterworks products are designed and manufactured at their Glendale, California facility.
Helicopters
Now as in the past, the primary focus of the company remains the development and manufacture of the most robust and innovative airframes. This component after all, is the cornerstone of any dependable UAS, without which the system is going nowhere. This is especially true in case of a helicopter-based system, as opposed to multirotors for example, which by comparison have a minimal number of moving parts, making the "vehicle" part of the equation less critical or distinguishable between one manufacturer and the next.
Helicopters in general are mechanically complex machines and require more frequent maintenance, in comparison to fixed wing aircraft and certainly multirotors. Copterworks designs their airframes to be as serviceable as possible, simple to operate in daily use and supported with full access to spare parts for DIY repairs.
Their latest helicopters represent the fourth generation in the incremental evolution of their product line.
At the center of every airframe they produce- including the electric AF20E, is the latest iteration of their robust and proven main gearbox, which became standard, starting with the AF25B- first introduced in 2005. You will find no plastic gears here. They're hardened steel, running in a wet sealed housing- and good for life of the aircraft. The main gearbox drives the tail rotor via a belt- a reliable and trouble-free combination and standard throughout their lineup.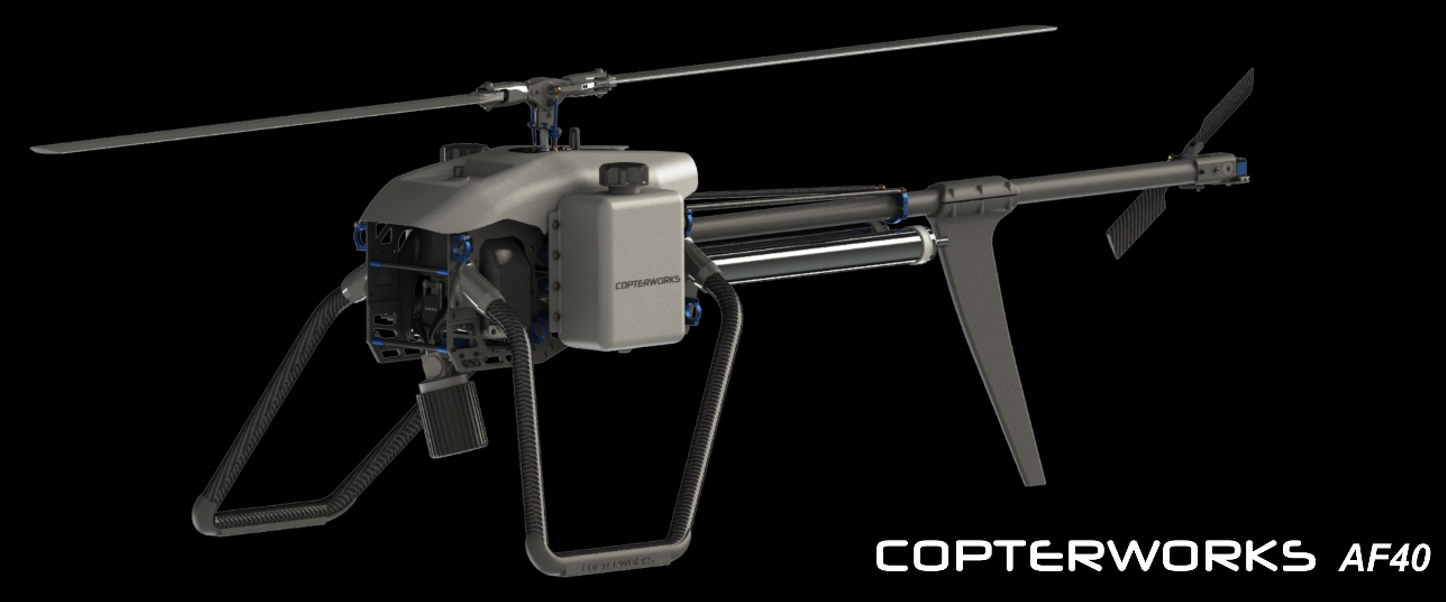 The AF40, their current gas-powered model is offered in three varieties. These range from a basic package with an 80cc 2-stroke engine, to a top model powered by a 120cc 4-stroke, which includes an on-board starter/generator unit, offering hybrid boost capability, plus an electronic fuel injection. The EFI unit offers maximum fuel efficiency and consistent performance, regardless of altitude.
Depending on model, endurance ranges from 2- 4 hours, with payload ranging from 20-30 Lbs. A multi-fuel version is also under consideration and could become available soon.

For those applications where an internal combustion engine is not an acceptable option, there is the AF20E- built as tough as the AF40. The two have comparable proportions and payload capacities, and share many components.
In case of both electric and gas models, Copterworks fully intends to keep them available optionally as bare airframes, to serve customers who prefer completing their systems on their own, and to their particular specifications. At the same time, they are moving rapidly towards offering complete helicopter- based systems, for clients who prefer fully operational systems.
Quadcopters
D1 - their first quadcopter, marks Copterworks' entry into the multirotor arena. Drawing from their extensive experience with helicopters, they've produced a unique aircraft, with performance and function in mind. As of today, the D1 is the only multirotor on the market to hold a pair of Tattu 12S, 16000 MaH Smart Batteries, which are some of the largest available, internally. This optimal placement of the heaviest component, helps improve flight dynamics and allows simultaneous use of top and bottom payload rails.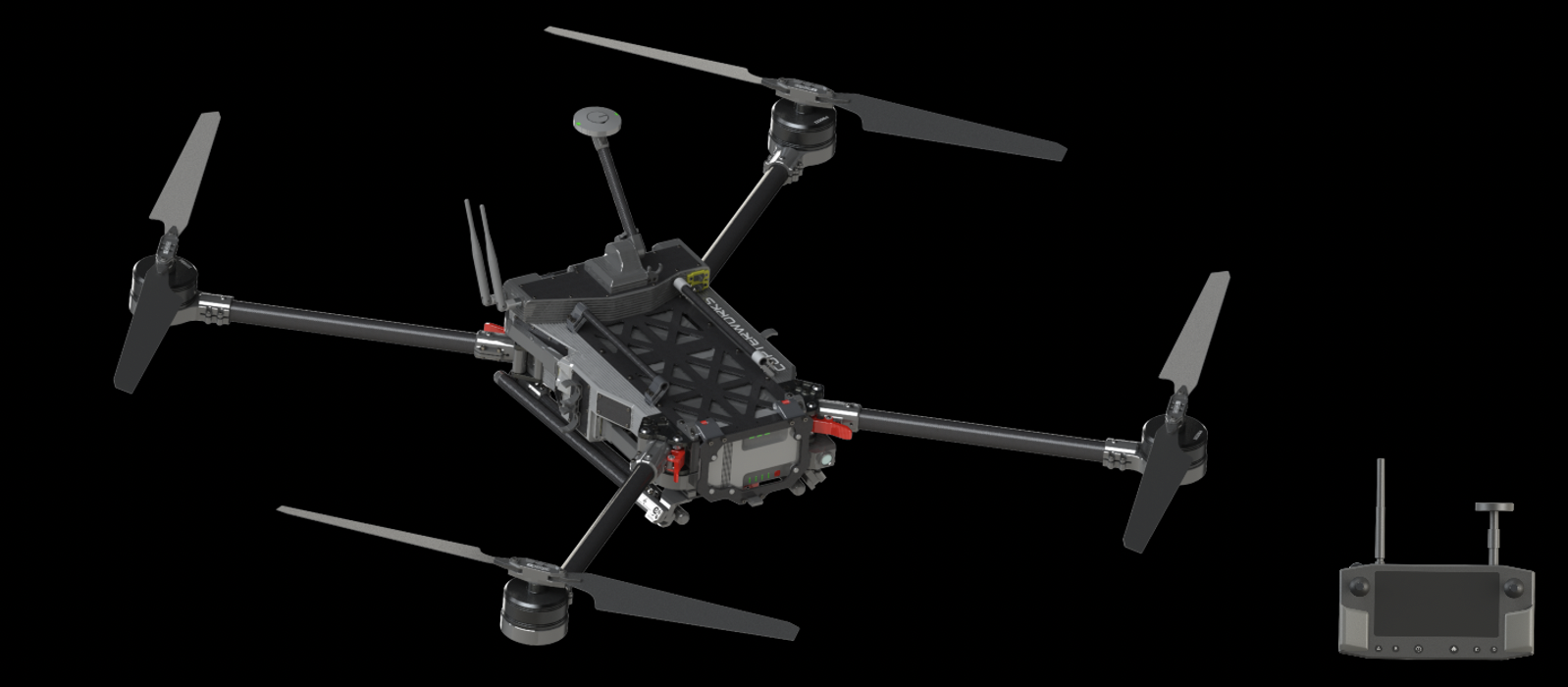 D1 with Herelink radio.
All electronics are individually sourced top-quality components, replaceable by end users as needed. Just as with their helicopters, they support users of these quadcopters with full access to spares for DIY repairs.
The system includes a Herelink radio/video transmitter set and Pixhawk Orange Cube flight controller- ready for an RFD900 telemetry set. Virtually all that's needed, is a pair of batteries and a charger.

To make the D1 as portable as possible, every protruding feature folds, allowing this fairly large craft to fit in a surprisingly low-profile case, with nothing to detach- including the landing gear, and without the need to remove the batteries.
New Products on the Horizon
D1-X, their heavy-lift multirotor is nearly ready for release and intended to go head to head with some of the top competitors available today. Retaining the same main frame as D1, but with larger diameter motor arms, props and motors- more than doubling D1's payload capacity.
This will be followed by various optional hardware for attachment of payloads.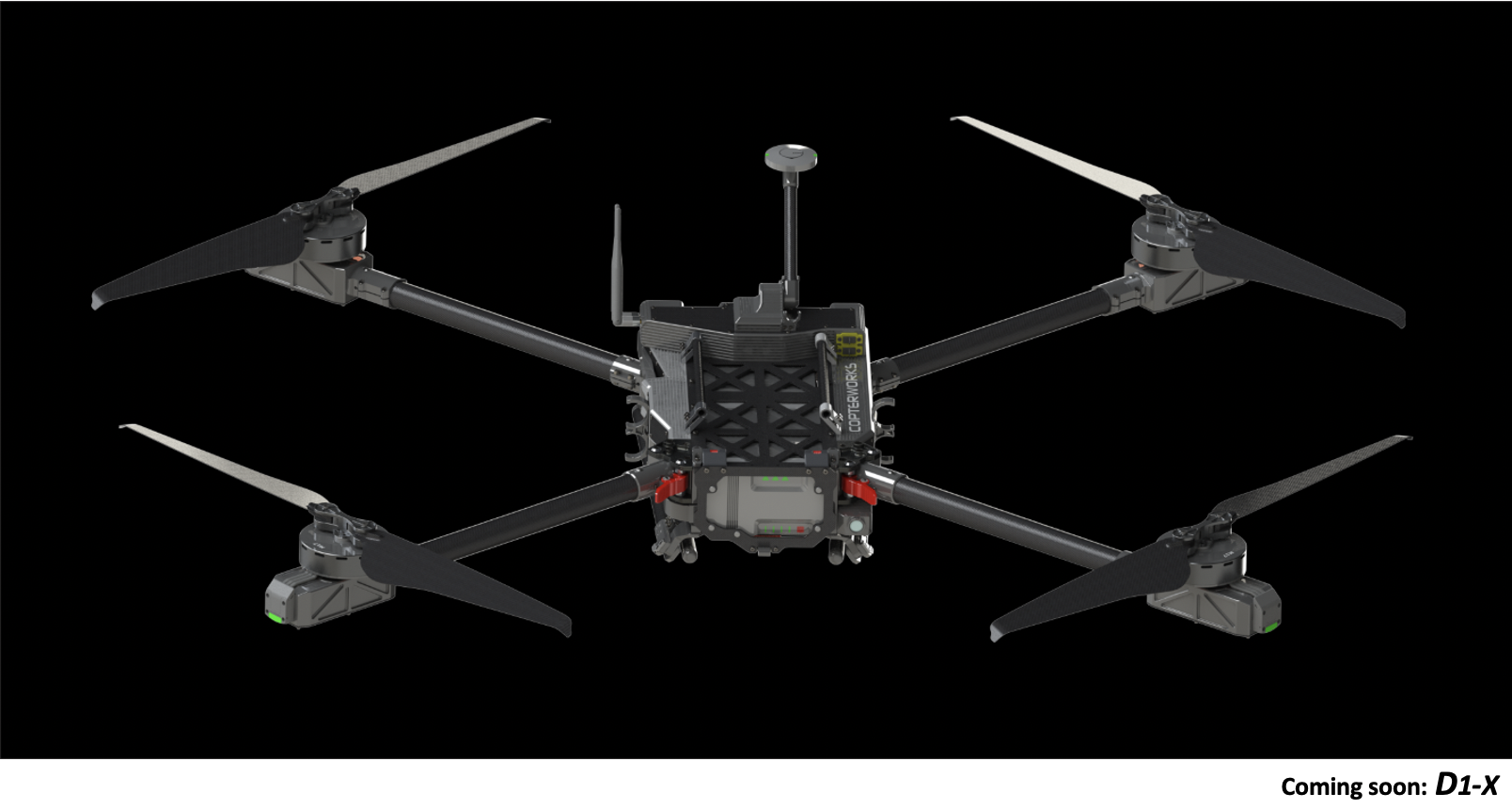 In addition to products shown on their website, Copterworks undertakes contract manufacturing of components or complete aircraft- based on existing models, or all new designs.