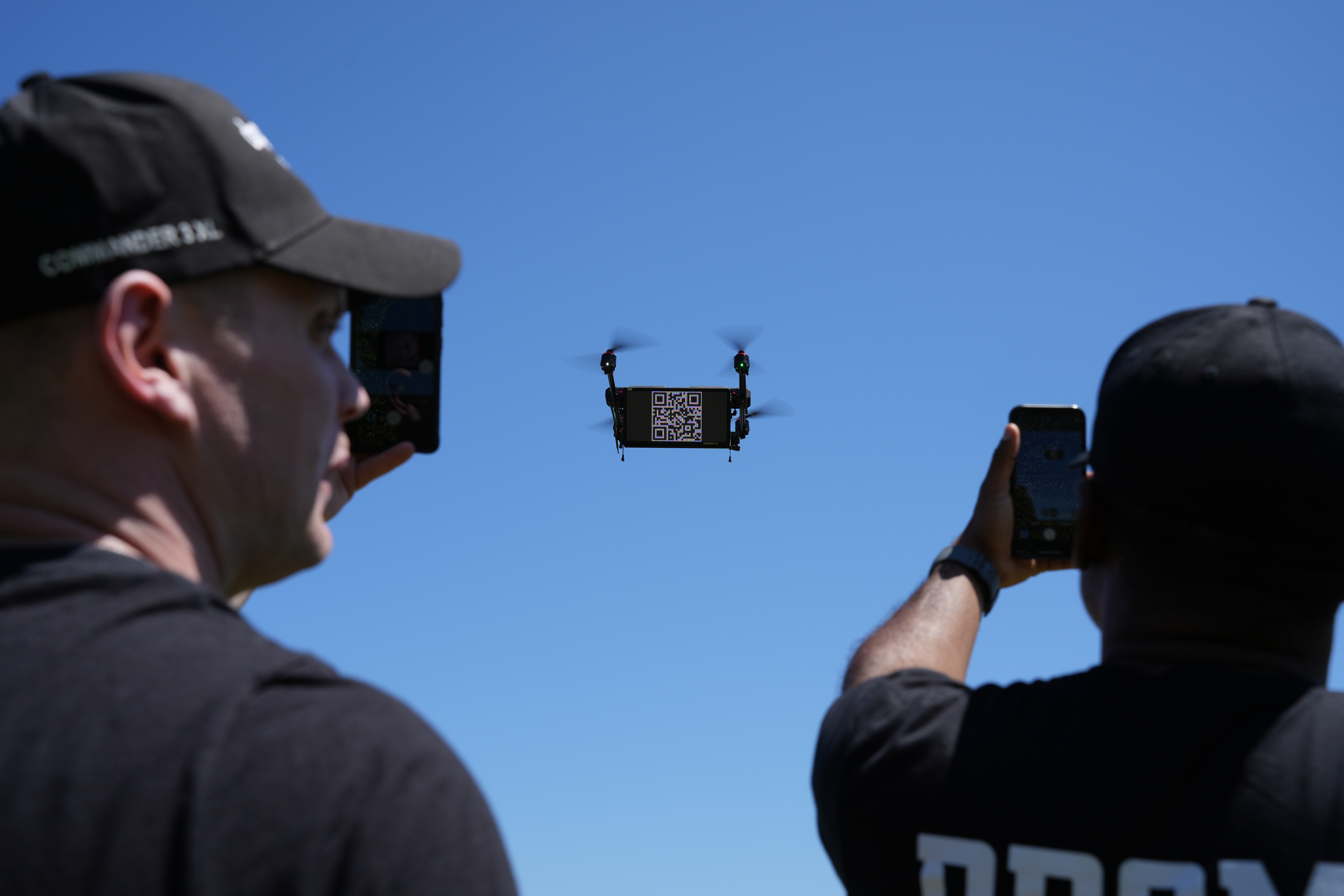 ---
26 September 2023
In the fast-evolving world of drones, Promo Drone stands out as a trailblazer, with a remarkable journey which began in the realm of advertising and has since transitioned to serve public safety needs. This transformation reflects not only adaptability but also a commitment to making drones an integral part of everyday lives. This article delves into the fascinating evolution of Promo Drone and the innovative Starling X.2 drone, highlighting the key milestones and insights shared by the company.
The Birth of Promo Drone
Promo Drone's inception can be traced back to a surprising source – homeowners. In 2015, when drones were still a novelty, people had mixed reactions when seeing these flying machines in action. From excitement to fear, the emotions were diverse. However, what remained constant was the attention drones commanded. People would often reach for their smartphones to capture these moments. This realization sparked an idea: if drones could capture attention and shift focus from social media to the physical world, why not use them as advertising tools?
Promo Drone set out on a mission to make drones more transparent and less mysterious by displaying familiar and trustworthy brands through aerial advertising. The concept was simple yet revolutionary – leverage the novelty of drones to create a more engaging and immersive advertising experience. To achieve this, Promo Drone explored various avenues, from promoting retail products like groceries, vodka, and food trucks at large events using innovative drone technology.
Founder & CEO: Jamar Williams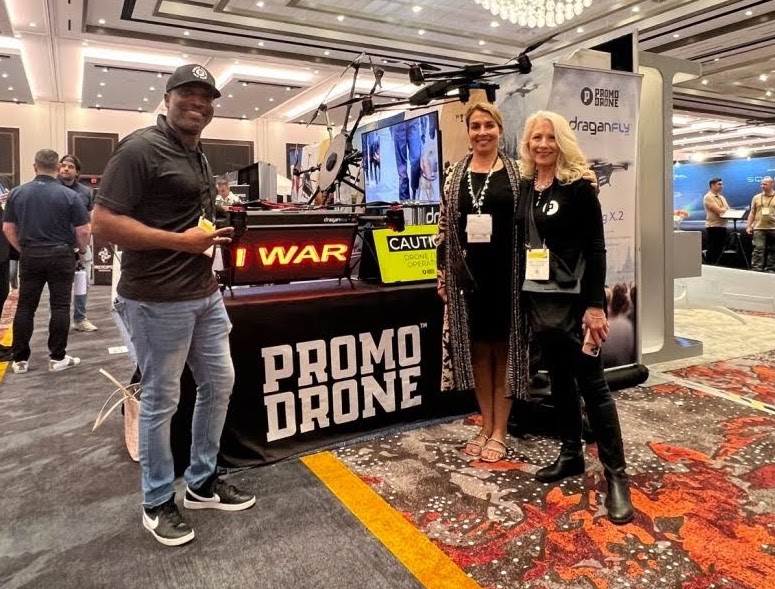 Jamar Williams, a native of Baltimore, Maryland, migrated to San Diego, California in 2010, following nearly a decade working as a financial services manager. His creative background in music, combined with well honed leadership skills, empowered him to push Promo Drone to the forefront of cutting edge drone technology. Becoming an FAA Part 107 Certified Remote Pilot in Command in 2016, Jamar remains closely connected with the FAA as drone regulations are rapidly changing to support the emerging industry. Since 2016, Jamar has mastered the fundamentals of aerial advertising including market positioning, pricing strategies, and customer value propositions in order to create a turn-key "business-in-a-box" system for every Promo Drone customer. 
The Starling X.2: Rapid Response Messaging and Aerial Advertising Drone
Promo Drone revealed their groundbreaking, state of the art technology within the aerial communications market with the release of their Starling X.2 digital display drone. This interactive drone system is an aerial messaging system using LED display panels to present picture, video, and text based information, prompts, and directives. The 5000 nit brightness display panels ensure that visual communications can be seen clearly in direct sunlight as well as during nighttime operations. The digital panels are used to present digital content to crowds and individuals and are controlled remotely via a desktop application and an independent encrypted wi-fi connection broadcasted by the Starling X.2; this allows content to be adjusted on the fly as an emergency situation or branding opportunity evolves. Though the Starling X.2 is a Promo Drone product it was developed in partnership with Draganfly Inc., a Canadian based drone manufacturing company specialized in developing innovative drone systems and solutions for their customers. The platform utilizes Draganfly's Commander 3XL airframe as the drone of choice for the Starling X.2's debut.  Information and specifications on the Starling X.2 can be found on Promo Drone's website.
Partnering with Google
Promo Drone was recently accepted into the Google for Startups program which includes a $100,000 investment in the form of Google credits as well as community and technical support developing key artificial intelligence and machine learning algorithms and processes for Promo Drone's drone technology. Promo Drone is using this development opportunity to build out an insights and analytics system which tracks user engagement and demonstrates clear ROI reporting for customers utilizing the Starling X.2 platform.
Aerial Drone Advertising: A Business in a Box Solution
Advertising and marketing agencies rely on audience impressions, engagement, and conversions to demonstrate a successful marketing campaign. They place high value on tools and technology which can more effectively capture and analyze audience engagement.
Operators can charge fees in per ad or per flight for using the Starling X.2 which commands a higher level of engagement and drives more awareness due to its highly noticeable and attractive functionality.
In addition to its magnetic attraction, the platform is also an entrepreneurship springboard. When used as an onsite asset for advertising and marketing at large scale outdoor events it enables operators to command higher revenue per flight than most traditional drone flight operations, with no post production creative skills necessary. Just as brand sponsors constantly seek new ways to drive traffic for their products and services, event organizers depend on innovative solutions to deliver effective campaigns with suitable ROI for the clientele that they represent. Starling X.2 creates a wealth of opportunities for operators to provide new digital out of home (DOOH) verticals, as a clear need for more awareness can be solved by safe and FAA Part 107 compliant aerial communications integration. 
Cell Phone Interactive
The high global adoption of smartphones comes with many distinct benefits for crowd interaction with the Starling X.2 platform. In addition to utilizing the phone's smart camera to zoom from greater distances to view the bright LED displays, they also serve as a conduit to drive traffic to online web portals through the use of scannable QR codes. Social media resharing takes the engagement and awareness factor even further as many viewers feel compelled to document the experience through videos and photos and post to their respective social media accounts. This further bolsters the ROI on the advertising campaign and presents an undeniable value and experience for sponsors and the fans that they target.
Customer Segments
Promo Drone caters to two main customer segments: advertising/marketing and public safety/emergency response. Their platform serves as a revenue driver for various stakeholders, including media companies, event organizers, brands, and drone operators. Notably, the platform requires no post-editing, streamlining the operations for drone operators. Through their partnership with Google for Startups, Promo Drone is also developing crowd analytic software to empower operators with valuable insights.
On the public safety front, the Starling X.2 drone has a wide array of applications, from notifying communities about impending natural disasters to issuing missing persons alerts and active shooter warnings.
Expanding to Public Safety and Emergency Response
The transition from advertising to public safety was not an abrupt change but rather an expansion of Promo Drone's focus. Their Executive Consultant and partner, Toni Drummond, played a pivotal role in this strategic shift. A brainstorming session with industry experts led to the realization that drones could be powerful tools for public safety and emergency response. By embracing this shift, Promo Drone contributes to saving lives and enhancing emergency response tactics while making drones more accepted in everyday life.
In the contemporary world, large-scale events and public safety are closely intertwined, making Promo Drone's dual focus on advertising/marketing and public safety highly complementary. Moreover, their platform actively fosters community bonds and emphasizes STEM education, bringing communities closer together.
Integration Channels
In the private sector, Promo Drone envisions three primary integration pathways for their technology: agency-owned and operated, hybrid-owned/operated, and contractor-owned and operated. Each pathway offers flexibility and caters to different organizational needs. In the public safety sector, any agency with access to part 107 certified pilots can seamlessly integrate the technology into their daily operations, adapting messages on the fly as situations evolve.
Manufacturing and Pricing
Promo Drone's Starling X.2 drone is manufactured in North America, with production and testing taking place in Canada and the United States; it is anticipated to be available mid-2024.
The Starling X.2 will retail for $84,999 USD, with discounts available for veterans, active military personnel, and public safety professionals. Pre-orders are already live on the Promo Drone website, with a fully refundable deposit of $1000 per drone. Pre-orders made before October 31, 2023, qualify for a 5% discount off the final price.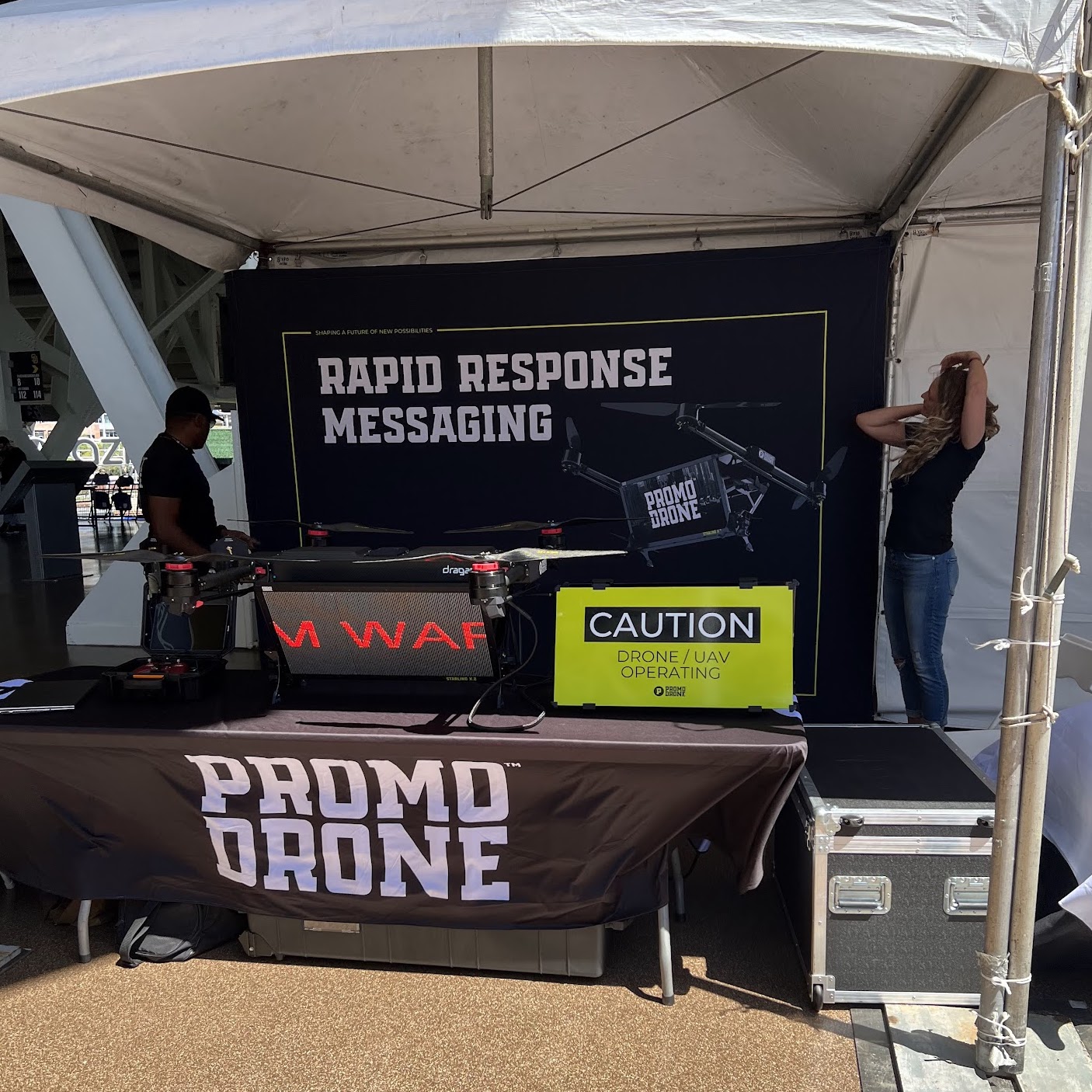 Conclusion
Promo Drone's journey from advertising to public safety exemplifies their commitment to making drones an integral part of our lives. Their innovative Starling X.2 drone, born out of collaboration with Draganfly, is poised to revolutionize both the private and public sectors. With a dedication to transparency, community building, and versatility, Promo Drone is paving the way for drones to become trusted companions in our everyday lives. As they continue to soar to new heights, we eagerly await the positive impact their technology will have on advertising, public safety, and beyond.
Learn More