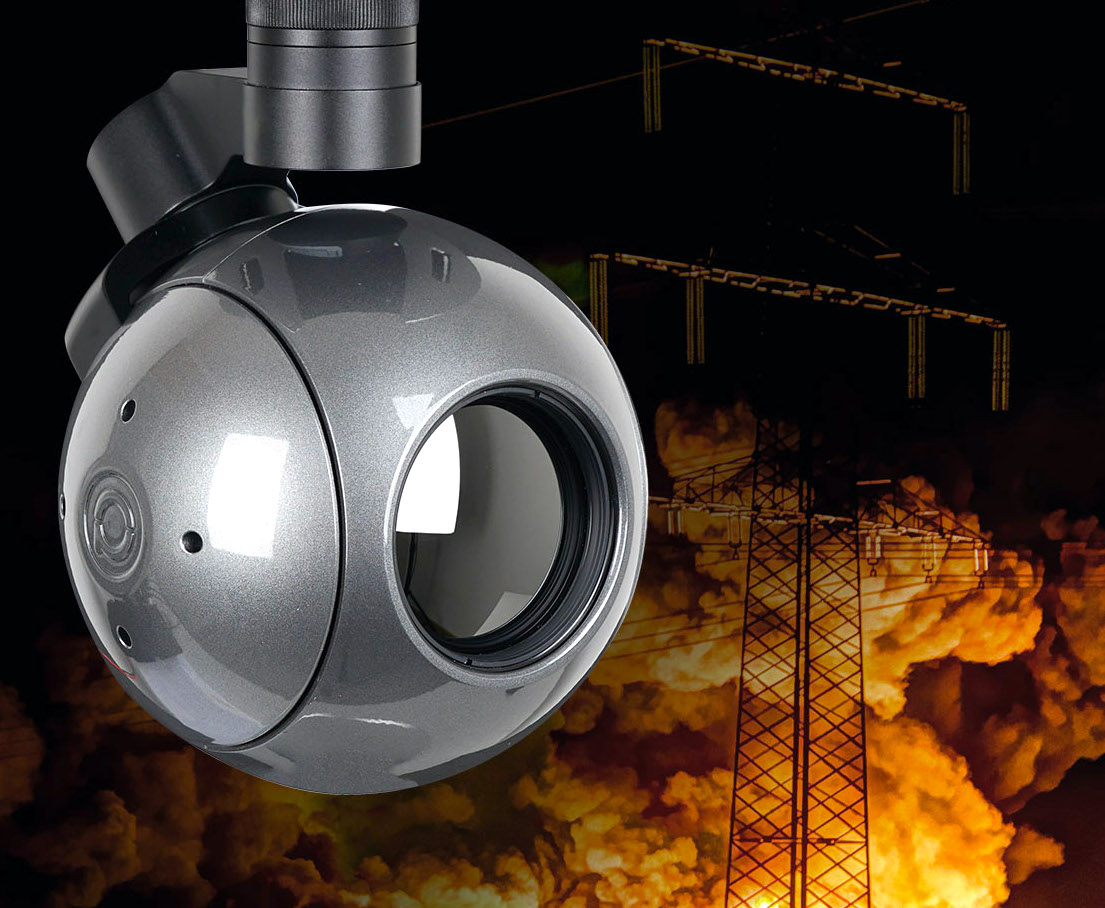 ---
21 June 2023
Established in 2005, Viewpro is a manufacturer specializing in gimbal cameras for enterprise drones, as well as drone-platform turnkey solutions. Currently, Viewpro has more than 90 models of gimbal cameras. Viewpro has many advantages, including an experienced R&D team, advanced software development capabilities, innovative hardware design, OEM support, and more. Here are some of our solutions...
Viewlink
Viewpro has developed their own independent application, Viewlink, which is a professional and easy-to-operate payload video output and control software.
Viewlink provides the ultimate viewing experience, with smooth and delicate picture streams. It also supports IP (TCP/UDP) and serial port TTL control, as well as a comprehensive user interface that includes OSD settings, angle/angular velocity, joystick configuration, remote control/keyboard operation, 3D field-of-view visualization, etc. Combined with Viewpro payload products, Viewlink provides high stability, precision recognition, object tracking, and video recording for drones, robots, and other unmanned craft to complete cruise missions perfectly.
Viewport
Viewport is a quick-release mechanism designed for Viewpro gimbal cameras. Viewport parts include a damping system and control box, which is detachable. Compared to the standard version, it is quite user-friendly and easy to operate, as users don't need to disassemble the whole gimbal camera payload system. They only need to change the camera parts under the the Viewport to fulfil different missions. Users can also exchange Viewpro cameras randomly. 
KLV Metadata
Viewpro cameras are STANAG compatible. They can output KLV metadata from real-time video streaming for professional surveillance. This database can retain a tremendous amount of data, including time stamp, GPS coordinates, environment information, vertical FOV, horizontal FOV, longitude, pitch angle, and more. The information can be extracted for analysis, editing, and management. 
AI Object Tracking Series
Viewpro developed a new Era for AI function in gimbal cameras for drone. Viewpro AI has been upgraded to version 3.0 already which can not only detect car and human in both EO and IR thermal cameras, it can also improve the tracking performance during by integrate auto-zoom with the camera, the most important innovation in V3.0 is they can support target customization for your missions according to your requirements.
Among the AI series, A30TR-50 is a 3-axis high-precision gimbal that integrates an AI-based sensor with a 30x optical zoom, 360x hybrid zoom EO SONY camera, 50mm 640*512 12μm IR thermal sensor which has longer thermal detection distance. Lastly, 5km rangefinder(10km optional) can literately calculate the target GPS coordinate and distance. A30TR-50 can be installed on all kinds of drones for public safety, first response, inspections, patrol, disaster prevention, emergency monitoring inspections, search and rescue, etc.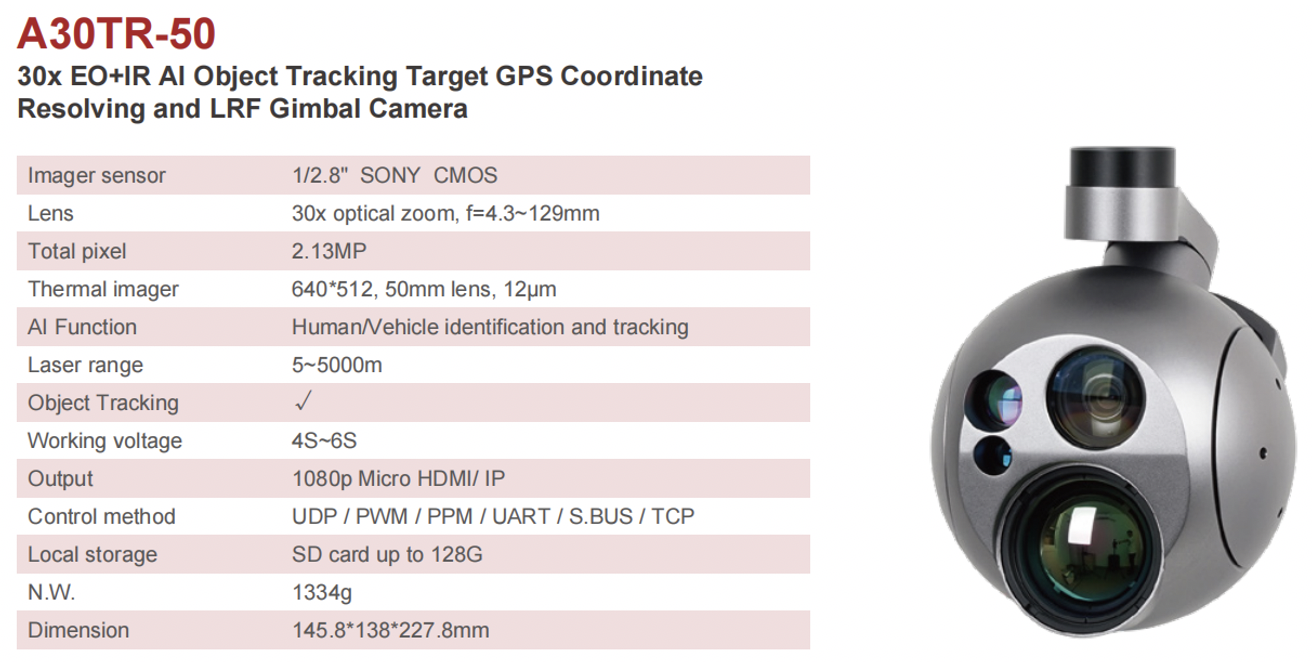 Another model is H30T, a triple-sensor AI Gimbal Camera with 30x optical zoom, STARVIS night-vision SONY camera module. The lowest illumination is 0.00008lux, which is super helpful for night surveillance. 
Hawkeye Series
Viewpro new generation of micro primes lens systems Hawkeye series focus on the micro UAV application, combined the thermal sensor and high definition visual camera with Viewpro' s leading stabilization and intelligence technology, the micro camera system is easy to realize powerful insights that save time, cost and lives.
Among Hawkeye series, U818 and U818 camera caught my attention, U818 is 2-axis EO/IR camera with ultra light weight 300g, The day camera resolution is 1920*1080 with 4x digital zoom and the IR thermal is 640*512 pixel. U818M is the upgrade version of U818, with extra 1200m Laser range finder, moreover, it shows GPS coordinate of target object on the OSD.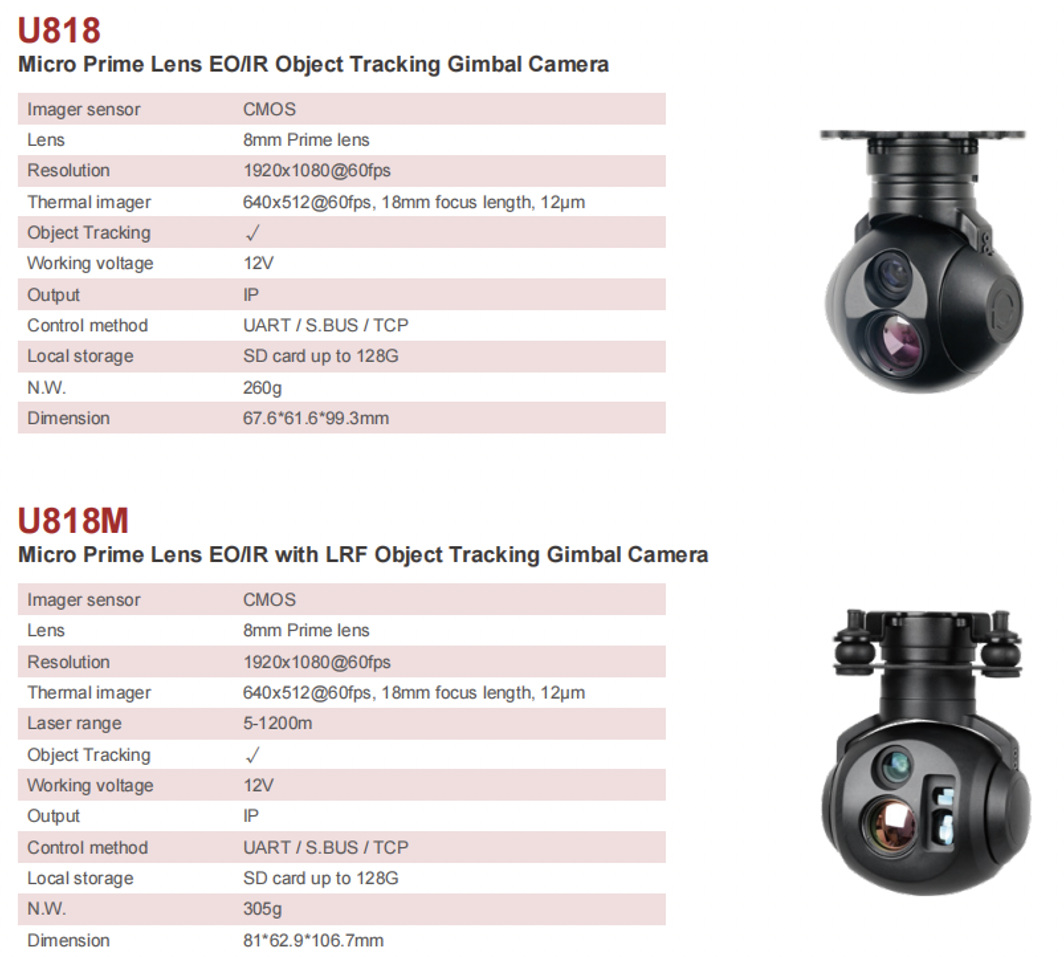 Viewpro UAV
The enterprise is also professional on UAV turnkey solution for the rich integration experience and technical know-how advantage in this field. Buying the whole drone platform with Viewpro you can save lots of cost and time. The main UAV they are offering includes VTOL fixed wing, multirotor, unmanned helicopter and so one. Among these category, the VTOL fixed wing solutions are most popular in Viewpro. Here are some typical solutions for your reference.
VTOL
The long endurance petrol+electric hybrid Falcon F390 is a star UAV in Viewpro. Wingspan is 3920mm , MTOW is 35kg and maximum payload is 8kg. And with 5kg payload it can still fly for 10hours. The reason why it can have a nice endurance is for the power of 10L petrol+ 6S 8Ah*4 Li-ion batteries. The max cruising speed is 144km/h. It's recommend to carry a A30TR-50 for long range inspection.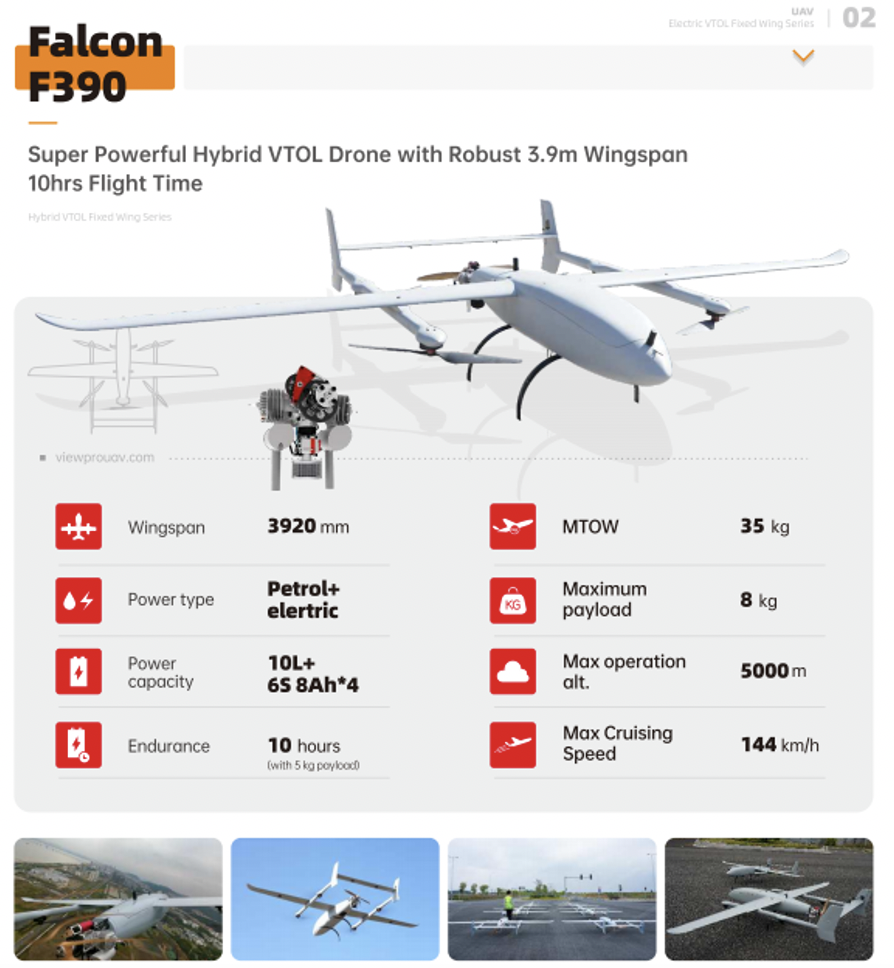 Another VTOL recommended is Giant Shark F360. With Wingspan 3600mm, 30 MTOW, Li-ion battery, and the maximum payload is 10kg, with 5kg payload can keep 3h flying. Max operation is c 4000m. It's a popular combination with A40T and 50km data and video transmitter for search and rescue, or package delivery applications.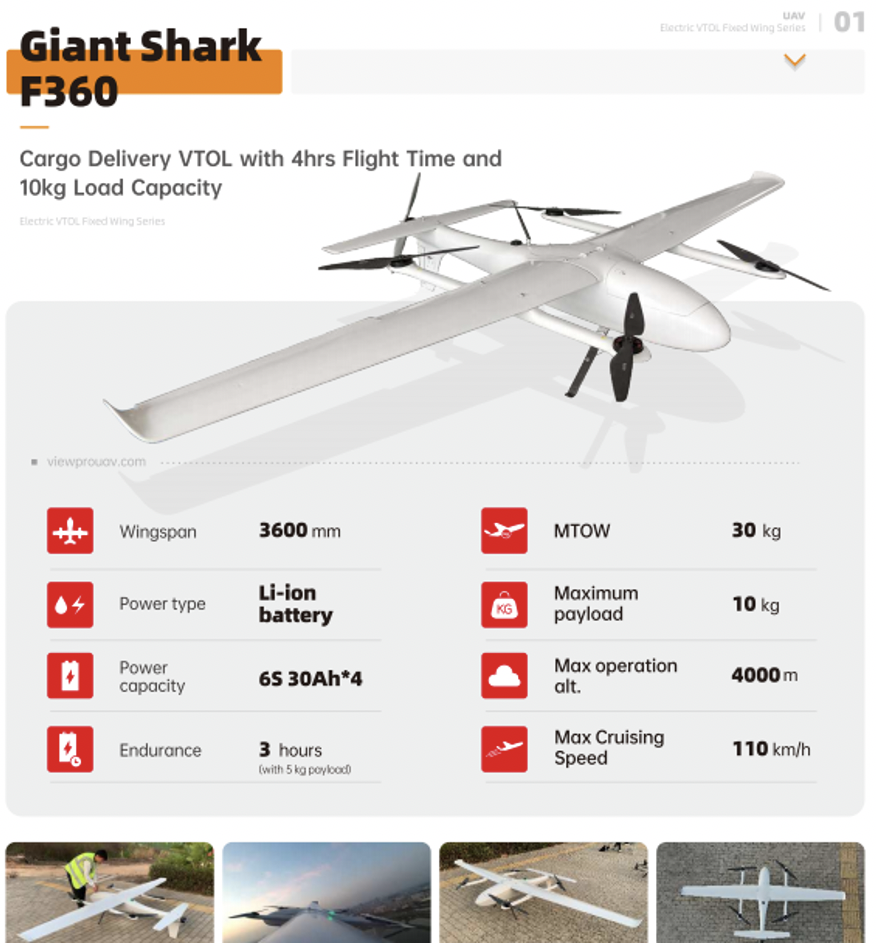 Learn More