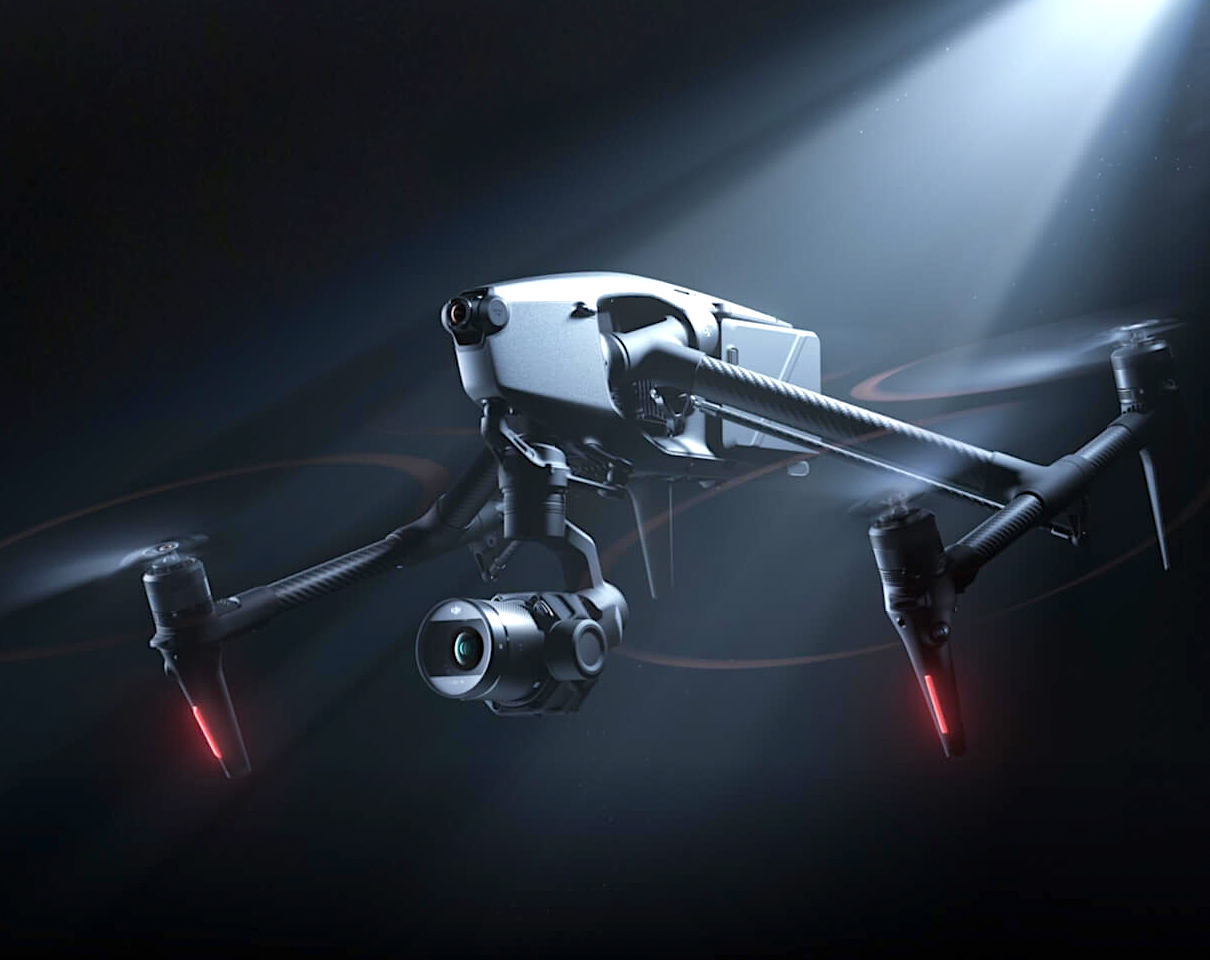 ---
13 April 2023
Filmmakers and production facilities are likely cheering, as the latest version of DJI's professional cinema drone—Inspire 3—was released today. However, actually purchasing and getting the new drone in your hands may take until late June 2023.
Marketed with the tag line, "Master the Unseen," the powerful, precision-enhanced, and full-featured drone is sure to disrupt (in a good way) and enrich the art of cinematography, but its $16,499 price tag may also make a few acquisition budgets fade into the "unseen."
The Inspire 3 is the long-awaited successor to the Inspire 2, which debuted in 2016. DJI claims the Inspire 3 is 20 percent more aerodynamic than its predecessor, but the sharpened flight design only buys operators three more minutes of runtime—28 minutes, as compared to the Inspire 2's 25 minutes.
One of the Inspire 3's biggest upgrades is its Zenmuse X9-8K Air camera—DJI's lightest full-frame system ever. The new camera uses DJI's new image-processing system—CineCore 3.0—and it supports 8K CinemaDNG video recording at 25fps.
For tracking manic chase scenes or high-octane sporting events, the Inspire 3 has a flight speed of almost 60 mph.  
More accurate flight-route planning and stable flying is due to high-precision RTK positioning technology. The Inspire 3's Waypoint Pro feature further enhances flight routes and shot planning with [1] Repeatable routes (pilots have full control of preset parameters such as altitude, speed, gimbal angle, and camera settings) and [2] a 3D dolly that can emulate a crane, cable cam, or dolly.
The Inspire 3 also comes with Spotlight Pro subject tracking (a machine-learning algorithm that lets pilots focus solely on the flight while the gimbal camera stays automatically focused on the subject), omnidirectional obstacle avoidance (nine onboard visual sensors can detect objects in all directions), and ultra-wide night vision (that ensures a clear and stable, low-latency view for FPV flights during the day and night).
Of course, there are tons of other improvements, enhancements, new technology, and industrial-design upgrades built into the Inspire 3—it has, after all, but a long wait for the new kid—so be sure to visit the DJI Inspire 3 page at DJI.com for all the details.
Watch!