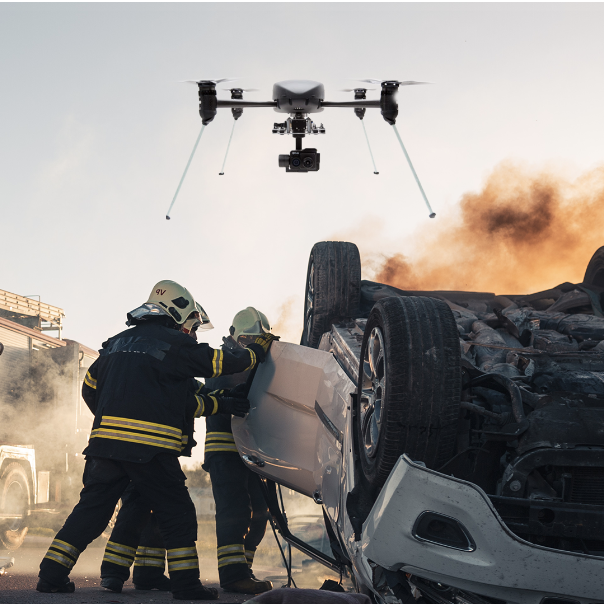 ---
04 April 2023
Since the beginning of the conflict in Ukraine, Draganfly has been supplying Ukrainians with humanitarian drones. Draganfly's technology has delivered much-needed medical supplies, food, and water to people in need and gathered information during critical missions, which has helped organizations respond more effectively to the crisis.
Draganfly began sending its Medical Response drones to the country in March 2022 for immediate deployment with Revived Soldiers Ukraine (RSU). The Medical Response Drone's temperature-managed Medical Response Payload Box has helped to transport temperature-sensitive medical supplies, including insulin/medicines, blood, pharmaceuticals, vaccines, water, and wound care kits. 
In addition to the Medical Response Drone, Draganfly sent over Situation Assessment Drones and Search and Rescue Drones. The company's Situational Assessment Drones have provided high-resolution optical and thermal imaging to ensure humanitarian operators can safely respond to a situation, while the Search and Rescue Drones have helped map affected areas and locate survivors before ground crews arrive.
Draganfly's President and CEO Cameron Chell has been on the ground in Ukraine to demonstrate the company's UAV-based landmine detection technologies for local emergency management personnel and demining groups.
Draganfly's technology uses specialized payload sensors that penetrate the ground allowing for crew to collect information on areas of interest. The collected data is transferred to Cloud storage, where artificial intelligence (AI) technology maps the area, allowing demining teams to create a plan.
Draganfly's Darren Nebres Details the Company's Commitment to Help with Landmine Detection in Urkaine 
The Ukraine government has estimated that there may be around 70,000 square miles covered with landmines and other unexploded ordinances. Draganfly's drones can map a hectare of land in an hour, speeding up the demining process by up to 40% while preventing fatalities.
The Ukraine State Emergency Service reported that it would take approximately ten years to demine its territory after the conflict ends.
Draganfly continues to scale up its efforts in Ukraine. The company recently announced it's fulfilling an order for an additional 30 reconnaissance drones through its channel partner DEF-C, through its continued support from DroneAid. Draganfly is also fulfilling orders for three Situational Assessment Drones to DSNS Emergency Services Department for use in various regions throughout the country.
Draganfly's UAV technology continues to play a significant role in providing aid and assistance to people affected by the conflict in Ukraine. This technology has arguably become the most important development during this crisis, providing hope to the people of Ukraine and saving lives.