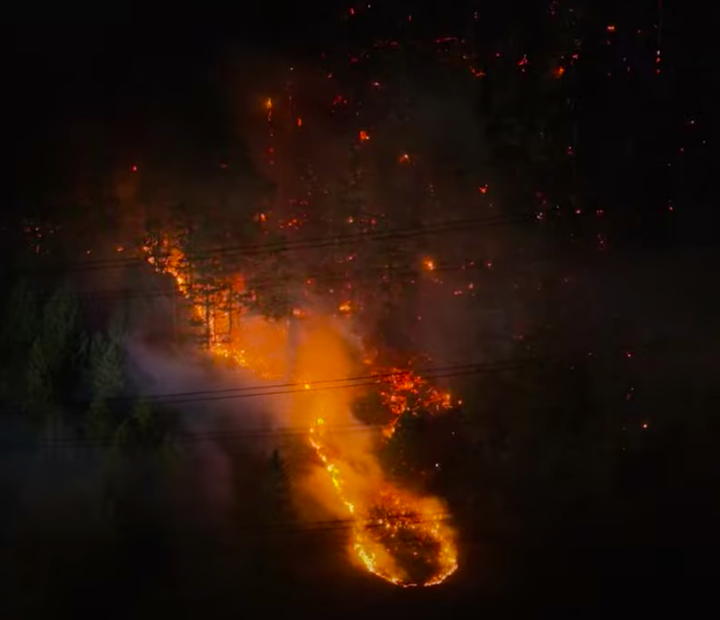 ---
18 August 2023
Draganfly, a leading provider of cutting-edge drone solutions, has achieved a significant milestone in wildfire suppression technology. The company has been granted a Special Flight Operations Certificate (SFOC) for a Remotely Piloted Aircraft System (RPAS) for Beyond Visual Line Of Sight (BVLOS) operations, specifically at altitudes exceeding 400 feet.
The SFOC certificate allows Draganfly to operate its drone technology at altitudes beyond conventional limitations, making its products a valuable resource in fighting wildfires. The capability of its technology to gather data from elevated vantage points greatly enhances comprehensive situational awareness.
It's been an unprecedented year for fires in Western Canada, with Alberta seeing over 1.7 million hectares burned by fires and British Columbia surpassing its previous annual record for affected areas. Draganfly's newest product, Precision Delivery System, can be an effective wildfire suppression method and fill significant gaps in firefighting. This platform combines advanced technology with precision engineering, delivering unparalleled efficiency, speed, and reliability to those on the front lines responding to wildfires.
The Precision Delivery System is designed to be integrated onto the Commander 3 XL, Draganfly's most versatile airframes. One of the standout features of this new system is its drop-down winch system, which ensures the safe and precise delivery of vital supplies and equipment to hard-to-reach locations. Firefighters can rely on the system's precise control to safely lower or retrieve payloads, ensuring timely delivery even in the most critical situations.

The quick-release delivery box is another crucial component that can significantly accelerate the delivery process of vital items. This delivery box ensures the security and protection of sensitive medical equipment and other critical items. The quick-release mechanism allows for easy and swift unloading of material, enabling first responders to get what they need on the ground without delay.

Situational awareness and coordination are crucial during wildfire outbreaks. The Precision Delivery System comes equipped with an integrated point-of-view (POV) camera that provides real-time video footage of the delivery process, enabling remote monitoring and coordination from command centers. Ground-based operations and drone deliveries are seamlessly connected, ensuring that decisions are made based on accurate and up-to-date information.
In addition to its firefighting capabilities, the Precision Delivery System can be adapted for other emergency response scenarios, such as search and rescue missions, environmental monitoring, and disaster assessment. The technology's potential to save lives and protect communities extends far beyond wildfire suppression and is a tool that has the potential to make a positive impact on society.
Draganfly offers other cutting-edge products that can be valuable tools in wildfire suppression. Its Heavy Lift Drone is a versatile, industrial, multirotor unmanned aerial vehicle (UAV) designed to lift more and fly further. Capable of automated missions and manual flight operations, Draganfly's heavy-duty, robust UAV has a payload lift capacity of 67 pounds and up to 55 minutes of flight time.

Draganfly and its partner Promo Drone also recently launched the new Starling X.2 drone. The Starling X.2 incorporates Draganfly's Commander 3 XL airframe with Promo Drone's video display technology featuring ultra-bright LED display panels. The platform was designed to convey crucial information about natural disasters, rally points, missing persons, and other critical notifications, to help improve public awareness and preparedness.
Draganfly's innovative drone fleet, combined with its achievement of securing the SFOC for BVLOS operations at altitudes exceeding 400 feet has garnered attention from the drone industry and firefighting agencies. As the wildfire seasons become increasingly unpredictable and challenging, solutions like Draganfly's Precision Delivery System offer new insights into combatting these natural disasters more efficiently. Draganfly sets an inspiring example of how innovation can be harnessed to protect lives and preserve our natural resources by combining cutting-edge technology with the drive to make a difference.
Learn More