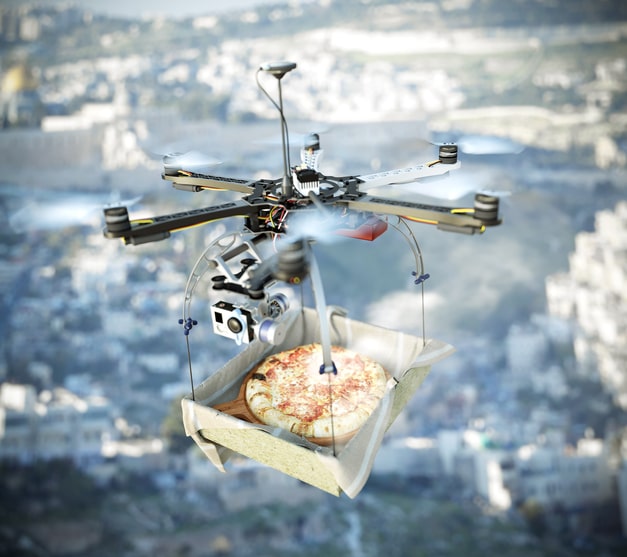 ---
Just when you thought food delivery service couldn't get any faster or more convenient, drones are now delivering sushi and ice cream ordered by customers via a designated app in Tel Aviv.
Israel's National Drone Initiative is launching its third phase, which involves sushi, ice cream, and medicine delivery via drones, making it easier and faster than ever to get your food and medicine delivered. Drones were found flying above Tel Aviv's skyline in the neighborhoods of Tel Aviv-Jaffa, Herzliya, Ramat Hasharon, and Hadera, which was the third part of an eight test  pilot program. And as you can imagine, it was quite the site to see. Now, the program will move forward in its pursuit to produce a national drone network. 
Throughout the course of the test, five drone-operated companies will participate in the program, conducting over 300 flights per day above open areas involving different tasks on paths designated by the joint control system. 
Of the many challenges, drone-operated companies like High-Lander and Cando will deliver sushi orders to customers to Tzuk Beach and Herzliya via a designated app. Additionally, the companies will perform autonomous security missions for Reading Fire Station, which is an emergency facility.
Plus, companies SkyLinx and FlyTech will perform a pilot program that will give customers the ability to submit their order via a designated app and have their ice cream orders delivered by drones at Charles Clore Park, located adjacent to the Manta Ray Restaurant.
The participating companies, including DownWind and Simplex, will conduct drone flights above urban areas in Tel Aviv and Airwayz and HarTech Technologies Ltd. will conduct flights above the Hadera urban area.
Additionally, drones will be able to deliver donated blood, platelets, and plasma to Sheba Medical Center in Tel Hashomer from the Magen David Adom Blood Bank. The goal for this task is to confirm the method of packaging, as well as flying and procedures in order to meet the regulatory requirements set forth by the Health Ministry. During this particular stage, the objective is to combine the procedures so other companies will have the ability to offer similar services at every hospital and blood bank throughout Israel when necessary.
Thousands of military missions will be conducted in the skies of Israel over a two-year-project, which will be controlled by the Ayalon Highway Air Traffic Control Center. Additionally, a recent test took place, which involved a drone flight in Brazil and controlled by the management system in Israel.
The National Drone Initiative's goal is to create a national network of air routes that will allow UAV deliveries for medicine, medical equipment and examinations, as well as e-commerce, among many other purposes. The center's management and supervision systems can both be viewed for drones flying in the area, which will allow for dozens or even hundreds of drones to fly in the sky simultaneously for various purposes. This will enable drones to fly in a uniform space and prioritize certain drone flights and clear the skies when larger aircrafts enter or when an aircraft is operated for emergency services.
The initiative was established as a collaborative effort between the Israel Innovation Authority, the Civil Aviation Authority, the Transportation Ministry, and the Smart Transportation Authority. Through a series of gradually more complex missions, the initiative's goal is to establish experience and skill, while also learning how to deploy and operate drones in an uniform airspace.
The project was created with an effort to utilize advanced deployment techniques for drones, providing great benefits for the public and minimizing congested roads. With efforts to effectively establish a national drone network, the organization's goal was to also be able to successfully transport medicines, medical equipment, vaccines, tests, as well as e-commerce shipments. 
The reason behind the many stages of the two-year project is to fine-tune drone technology and the procedures involved, ensuring that the process for every task conducted goes smoothly. It is imperative to take things slow to establish the necessary procedures so that everyone can use drone delivery services for a wide range of purposes. Drone delivery services will be a revolutionary step, as it will reduce road congestion and ultimately result in an economically viable alternative for many people and businesses.
Because the initiative involves many gradual steps within the two-year project, it is important to understand the many obstacles that the leading organizations are trying to overcome. Besides bigger aircrafts in the airspace, there are also many other factors to consider, including concerns about security, large birds, residential areas, and noise. With that being said, it is a work in progress but one thing is for sure: things are definitely coming along and big things are happening for commercial drone purposes in Israel, and hopefully will also become worldwide, too.
The great thing about the project is that it is getting tons of support from the government, regulators, and the industry, allowing for necessary resources to be utilized. With the right testing, experimenting, and complex challenges that the two-year project involves, there are certainly great things ahead.
Drone technology has enabled amazing things to happen, from military to commercial purposes and more, it is the future and it is coming along wonderfully.
About The Droning Company
The Droning Company specializes in collaborating with licensed, insured, and highly experienced drone pilots across the United States. As a one-stop-shop offering access to professional drone pilot services, our online magazine also provides helpful resources and news in the drone industry, such as articles, product reviews, tips, and the latest updates surrounding FAA news, regulations, and much more.
As a company committed to providing the best services possible for all-things-drone, we provide a wide range of services that are perfect for your needs and budget. If you are searching for a licensed and insured drone pilot for your specific needs, we've got you covered. You can view drone pilots' portfolios, the types of specialized equipment they use, the types of jobs they specialize in, and much more--making it easier than ever to find the perfect drone pilot specific to your needs. 
At The Droning Company, we are proud to be one of the top drone resources nationwide and are committed to providing you with the services that you need. Whether you are looking for a highly skilled drone pilot or you are a drone pilot ready to offer your services on our website, we are here to help every step of the way. Contact us to learn more or simply sign up to get started today!