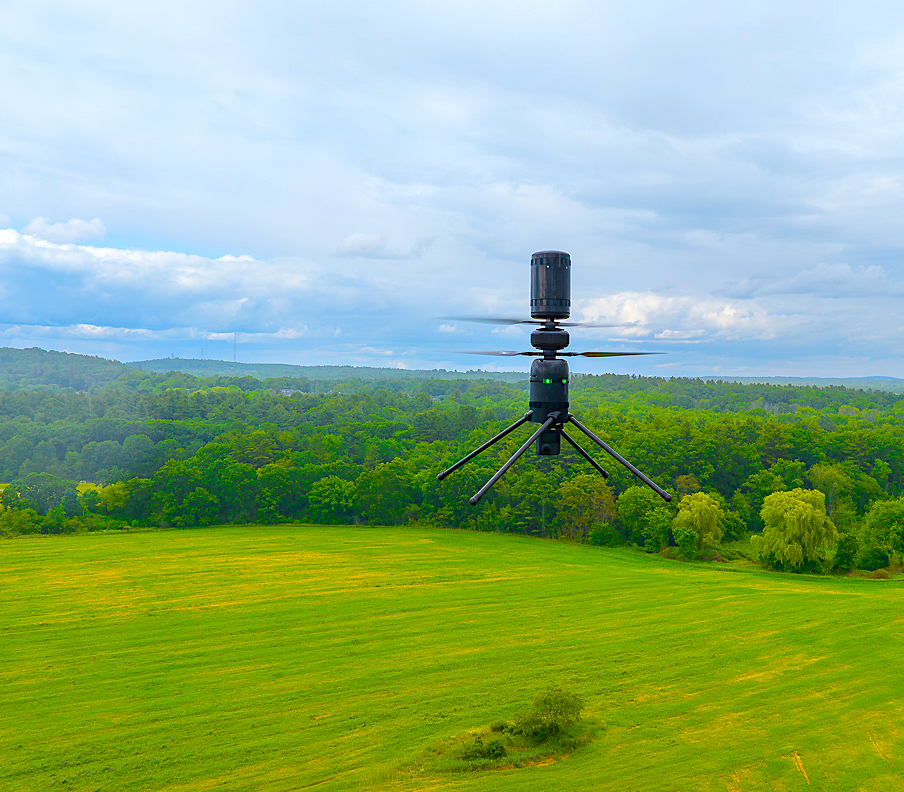 ---
30 June 2023
By Chris "The Drone Geek" Fravel
I had the opportunity to travel to the Boston, Massachusetts area to visit our friends at Ascent Aerosystems. During that time, I was given a complete tour of their headquarters and manufacturing facility and to meet some integral members of their team.
Ascent Aerosystems Marketing Manager, Katie Glennon, was my liaison throughout the duration of my time and did a great job ensuring I had what I needed to fully grasp who they were as a company and what they were setting out to accomplish in the industry.
Matt Donofrio, Ascent's Technical Operations Lead, was my encyclopedia when it came to all things Spirit. This guy is the heart-and-soul of Ascent's production line and is personally responsible for the quality of each drone they manufacture. Needless to say anything more, this guy was the best resource I could have asked for when exploring the capabilities of this drone.
Before we dive into my time working with Matt, Katie, and the entire Ascent Aerosystems team, let's take a look at what the Spirit UAV has to offer on paper:
Utilizes a Coaxial Design, nothing else like it in the drone industry.
Supports dual payloads and a wide variety of payload types.
Utilizes 2x Brushless Motors
Capable of flight times up to 53 minutes without payload and 32 minutes with payload.
Maximum Operable Altitude of 14,600 feet (5,000 meters).
Maximum Speed is 60mph (100kph) in Manual Mode and 40mph (65kph) in Auto Mode.
It is IP56 Rated, completely resistant to rain, sleet, snow, and any other precipitation.
Capable operating temperature range of -40 to 130F (-40 to 54C)
Carries a Class 8 Wind Resistance, capable of withstanding winds up to 40mph (65kph)
After getting that breakdown from Ascent, it's safe to say I was more than excited about getting to look at this beast first-hand. When I arrived at the Ascent Aerosystems Facility in Wilmington, Massachusetts, the first thing we did was tour the production facility and let me tell you, it's impressive. All the manufacturing done by Ascent takes place in Massachusetts. These drones are built from bottom-up in the USA, which is extremely important as Blue UAS initiatives continue to take hold of the country's commercial and enterprise drone sector.
What I really liked about the Spirit and the components within it is just how compact and portable they were. While your standard set-up comes with a Pelican case and custom-cut foam insert for the Spirit package of your choosing, it was also demonstrated off-camera to be able to fit in a backpack. This is one of the few commercial UAV platforms that is not only versatile, but also extremely compact and easy to tote around.
Seriously, this thing is excellent when it comes to transport, setup, and breakdown. You are going to be hard-pressed to find a drone this capable in terms of application as well as this easy to setup. An important part of the setup process is understanding the payloads and how the Spirit can be utilized in the field. Ascent has ensured versatility with the Spirit by making a wide range of payload attachments compatible with the drone as well as an attachment that creates even more flexibility for your pre-existing payloads.
The Ascent Aerosystems Payload Development Kit (PDK) takes the guesswork out of the equation for you when considering a commercial-grade UAV for your projects. Another element I fell in love with regarding the Spirit was just how rangy it is when it comes to use cases. In one conversation I had with Matt, he had mentioned that Ascent had assisted the Boston Police Department with several operations using a variety of attachments on the Spirit including the RGB Sony Camera on a Gremsy gimbal, thermal attachments, and more. This drone can be used for just about anything you can think. And with innovation at the forefront of Ascent's business model, there quite literally is nothing they cannot design or develop.
Regarding the company, one of my favorite parts of the visit to Ascent was seeing their waterjet cutter in action. When I say Ascent's operation is completely based in the USA, I mean it. Everything you see included on the Spirit and any UAV platform that Ascent Manufacturers is designed, cut, printed, and produced in-house. Combine that with their Blue UAS ground stations and payload attachments and this drone makes total sense for use commercially in the USA as we continue to see states blacklisting foreign-made drones.
But the question is…how does it fly? Well, as per usual, there is only one way to find out and I was fortunate enough to get behind the sticks of the Spirit by Ascent Aerosystems.
Let me tell you…getting this thing in the air was incredibly rewarding because just about everything about this drone was a joy to experience while flying. The coaxial design might seem intimidating to those of us that have only ever flown quadcopters and fixed-wing systems before but take it from me…it's a seamless transition.
The only thing I did not care for in the design of the Spirit was the way the camera system operated through the ground station. When using my camera feed to pilot the drone, I noticed that the landing gear or "legs" were constantly in the camera's view and that stabilization was lacking.
However, as annoying as this might have been for me in my first few flights with the Spirit, operationally neither factor poses a problem – the data collection conducted by the Spirit is largely unaffected by the presence of the landing gear in frame and some of the payload attachments can't even see it in the first place. Stabilization is also largely not an issue relating to the actual data collected as mapping is conducted with a Gremsy gimbal and Sony a7 camera and the other payloads being used don't necessarily require stabilization at a high level to be effective. This is more just a personal pilot gripe than anything.
But enough about the negative…let's talk about the positives! The Spirit drone is fast, maneuverable, and a fun fly – even during the dullest of missions. Part of the speed and maneuverability is thanks to the coaxial design. When you consider this design vs. that of a traditional quadcopter, think about the way the propulsion systems work to gain momentum and speed.
When flying a quadcopter, pitching forward or backward, and rolling left or right are the methods for gaining momentum in any given direction. As you pitch or roll in any of those directions, you are taking your drone and increasing the amount of drag created by increasing the amount of resisting surface area from the device. Heck, think about throttling up to gain altitude, in that case you have 100% drag from the body of the aircraft as it moves in its desired direction.
When using a coaxial design like that of the Spirit, you are doing the opposite. Pitching and rolling in any direction decreases drag by eliminating resisting surface area from the device and streamlining the aerodynamics. Also, in our throttle up scenario, the smallest amount of surface area possible is creating drag during the movement upward to gain altitude. That means the Spirit is more efficient when attempting to gain momentum during flight than that of a traditional quadcopter design.
That's ingenuity at its finest. Rather than going with the status-quo and designing another quadcopter, Ascent Aerosystems went out on a limb and blazed their own trail with this unique layout for their UAV. Not only was this bold, but it was also innovative and more efficient when it comes to battery life, operation, and overall flight.
A-freaking-plus from me on this one.
And as far as ease-of-use goes, this drone has everything you could ever want. It has altitude hold, GPS-positioning, multiple flight modes, an intuitive ground station with RTH functionality when signal is lost or battery is low, and a variety of ways to collect and transfer data. It is a true commercial UAV tool as it is perfectly safe for pilots of any experience or skill level to operate.
Now, as far as pricing is concerned, Ascent Aerosystems does not have a list price on this drone – but for an understandable reason. Ascent develops Spirit packages to fit the needs of the clients they serve. Therefore, they do not have a flat consistent price they can advertise. Instead, I'd recommend you contact Ascent Aerosystems with any questions you have about the platform and for pricing on a configuration that would suit you and your operation. Just visit ascentaerosystems.com to get started.
Overall, I loved the Spirit by Ascent Aerosystems. It embodies innovation, efficiency, and versatility in a way that nobody else in the industry has duplicated. The coaxial design of the Spirit drone is unique and more aerodynamic when in flight than any other enterprise and commercial UAV solution. Bravo to Ascent Aerosystems for not only putting together a wonderful drone platform, but for having a company that is clearly on the right path when it comes to growing and succeeding.
Learn More