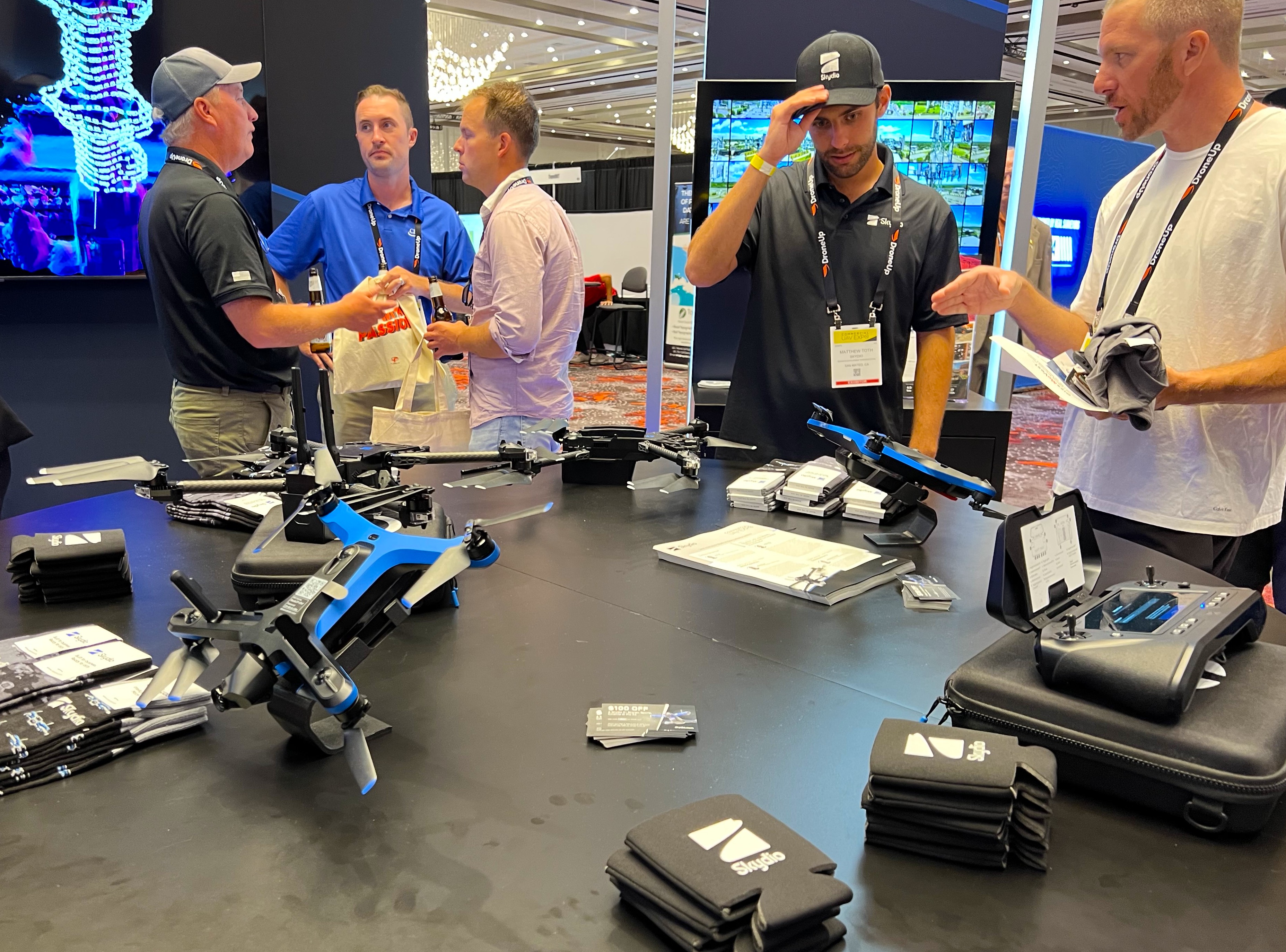 ---
7 September 2022
By Chris "The Drone Geek" Fravel
This week the Commercial UAV Expo is taking place at Caesar's Forum in Las Vegas, Nevada. The event kicked-off on September 6, with a stacked line-up of demonstrations, professional networking, commercial vendor booths, and tons of information about new drone technology in development for the near-future.
The day started out in the Nevada desert as a handful of companies demonstrated some of their latest drone solutions. Despite experiencing Nevada's hottest day on record, scores of people hopped a shuttle bus to the demonstration field to see what these companies had to offer first-hand. The companies demonstrating their technology included: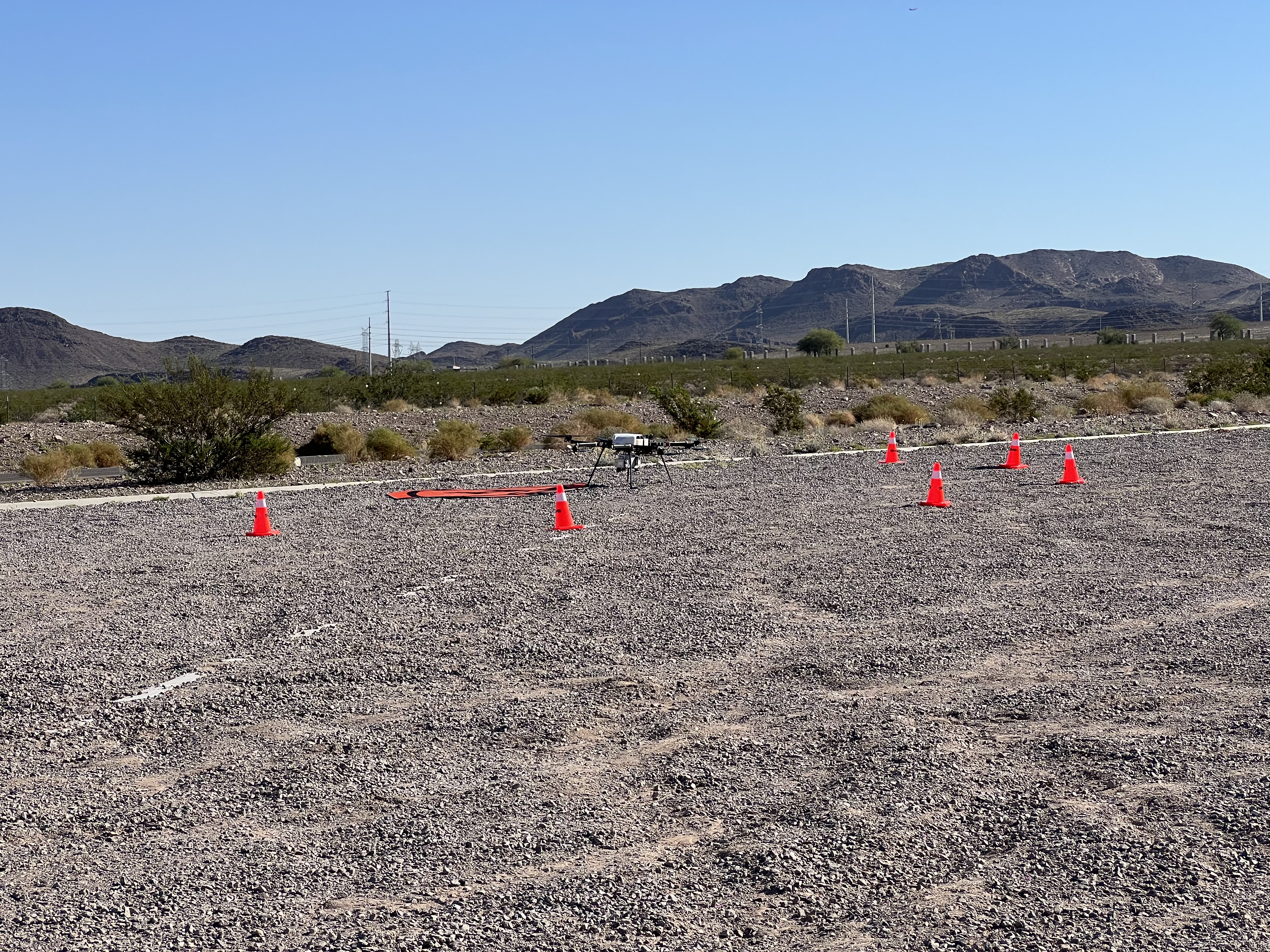 ​​While all of the demonstrations were impressive, there were two in-particular that really stood out to me.
First, was the Seeker drone from Commaris. The Seeker demonstrated its capability for long range and loitering persistence, making it an exceptional aircraft for a multitude of operations including law enforcement, search and rescue, right of way inspection, forestry, firefighting, and survey. The Seeker also stood apart from the rest with its near-silent noise profile of around 40 dBs even when operating at 400ft. Commaris also presented an advanced EO/IR camera system that works in conjunction with a real time analytics suite so you can have live actionable data with automatic reports generated at the end of your operation.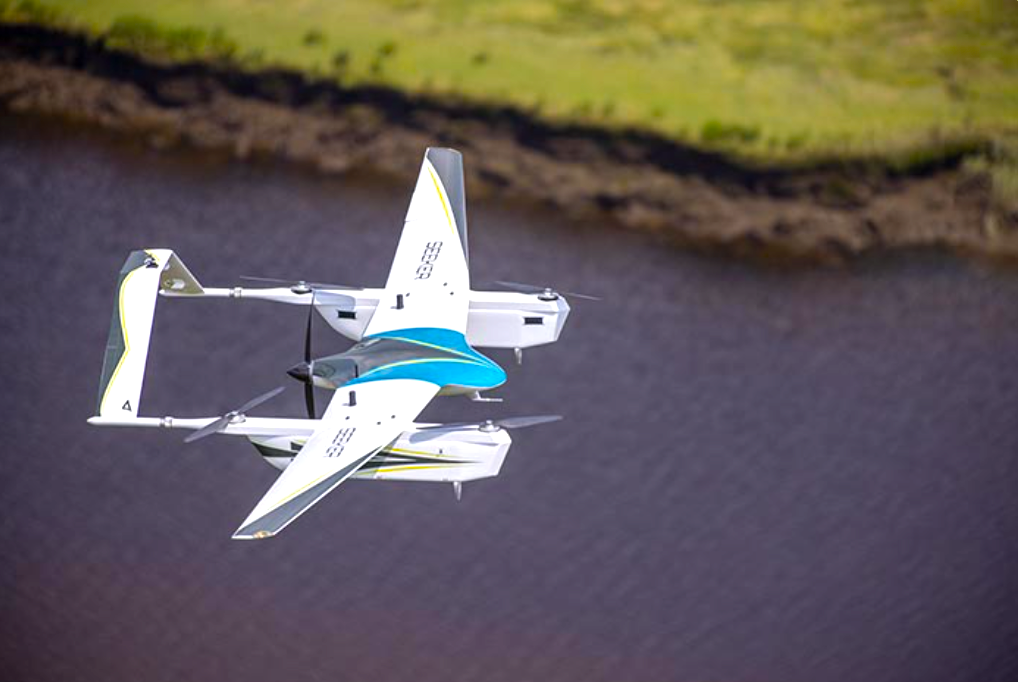 Above: The Seeker.
Frontier Precision and YellowScan demonstrated their newest High-end LiDAR solution from YellowScan. The YellowScan Voyager LiDAR was extremely capable of high-demand data collection missions with a 193-point point density and up to 15 echoes throughout each scan. With its laser scanner's wide field of view, the entirety of the points are oriented towards the ground, meaning no loss of points. This also means 1.5 million points per second will be usable, which would not be the case with a 360° scanner. The best part? The YellowScan Voyager is compatible with just about any enterprise drone platform.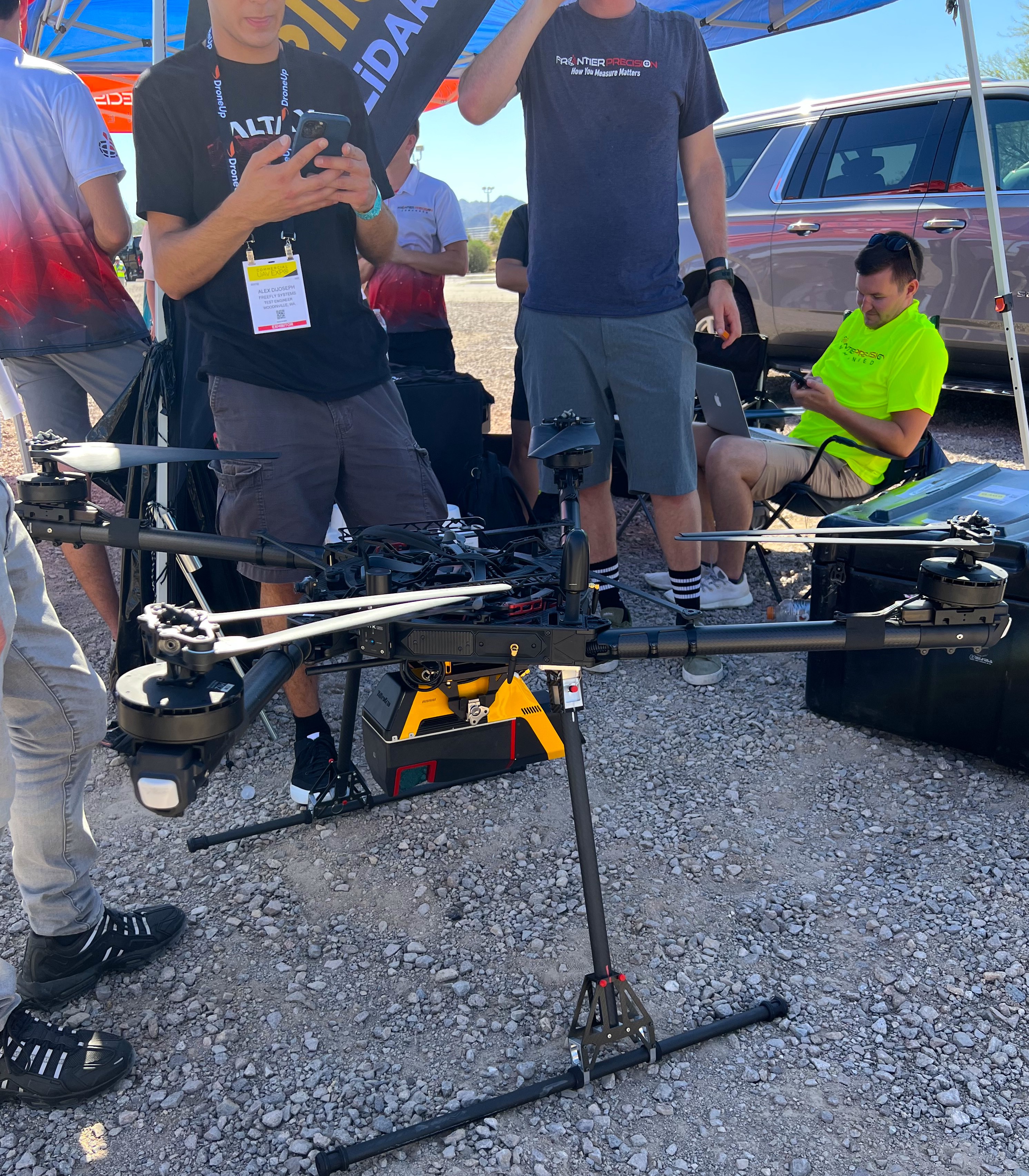 Above: The Voyager.
After taking-in tons of information throughout the span of the demonstration portion of the day and wrestling with the incredible desert heat, it was time to head back to Las Vegas to get some well-earned rest and relaxation before heading back over to Caesar's Forum at 5:30 pm for the official kick-off to the exposition portion of the show week. Upon our arrival we ran into Droning Company friends Carl Berndtson, the Managing Director of the Commercial UAV Expo, and Skip Fredericks of Hollywood Drones. We also made new friends including Ashlee Cooper, the Founder and CEO of Droneversity, and Eric English of Flyability, Inc.
The first day of the Commercial UAV Expo saw exceptional turnout on the event room floor. Thousands of people roamed the exhibition hall soaking up all of the drone knowledge and innovation they could. During our first walkabout of the expo floor, we had the opportunity to speak with leadership and executives from companies such as Barrett Mooney of AgEagle, Fred Bedard of Commaris, Dan Justa of Freefly, and Fritz Reber of Skydio about their respective company's latest innovations and technology as well as how it is applied in the real world. We will have these conversations and more for you on The Droning Company YouTube channel within the coming days so you can learn more about these companies and the drone technology platforms they offer.
At 7:00 pm, the lights were turned down and our first day came to a close as we filed out of Caesar's Forum and into our Uber to finish the day with dinner at Battista's Hole in the Wall.
With day one in the books we have just two days remaining here at the Commercial UAV Expo in Las Vegas, Nevada. We cannot wait to see what they have in-store and to share it with you the best way we know how!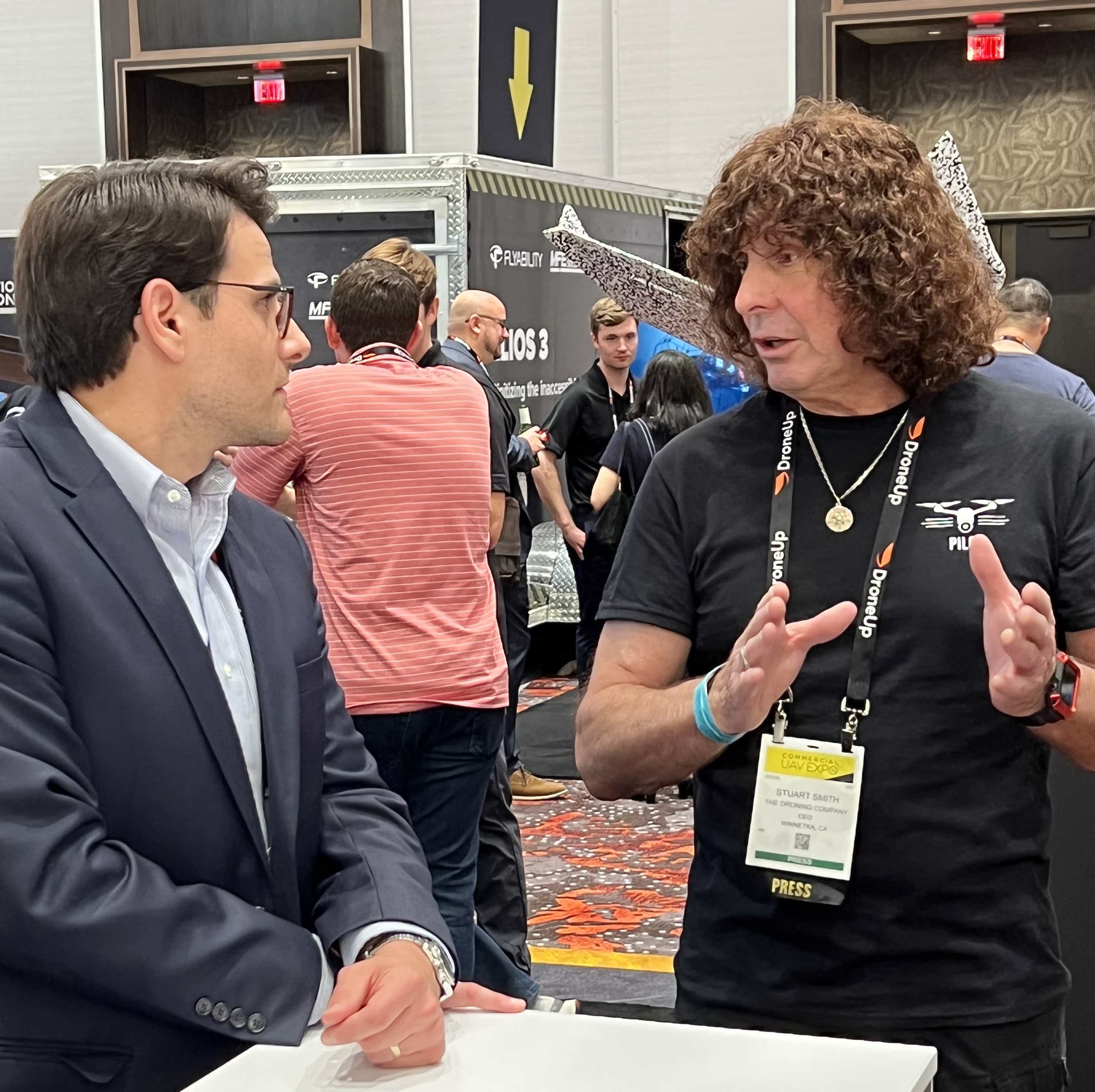 Above: The Droning Company founder/CEO Stuart Smith speaking to Barrett Mooney, CEO of AgEagle.