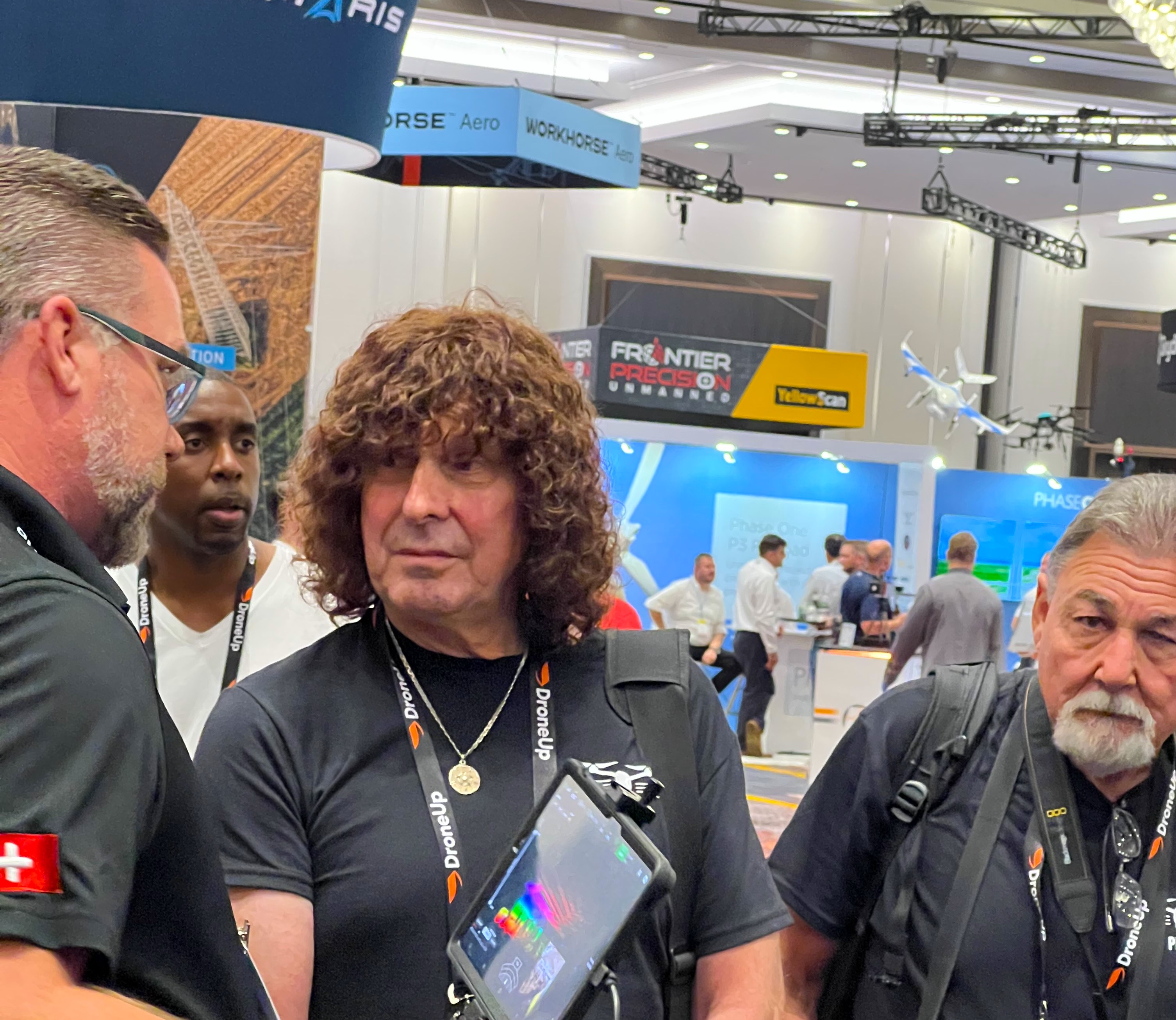 ---
8 September 2022
By Chris "The Drone Geek" Fravel
Day two of the Commercial UAV Expo at Caesar's Forum in Las Vegas, Nevada was arguably more action-packed than day one for The Droning Company, as we worked to see as much as we could in the exhibition hall, and speak to as many people in the industry as possible. We made the absolute most of our time, talking to folks from all corners of the industry from drone manufacturers to insurance brokers.
The day started off strong as we visited our friends at Autel Robotics booth to talk a little bit about the Dragonfish drone and its potential applications with Autel's Global Vice President of Technology & Training, Jon McBride. We discussed all manner of applications for this impressive piece of enterprise drone technology including search and rescue, long range data collection, intelligent flight systems, flight application interface, after-sale training and support, and more.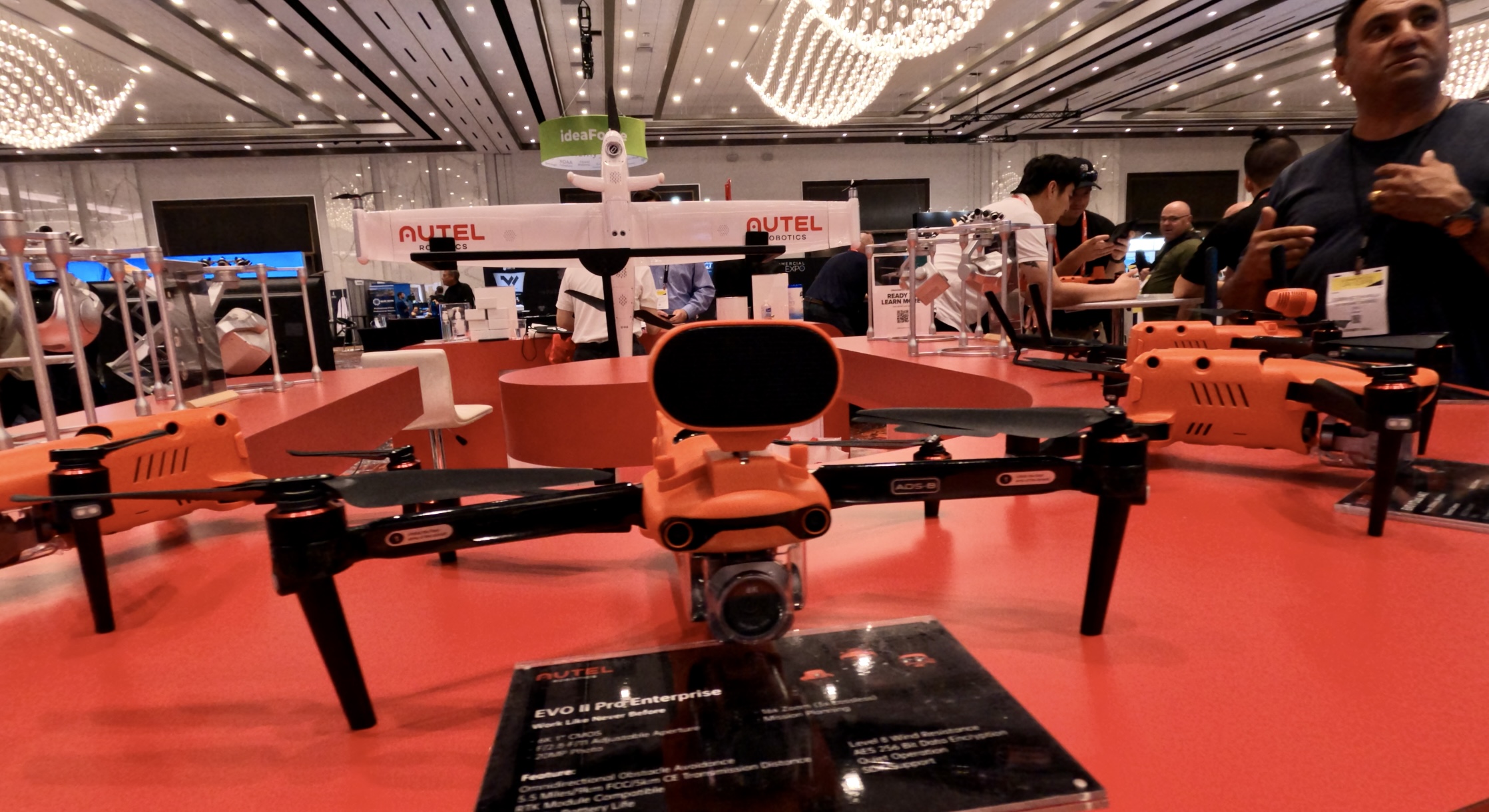 Autel
The Autel Dragonfish series' unique tilt-rotor design simplifies operation while maximizing performance and efficiency. The Dragonfish is mission-ready right out of the box and includes powerful AI tracking capabilities and a multitude of modular payload options. McBride and his team pride themselves on not only providing drone technology that is trusted and reliable, but also service after the sale that ensures Dragonfish owners understand how to safely and effectively operate their drone as well as how to process the data collected by it. On display at the Autel booth was also a variety of other enterprise and prosumer options from the Autel EVO II series.
A little later on as we walked the exhibition hall floor, we ran into familiar faces from the Warren County Community College. The college's president, Will Austin, took some time to tell us a bit about the WCCC's remote aviation program and how it is assisting those looking to get into commercial drone piloting. Warren County Community College is based in Washington, New Jersey, but serves aspiring remote pilots across the world via their online learning platform. Dr. Austin shared information about the college's program and how BVLOS waivers from the FAA have empowered the college to offer hands-on drone pilot training via remote digital interface. A student can fly a drone remotely from the comfort of their home or learning environment of choice and are still able to be monitored by certified instructors at the college who can intervene in the flight at any moment. Warren County Community College is a licensed and accredited college dedicated to the advancement of UxS education. Fully certified as an AUVSI TOP Level 3 Training Provider, an ASTM Certified Training Center, and a member of the FAA CTI program; Warren holds certificates of waiver for Flight Over People and Beyond Visual Line of Sight. Warren offers certificates and a degree in UxS Systems.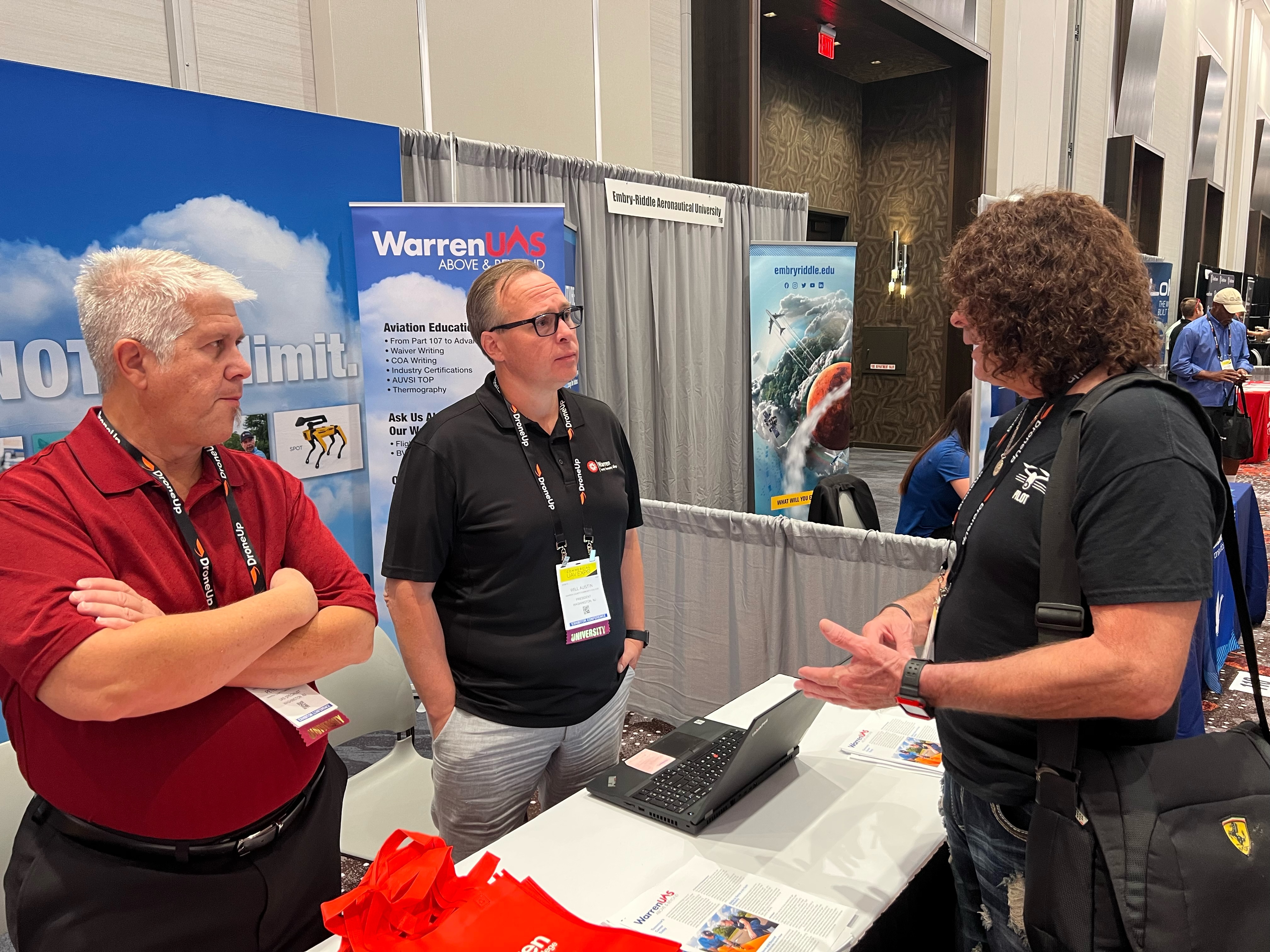 Warren County Community College 
Just down the aisle from WCCC we found the fine folks at DJI displaying their Matrice 30 and Matrice 30T drones, as well as some of their consumer products such as the brand new DJI Avata cinewhoop drone. We spoke with Wayne Baker, DJI's director of public safety integration, about just how powerful the Matrice 30 models are and how they have helped first responders around the world safely execute surveillance and information gathering missions to better provide assistance during emergency situations. The Matrice 30 has three sensors built into its camera that include a wide-angle ½" CMOS sensor capable of 12MP images; a ½" CMOS zoom sensor with 5-16x optical zoom and up to 200x hybrid zoom; and a laser rangefinder. The Matrice 30T offers all of those solutions plus a thermal imaging sensor with resolution up to 640x512 at 30fps. According to Baker, these camera platforms on the DJI Matrice models make it the ideal tool for first responders in emergency situations.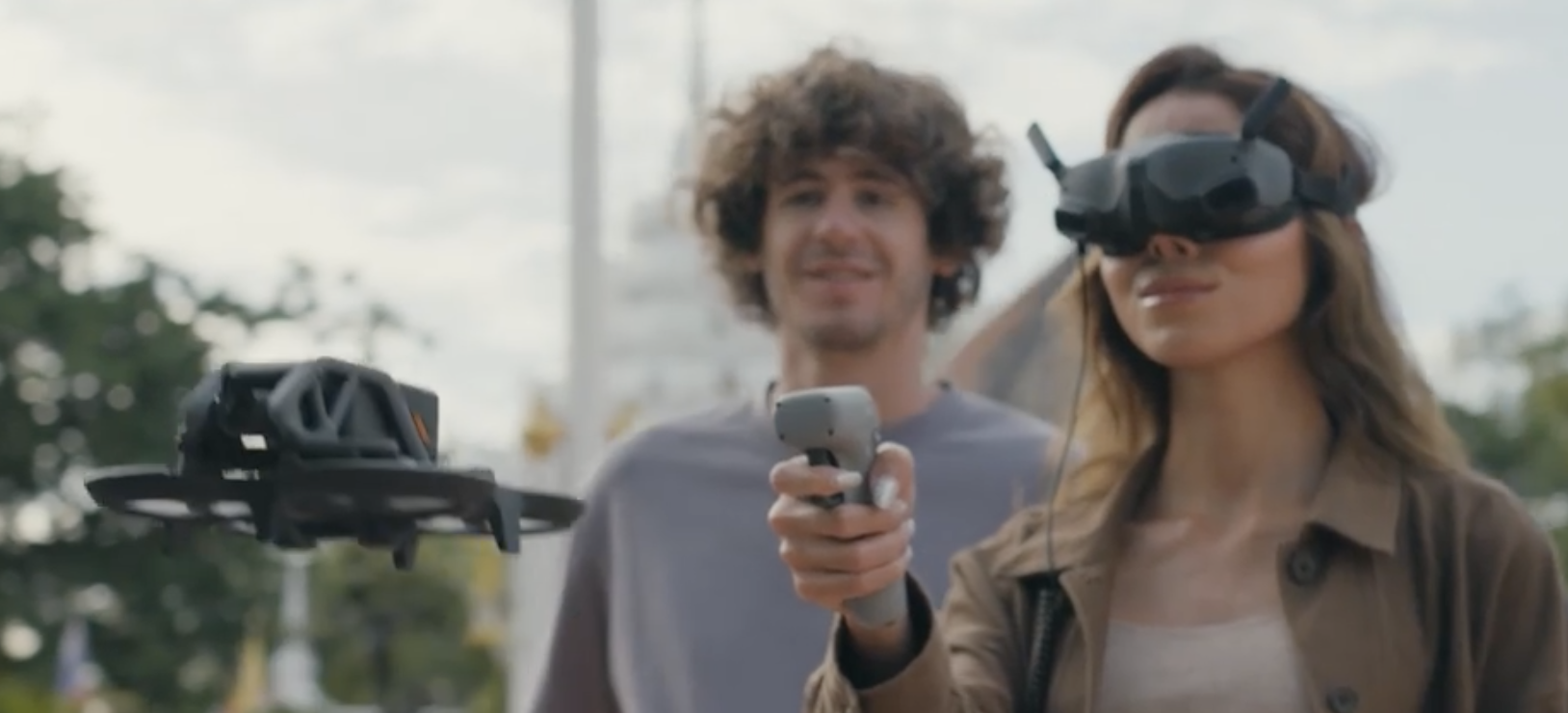 DJI Avata
We also spoke with DJI communications manager, Arianne Burrell, and learned a bit about the company's upcoming event, DJI AirWorks, which will take place at The Mirage in Las Vegas, Nevada next month from October 10-12. While Burrell could not share all of the fine details on the event or what will be presented by the company, she did promise that it would be a very informative event with plenty of intrigue opportunities to captivate attendees.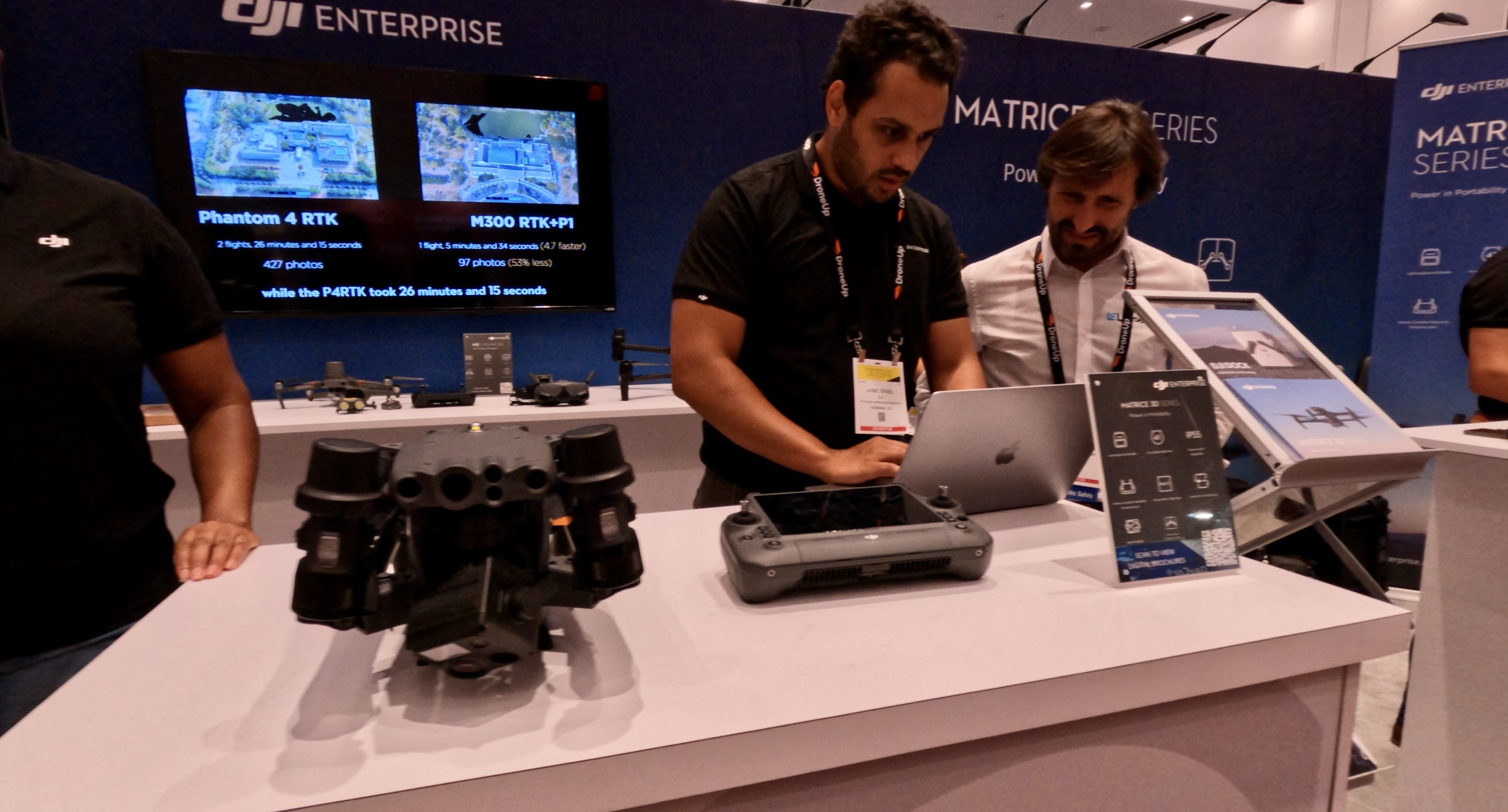 DJI Booth
While we were on that side of the exhibition hall, we stopped over to the Frontier Precision Unmanned booth and spoke with UAS business development director, Wyatt Robbins about the company and its role within the drone industry. Frontier Precision Unmanned acts as a distributor for top-line drone and aerial imaging products including from companies such as Ascent Aerosystems, Autel, Delair, DJI, Freefly, Parrot, YellowScan, and more. Robbins shared that the company's goal is to always offer the very best products with the very best after-sale support and training. They make it their mission to ensure their customers not only purchase the correct product for their company, but that they also receive support and training that helps them to use the products to their full potential. Frontier Precision offered a demonstration of the Freefly Alta platform paired with YellowScan's Voyager LiDar system on day one which you can read about here.
After talking with Dawn Zoldi earlier in the day, we were excited to learn where the Women and Drones booth was located and made time to stop by to see them. During our time we spoke to several representatives from Women and Drones including their CEO, Sharon Rossmark. We also had the opportunity to interview ambassador Desiree Ekstein about the organization. Both Rossmark and Ekstein talked about the importance of representation for both women and minority communities within the drone space and their goal of creating more balance in the representation. Women make up a significant portion of drone pilots from both a hobbyist and commercial perspective, but are often not granted the opportunities of their male counterparts, making it difficult to advance their careers within the remote piloting space. Women and Drones offer a variety of services and opportunities to female drone pilots including a coffee hour hosted by Ekstein that invites drone pilots of all genders and ethnicities to attend and one keynote speaker per hour to discuss their journey within the drone industry.
We wound down the day by visiting our friends at Draganfly who had two extremely impressive UAV platforms displayed at their booth in the form of their Heavy Lift drone and the new Commander 3 XL. We spoke with COO of Draganfly, Paul Mullen about the company and, more specifically, the Commander 3 XL drone. Mullen discussed the company's initiative to integrate pilots of varying experience into their ecosystem by continuing to scale a variety of their drones to different sizes and capabilities while maintaining a consistent pilot interface. The thought behind this is to establish familiarity with pilots just getting into the enterprise drone space by offering smaller, more affordable solutions that utilize their piloting software in the hopes that it better prepares them for flight as they invest in larger and more capable drone platforms. Draganfly also offers after-sale training and support to further enhance the learning experience for its customers. An example of scalable technology from Draganfly is the Commander 3 XL. It is capable of carrying multiple types of payloads including a variety of cameras, thermal sensors, LiDar systems, and more. At the expo they had a Sony Alpha camera attached to a gimbal loaded onto the display model. The Commander 3 XL has some incredible specs including a 24-mile flight range, a top speed of 45mph, and a total flight time of 50-minutes (depending on payload), but what I was most impressed with was the weight. This very imposing drone weighs just south of 29lbs, which means it can carry up to a 26lbs payload and still stay under the 55lbs weight threshold for UAVs. That combined with the ability to handle extreme conditions such as heat, cold, and strong winds was absolutely mind-blowing to think about.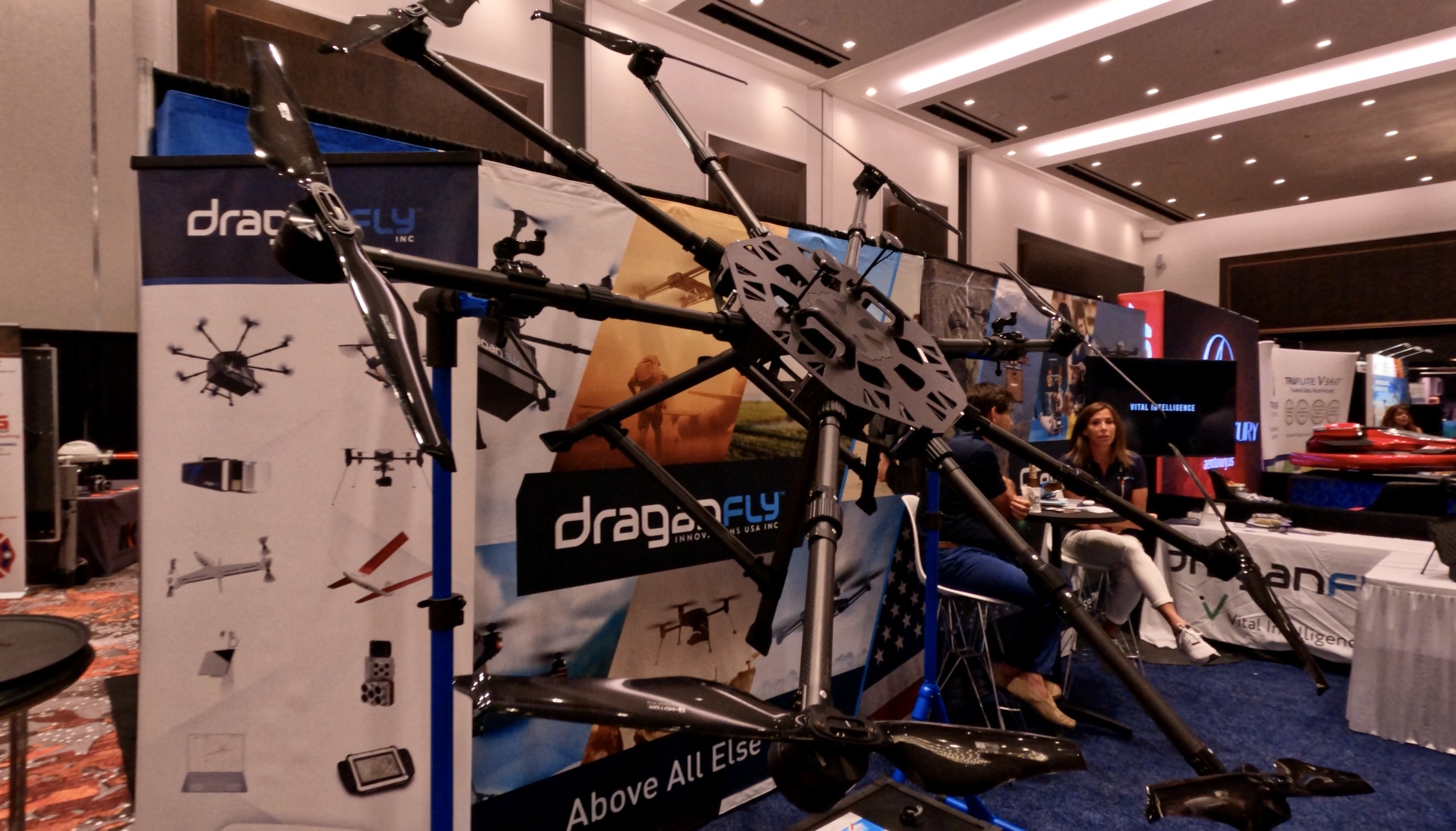 Draganfly
Along with our interview from day one, we will have these conversations and more for you on our YouTube channel within the coming days so you can learn more about these companies and the drone technology platforms they offer. Check back with us tomorrow for our day three recap as we close out the 2022 Commercial UAV Expo and say goodbye for now until 2023's expo!