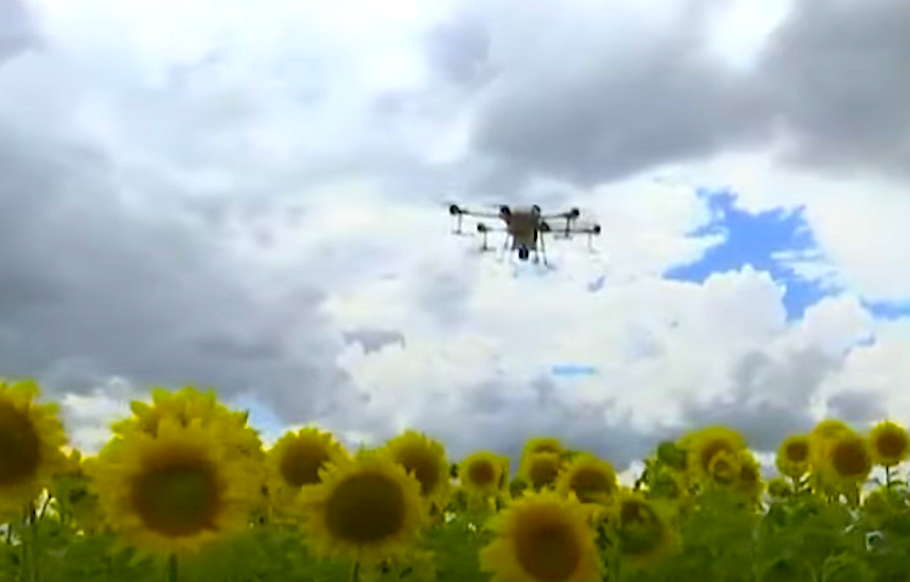 ---
Drone pilot and farmer Roger Woods is using an UAV to plant 45,000 sunflower seeds per hectare (2.47 acres) on his spread in Queensland, Australia.
Although crops such as wheat and barley already have been planted by drones, the "sunflower experiment" is just that, as the needs of the sunflower can be challenging for non-human farmers.
"Sunflowers need to have fairly consistent spacing to grow correctly, and they also get incorporated quite accurately so these are some of the challenges that we had to overcome while planting them by drone," explains Woods. "As a result, this sunflower crop, to the best of our knowledge, is the first sunflower crop planted entirely by drone. A big agricultural drone that we use commercially, spreads the seeds."
Farmers believe that drone planting is less invasive than conventional methods that create soil disturbances.
Woods' "drone farmer" also has been a tourist attraction, as people come to take photos of the operation, as well as learn about non-invasive farming strategies.
WATCH THE "FARMER DRONE"
THE FUTURE OF NON-INVASIVE PLANTING
Seeking more and more non-invasive ways to plant seeds and combat deforestation has been the mission of Australian startup AirSeed Technology, which seeks to "Combat climate change and biodiversity loss by combining drone technology, artificial and data driven intelligence with our proprietary seed pod bio-technology."
The company is aggressively taking action on the estimate of the United Nations Intergovernment Panel on Climate Change: "The world has ten years remaining to prevent a massive and destabilizing climate change through combined rapid phase-out of fossil fuels, reforestation and other natural climate solutions."
Some Factoids:
• 1.3m SQUARE KM OF TREES HAVE BEEN DEFORESTED SINCE 1990.
• GLOBAL NET LOSS OF TREES PER YEAR = 15 BILLION.
• 1.35m TONS OF LOST CARBON SEQUESTRATION EVERY YEAR.
To help fight deforestation, AirSeed uses seed-pod delivery systems with heavy lift-drone platforms offering stable GPS flight operations. Some of the benefits of the company's soil and species specific, seed-pod bio tech are that the seed pods are nutrient and mineral rich (aiding early stage seedling growth), they help rehabilitate soil, increase soil carbon, prevent transplant shock, offer custom probiotics for planting sites, and have a protective coating to repel animals.
AirSeed collects data about potential planting sites to devise accurate flight plans that trigger seed pod delivery at designated GPS coordinates. Then, the drones are loaded with the correct quantity of seed pods for each planting site, flying autonomously along the pre-programmed flight plan to plant as planned before returning to base. Compared to manual planting approaches, the automated drone planting is 25 times faster.
AGRICULTURE IN AUSTRALIA
Based on a 2010-2011 report, Australia is a significant international source of agricultural products such as wheat, wool and beef. Commercial crops include grains, oilseeds, legumes, sugar, bananas, rice, grapes, and potatoes, and livestock production includes pig, beef, and poultry. The report stated that total farm production was $60 billion with exports of approximately $45 billion.
As of 2015, farmers and grazers owned 135,997 farms that covered 61 percent of Australia's landmass.