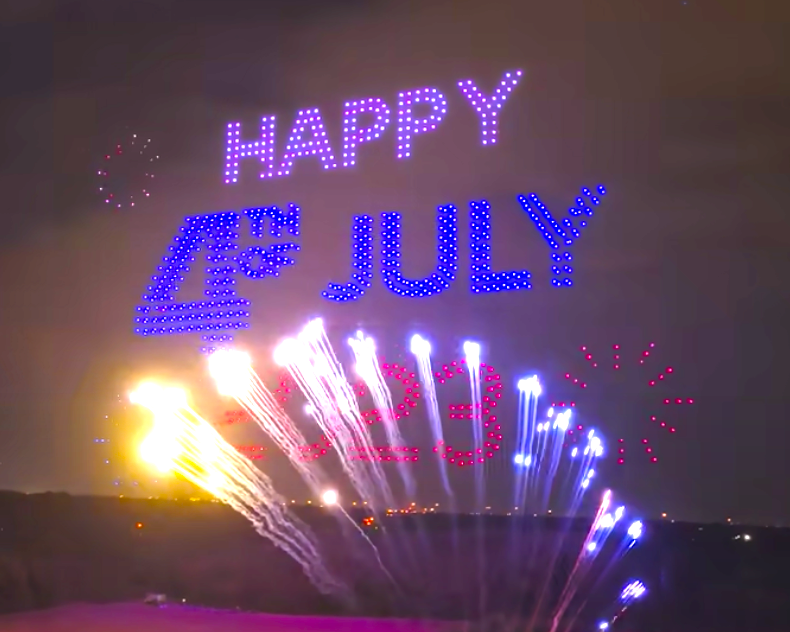 ---
05 July 2023
Sky Elements of Fort Worth launched 1,002 drones to thrill the crowd at a North Richland Hills, Texas, 4th of July celebration, and also set a Guinness World Record for the "Largest Aerial Sentence Formed by Multirotor Drones."  The 10-minute show was reportedly the biggest drone light show ever staged in Texas.
The North Richland Hills drone show was a homage to America's history, and included aerial LED-lighted images of the moon landing, Paul Revere's ride, George Washington crossing the Dealware River, and more. 
In addition to the Guinness World Record, Sky Elements broke its own company record by producing 40 shows over the 4th of July weekend—a feat that required putting more than 10,000 drones in the sky.
Although it's still hard to beat the thrill and visceral impact of explosive fireworks extravaganzas, there's no argument that drone light shows are pretty awesome in their own way, and are a greener and safer alternative. Drone shows eliminate the harmful smoke and chemical residue of traditional fireworks, as well as avoid the risk of accidental wildfires and potential injuries to show staff.
Watch the "Fireworks"