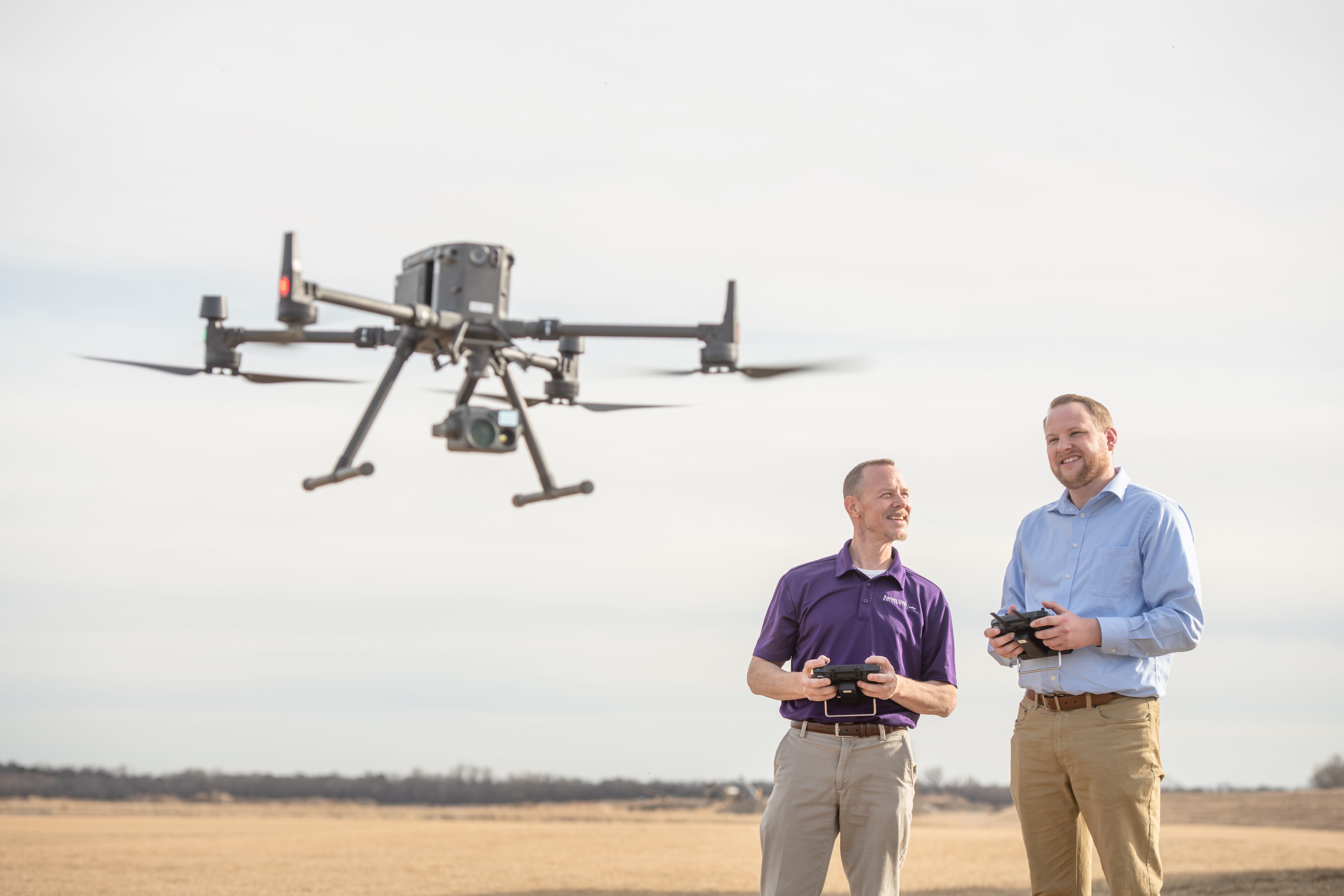 ---
August 10, 2022
"It's a great time to be involved with the drone industry," says Kurt Carraway, director of the unmanned aircraft systems department at Kansas State University Salina Aerospace and Technology Campus. "As the Federal Aviation Administration and NASA shift into advanced air mobility—which will ultimately culminate in unmanned cargo delivery, and, eventually, unmanned passenger carrying—students will have employment opportunities that may not have been there five or ten years ago."
The drone industry continues to grow exponentially, but with that growth is the need to educate and train the next generation of drone operators and designers. The K-State UAS program is meeting that need.
In just 13 years, the K-State UAS department has become one of the most recognized collegiate UAS programs in the country. After its beginning as a certificate program in 2009, the program has steadily grown, and it now offers a bachelor's degree with two options: flight and operations and design and integration.
The program has earned the trust of the FAA, including selection for the Unmanned Aircraft Systems-Collegiate Training Initiative, as an FAA Part 107 regulation training provider and approval to fly UAS beyond the line of sight and for night operation capabilities. It is also a core member of the FAA's UAS Research Center of Excellence, known as ASSURE.
"In 2011, K-State was only the second university in the United States to offer a bachelor's degree in UAS," says Carraway. "Along the way, we've added additional academic options."
These options include a UAS minor that students can pair with a major in a related field so they can include drone technology and operations among their skills. The minor is especially popular with professional pilot majors on the K-State Salina campus and with students from K-State's main campus in Manhattan.
Another educational offering is the Introduction to UAS certificate. The certificate is taught primarily online and geared toward high-school students interested in getting a jump-start on their higher-education plans. The certificate can count toward their bachelor's degrees in UAS and help reduce the time needed to complete their degrees from the traditional four years to just three years.
Public safety was the initial impetus for launching the K-State UAS program.
In 2007, a devastating tornado leveled the town of Greensburg, Kansas, in the south-central part of the state. The Kansas Adjutant General Office led the disaster response effort. In documenting the lessons learned from the tragedy, the office noted that having access to drones could have helped expedite the search for victims trapped in debris.
The state of Kansas' response to the lessons learned from the Greensburg tragedy was establishing a UAS program at one of the state's universities in 2008. K-State was the logical choice for this program because of the established aviation program on the Salina campus.
The relationships the K-State UAS program has developed with government and industry make it stand out over many of its competitors. The program's Applied Aviation Research Center has become a national leader in the unmanned aircraft field. The center's staff is comprised of subject-matter experts who engage with industry on training, consulting, collaboration, and research. The center's projects with industry give students opportunities to showcase their skills and network.
One of the main partnerships the K-State UAS program has is with Evergy, a utility company that provides electricity and other resources to 1.6 million customers who live in Kansas and Missouri. Mike Kelly, senior UAS coordinator for Evergy, has a unique perspective on the K-State UAS program. A 2016 graduate of K-State, Kelly was trained by the experts with the UAS program and now utilizes K-State UAS resources for his work at Evergy, continuing a partnership between the university and the company that spans over many years.
"I believe one of the reasons I have my current position with Evergy is because of the experience and degree I earned from K-State," says Kelly. "It has prepared me to lead applying UAS and associated technologies within this company. With that, I can also provide feedback to the program regarding the resources we are seeing in the industry and what K-State can do to help students as they prepare to enter the industry."
Kelly added that the K-State UAS instructors always found ways to ensure lessons and opportunities applied to the real world.
Recently, the K-State UAS program and the Applied Aviation Research Center developed relationships with government agencies that have resulted in high-profile grants. K-State is currently working with the National Institute of Standards and Technology on competitions for drone enthusiasts from around the country to come up with innovative solutions to problems first responders face when working with UAS. K-State provides its expertise to competitors in these competitions. K-State is also partnering with the Federal Emergency Management Agency to develop educational courses for public safety officials to integrate UAS technologies in their activities.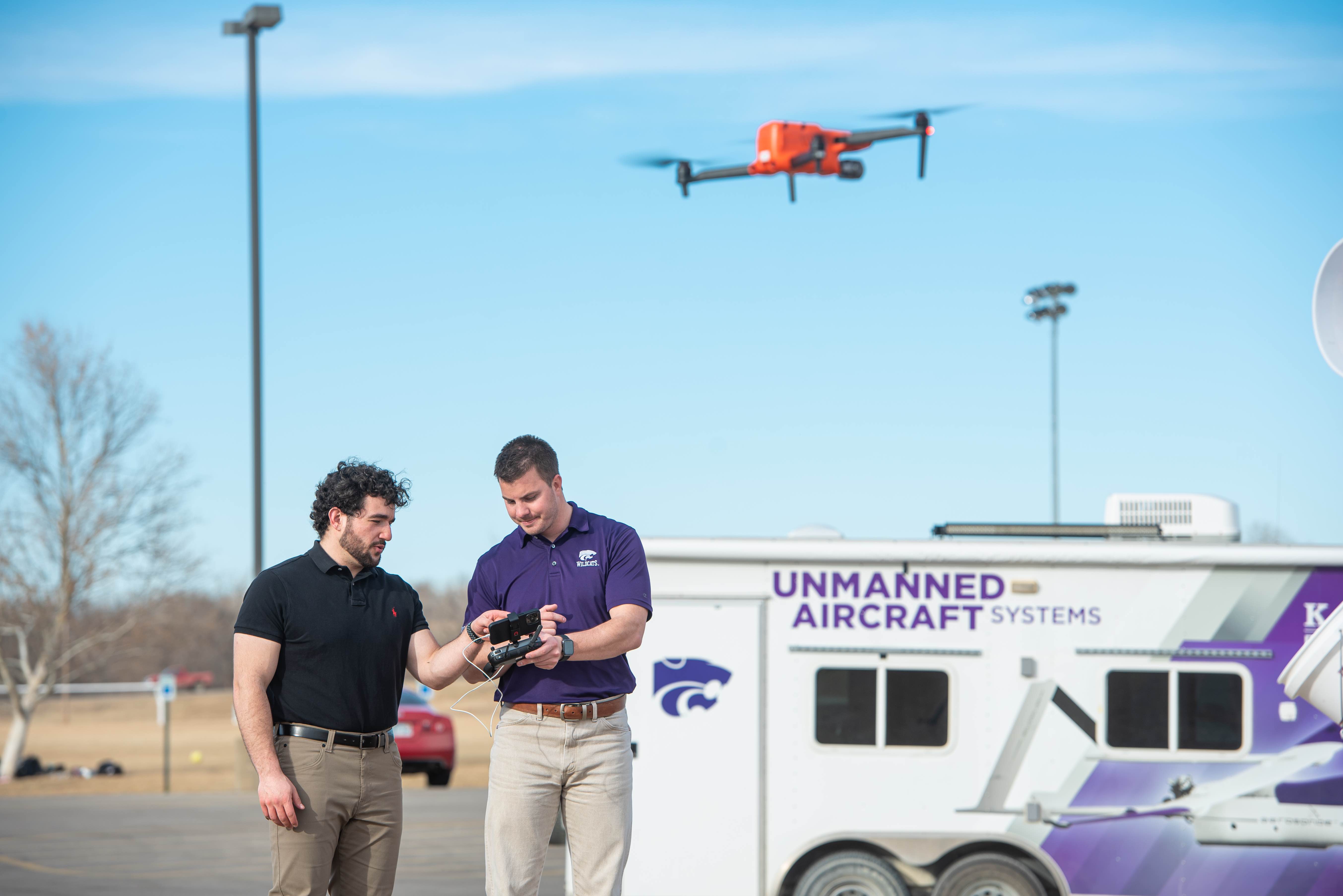 Industry partnerships are also another factor that the K-State UAS program continues to cultivate. Much like their work on the federal grant side, K-State provides its expertise to industry that is utilizing drone technology. In its partnership with Evergy, K-State has been able to provide training and regulatory assistance that has helped advance the company for in its use of drones.
"Since I've been working for Evergy, we've had a constant relationship with K-State, and, it has been great," says Kelly. "They've helped us out in so many different areas—specifically, the regulatory side of things. Evergy was just able to secure our first beyond visual line of sight waiver. A lot of the validation and documentation was required that K-State was able to assist with. Another huge area that Evergy has leveraged K-State for  is the training of our internal drone pilots."
These experiences help make the K-State UAS program one of the premier collegiate drone programs in the country.
Carraway says the K-State UAS program goes beyond learning how to properly pilot a UAS to learning how to use UAS most effectively. A major facet of the program's curriculum is teaching students how to collect and interpret data with UAS, which are valuable skills they can bring to future employers.
"We often get asked, 'Why does it take four years to prepare students for this type of career?' and the answer is because it's not just about flying or designing a drone," explains Carraway. "It's the whole end-to-end consideration, starting with analyzing the problem, collecting the data safely and legally, and then being able to hand over a meaningful interpretation of that data. It goes from understanding what type of data needs to be collected to figuring out how to integrate a sensor on an aircraft—whether it's multi-rotor or fixed-wing—and then being able to go fly and collect the data in a way that demonstrates a favorable return on investment and reduces risks."
Watch a Drone Flight at KSU