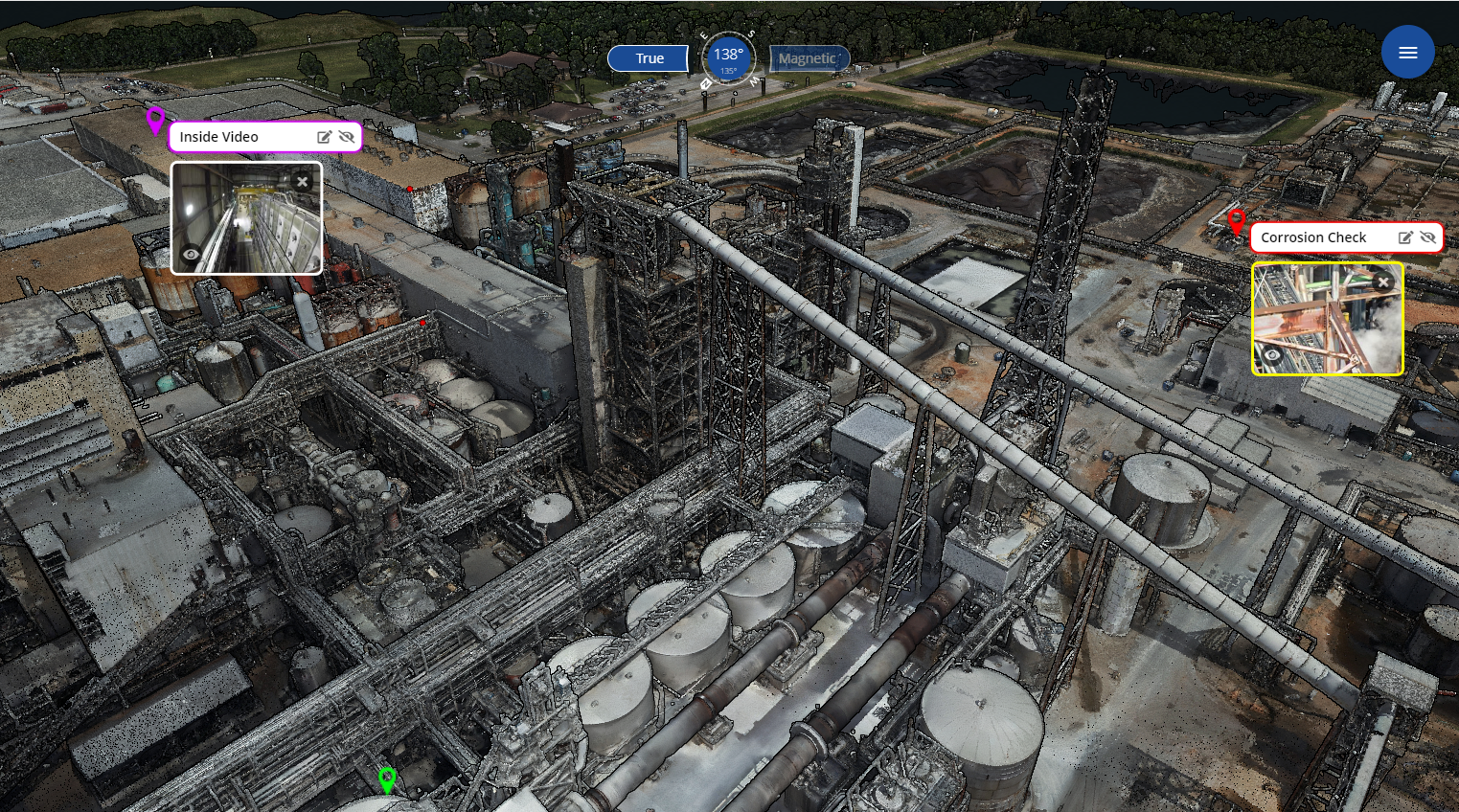 ---
Above: 3D Digital Twins created from professional drone-data captures can be accurate to 1mm, and are useful for inspection, planning, and equipment status monitoring 
Drone-based asset inspections have been growing rapidly over the last several years, and the growth is expected to continue well into the future.
Research by ReportLinker.com indicates that the drone software market alone is projected to grow at 17.1 percent CAGR and more than double between 2022 to 2027, from $5.1 billion to $11.2 billion. This high-projected market growth is being driven by the strong return on investment (ROI) enterprises are recording by converting from manual to drone-based inspection. But this doesn't mean winning new business contracts will be easy for drone service providers (DSPs), as the competition is fierce as image quality and service expectations are rising over time. As 3D digital twin models gain traction and adoption among large enterprises, it's imperative that drone-data collection is conducted properly and software capabilities are available for optimal 3D model construction.  
Drone-Based Asset Inspections Are Growing
While traditional manual inspections have been successfully utilized for maintaining leading-edge infrastructure in modern facilities for decades, companies are always looking for avenues to improve their competitive position by increasing efficiency, lowering costs, and improving worker safety. This is where drone-based asset inspections offer particular advantage in all three areas.  
"We have customers in the energy industry that can justify the investment in their drone-inspection programs just on the cost savings realized in a single flare-stack inspection," says Adam Watts, Director of Operations for Optelos. Direct costs for renting and assembling scaffolding, and then indirect costs from lost production from shutting down the process lines associated with the flare stack and allowing it to cool for up to a day before beginning the scaffolding construction can amount to hundreds of thousands of dollars. Further, the plant operations are significantly impacted as the process line is shut down for the duration of the scaffolding construction, inspection process, and deconstruction of the scaffolding. All of this is disruptive to business operations and the maintenance departments of these organizations.  
The benefits of drone inspection over the traditional method is clear. A drone-based inspection can be completed while the flare stack is still operational, or shut down for a few minutes prior to flight, allowing observation of issues that may only occur during high temperature operation—saving time, resources, and avoiding the risks associated with "at elevation" manual inspections. This would explain why the energy industry is rapidly adopting drone inspection to improve the operational performance of their valuable refinery assets, in addition to stretching their limited personnel resources further. As more and more skilled workers retire from asset-intensive industries, taking their decades of experience with them, the requirement to do more with less grows.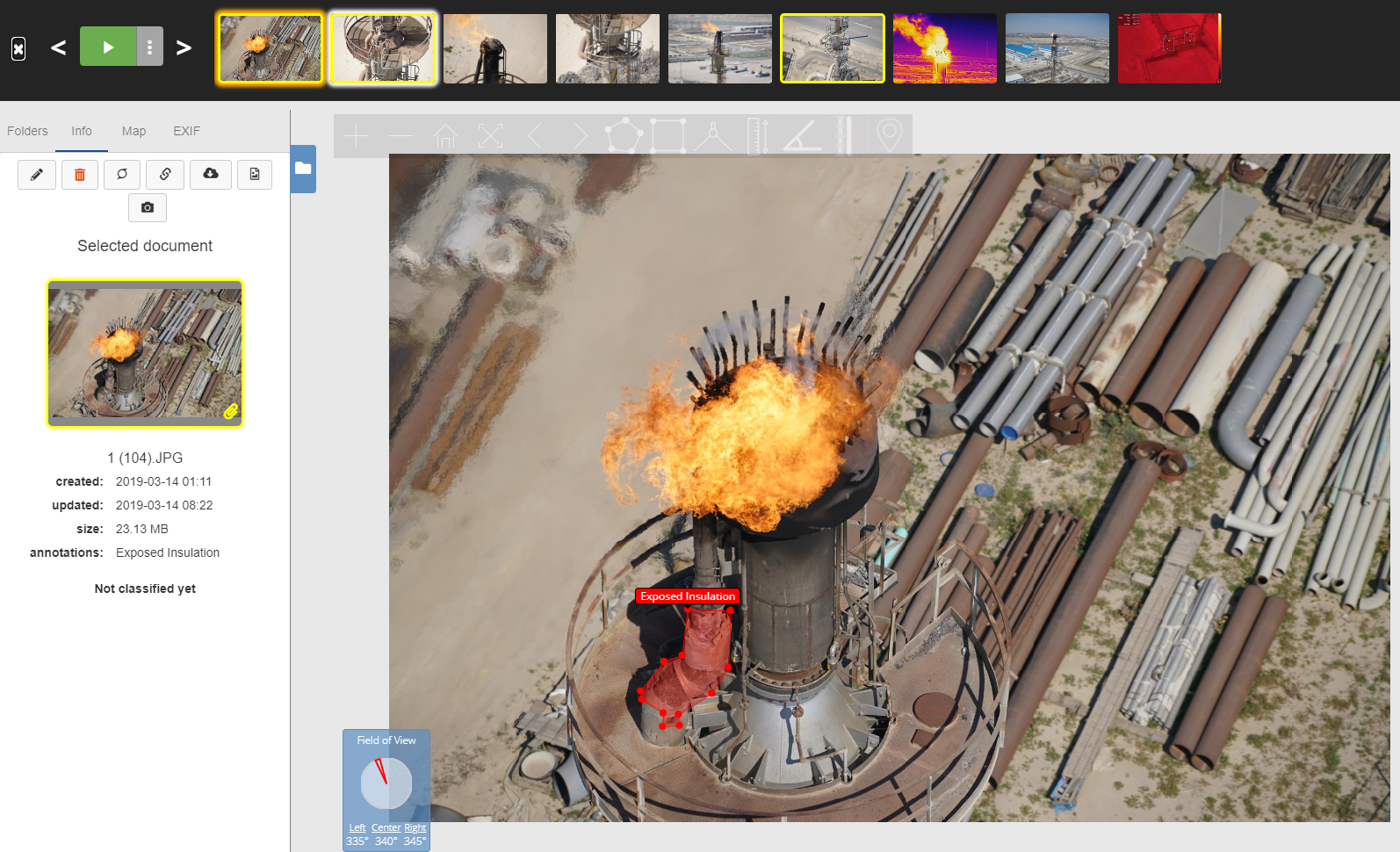 Above: "We have customers in the energy industry that can justify the investment in their drone inspection programs just on the cost savings realized in flare stack inspections." —Adam Watts
Benefits to Organizations of Drone-Based Asset Inspections 
Droned-based inspections are particularly valuable to asset intensive industries that require frequent routine inspections, new technology rollouts, or mandated regulatory compliance upgrades. This explains why telecom, power utilities, and energy companies are moving to drone-based inspections, where the high ROI from drone-inspection projects is evident, as well as the ancillary benefits inherent in digital inspections, including: 
Data sharing and team collaboration: When an inspection is competed digitally, the inspection results can be securely shared globally. This allows enterprises to leverage rare competencies and specialties that may not be present at every site. Use your turnaround specialist in Dubai to review your flare-stack results from Houston. This saves travel costs, improves the quality of life of these high-demand specialists, and reduces burnout and turnover. Companies can also reduce costs and speed repair-project initiation by sending detailed equipment inspection results simultaneously to multiple approved vendors for competitive quotes, driving faster action and decisions.   
Clear documentation of inspection results and monitoring of progressing issues: Performing drone inspections and managing the data in Optelos' organized, unified database allows organizations to monitor evolving issues over time and estimate when repair will be required in the future. This allows enterprises to avoid unexpected maintenance actions and reduce "scope creep" on turnaround activities, while also better managing budgets and grouping like projects together for more efficient repair contracts.  
Eliminate return site visits and loose ends: Forgot to measure a bracket, inspect a coupling, or verify available rack space? No longer do you need to send a crew back to a site to collect data missed the first time, costing time and consuming additional budget. Utilize your 3D digital twin models to complete desktop engineering and verify component status, dimensions, repair parts needed for a job, walk through pre-project briefings, and verify accuracy job quotes versus documented repair requirements.  
Precision measurement and analytics: 3D digital twin pointcloud models can be extremely accurate when the data is properly collected, offering up to 1mm in accuracy. This allows engineers to complete extensive pre-project preparations with tight tolerances and a high degree of confidence. Verify equipment will fit where planned, define where to place equipment, and shared resources during a turnaround project (cranes, lavatories, decontamination tents, tool sheds, etc.), and verify work was performed per spec with a post-project digital twin. 
Implementation of machine learning/computer vision AI analysis: AI offers one of the largest opportunities for improving asset inspection capacity, accuracy, and efficiency.  With the proliferation of visual data from robots, drones, mobile phones, and IoT sensors, enterprises are overwhelmed with the mountain of unstructured data that requires review and analysis.  AI computer vision, when properly operationalized, automates the analysis of this data at scale.  This enables enterprises to scale their visual-inspection operations without creating bottlenecks in image analysis and repair prioritization. The Optelos platform includes all the capabilities needed to develop, test, and deploy machine learning to automate any visual inspection process, then direct actions to the precise geolocation of the defect. Integrating with ticketing and dispatch and ERP systems further increases capacity, enabling the automation of work-order generation, job assignment, and repair-part inventory availability and planning.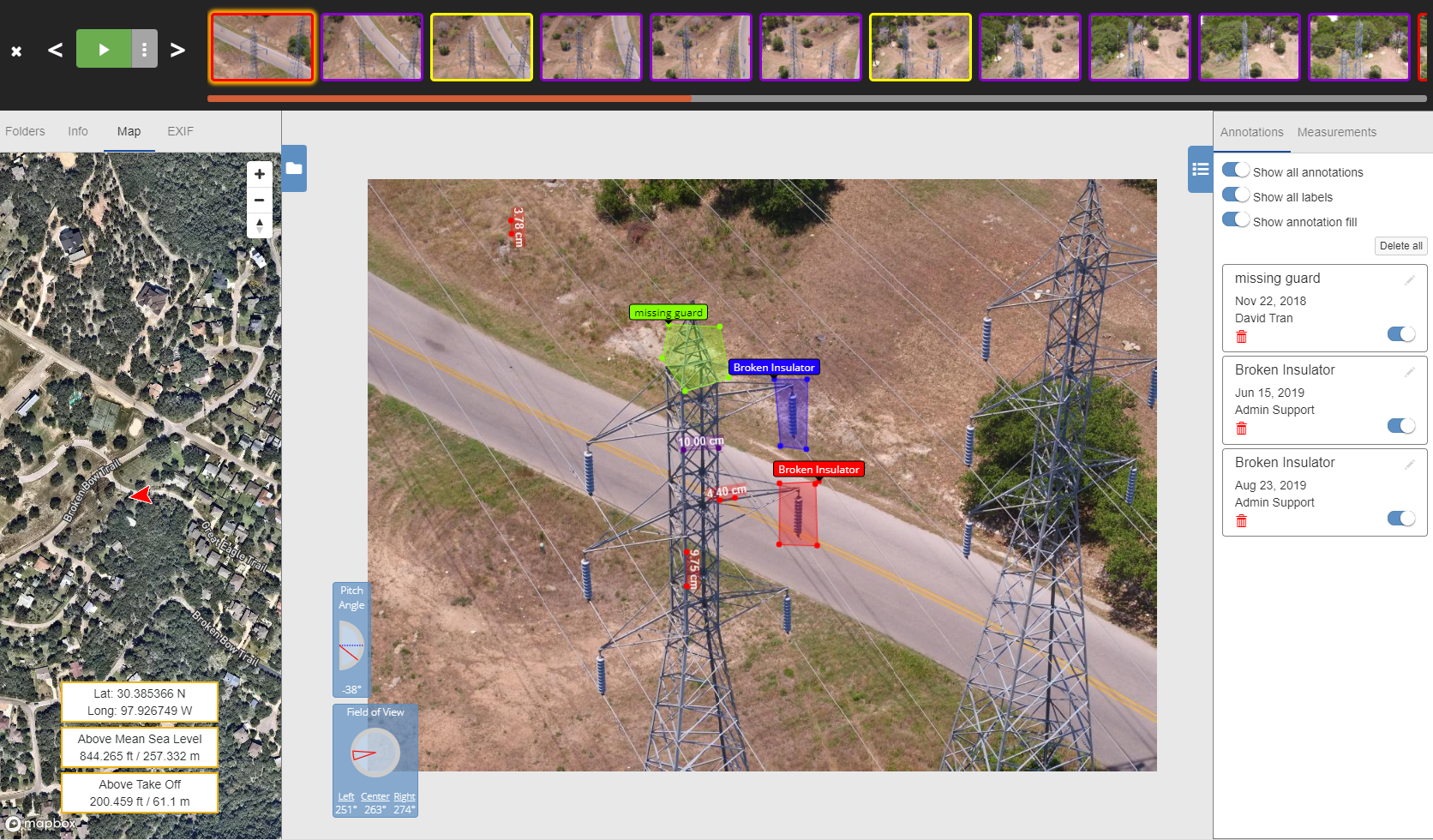 Above: The future of asset inspections lies in implementation of machine learning to process vast amounts of visual inspection data.
Drone Inspections Are Step One. Dependable Data Management is the X-Factor 
While the advantages offered by the digital transformation of asset inspections are clear, how to manage the vast amounts of data that come from such programs has been a struggle for many large enterprises due to specific challenges presented by visual media and detailed models. This leads many enterprises to abandon their digital-inspection programs, as they aren't realizing the value from their investments, because they can't effectively manage the vast amounts of data that come in daily from routine inspection actions. Any Drone Service Provider (DSP) working with a large enterprise needs to help their customer across this data-management chasm or risk losing the customer should they conclude they're not realizing the value required to justify the expense of their drone-inspection program. 
The most common challenges encountered by enterprise customers are addressed by features and functionality built into the Optelos visual data-management platform, based on years of VOC (voice of the customer) gathered by Optelos Software Engineering and Operations team members. The most common issues that large organizations encounter are:  
Unstructured file format: Visual data is referred to as "unstructured," which simply means its datasets (typical large collections of files) aren't stored in a structured database format. That makes the files hard to systematically organize, parse and search so that you can find just what you want. Prior to using Optelos, many of our customers struggled with multiple-data silos, file-naming conventions, and time-consuming data upload and management protocols (which typically break down). Optelos solves this with its patented algorithms that extract the underlying time stamp and GPS location metadata from image files to create a searchable, unified database that can ingest, sort, and store vast amounts of visual data in a user-defined, predictable, and visually intuitive manner so that the data you need is right where you expect it to be, every time.  
Data Storage limitations: Image files are huge and consume a lot of storage resources. Optelos offers unlimited cloud-based storage on industry-leading services AWS and MS Azure (depending on your preference), ensuring you can store, quickly access, and securely share your files with anyone you choose around the globe.   
Opening and sharing massive files: We all want the highest resolution images and models possible, as it makes reaching consensus and making decisions easier when the images are clear and unambiguous. The downside, however, is that the higher the resolution of your inspection images and models, the bigger the file and the longer it takes to open and manipulate the file. Not with Optelos. Optelos has proprietary technology that autoscales the resolution based on the zoom level. This allows you to pull up a massive 50GB 3D model of an entire industrial site in seconds. As you zoom in to the specific area of interest, the platform will automatically increase the resolution as you require the increased level detail. No longer will you need an advanced desktop system with ultra-fast Internet speeds to interact with these files. It's now fast, secure, and simple with Optelos.  
Underlying software licenses: In addition to the limitations of opening 3D models due to their large file size, its also a challenge if you or your boss don't have access to the underlying software license that works with the model. Optelos comes packed with file viewers, allowing team members or outside vendors without access to the custom software licenses to open and view the files, enhancing project collaboration and communication.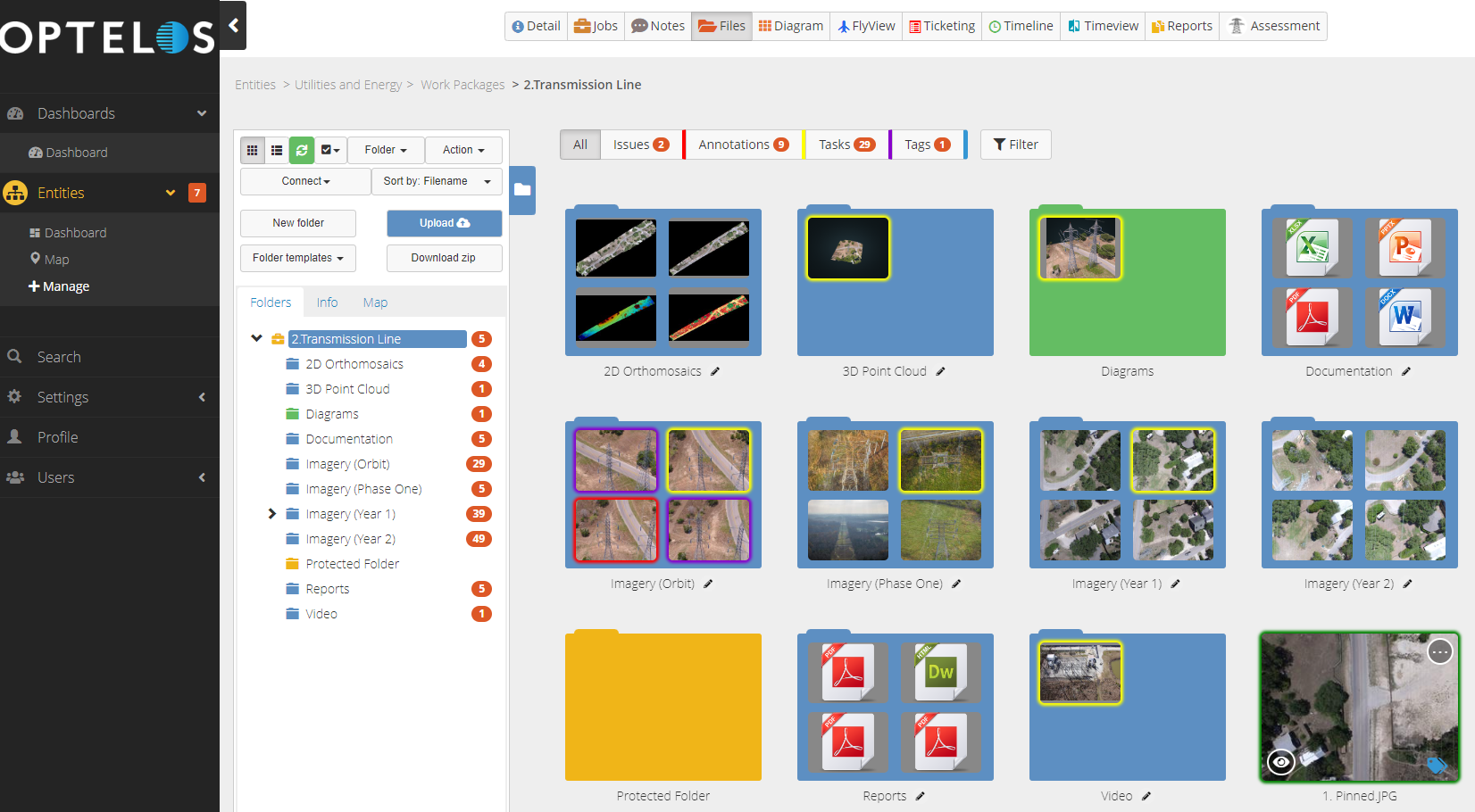 Above: A well-organized, unified database is required to effectively leverage visual inspection data. 
What's Next? 
We're currently in the messy middle of the digital transformation of asset inspections. Many enterprises see the advantages, can articulate the benefits versus existing procedures (such as improvements in speed, cost and safety), and can typically estimate ROI if they have run a test case or POC. What typically drives organizations to embrace new technology and the willingness to incur the pain of implementing new processes and procedures is a clear business case that justifies the time and expense.  
Let's face it—few people enjoy change in their professional lives, which often entails uncertainty, a degree of risk, and, initially, some extra work. As enterprises gain traction with drone-based inspections by utilizing digital twin technology and AI-powered autonomous drones, as well as experience improvements in collaboration and project management from powerful visual-data management platforms like Optelos, the doubling of the market over the next five years may be a conservative estimate.   
 More Info on Optelos