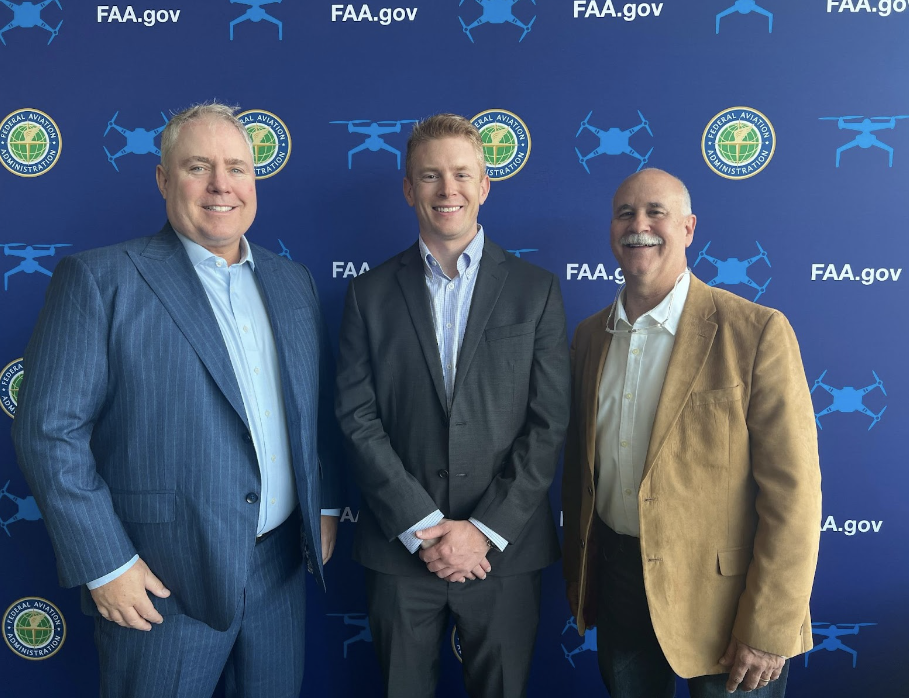 ---
August 3, 2023
Above photo (left to right): Christopher Todd - Executive Director AIRT, Aaron Pierce - CEO Pierce Aerospace, and Charles Werner - Director DRONERESPONDERS at the FAA Symposium.
Pierce Aerospace announced that it has partnered with DRONERESPONDERS, the world's largest and leading non-profit program dedicated to advancing and educating Public Safety's use of drones. DRONERESPONDERS has over 8,500 members representing over 87 countries and more than 1300 public safety agencies represented in its Global Public Safety Drone Dashboard. Pierce Aerospace is a global leader in Remote ID technology and has led Remote ID developments since 2017 with dozens of Remote ID integrations and multiple Remote ID contracts with the US Air Force. As part of the new partnership, Pierce Aerospace and DRONERESPONDERS will form a Remote ID working group composed of DRONERESPONDERS members from diverse organizational backgrounds. 
Pierce Aerospace and DRONERESPONDERS mutually agree to develop this Remote ID Working Group to better capture public safety end-user feedback related to Remote ID technology and use cases. This Working Group will comprise of 12-15 DRONERESPONDERS organizational members, with one representative from the chosen organizational member and their alternate. DRONERESPONDERS will choose the organizational members to participate in the working group. Both Pierce Aerospace and DRONERESPONDERS agree that this group will be composed of a diverse group of first responder organizations and will meet at least once a month. This volunteer working group accelerates industry innovation and enhances the public safety UAS mission.
"Charles Werner and I have been discussing Remote ID and a dedicated public safety Remote ID Working Group for some time, and we are happy to make this announcement," said Aaron Pierce, CEO of Pierce Aerospace. "I grew up with public safety and knew from day one that Remote ID was a critical asset for ensuring the success of public safety airspace missions. There is no better public safety drone partner than DRONERESPONDERS and their network of over 8,500 members. We look forward to this partnership and working with this Remote ID Working Group as a forum for more closely engaging with public safety end users – their mission is crucial. Our duty as a Remote ID and airspace infrastructure provider is to engage with those users and aid them in accomplishing their missions."
"As director of DRONERESPONDERS, I am excited to partner with Pierce Aerospace and Aaron Pierce to create a Public Safety Remote ID working group to collect input and collaborate with public safety to maximize how Remote ID can be used and benefit public safety.  Pierce Aerospace has an exceptional reputation as a leader in the area of technology and is committed to ensuring that Remote ID will deliver the most benefit possible for public safety," said Chief Charles L. Werner (Ret.).
"UAS are a part of daily life. Over 5,000 public safety agencies have adopted a UAS program in the United States alone, and all public safety agencies need the ability to respond to UAS-related calls. We must engage with Public Safety organizations as we roll out Remote ID infrastructure," said Pierce. "It is an honor that DRONERESPONDERS chose to work with Pierce Aerospace to set up this vital Remote ID working group, and we look forward to continuing to provide Remote ID solutions to public safety organizations in the United States and worldwide."
Pierce Aerospace's Flight Portal ID (FPID) Remote ID suit consists of Remote ID beacons, Remote ID receivers, mobile applications - including public safety-specific applications, and supporting backend Remote ID services that are compliant with the ASTM F3411-22 Remote ID Standard and the FAA's Remote ID Rule. Pierce Aerospace's Remote ID systems support public safety and United States National Security operations. 
Through its parent organization AIRT, DRONERESPONDERS has partnered with AUVSI and Commercial UAV Expo to provide national public safety UAS conferences, and hosts the most extensive public safety UAS resource repository in the world, with more than 800 guidance documents available to members. DRONERESPONDERS maintains additional partnerships with the National Institute of Standards Technology (NIST), NASA, and MITRE to advance the NIST Standard Test Methods for Public Safety UAS, NASA's public safety CONOPS and UAS applications in wildfire operations, and MITRE's public safety training curriculum standard. DRONERESPONDERS has worked with the FAA and public safety agencies to develop Tactical Beyond Visual Line of Sight (TBVLOS) waivers, granted to more than 300 public safety agencies, and recently created a Drone as a First Responder (DFR) working group which has supported many new DFR programs.
This new Remote ID working group with Pierce Aerospace intends to follow this prosperous heritage and leadership track record of DRONERESPONDERS advancing the public safety UAS mission.
About Pierce Aerospace Inc.
Pierce Aerospace, a Techstars-backed company, is a Remote ID service provider focused on the practical and robust integration of Remote ID services into the UAS ecosystem. Pierce Aerospace serves on the FAA's Drone Safety Team, ASTM F38 Committee on Unmanned Aircraft Systems, the FAA's Remote ID Cohort, and the FAA's Detection and Mitigation Advanced Rulemaking Committee. Funding from the US Air Force, Techstars, and the State of Indiana supports Pierce Aerospace's products. The company's Remote ID technology was nominated as Indiana's Innovation of the Year by Techpoint and awarded first place in Remote ID technology at AUVSI's Xcellence Awards. Pierce Aerospace is headquartered in Indianapolis, Indiana, The Racing Capital of the World. 
About DRONERESPONDERS
DRONERESPONDERS is a non-profit program of AIRT, the leading 501(c) non-profit organization supporting Drones For Good® around the globe.  DRONERESPONDERS helps first responders, public safety, and emergency management professionals implement and maximize UAS technology.