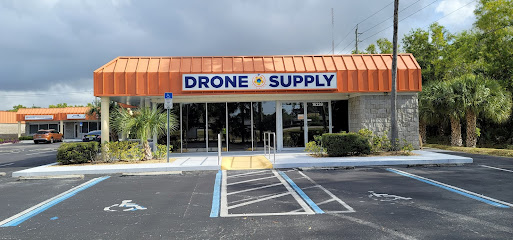 ---
2 September 2022
By Chris Allen, Director of Business Development, Florida Drone Supply
Since its inception in 2015, Florida Drone Supply has been one of the nation's leading drone retailers. Headquartered in Fort Myers, Florida, Florida Drone Supply has become a brand name in itself with the public safety, police, fire, and U.S. governmental agencies. We have watched the amazing transition of technology over the last seven to eight years and how fast new technology and drone abilities are emerging, and it is extremely exciting to see the vast change.
Some drones are getting smaller, some drones are getting bigger, but the fact still remains that drone technologies and abilities have completely changed businesses and various agencies' ways of doing business. Whether you are inspecting a cell tower, searching for a suspect involved in a crime, or locating a lost hiker in the woods using thermal camera technology, the drone world simplifies and makes many processes faster, safer, and more efficient.
Changing Customer Base
At the birth of commercial drone flight, the customer base was rather small, due to the onboarding challenges of the FAA 333, visual observer, and pilot rules. As the FAA adopted the changes within the UAS pilot world, our customer base grew rather fast. The Part107 pilot was born and opened up a commercial drone world that, in some ways, not a lot of vendors, distributors and manufacturers were prepared for.
As more pilot's came on board, so did the manufacturers. Florida Drone Supply is a reseller for DJI, DJI Enterprise, Autel, Parrot, Teal, and many more aerial platforms, which helps us find the right product, for the right customer, at the right price point. We can serve a pilot who has a $2,000 budget just as well as we can for a large police force with a $200,000 budget. Our sales and technical team at Florida Drone Supply have worked in various formats of aviation ranging from FAA, military, telecom, and many more avenues, which enable us to connect and relate to each and every customer that walks in our door or orders products from our website.
Our Reach
While our name is attached to Florida, our reach and customer base is global. We proudly serve customers in all 50 states and well as the Caribbean and various parts of Europe. In addition to our sales team, who are simply the best at what they do, we offer in person training at the customer's location or at our 500-acre training facility in North Fort Myers. We can train one pilot or a department of 15+ pilots on the capabilities of the technologies that they invested in. More recently, we started a campaign to raise funds for drones that are currently in use in Ukraine. Featured by WINK News, a CBS affiliate, in Fort Myers, our team was able to raise tens of thousands of dollars, of which we invested in drones and had them delivered deep inside the borders of Ukraine.
Changing Technologies
With ever-changing legislation, we have to remain fluid in our approach to technologies that are able to be used by our customers. New laws are going into place that force out certain manufacturers of already established drone programs and that technology has to be replaced with U.S.-based manufactured drones. With this change comes a few hurdles, including learning an entirely new platform. Muscle memory, familiarity with the equipment and the overall comfort of how a drone flies is extremely important when it comes to safety of the flight as well as how well a job gets completed. The other factor of changing platforms is cost. Our customers have spent tens of thousands of dollars on equipment that they now have to unload and bring in new equipment.
We understand these challenges and are constantly developing programs and policies on taking in equipment on trade, and helping facilitate the sale of existing equipment. Florida Drone Supply wants to make this transition easy on everyone, and we have built our team, our product line, and our abilities around it. This is a massive change to the majority of departments and agencies across some states and the Federal Government, but we are ready, willing, and able to spin up new platforms immediately.
WATCH! Florida Drone Suppy Introduces the DJI M30T
Brick and Mortar
We are a small business with big visions. Our headquarters in Fort Myers just underwent a massive expansion of our showroom, inventory room, and our state-of-the-art video production studio which will be used for filming and producing unboxing videos, training videos, and new technology highlight videos. We stock every drone from the first time pilot with a DJI Mini 3 budget to the most experienced pilot who needs an enterprise solution with more technology payloads on it than some manned aircraft in the sky. Florida Drone Supply can handle it all, and we are ready for more. Some of our featured brands are: DJI, DJI Enterprise, Autel, Parrot, Leica, GPC, FLIR, Teal, Hoodman, and more.

The Future
As we mentioned before, Florida Drone Supply has a constant pulse of all emerging technologies. Our business development team actively searches out new products that would be of interest to our customer base and is in the development phase of an email campaign series that will bring all of our customers up to date on their current and future equipment. We do not want to be known as simply a drone dealer, we are in the business of developing relationships that will produce a successful drone program for any customer, agency, or department. We believe that the "drone ecosystem" is still being built, and we have just scratched the surface.
As of July 2022, there are over 900,000 registered drones with the FAA, with that rapid of a growth rate, we will see that number climb close to two-million in a relatively short period of time. Manufacturers are pushing out amazing drones and camera systems that get better with each product release, and Florida Drone Supply looks forward to serving each and every drone pilot that needs our help and service. For more information on Florida Drone Supply, please visit www.FloridaDroneSupply.com or give us a call at 1.855.8.DRONES.