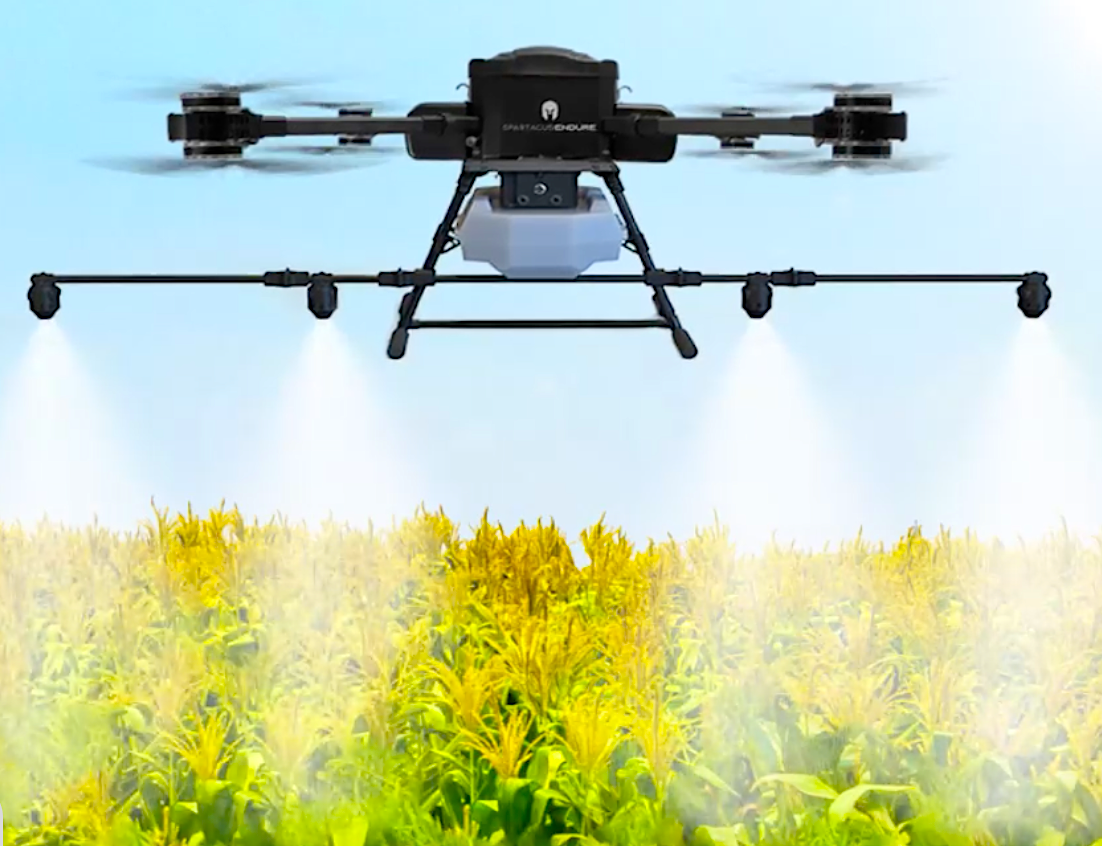 ---
17 February 2023
Every industry endures a defining transformation—one that is typically spurred by pioneering technology. In farming for example, that transformation started in 1960, when Melroe introduced the Bobcat M400 skid-steer loader. Today, the Bobcat is used worldwide in farming, landscaping, and construction applications—and by businesses of all sizes.    
Globally, a new paradigm shift is well underway. This time, it's in the commercial pressure-washing and painting industries, as cool-looking drones take center stage.
Admittedly, we never imagined a time when drones would be used for pressure-washing structures, or even becoming as notorious in similar applications as the Bobcat's impact was on farming and landscaping.

Two industry disruptors and popular tools: the Bobcat and the Spartacus Endure.
Aquiline Drones Corporation (AD)—a progressive and all-American commercial drone manufacturer is leading this new frontier by supplying the global marketplace with its industry-agnostic drone, the Spartacus Endure.
The Spartacus Endure has become the ultimate choice for commercial pressure-washing, bead blasting, and painting applications, as well as alleviating most job-site dangers and liabilities associated with traditional practices using roped access, staging, lifts, and ladders.
In the commercial pressure-washing industry, the Spartacus Endure is the only battle-tested contender with a 15-year track record serving multiple industries and applications in all weather conditions. The Endure faithfully outperforms in global military applications, oil and gas, energy and utilities, agriculture, search and rescue, asset inspections, law enforcement, and many other use cases. This reliable workhorse typically exceeds user expectations, offering flight times of 30 to 40 minutes, multiple payload attachment options, and a generous lifting capacity.

Above: The Spartacus Endure pressure-washing wind turbine blades at 500 feet and 4000 psi.
Revolutionary Pressure-Washing Drones
The Spartacus Endure is a must-have for all extreme pressure-washing and painting applications. Whether professional or novice, the Spartacus Endure is pivotal in defining a more economical, safe, and profitable business model with the ability to scale effortlessly—simply by adding more drones and operators/pilots to existing workflows and business models.   
With both high- and low-pressure washing capabilities, the Spartacus Endure commands the stage in aiding customers to achieve success across the U.S., as well as in South America, Europe, Africa, Canada, the United Arab Emirates, Australia, and other locales.
The Spartacus Endure embodies AD's culture, which is molded by the notion: "We only succeed when our customers succeed." Consequently, every customer is fully supported by AD's drone-tech ecosystem, comprising in-house engineering, manufacturing, training, sales, maintenance, insurance, and more. 
How Drone Spraying Works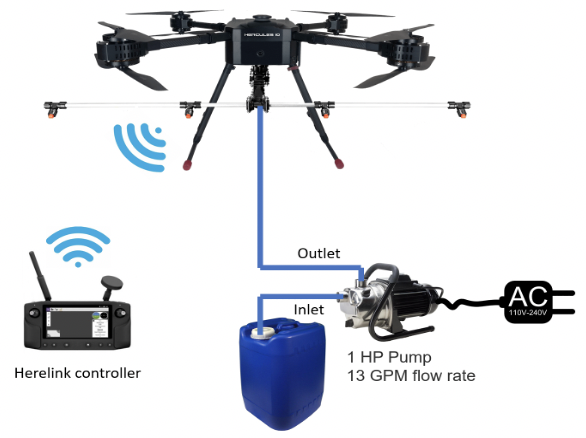 Using a soft-wash technique that mixes water, chemical solutions, and soap, the Spartacus Endure can easily remove dirt, mold, bug residue, and animal waste from windows, exterior walls, roofs, and other structures. The process is followed by a water rinse. The soft-wash method offers a deep and lasting clean, while guaranteeing no damage is inflicted on the structural features of the building.
High-pressure systems are used on rugged industrial surfaces and civil infrastructure, such as storage tanks and bridges. The high-pressure sprayers can be finely calibrated, allowing for a safe and optimal solution. Furthermore, the Spartacus Endure can be tethered to a utility truck that uses specialized hoses and a pump to load cleaning liquid and provide sustained spraying for larger and longer-lasting jobs.
In either scenario, Aquiline Drones' pressure-washing drone solution delivers crystal clean windows, roofs, and exterior walls in a time-efficient, cost-effective, and safe manner. Along with improving safety, drone-spray washing can also increase revenue by enabling your business to complete more jobs in a shorter amount of time. The Spartacus Endure will help complete job assignments up to five times faster than conventional cleaning methods, and with a substantial financial economy. 
"There is a distinct fascination with drone technology supporting ordinary and dangerous business operations," says Barry Alexander, founder and CEO of Aquiline Drones. "We founded our company on the underlying mission that drones should enhance, preserve, and save human lives. Certainly considering the many workers in the outdoor property-care industry who put themselves at risk every day, we are proud to offer safer methods." 
Specific exterior maintenance services supported by AD that are easily fulfilled using the Spartacus Endure include:
Roof washing and gutter cleaning.
Solar-panel washing.
Window washing for residential and commercial structures.
Spraying and fumigating pesticides for ticks, mosquitoes, wasp nests, etc.
Seeding and fertilizing lawns, farms, and golf courses.
Sterilization of stadiums, streets, and other outdoor facilities.
Alexander also highlights that specific drone use cases can create direct cost-savings for the consumer.  For example, solar energy has been taking the world by storm, and homeowners have been using it to save money on their electricity bills, add value to their property, and sometimes make a little money from the utility company. According to Sunbadger.com, 16.4 million American homes currently use solar panels as their primary electricity source. Regular cleaning ensures they are working more efficiently—allowing for maximum tax benefits in a globally-strained economy.
The Future Is Here and Now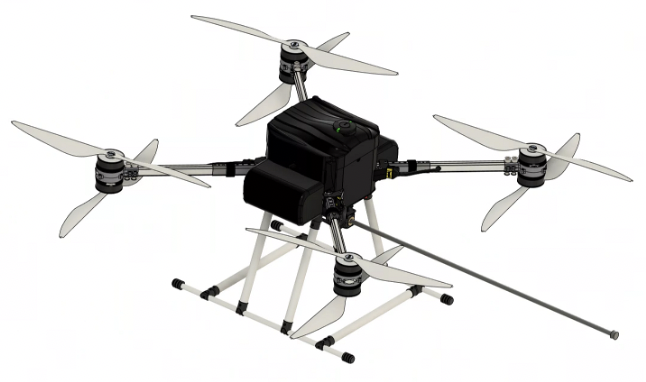 The future of high-tech facade and structural cleaning has arrived. By combining specialized sprayer drones, the right chemical products, cloud technologies, and artificial intelligence, AD's drones offer time-efficient, economical, and safe solutions for pressure-washing and painting applications.
What's more, AD's next generation pressure-washing solutions will employ artificial intelligence for autonomous flight modes and hyper-targeted spraying. This means workers won't need to operate the drone actively—which is very useful in extremely hazardous environments, such as an offshore oil rig. This capability will allow drones to identify structural features, window shapes, positioning, and distance, and apply the cleaning material autonomously, while workers focus on the ground part of the operation.
And, with AD's flexible financing options, businesses of any size can be quickly outfitted to start operating in a few months. A short email to info@aquilinedrones.com is all it takes to get your drone pressure-washing off to the races. Or, call us at (860) 361-7958.  
Watch Drone Spray Washing in Action