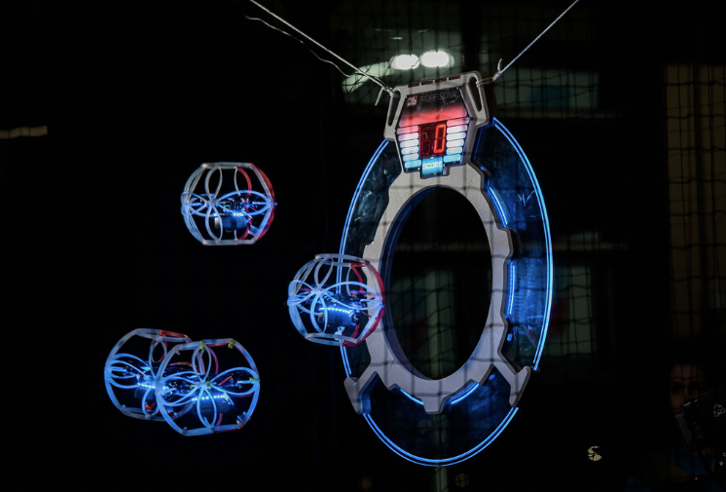 ---
6 October 2022
By Renee Jones-Welch, PhD
Drones up!
This is what you hear as the buzzer sounds for two teams to face off in a unique robotics competition.
U.S. Drone Soccer is a mix of drone flying and playing soccer involving two teams of up to five players per team, whose mission is to score the highest number of goals. The two groups of drone pilots face off at either end of a cage, representing the soccer field. On each end of the regulation sized 10' x 20' netted arena, are the goals, which are two rings suspended by ropes. If a drone bumps into the goal, it swings out of the way, making scoring more challenging.
The soccer balls are drones fitted with 360-degree cages, ensuring no worries as the drones can crash without damage. The cages that surround the drones are light with different colored LED lights to identify each team's ball. Pilots must fly the team's soccer drone into the goal at the opposite end of the cage. Only one drone can fly through the ring, leaving the rest of the drones to attack and defend each other.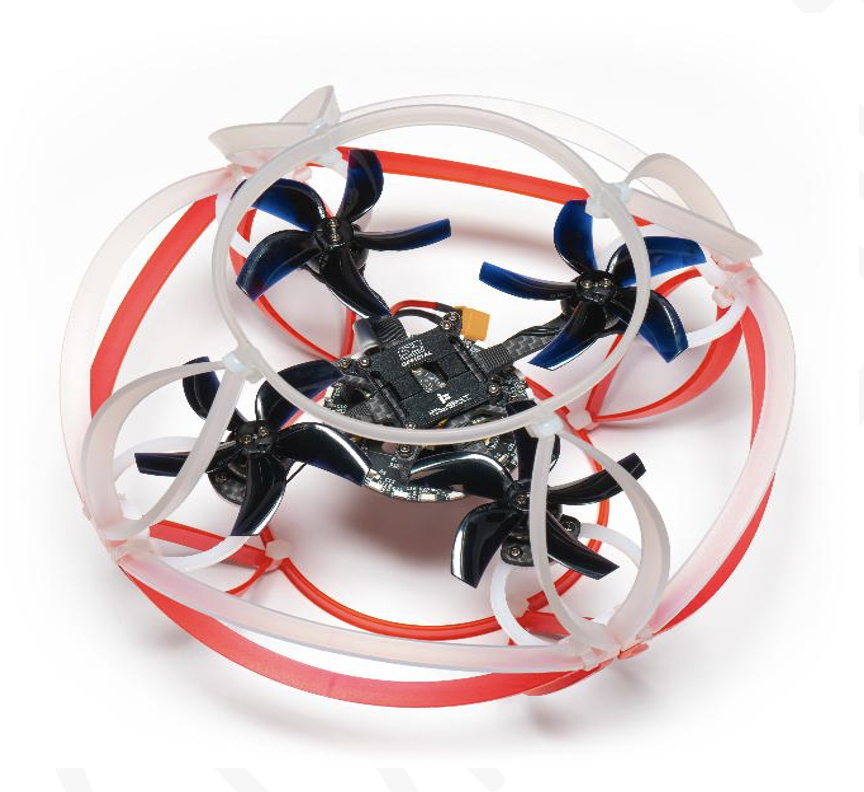 Drone Soccer Ball.
Often likened to the aerial "Quidditch" games in the Harry Potter books and movies, drone soccer is in a league of its own.
U.S. Drone Soccer epitomizes the crossover between technology and competition, emphasizing teamwork and critical thinking, and familiarizing students with actual technical skills and modeling, engineering, programming, manufacturing, and testing. It is an accessible sport for players of all backgrounds and abilities, and its core values center around accessibility, community, and teamwork.
Organizations or business owners recruit and field diverse coed teams. A match starts with five active players on each team and up to ten total players on a roster. Each team can compete with up to two drones per active player, with a maximum of ten drones per team. And all competitive team members must register with U.S. Drone Soccer, which includes pilot insurance and a membership to the Academy of Model Aeronautics. 
U.S. Drone Soccer's mission is to make aerospace education accessible to all. So, it can integrate as classroom enrichment for grades 6-12, a summer camp program, or an intramural sport, with a side of S.T.R.E.A.M (Science, Technology, Reading, Engineering, Aviation, Math).
Drone soccer is recognized as an international sport by the World Air Sports Federation (FAI). The package includes classroom lessons and training programs developed to meet today's technical education programs and explosive job growth. Beyond flying drones, U.S. Drone Soccer provides students 12 years and up exposure across workforce development pipelines into exciting aviation and aerospace careers.
I have been a fan since Major Kyle Sanders presented at a Women and Drones Coffee Connect learning event. He spoke about this new eSport—which was soon headed to the World Games. By the end of our session, we had become ambassadors, and a few of us were ready to sign up to bring U.S. Drone Soccer leagues to their communities.
In the 21st century, it makes sense to educate our children with the skills and capacity to innovate, problem solve, and embrace collaboration in an experiential learning environment. Drone programs are creating career pathways for the modern workforce, according to Forbes magazine, and expanding access to a career pathway in aviation and drones. Fascinated by the presentation, I recognized the program's potential, and the opportunity to explore STEM (Science, Technology, Engineering, Mathematics) grants and funding, as well as the added benefit of providing community awareness about drones.
Drone Grantology is a recent Las Vegas partner, and had the opportunity to attend this year's Rocky Mountain State Games (RMSG) Drone Soccer tournament in Colorado Springs, as four summer-camp teams competed. I graciously accepted the opportunity to get immersed, as a spectator, supporter, timekeeper, and apprentice referee. I saw teamwork, critical thinking, and skills for the future by the student leaders and the various teams. The drone soccer code of conduct was visible by a show of mutual respect, integrity, and fair play amongst the pilots.
The insight I gained—and the shared experiences from parents and family—was invaluable to my understanding from a behind-the-scenes perspective. I talked to parents that played roles—ranging from coach and cheerleader to battery station duty—and I was even more convinced of utilizing this program to expand opportunities in aerospace careers and expose under-served districts, girls, and populations who have been historically excluded from aviation.
As part of a Clubhouse session, we discussed the value of Drone Soccer as a Career and Technical Education (CTE) classroom enrichment program, offering standards-aligned lesson plans and professional development training for educators with ongoing technical assistance from certified instructors to ensure sustainability of the program. The U.S. Drone Soccer solution has partnered with universities, school districts, museums, nonprofit organizations, and federally funded outreach programs. In fact, they have shared the success of middle and high school programs funded by Career and Technical Education (CTE), Gear Up, and other STEM-grant sources.
As leagues grow locally, nationally, and internationally, universities and colleges offering degrees or precollegiate programs, youth organizations, Boys and Girls Clubs, museums, and other nonprofits provide access points for guiding students' (from middle school to workforce development participants) aspirations from aviation to space exploration. U.S. Drone Soccer can also directly impact critical personnel shortages for departments of defense and other technical career fields, while improving diversity recruitment outcomes for state and federal agencies.
My mission, vision, and values for this innovative program ignites my passion. and I am confident it is an exciting way to learn about aerospace career pathways. Steered by a common vision to engage students in STREAM careers, Drone Grantology looks to leverage this program to achieve Nevada's education goals of increasing access, excitement, and engagement of students in training and experiential learning.
In a partner meeting recently, we learned that more than 50 organizations were trained and equipped this year with a 100 more in the queue. Drone Soccer is evolving, and it could be spreading to a community near you.
My dream is to establish The Las Vegas xStream league. My goal includes the acceleration of aviation and aerospace education, with the outcome of increasing the pipeline that feeds into the STEM workforce. I am shaping my role as administrator of the league, and I am currently recruiting partners, sponsors, schools, teams, and volunteers.
As a certified part 107 remote pilot and Drone Soccer certified instructor, I look forward to learning from my peer drone-soccer colleagues, and collaborating with schools, out of school programs, educators, parents, and connected communities. U.S. Drone Soccer provides the opportunity to expose, engage, and inspire students to prepare them for future career opportunities in aviation and aerospace.
WATCH!
About Drone Grantology
Drone Grantology LLC is an all-in-one grants management agency that helps clients develop diversified funding pathways to develop, expand, and scale their UAS/AAM products and services. Dr. Welch is a UAS/AAM advocate, with years of experience as a grant writer, coupled with more than 15 years as a seasoned grant reviewer. She leverages 20 years of professional experience as a workforce development specialist, as well as a doctorate in educational policy, a master's in curriculum, and a bachelor's in finance from the University of Illinois at Urbana –Champaign. She is a proud member of Women and Drones, AUSVI, and Drone Responders.