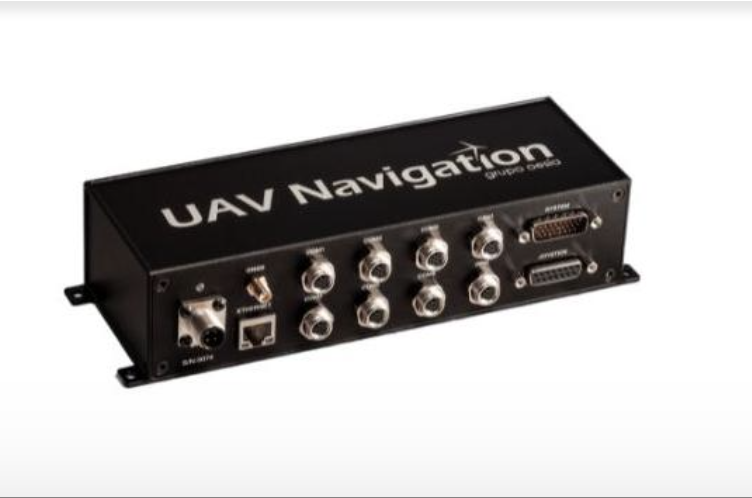 ---
2 February 2023
UAV Navigation-Grupo Oesía has developed the GHU-100—a new ground-control hub that helps platform manufacturers connect multiple ground devices (PC, datalinks, joysticks, etc.) and form a single network segment.
The GHU-100 is engineered to tackle the most demanding missions faced by UAVs, from maritime operations to multi-UAV coordination and support for multiple GCS control. It's tailor-made to handle the complex and challenging scenarios the industry demands. The GHU-100, like all UAV Navigation-Grupo Oesía products, is built with safety in mind, implementing critical functionalities on a self-developed RTOS to ensure secure missions in all environments.
 "The GHU-100 represents the next step in our Ground Control modem's evolution," says Miguel Ángel de Frutos, Business Unit Director & CTO at UAV Navigation-Grupo Oesía. "As the industry rapidly evolves, our products must too, so they meet the new challenges of the unmanned field," 
Learn More About GHU-100
The GHU-100 has been designed to increase the system's robustness while maintaining a high flexibility thanks to its extensive I/O capabilities that make it easy to integrate into complex and advanced GCS architectures.
The new GHU-100 has been designed by applying the extensive experience acquired from more than 18 years of UAV Navigation-Grupo Oesía's experience, developing innovative guidance, navigation and control solutions for UAS. This way, the Spanish Company keeps driving the revolution of intelligent and autonomous systems.
About UAV Navigation-Grupo Oesía
UAV Navigation is a private company based in Madrid with 100-percent Spanish capital. It has specialised in the design of guidance, navigation and control solutions (GNC) for Unmanned Aerial Vehicles (UAVs) since 2004. The flight control solutions are characterised by their reliability and robustness. They are used on all kinds of platforms and in all weather conditions. These include high-performance tactical unmanned aircraft, VTOL fixed-wing platforms, aerial targets, mini-UAVs, and helicopters.  
UAV Navigation is part of the multinational Oesia Group, a Spanish group of companies with more than 45-years experience designing, developing, and maintaining cutting-edge technology for the security, defence and aerospace sectors. It also has a long history of work in avionics for national-level projects. The Oesia Group is involved in the whole system life cycle (design, development, qualification, and maintenance) of critical and non-critical flight systems for the Eurofighter EF-2000, A-400M, F-18, C-295, P3-B Orión or MH-60R. The Group is now involved in the most challenging UAV projects, such as the FCAS/NGWS, Eurodrone and SIRTAP.
Oesia Group has over 3,500 employees with 15 offices in Spain and America. It is working on projects in 23 different countries with the main purpose of creating a better, more efficient, safer, and sustainable world. UAV Navigation uses a worldwide network of distributors to supply its cutting-edge capabilities around the world.