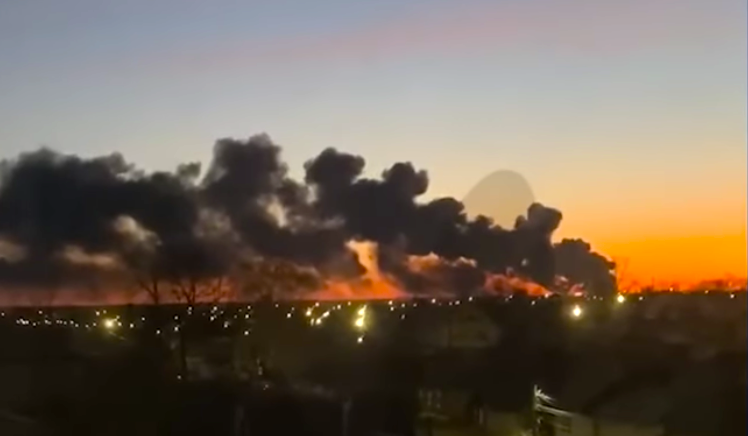 ---
8 December 2022
Although the Ukrainian Defense Ministry has not officially taken credit for two drone attacks on Russian air bases on Monday, Russia is certainly considering the strikes as coming from Ukraine.
As a result, Russia retaliated with more brutal missile assaults against civilian infrastructure—a morale-eroding combat strategy Russia has been mounting for months. In fact, Putin has come under fire for "weaponizing winter"  by plunging huge parts of the neighboring country into cold and darkness.
Ukraine—which claims most of Russia's missiles had been shot down—provided a quirky UFO comment on the airfield attacks, seemingly playing them up as karma.
"The Earth is round—a discovery made by Galileo," began a post from Ukrainian presidential adviser Mykhailo Podolyak. "Astronomy was not studied in Kremlin, giving preference to court astrologers. If it was, they would know that if something is launched into other countries' airspace, sooner or later unknown flying objects will return to the departure point." 
It's well known that Urkaine is developing longer-range combat drones. In fact, an October Facebook post from the state-owned weapons company Ukroboronprom revealed the manufacturer was "putting the finishing touches" on a drone with a range of 621 miles. A later post on November 24, included a photo of an alleged drone with the words "az vozdam" ("I will repay") painted on it.
There is no evidence this new Ukraininan drone was involved in this week's air attacks targeting airfields in Russia, and the two air bases in the Saratov and Ryazan regions are beyond the reach of Ukraine's "declared" drone arsenal.
The official Russian news agency, RIA Novosti, claimed the country's air defenses neutralized the threat—wherever they may have come from—but images appear to show an explosion at Engels-2 airfield, which is approximately 500 miles from Moscow.  
Still, the possibility of Ukrainian long-range drones repeatedly striking attacks deep inside Russia must be worrying. It has certainly provoked more warning from Moscow... 
Foreign Minister Sergei Lavrov again criticized NATO's support for Ukraine, calling it a "serious threat" to Russia, and warning such behavior risked a "direct clash between nuclear powers with catastrophic consequences."
Breaking News! Drone Attack on Kursk Airfield