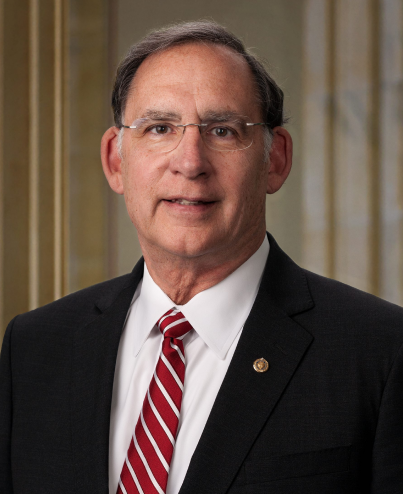 ---
17 October 2022

The Droning Company's CEO Stuart Smith interviews U.S. Senator John Boozman, the state senator for Arkansas on the Drone Infrastructure Inspection Grant act. (DIIG)
Stuart Smith: What prompted you to get involved in this effort? How did it come about? 
Senator Boozman: In my home state of Arkansas, private and public entities are realizing the benefits of using drones. To help save money and time, businesses and state agencies are integrating advanced technology into their operations. The Natural State is setting a successful example that should serve as a model nationwide.
 While Arkansas-based Fortune 500 companies are exploring the advantages of drone delivery, universities are tapping this technology to enhance their research activities. As the top Republican on the Senate Agriculture Committee, I've seen and heard firsthand how unmanned aerial vehicles (UAV) are helping farmers and scientists study water use in fields and weed suppression to improve crops yields. 
Stuart Smith: What impacts have the use of drones made in your State? And what would you like to see more of?  
Since May 2021, the Arkansas Department of Transportation (ARDOT) has embraced the use of drones to augment human inspectors and spot flaws or structural issues on bridges, railways and other infrastructure projects. After the shutdown of the I-40 bridge connecting Arkansas to Tennessee last year, ARDOT increased its drone capabilities and now boasts one of the most expansive programs in the country.
Stuart Smith: The House Bill last year (HR 5315) was introduced by Representatives Graves and Stanton working across the aisle. Your Bill is clearly a bipartisan effort given its sponsors. Would care to comment? 
Senator Boozman: UAVs are improving efficiency and safety in a number of areas. That's why I'm proud to champion efforts to build on this momentum and encourage local and state governments across the country to pursue opportunities to deploy drones to identify critical infrastructure needs and safety risks. 
In August, I joined Senators Jacky Rosen (D-NV) and Richard Blumenthal (D-CT) to introduce the Drone Infrastructure Inspection Grant (DIIG) Act. This bipartisan legislation supports community investments in American-made drones and the next generation workforce necessary to operate these tools safely.
Stuart Smith: The House Bill put the Department of Transport in the central role of administration and distribution of funds, how do you envisage the allocation of funds will be managed?   
Senator Boozman: This legislation will help state and local governments launch drone technology programs to improve and expand their safety inspection capabilities for examining roads and bridges. By authorizing $200 million in grants to purchase devices and foster development of programs to train future employees in this field, we can carry out the essential task of infrastructure inspection for a fraction of the current costs. 
Stuart Smith: In the general rise of drone usage, helped by this Bill, what impacts are you looking for in terms of employment, impact on State tax or insurance rates, or the increased efficiency in the inspection & reporting roles at State or Federal level?
Senator Boozman: The DIIG Act authorizes this funding for two years. The program would be implemented by the Department of Transportation with congressional oversight allowing us to monitor progress, determine if the funding is having a positive impact and thoroughly weigh the benefits of extending the authorization.
Drone infrastructure inspections are expected to save federal, state and local governments more than $1 billion by making them more efficient, improving quality and boosting safety for inspectors. 
According to the American Association of State Highway and Transportation Officials, it costs $4,600 to conduct a manual inspection of each bridge. In comparison, using a drone drastically cuts down on the cost and saves more than $3,000 per bridge. The implementation of drone inspections for bridges would save roughly $783 million nationwide.
In addition to protecting taxpayer dollars, we know using a drone also saves time. While it takes about eight hours to conduct a manual bridge inspection, a drone inspection on the same piece of infrastructure takes about one hour. 
Stuart Smith: Do you foresee any roadblocks to getting the Bill passed into law? Do you have a timeframe in mind? 
Senator Boozman: The good news is this legislation is advancing through Congress. In September, the House of Representatives overwhelmingly passed the DIIG Act. Now we're working in the Senate to educate other members about it. During a recent Senate Environment and Public Works (EPW) Committee hearing, I advised my colleagues to follow the example of the House and pass this bill by a wide, bipartisan margin.
Stuart Smith: HR 5315 proposed limiting grants to US domiciled companies manufacturing or assembling drones and specifically avoiding being reliant on Chinese suppliers, is that something you and your colleagues are concerned about?  
Senator Boozman: I had the opportunity to discuss this proposal with the Administrator of the Federal Highway Administration nominee, Shailen Bhatt, who promoted the use of drone technology to improve infrastructure safety by calling it "efficient" and expressed excitement about the possibilities it offers. 
It's not only policy makers who are enthusiastic about the legislation. The U.S. Chamber of Commerce, National League of Cities, National Association of Counties and the Association of Unmanned Vehicle Systems International are just a few of the organizations backing the bill. The DIIG Act will open a lot of doors for infrastructure improvements in communities across the country.
Stuart Smith: Where do you see the industry going in the future?
Senator Boozman: The drone industry is likely going to see a lot of positive progress in the next several years. The Federal Aviation Administration is examining regulations to assist the industry as it grows and it's clear this has the attention of lawmakers on Capitol Hill.
Stuart Smith: This Bill is focused on training, education, and deploying drone services for things like infrastructure inspection. Are there other areas in the drone world you think might need support or regulation in the future? Such as specific programs to transition military UAV plots to civilian operators? Or drone registration requirements like civilian aircraft registration and maintenance standards?  
Senator Boozman: I'm pleased to have bipartisan support for this initiative. Identifying structural flaws within the system we use to transport goods and people is necessary for the safety of our citizens and to support economic activity. My colleagues are recognizing the unique opportunities available with this technology. The DIIG Act is a commonsense plan that can supplement existing approaches to the challenges facing our infrastructure.
Stuart Smith: Are there priority groups that you would like to see being supported by this effort, such as Veterans or specific Colleges? 
Senator Boozman: Industry leaders, universities and businesses see the potential for development and expanding interest in drone technology. By encouraging modernization of the safety inspection process to maintain safe and reliable roads, bridges, dams and other critical infrastructure, we can build on the exciting momentum the industry has already generated.
https://www.boozman.senate.gov/public/
https://stanton.house.gov/2021/9/stanton-graves-introduce-bipartisan-bill-to-encourage-use-of-drones-for-infrastructure-inspection