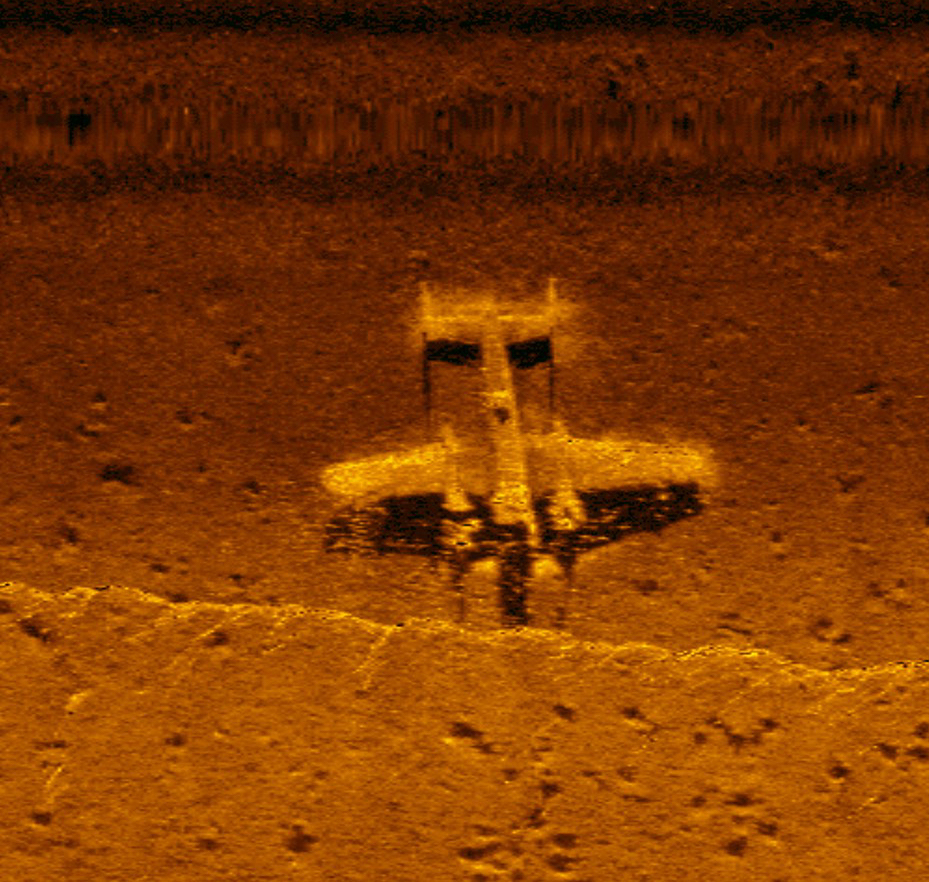 ---
04 August 2023
Bears, algae, a 100-year-old tunnel, effects on fish habitat and underwater structures make it a busy summer for WarrenUAS, the acclaimed unmanned systems program at Warren Community College in New Jersey.
Peter Miller, Unmanned Systems Specialist and Flight Operations Manager at Warren recently detailed a host of summer projects the school is involved with that makes your head spin in amazement. The WarrenUAS' Dr. Joseph Warren Robotics Research Center is both identifying what research will advance student learning and simultaneously pushing the boundaries of how drones can be used to solve societal problems.
WarrenUAS, which is only a few years in the making, has become renowned as one of the top drone programs in the country. Industry insiders rank its educational program as a leader in cultivating talent for an array of unmanned systems related jobs. The FAA, which held its Northeast 'Droning On' Conference at Warren in May, has also recognized WarrenUAS for its efforts in the industry and its high-quality courses and educational opportunities for its students. Several graduates of its program, in fact, have already been hired into high-paying positions throughout the nation, many achieving paid employment prior to graduation. 
"We are excited about where we are at right now and our partnership projects this summer are proof that we have made tremendous headway in the industry," said Miller. 
Will Austin, WarrenUAS Chief Pilot added, "The best part of this program is that we are able to offer these experiences to registered students free of charge. Our UAS faculty dedicate themselves year-round to student success, thus working all summer long, as student needs and learning do not cease when semesters end."
This summer Warren is partnering on projects with NJ TRANSIT, Rutgers University, Embry-Riddle University and locally, with Mountain Lake in Liberty Township, to name just a few.
Using drone technology, Warren is helping with a bear damage study with Rutgers on corn crop in Warren and Sussex Counties in New Jersey (yes, there are bears in New Jersey, and bears cause a great deal of damage; unlike deer which eat the corn, bears often use the corn field as a "nesting area", in the process ruining sections). The College is also working with NJ TRANSIT to map a 100-year-old tunnel that is targeted for repairs, is working with biologists to deal with algae growth and fish habitat at Mountain Lake, and later this summer, will be working with Embry-Riddle University faculty to research underwater structures in the Puget Sound in Washington State. 
Warren's involvement in each of the projects, and others, vary from data collection to using drones to probe challenging areas that humans cannot access easily. The projects vary in systems used, domains researched, and new use cases developed to expand the capacity of drone technology. A synopsis of several projects is presented below.
Mountain Lake, Liberty Township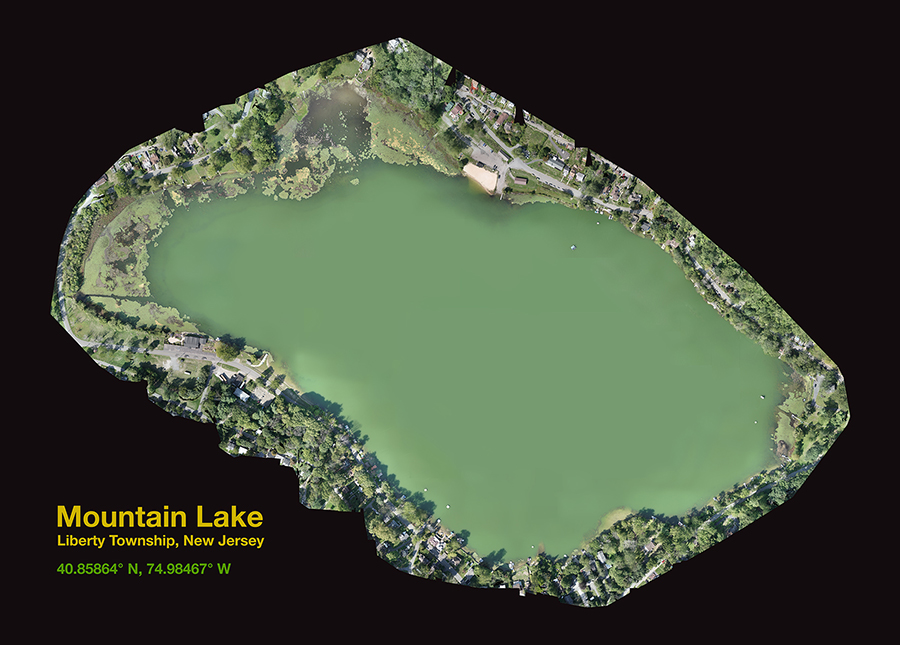 A full orthomosaic of Mountain Lake showing the entire shoreline.
Working with biologist, Bob Ballou, to help the lake association monitor growth and mitigation efforts concerning algae and other invasive aquatic plant species. Missions are flown every two weeks during growing season with an autonomous fixed-wing aircraft. During each mission the aircraft takes about 700 geotagged photographs from 350 ft. altitude. The photos are "stitched" together in photogrammetry software to form a single high-resolution image of the entire shoreline of the lake in Warren County, New Jersey approximately 122 acres in size. The lake is the largest natural, glacial lake in Warren County at over 12,000 years old, with a maximum depth of 38 feet and a mean depth of 17 feet. These captured RGB images are then analyzed to determine status and plan mitigation efforts.
In addition, the College will be using underwater drones (ROVs) to inspect what is referred to as "Porcupine Cribs". These are large basket-like structures submerged in the lake bottom to create safe habitat for developing small fry fish. The combination of drones from aircraft to maritime allows students to combine the efficiency of drones designed for multiple domains to both inform student learning and to assist the lake community in addressing algae growth and the impacts of climate change.
NJ TRANSIT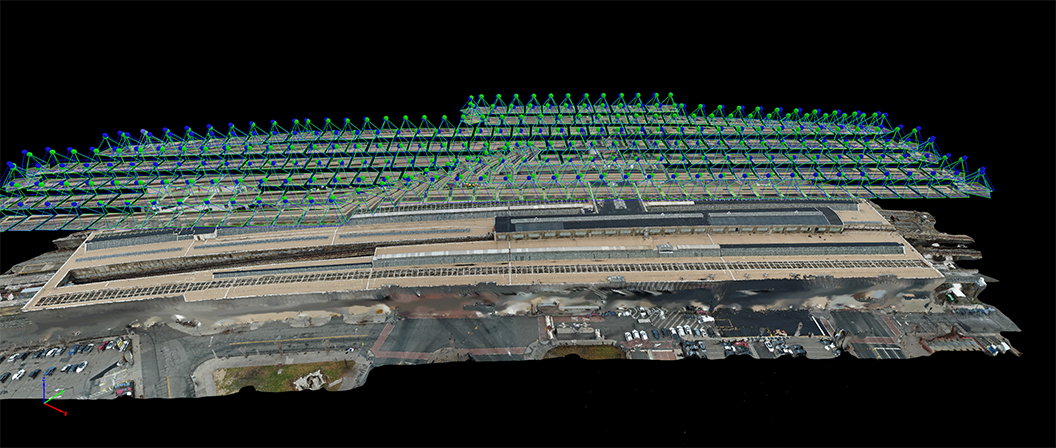 A 3D model from Pix4Dmapper of the roof at Penn Station Newark reveals how the mission was confined to the horizontal limits of the building and the number of individual images taken in order to composite the entire work area.
NJ TRANSIT wanted to create a visual record of a 100-year-old stone train tunnel in Northwest NJ prior to commencing reconstructive work that would fortify the structure with concrete and change the look of the original design. A team from WarrenUAS consisting of staff and students used the Flyability Elios 3 drone to map the inside of the tunnel with a LiDAR (Light Detection and Ranging) scanner. The highly accurate LiDAR uses laser pulses bouncing off the surface of the structure to create millions of points in 3-dimensional space that will allow the team to render an extremely accurate and measurable 3D reproduction of the tunnel. Students then learned to process the images to create these usable point clouds that can assist the agency in its cost containment efforts.
This past winter WarrenUAS accepted a challenge from NJ TRANSIT to accurately map the roof of Newark Penn Station. This was a great project that showcased Warren's ability to conduct flight operations in a dense urban environment. The station's close proximity to Newark Liberty Airport (EWR) presented a unique challenge as it is a no-fly zone. Warren flew under NJ TRANSIT's FAA Certificate of Waiver or Authorization but was limited to a maximum altitude of 200' AGL. The building is approximately 60' high. This meant that the drone would only be 140' from its subject. Additionally, it was necessary to avoid flying over a busy city street filled with pedestrians.
Teachers and students worked together to plan and create an autonomous mission that would meet all the safety concerns and capture the data needed to satisfy the needs of the customer. The team worked out the altitude issues and confined the flight path to remain within the boundaries of the roof edges. They then flew a "dress rehearsal" flight over a building of similar height at the college simulating the same restrictions they would face in Newark. Due to a need for superior accuracy, the team also employed portable ground control points called Aeropoints which were laid throughout the flat roof surface at appropriate locations.
The mission was flown, and data processed and accurized through Pix4Dmapper. The orthomosaic was used by NJ TRANSIT engineers as part of a renovation project that included the repair/replacement of skylights. The ortho, given the accuracy from the Aeropoints, was also successfully imported into NJ TRANSIT's GIS imagery database.
Warren/Rutgers Bear Damage Study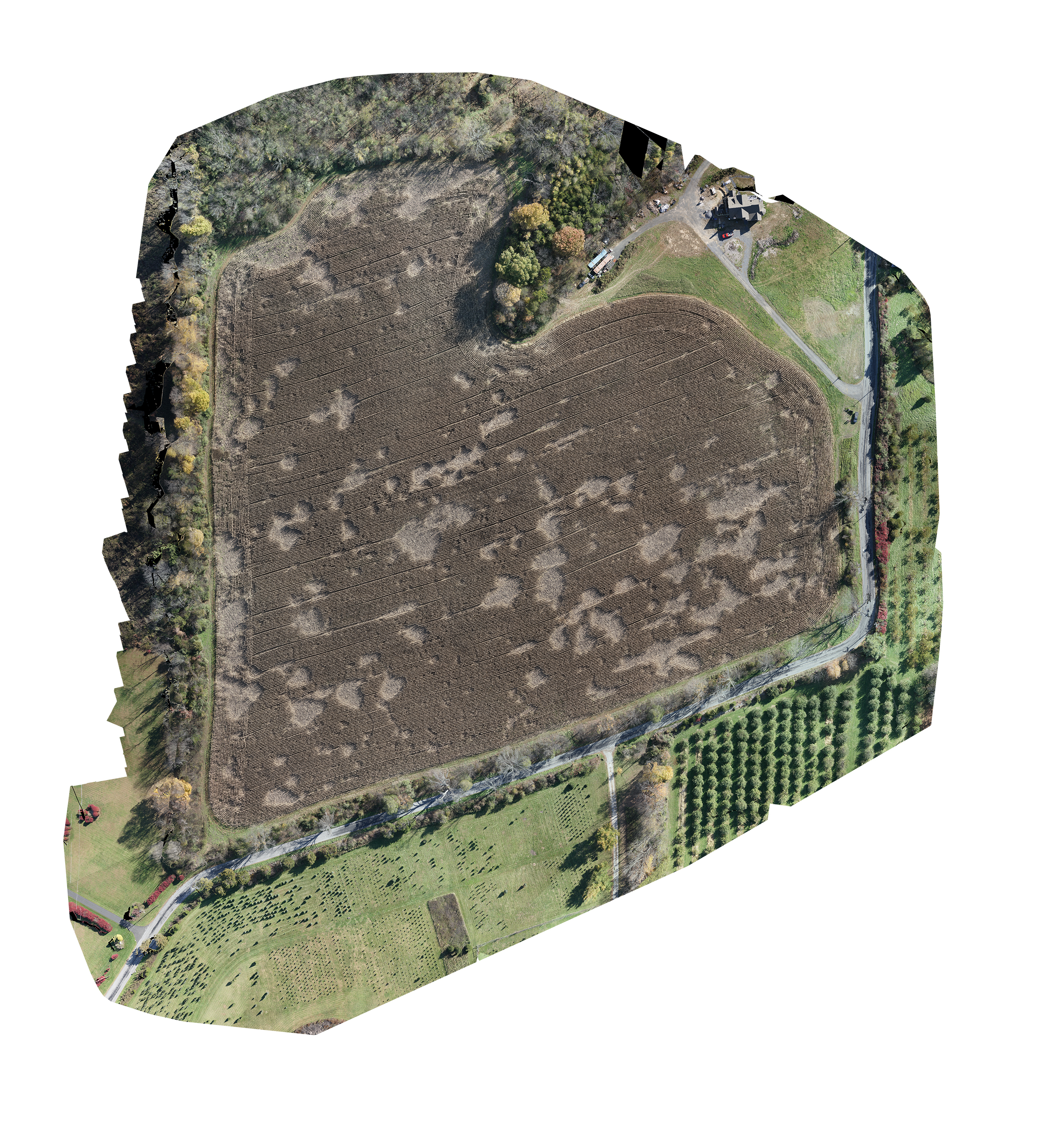 As part of the Bear Damage Study conducted in cooperation with Rutgers University, the above image shows the extent of damage to just one cornfield in Warren County.
Warren staff and students, working with biologists from Rutgers University, are using unmanned aircraft to locate and document black bear damage to corn crop in both Warren and Sussex Counties in New Jersey. As part of WarrenUAS' summer research program students will have the opportunity to actively participate in this study that runs seasonally from August through the end of September. Employing the science of photogrammetry, students will plan and fly autonomous missions to map the cornfields and create 3D models that will allow them to actually measure the amount of damage at each farm. This will give researchers the data they need to quantify total damage throughout the two counties. This research, which falls under WarrenUAS' new Precision Agriculture program, will help growers in the area make their case for beneficial county and state policy adaptations that will be positive for the region.
Warren/Embry-Riddle 3D Modelling of Underwater Structures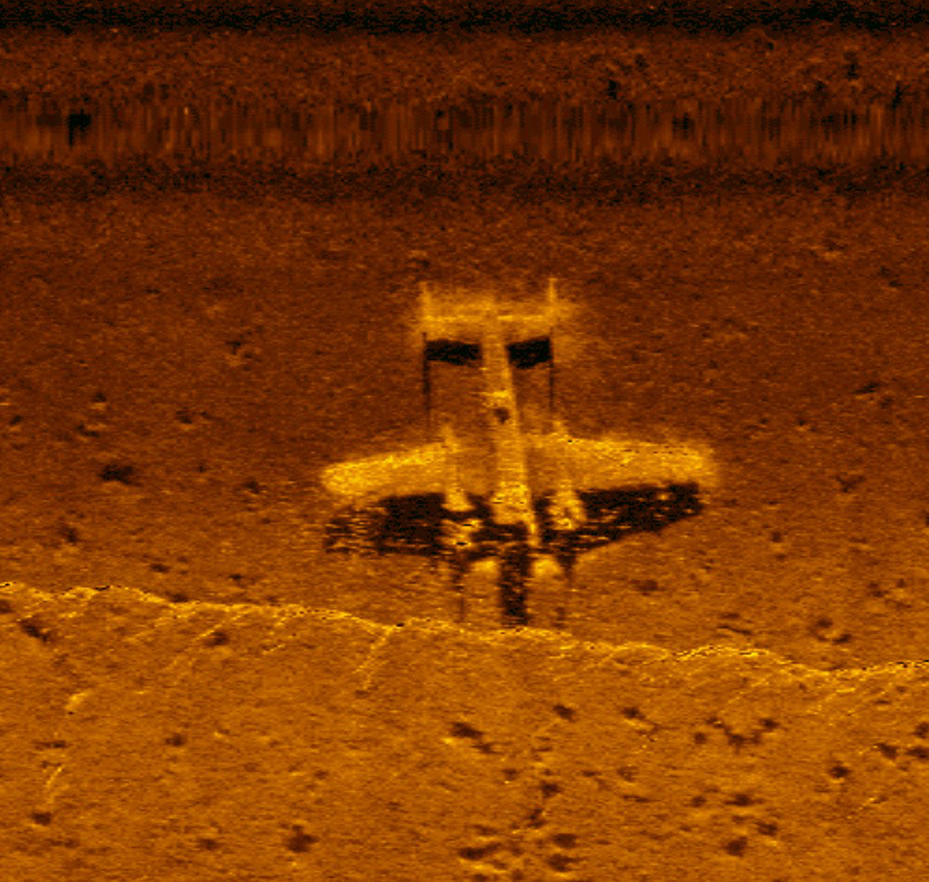 An example of imagery from side scan sonar illustrating its ability to identify submerged objects (NOAA).
Later this summer staff from WarrenUAS will be working with faculty from Embry-Riddle Aeronautical University in a joint study to determine if submerged structures can be located and 3D modelled using two types of maritime technology. Researchers will be working in Puget Sound in Washington State to hunt shipwrecks and submerged aircraft. Riddle and Warren researchers will deploy side-scan SONAR to map the sea floor in order to locate anomalies that indicate the presence of submerged structures. Once these structures are located, researchers plan to use an underwater ROV to dive on these locations to photograph and videotape the individual structures. Through photogrammetry software, they will use the video footage to create 3D models of the various structures.
The purpose of this research is to then share these technology and workflow insights with students at both institutions. These projects can then be created locally to give students hands-on experience utilizing this technology.
"The best part about all these projects is that our students are gaining valuable real-time, real-life experience in an industry that continues to grow at a lightning-fast pace," said Dr. Will Austin, Warren's President, and Chief Pilot. "They are in the right place at the right time, at the cusp of something bigger than you could ever imagine."
These are some of the many ways that colleges like Warren are ideal pathways to properly prepare people to enter into the industry. And because Warren is a not-for-profit, publicly funded college, nothing is proprietary by law—it is owned by the public, and tuition is significantly lower than other educational options for those looking to advance in the burgeoning industry. For an industry working on legitimizing and setting performance standards, working with college institutions is an exciting and promising avenue for disseminating standardized information to pilots throughout the industry.
Learn More
If you want to hear more about Warren's ongoing UxS projects, come see us at booth 348 at Commercial UAV Expo, September 5-7, 2023, at Caesar's Forum in Las Vegas.
Warren's program, still in many ways in its infancy, has been praised by leaders in the industry and has gained certifications like Trusted Operator Provider (TOP, Level 3) from the Association of Unmanned Vehicle Systems International (AUVSI), as a member of the FAA's UAS Collegiate Training Initiative, and WarrenUAS was re-certified by ASTM International as an approved UAS Training Provider (UATPP). In 2022, Dr. Austin, WarrenUAs Chief Pilot was named the AUVSI "Member of the Year.'