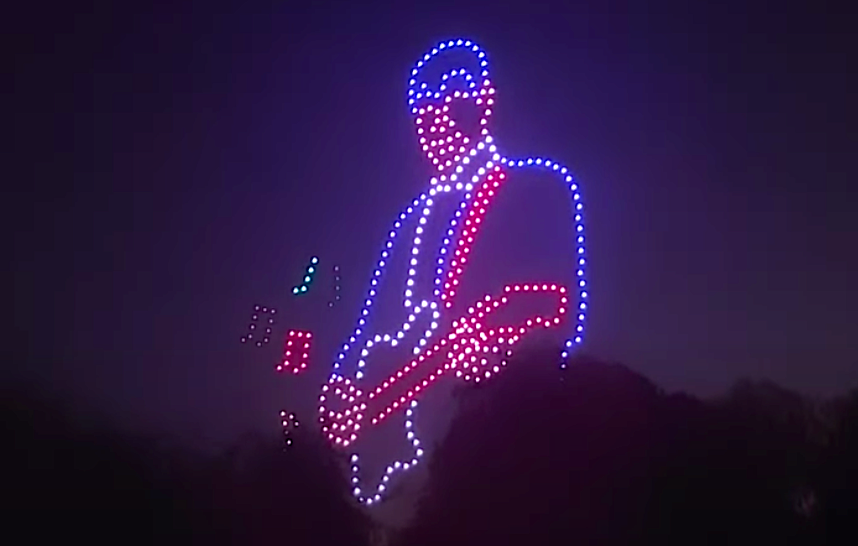 ---
You probably saw all of the news threads. Quite a few cities, towns, and locales—especially those in areas where summer wild fires are particular dangers—decided to replace traditional 4th of July fireworks displays with far-less-combustible drone shows. 
Still, the time-honored displays of glittering, explosive beauty far outnumbered the tech showcases of software-controlled drone extravaganzas this year.
Drone shows are relatively new, after all, and one can assume the thrilling concussion and colorful sparkle of fireworks detonating a few hundred feet overhead remains a more exciting experience than lighted drones buzzing around making pictures in the sky.
But for how long?
Drones are safer than fireworks in high fire-risk locations, and, overall, they produce less pollution (no smoke and gunpowder) and are easier on the ears (I've not yet seen a dog dart under a bed or bark anxiously because a drone was hovering over a backyard, but the "boom-boom-ba-boom" of professional and noisy safe-and-sane fireworks drive pets bonkers).
What are your thoughts? Can clever and imaginative drone choregraphy ever replace conventional fireworks shows?
Before you answer, let's take a look at some 4th of July drone events this year...
Imperial Beach, San Diego, California
Galveston, Texas
Hansen Dam, Los Angeles
Benicia, California
Durango, Colorado