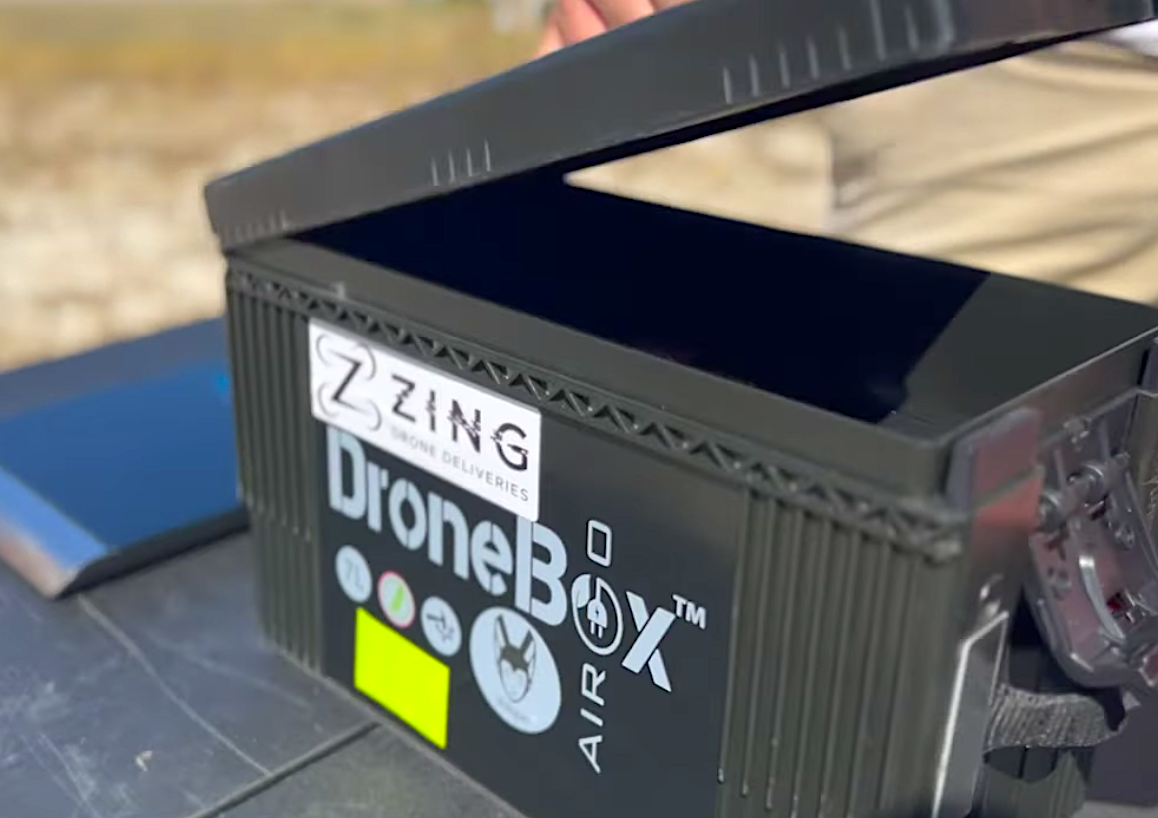 ---
11 July 2023
Zing Drone Solutions has been selected as a participant in the prestigious FAA BEYOND program, which aims to facilitate the seamless integration of drone delivery operations into the airspace of the United States.
In this article, we will delve into the groundbreaking ways drones are reshaping the delivery landscape, focusing on the leading role played by Zing Drone Solutions in this innovative domain.
Established in 2018, Zing has rapidly cultivated expertise in constructing customized delivery operations for logistics and supply chain needs. Recognizing the importance of a robust and reliable infrastructure, Zing Drone Solutions has forged strategic partnerships with industry leaders to provide businesses with unparalleled drone delivery solutions. Collaborating with Airspace Link, Skyway, Valqari, Heven, and NARMA, Zing has created an ecosystem that combines cutting-edge technology and seamless integrations to facilitate efficient and scalable drone delivery operations. They have become a trusted leader in the field through their extensive industry relationships, collaborative efforts with communities to enhance public perception, and invaluable experience gained from their internal drone delivery operations.
A vital advisory board member is Aaron Adams, CEO of Bonsai Energy Group, who strongly focuses on sustainability and efficiency. Adams provides strategic guidance to align Zing's operations with environmentally conscious practices. Chris Bley, a serial entrepreneur from Santa Cruz, contributes valuable insights and strategic acumen honed through years of entrepreneurial experience. Jeff Whalen, a highly regarded professor at the Jim Moran College of Entrepreneurship, offers a beneficial combination of academic expertise and industry insights.
Alice Griffith, the Head of Business Development at AirspaceLink, brings expertise in airspace management and regulatory compliance. Jeanine Suah, XIR at Brex and Founding Partner at Rezilyent Capital adds valuable knowledge in venture capital and strategic partnerships. Mark Galloway, the Director of Dynamo Air, profoundly understands the evolving drone industry and its technologies.
Leading the way at Zing is Ian Annase, who holds the position of CEO. Ian's path to becoming a prominent figure in the drone industry has been shaped by his relentless pursuit of excellence, bolstered by his educational background in computer science, engineering, and entrepreneurship. He holds a master's degree in Entrepreneurship focusing on Product Development from the esteemed Florida State University. Ian's educational journey, passion for innovation, and business acumen have equipped him with a unique skill set to guide Zing toward success. With a deep understanding of the intricacies of drone technology and a keen eye for market trends, Ian spearheads Zing's strategic direction, propelling the company to new heights in the drone industry.
Assisting Ian in driving Zing's operations forward is Grayson Bertaina, the COO. Grayson brings a wealth of invaluable industry experience, being a licensed pilot, certified flight instructor, and an aerospace engineering student at MIT. With a disciplined and driven approach, Grayson oversees organizational development, operations coordination, and talent sourcing, ensuring seamless alignment with business objectives. His expertise and commitment to excellence contribute significantly to Zing's growth and success.
In addition to Ian and Grayson, the Zing team boasts Nhan Nguyen, the Business Development Lead, a student from the University of Central Florida, who brings diverse skills and accomplishments. With a background in research from UCF Burnett Honors College and recognition for marketing and emergency business awards from Future Business Leadership of America, Nhan leads the charge in expanding Zing's business opportunities and overseeing the headquarters in Miami, Florida.
What sets Zing apart is its unwavering commitment to pushing the boundaries of drone technology and providing scalable solutions for various industries. Its exceptional team of engineers, hailing from the esteemed MIT University, is at the core of Zing's success. Micheal Zeng, a mechanical engineering expert from MIT, leads the engineering team at Zing. With a wealth of technical knowledge and expertise, Micheal spearheads the development of innovative drone technologies. His leadership ensures that Zing remains at the forefront of technological advancements in the industry.
Alongside Michael, Claudius Tewari, a vital member of the product engineering team, is responsible for software and cloud infrastructure. Michael and Claudius manage Zing's office in Boston, collaborating with the engineering team to create cutting-edge solutions.
What Distinguishes Zing from its Competitors?
Ian Annase, the CEO of Zing, recently announced the company's excitement about being selected as part of the exclusive FAA BEYOND program in Kansas. This program places Zing on the cutting edge of companies aiming to operate autonomous drone systems within the United States airspace. Ian emphasized that what sets Zing apart is its flexible and integrated approach, allowing the company to tailor its drone delivery offerings to meet clients' specific needs. In contrast, Zing's competitors are constrained by the drones they have developed in-house.
Ian stated, "Zing is the future of last-mile delivery."
His statement highlights Zing's commitment to customization and adaptability in delivering exceptional drone solutions to its clients. The global drone market was valued at $43 billion in 2022. The revenue in the Drones segment is projected to reach $1.32 billion in 2023.
Furthermore, the market is expected to grow at an annual rate of 1.21% from 2023 to 2028. Zing aims to capture a significant share of the drone market in this evolving market by offering its innovative and customizable drone delivery solutions. With its flexible and integrated approach, Zing is well-positioned to capitalize on the growing demand for drone services and contribute to the market's overall expansion.
Safety and Risks
A recent cross-sectional study by the University of Florida revealed that approximately 4,250 drone injuries were reported between 2015 and 2020. These findings have prompted questions regarding the readiness of drones for delivery purposes. With regulations such as Part 107 restricting flying over people and vehicles, Zing Drones acknowledges the importance of addressing safety risks.
Currently, Zing's solution involves utilizing water routes for drone deliveries, significantly reducing delivery times compared to traditional ground transportation. However, the company is actively pursuing the necessary certifications, including Part 107.39 operations over human beings and 107.25 operations from a moving vehicle or aircraft, to expand its operational capabilities and ensure compliance with regulations. Zing's commitment to safety and innovation is evident through its comprehensive offerings.
The Enterprise Starter Kit for Drone Delivery provides fast, efficient, eco-friendly delivery services powered by autonomous flight software. This allows businesses to leverage Zing's expertise in customizing operational solutions tailored to their specific needs, whether for innovative marketing activation or streamlining delivery operations. Recognizing the fragmented nature of the drone industry, Zing has forged strategic partnerships with industry leaders.
Through their collaborative platform, Zing seamlessly integrates various solutions, making it easier for businesses to access the tools required for a thriving drone delivery operation. Zing's suite of advanced technologies includes the Zing Xact Landing system, designed for precise landings in challenging areas and smooth drop-offs in innovative receptacle systems. Whether landing on a moving target like a ship or integrating custom landing pads, Zing ensures safe and efficient operations.
Furthermore, Zing is developing the Zing Remote ID Conflict system, which will enhance situational awareness by monitoring other drones in the airspace. This system will provide valuable suggestions for evasive maneuvers and facilitate deconfliction with nearby unmanned aircraft systems (UAS), further reducing operational risks. An additional innovative solution offered by Zing is the proprietary Zing Skyline. This system utilizes winch technology, enabling any drone to become a delivery drone. With its universally compatible plug-and-play attachment, Zing Skyline can safely lower packages up to 50 feet without human intervention. With a capacity of up to 10 lbs, it offers businesses increased flexibility and efficiency in their delivery operations.
In addition to their commitment to safety and innovation, Zing Drones has a remarkable track record. Since 2018, Zing has achieved an impressive feat of zero crashes, demonstrating its dedication to operational excellence and safety protocols. Zing's expertise and capabilities havebeen established through over 40 successful projects conducted across the United States. These projects have included collaborations with renowned brands such as Budweiser and Paramount Tower World Tower, showcasing Zing's ability to deliver exceptional results for high-profile events and clients. Even in challenging times such as the COVID-19 pandemic, when many businesses and companies faced significant disruptions, Zing Drones persevered and continued to provide essential services. They successfully executed contactless delivery projects in the Tampa Bay Area, ensuring the safe and efficient delivery of goods while minimizing direct human contact. The company's commitment to serving communities extends to critical situations like natural disasters. During a hurricane, Zing Drones carried out delivery operations on Belle Isle Island, showcasing their resilience and dedication to supporting needy communities.
Zing Drones is making significant progress across various industries and expanding its presence in the healthcare sector, with a specific focus on pharmaceutical delivery in 2023. This strategic move comes in response to the increasing demand for efficient and secure transportation of medical supplies. Leveraging their expertise in drone technology, Zing is dedicated to providing innovative solutions for pharmaceutical companies, ensuring the reliable and timely delivery of critical medications and healthcare products through autonomous flight software and adherence to rigorous safety protocols. This expansion into the healthcare sector reflects Zing's commitment to positively impacting people's lives by enabling faster and more accessible healthcare services.
By overcoming conventional logistical challenges, Zing's pharmaceutical delivery solutions hold the potential for enhanced operational efficiency, reduced costs, and, ultimately, improved patient outcomes. This expansion showcases Zing's dedication to utilizing drone technology for the greater good and signifies their willingness to extend their expertise beyond conventional industries, contributing to the advancement of healthcare services.
Zing's business development team lead, Nhan Nguyen, is at the forefront of their healthcare initiatives. She brings a wealth of knowledge and experience in health sciences from her time at the University of Central Florida. She shares her vision: "Our advanced drone delivery capabilities are aimed at supporting healthcare providers, pharmacies, and medical facilities in streamlining their operations and enhancing patient care." With her expertise and the innovative solutions offered by Zing, healthcare professionals can expect optimized operations and an elevated level of patient care. This expansion into the healthcare sector marks an exciting chapter in their journey, with a strong focus on delivering cutting-edge drone solutions that have the potential to revolutionize the way medical supplies are transported, furthering the advancement of healthcare services and positively impacting countless lives.
Remote ID
Remote ID is an essential capability for drones, enabling them to broadcast identification and location information during flight. As of September 16, 2023, a new regulation mandates the use of a digital license plate, incorporating Remote ID technology, for all drones operating in the US airspace. This regulation introduces two forms of Remote ID: Standard RID, applicable to dronesalready equipped with Remote ID, and Broadcast Module RID, which is required for drones without built-in Remote ID functionality, including popular DJI drones. Zing is proud to offer a solution that helps the 350,000 pilots in the US comply with this regulation. Our Remote ID device, developed to meet FAA standards, ensures compliance while adding value to users' drone operations.
Zing's Remote ID device goes beyond mere compliance, providing users with additional features to enhance their drone experience. Through a collaboration with Skyway, our device enables users to visualize nearby drones and access comprehensive flight data via an intuitive dashboard. The attachable device is designed for seamless integration, making it effortless for drone operators across the nation to comply with the new rulemaking. As the final rulemaking approaches, Zing is gearing up to launch this innovative product, enabling drone enthusiasts to stay at the forefront of responsible and connected drone flying.
Last-Mile Delivery Leadership
Zing is actively seeking a seed round of funding to secure $1.5 million in investments. They are excited to announce that they have garnered the support and guidance of an anchor investor, the co-founder of TokenSociety is leading the way in this endeavor. This funding will play a crucial role in enabling the company to develop further and expand its drone technology, solidify its position in the market, and pursue its ambitious growth plans. With the necessary investment secured, Zing believes it will have the resources to enhance its drone delivery capabilities, foster new partnerships within the industry, and advance its autonomous flight software and safety protocols.
Learn More