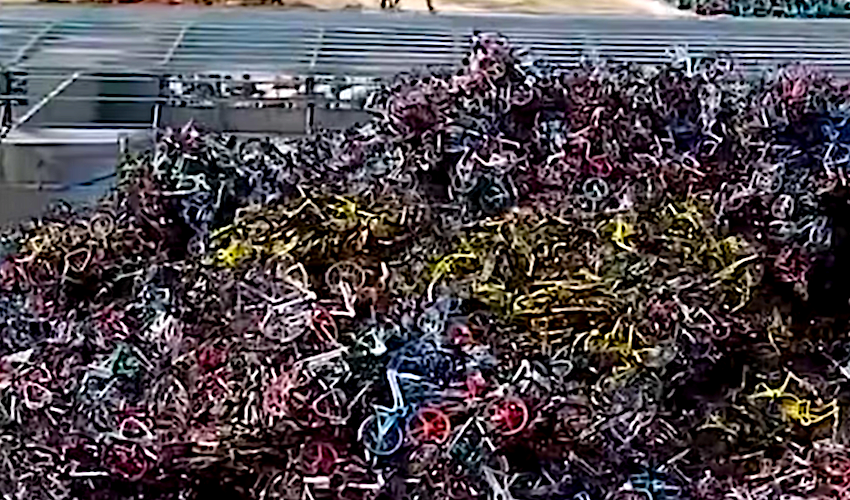 ---
Drone technology can be a force for good if used the correct way. Drones are responsible for helpful information, stunning visuals we previously didn't have access to, and solutions to problems that were not clear to us before. Drones allow us to visualize astonishing places we thought were impossible to see before, shocking, breathtaking views, and sometimes even terrifying things we didn't expect, but it's always interesting. Needless to say, you're always surprised by the footage that comes back from a drone camera 400 feet up in the sky. Here are 15 of the weirdest drone footage videos that will make you want to become a drone pilot. 
WATCH!
China's Bike Graveyards
Bike graveyards are where thousands of bikes go to retire in China. In a country populated by more than a billion people, bikes are the main method of transportation. But what happens when there are too many bikes? The best way to see is to become a drone pilot.
National Corvette Museum Sinkhole
Corvettes are extremely popular and prized classic cars in the U.S., so a museum to house them is a great idea–until a sinkhole swallowed it all. This view of a natural disaster is only visible from above, and if you're like thousands of others, you want to see it. Research how to become a drone pilot to get views like this whenever you want.
North Dakota Pipeline Protests
The North Dakota PIpeline is a controversial infrastructure project that continues to receive a lot of attention from the media, as well as from protesters and protectors of tribal lands. Drones were able to get behind the scenes and hold the builders accountable, and the pipeline is currently under a court-ordered environmental review. Documenting news is one more reason to become a drone pilot. 
Drones Sacrificed to Volcanos
Drones are extremely versatile forms of technology, and are even making contributions to the world of science. This footage shows a close-up view of an erupting volcano that was too deadly for humans to get close enough. It was even deadly for the drones that were sacrificed to get the super-close shots of lava. When you become a drone pilot, you get to see things no one has seen before. 
Pripyat in Snow
Here's a place only a drone can go–Pripyat. Pripyat is a city in Northern Ukraine that was established to support the nuclear labs in Chernobyl. In 1986, Chernobyl experienced a nuclear explosion, and the surrounding 150,000 acres were contaminated with deadly radiation. Pripyat has been abandoned—a ghost city—ever since, but drones can give us views into places it's not safe to go. 
Tianjin Blast Sight
Drones can capture footage of disasters, such as these shots of Tianjin, China, which was the site of a horrible explosion in 2015 that killed 173 people. If you are interested in documenting news, look into how you can become drone certified.
Black-Eyed Girl of Cannock Chase
You can become a drone pilot to investigate the supernatural, as well. We've all heard ghost stories, but imagine being able to prove them with your stealthy drone piloting? The ghostly black-eyed girl of England's Cannock Chase was allegedly a victim of the Diphtheria outbreak in the 1800s. She has allegedly been hanging around the area ever since. Did this drone pilot actually catch footage of her?
Giant Hammerheads Hunting
If you've seen the movie Jaws, and are worried about sharks swimming a little too close for comfort, then you may want to become a drone pilot to hover above the ocean and alert people to predators on the hunt. The footage shows the magnificence of hammerhead sharks as they hunt smaller sharks for food. 
Drone Racing in an Abandoned Coal Factory 
Video-game enthusiasts are often among those who would love to become certified drone pilots, as flying around abandoned buildings captures footage that looks like it's straight out of an adventure video game. It's almost like VR, but it's real! Check out the footage in this abandoned coal factory to get a better idea. You can even enter competitions to race, and win prizes. It just got a whole lot more fun to become a drone pilot. 
Turtles Nesting
Animal lovers and scientists alike have always been interested in sea-turtle nesting patterns, but they've been elusive–until now. Researchers can get aerial views with drone footage, allowing them to see what our shelled friends are up to. Not only is it informative, but it's also quite a beautiful sight. 
Kangaroo Takes Down Drone
This drone got a little too close to a mama kangaroo and her babies, and mama punched the drone out of the air. If you become a drone pilot, you can get these types of very close shots of animal habitats without risking your chin to a left-hook from a protective animal parent.
Niagara Falls Ready for its Closeup
Niagara Falls is one of the natural wonders of the world, but you can only get limited views from land and the area's boat rides. But if you become a drone pilot—and follow all of the rules and regulations—you could get stunning sights only possible with an unmanned drone. 
Chimps Attack Drones
These chimps proved to be curious and annoyed by drones coming into their habitat, and banded together bearing sticks to knock a drone out of the air. Again, you can become a drone pilot to experience things you otherwise never would be able to—such as being in the middle of a monkey melee. 
What You Can Do as a Drone Pilot 
We got to see some truly amazing footage from these drones. These videos are astounding, informative, and sometimes scary! If you're curious, adventurous, and have a brave heart, learn how to become a drone pilot, and add your experience to the timeless drone footage we are gathering today.