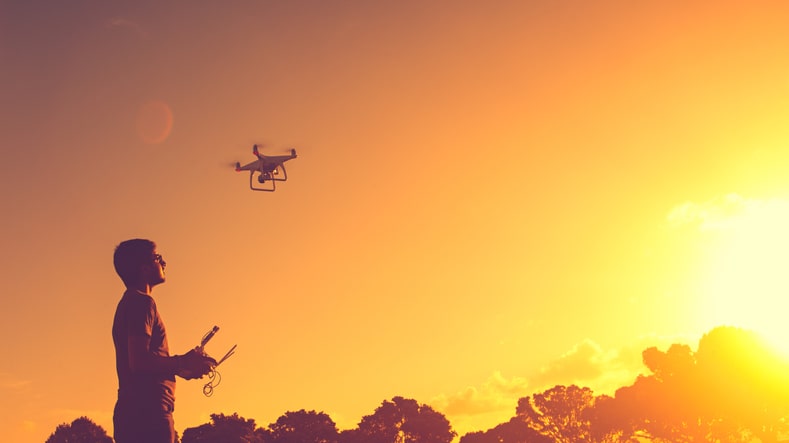 ---
The drone industry has certainly become extremely popular over recent years and its rapid growth has been integrated in a wide range of different industries, including commercial, government, education, and many types of recreational uses. With that being said, drones are creating endless opportunities that are redefining the use of technology in the present and future. Whether you're new to the world of drones or an experienced drone pilot, there are many important rules and safety tips that should be practiced to ensure the highest level of safety when flying in the National Airspace System (NAS). 
If you are interested in learning how to become a drone pilot, then you have come to the right place. Our team at The Droning Company has composed a vital list of the basic information that everyone should know if they are interested in becoming a drone pilot.
How to Obtain a License For Recreational Drone Use
A recreational drone flyer is one who opiates a drone for personal enjoyment or for fun only. 
The general rule that applies to operating unmanned aircraft (UAS) or drones that are under 55 pounds is known as the Small UAS Rule, implemented within the National Airspace System (NAS) and the 14 CFR Part 107. But it is important to know that when flying a drone for recreational uses only, there are exceptions to the statutory purposes, making them more limited, resulting in a basic set of requirements.
Therefore, recreational drone pilots are highly encouraged to take and pass the Recreational UAS Safety Test, also known as the TRUST as soon as they can in order to have their proof of passage when flying their drones. The TRUST provides education and testing specifically for recreational flyers that focuses on the safety and regulatory information necessary for flyers.
To become a recreational drone flier, follow these steps:
Take and pass the TRUST 

If your drone exceeds .55 lbs, then it must be registered via the FAA's DroneZone

Follow the rules and regulations posed by the FAA or of another aeromodelling organization

As of June 2021, the Federal Aviation Administration (FAA) announced certain entities that are approved test administrators of the TRUST, which include:
Chippewa Valley Technical College

Community College of Allegheny County – West Hills Center

CrossFlight Sky Solutions

Drone Launch Academy LLC

Drone Trust

Drone U

Embry-Riddle Aeronautical University (ERAU)

HSU Educational Foundation

Lake Area Technical College

New College Institute (NCI)

Pilot Institute

Proctorio Incorporated

Tactical Aviation

The Academy of Model Aeronautics (AMA)

The Boy Scouts of America

UAV Coach

University of Arizona Global Campus

Volatus Aerospace Corp

How to Obtain a License For Certified Remote Pilots
To become a certified remote pilot, the following must apply to you:
You must be at least 16 years of age

You must be able to read, write, speak, and understand English

You must be in a healthy physical and mental condition in order to safely fly a drone


You must pass the initial aeronautical knowledge exam, which is the Unmanned Aircraft General - Small (UAG

)

The requirements to become a certified remote pilot include:
You must be responsive and accessible by the remote pilot during all UAS operations

Certified remote pilots must complete an online recurrent training course annually to ensure that aeronautical knowledge is maintained

The process to becoming a certified remote pilot:
Obtain a FAA Tracking Number (FTN) by first creating a

n

Integrated Airman Certification and Rating Application

(IACRA) before signing up for a knowledge test.




Schedule an appointment at an FAA-approved Knowledge Testing Center and don;t forget to bring a government issued ID to your testing appointment.




Pass the initial aeronautical knowledge test, which is the Unmanned Aircraft General - Small (UAG).




Complete the FAA Form 8710-13 for a remote pilot certificate (FAA Airman Certificate and/or Rating Application).




Once the applicant has completed the TSA security background check, an email will be sent providing instructions to print a temporary remote pilot certificate.




After the FAA processing has been completed, a permanent remote pilot certificate will be mailed.




Lastly, always have your certified remote pilot certificate available when flying your UAS.



Where Drones Can Be Flown
Drone pilots are allowed to fly drones in both controlled and uncontrolled airspaces; however, it is important to know that different rules and regulations apply to pilots depending on the airspace that is being used to fly in. The requirements differ depending on whether you are a recreational drone pilot or a certified drone pilot for commercial, government, or other non-recreational purposes.