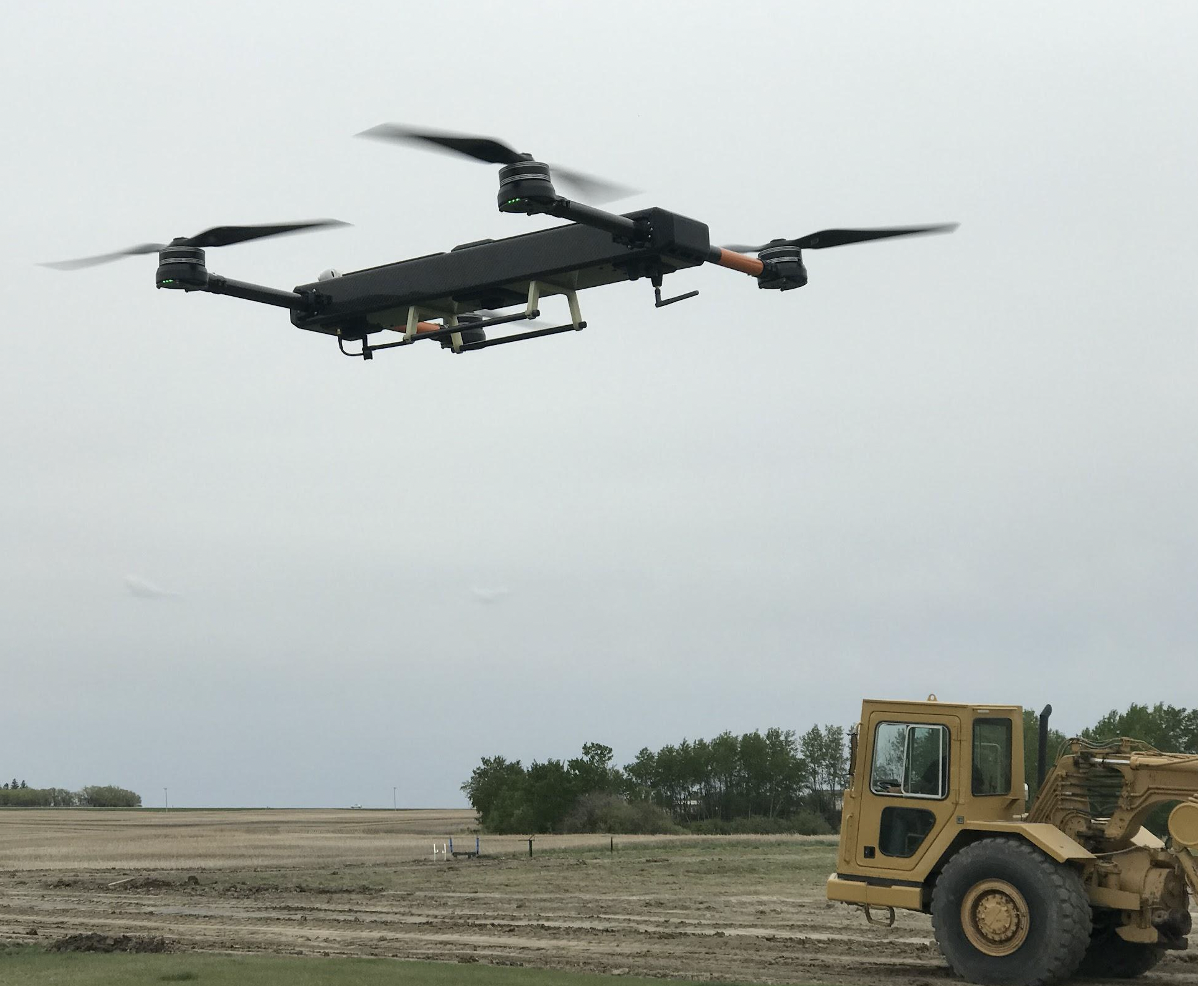 ---
11 November 2022
Technology advancements have successfully created innovative and impactful changes that are making things easier for people worldwide. The use of drones has increased exponentially and is becoming integrated into various major commercial markets. Unmanned aerial vehicles (UAVs) have shifted away from their traditional defense application and transformed into an essential tool for many industries, especially in disaster management.
When a natural disaster strikes, every second counts. UAVs are uniquely fit to meet the needs of damage assessment, relief, and rehabilitation by providing thermal imaging, GPS tracking, 3D mapping, and aerial surveying. Drone technology can also provide medical supplies such as medicine, food, and water to victims trapped in hard-to-reach areas.
The advantages of using drones during a natural disaster are clear, and one Canadian company has years of experience developing drone solutions to help during and after major catastrophes.
Draganfly Supports Emergency Crews and Humanitarian Aid Operations
For more than 20 years, Draganfly has laid the groundwork for drone use in emergency, medical, and disaster-response situations. The technology developed by Draganfly has provided fast, safe, and effective solutions that have helped emergency crews reduce response times, increase situational awareness, and improve overall efficiency.
Recently, with the help of Coldchain Delivery Systems, Draganfly's drone solutions have delivered medical response and search-and-rescue drones to Revived Soldiers Ukraine ("RSU"). These drones have given RSU safe access to hotspots and enabled them to provide humanitarian aid in major Ukrainian cities.
This isn't the first time Draganfly's technology has been used to assist in emergencies.
In 2013, Canadian officials in Saskatchewan responded to reports that a vehicle flipped over in a heavily wooded area. With first responders struggling to locate the victim, the Royal Canadian Mounted Police decided to deploy a Draganflyer X4-ES drone equipped with an infrared camera. In a matter of minutes, police located the injured driver, who was unresponsive and near a snowbank. Without the drone, further search-and-rescue efforts would have been delayed until the following morning, dramatically affecting the victim's chance of survival.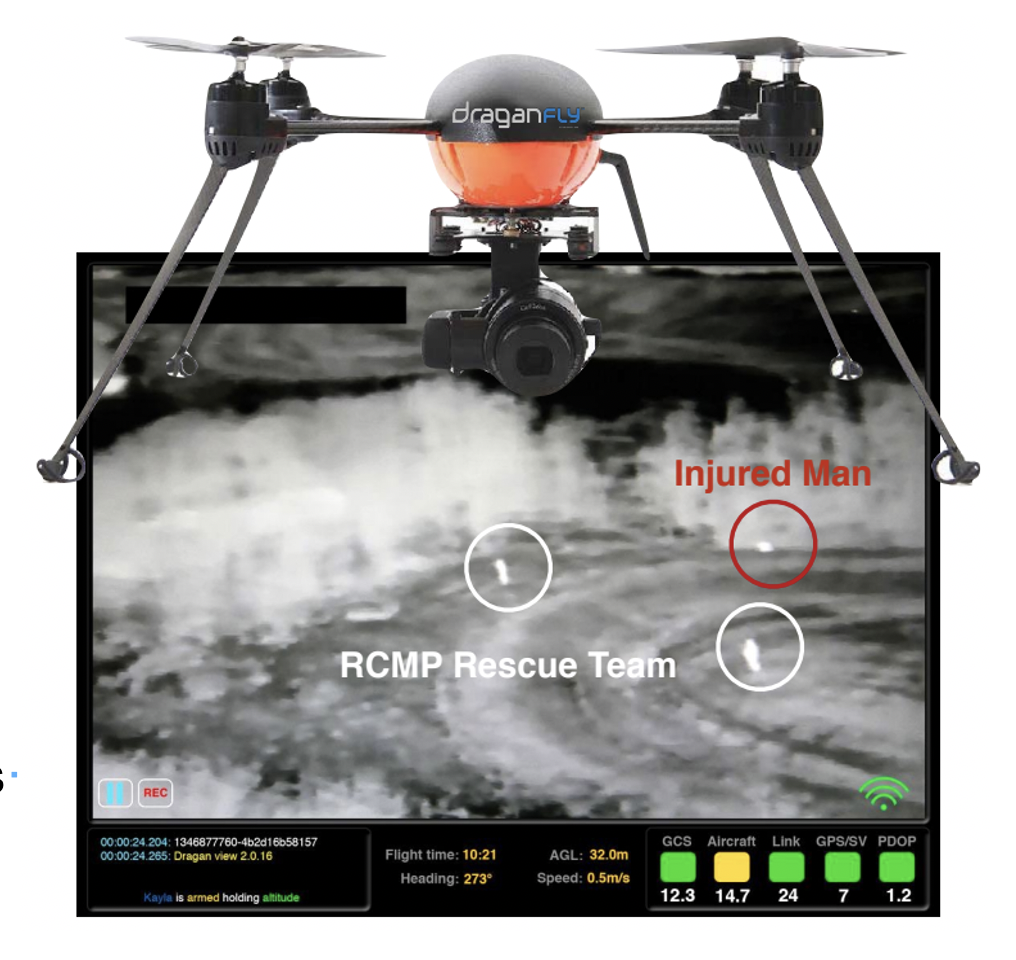 To commemorate the heroic rescue, the Draganflyer drone remains on permanent display at the Smithsonian National Air and Space Museum.
The technology from this UAV has improved over the years and inspired Draganfly's newest drone, the commander 3 XL, known as the "Swiss Army Knife of Drones."
The Commander 3 XL
Draganfly's Commander 3 XL drone is a high-endurance, weather-resistant, multi-rotor UAV designed for easy assembly and rapid deployment. This drone was specifically engineered to operate in harsh conditions with the ability to access hard-to-reach areas. Its quick-release propellers enable it to take off at a moment's notice, improving emergency operations' ability to begin planning a recovery mission.
This drone can drop and winch-down systems to transport up to 26 pounds of payload. The Commander 3 XL can stay airborne for a maximum of 50 minutes. It has a 24-mile flight range and supports a maximum airspeed of 45 miles. These systems allow the drone to collect aerial data for 3D mapping for reconnaissance purposes and deliver critical supplies to areas inaccessible by land during search and rescue operations.
The Commander 3 XL drone supports automated and manual-flight operations, making it the ideal choice for industry leaders across various major markets, including public safety and disaster management. The Commander 3 XL drone's fuselage consists of a simple rectangular tube. Each component of the drone has been specifically designed to ensure the airframe can pack down into a portable case.
This well-rounded multi-tool drone comes with an abundance of other features, such as:
Multiple configurations for radio equipment, including point-to-point and cellular links.
Two quick-release arm assemblies insert into either end of the tube.
Landing folds below each motor along the length of the arm.
Batteries semi-permanently attached to carrier plates which allow for automatic connection during installation.
Commander 3 XL has been coined the "Swiss Army Knife of Drones" because of its modular platform and versatile airframe. This drone's technology is optimal for improving mitigation, preparedness, response, and recovery.
Draganfly Technology is a Safe and Effective Solution for Post-Disaster Relief
Relief workers face tremendous challenges assessing structural damage following a devastating disaster such as a flood or earthquake. These crews often encounter potential building collapses, chemical leaks, and sealed-off areas, but drones have given these workers a better advantage.
Post-catastrophe, the Draganflyer Commander 3 XL is often used for low, slow, and "close" assessments, such as measuring flood damage to houses on a specific residential street. When Draganfly's Long Range LiDAR system is equipped with the Commander 3 XL drone, it produces real-time, high-resolution 3D maps, or point clouds, of the desired surroundings. This combination of technology helps with pre-damage and post-event damage assessments of infrastructure when dealing with natural disasters and other catastrophic events.
Damage assessment is a costly process where workers are needed to sift through debris manually to collect information and understand the extent of a disaster. Drones like Draganfly's Commander 3 XL can reach areas without putting the health and safety of workers at risk. Using the Commander 3 XL's communications system allows various agencies and individuals to stay in contact while collecting data. The Commander 3 XL is perfect for high-stress, high-risk applications due to its ease of use and rapid deployment ability.
About Draganfly

 
For more than 20 years, Draganfly has created drone solutions for use in emergency, medical, and disaster response situations. As more governments and businesses turn to drones, they are looking for sophisticated solutions that are versatile, reliable, and secure. In addition to developing cutting-edge drone systems that address real-world problems, Draganfly's products and services can be easily integrated into existing operations to improve business outputs and profitability.
Drone use is increasing exponentially across a variety of major markets. From surveillance to deliveries, unmanned aerial vehicles (UAVs) constantly find new ways to showcase their versatility. According to the report published by Research Dive, the global UAV drone market is projected to surpass a revenue of $102,466.7 million and grow at 19.6% CAGR during the forecast period from 2022-2030. Demand is on the rise as more businesses recognize the potential of UAV technology across different industry verticals.
WATCH