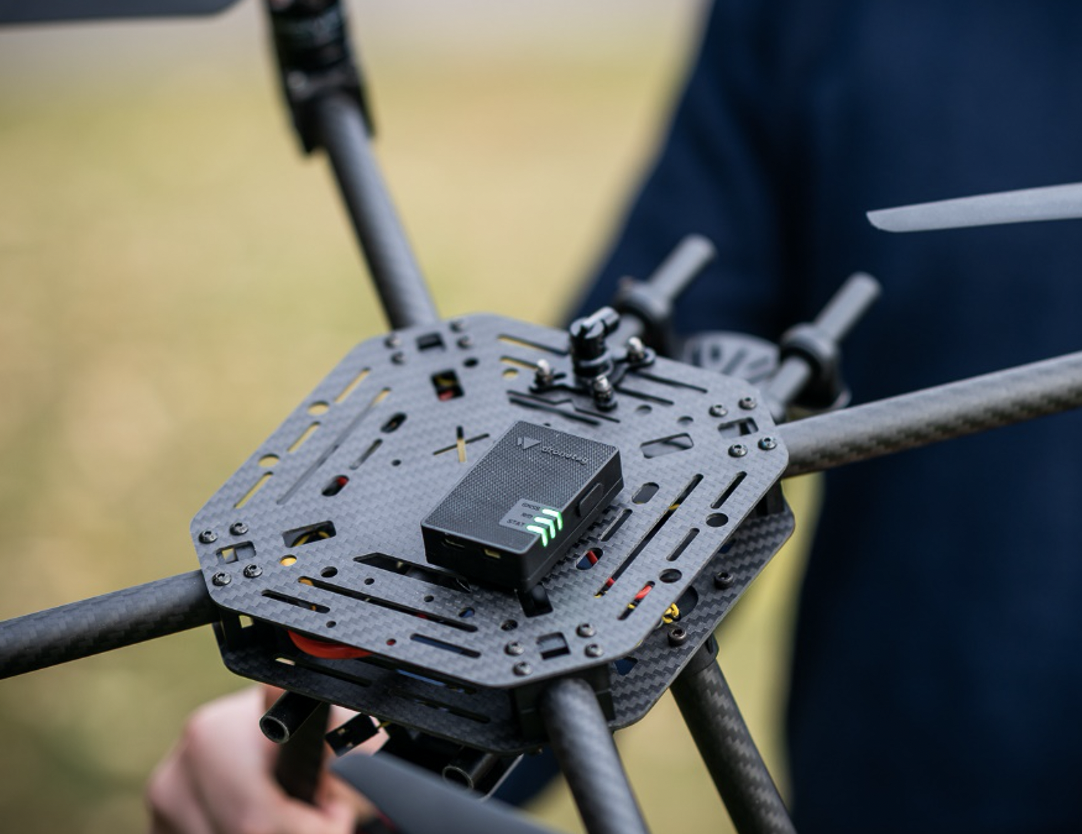 ---
26 January 2023
Dronetag is a Czech company founded in 2019. The company's vision of safer airspace relies on innovative, unmanned traffic management and digitally visible drones. To make the world of drone-flying safe and compliant with U.S. & EU regulations, the company designs and manufactures IoT hardware that equips drones with Remote ID capability. Dronetag Remote ID devices Mini and Beacon are the first Remote ID accessories approved by the FAA.
Dronetag's team now counts more than 20 members covering in-house product design, hardware and software design, manufacturing, marketing, and sales. "
We are experienced in integrating complicated technologies that no one else has been able to put into production yet," says Lukas Brchl, founder and CEO. These skills enabled us to introduce the lightest, smallest, and most affordable device for Remote Identification." 
Dronetag's add-on transmitters equip existing drones with a Remote ID capability, while built-in modules are used by manufacturers who install them directly into their drones' internal circuits.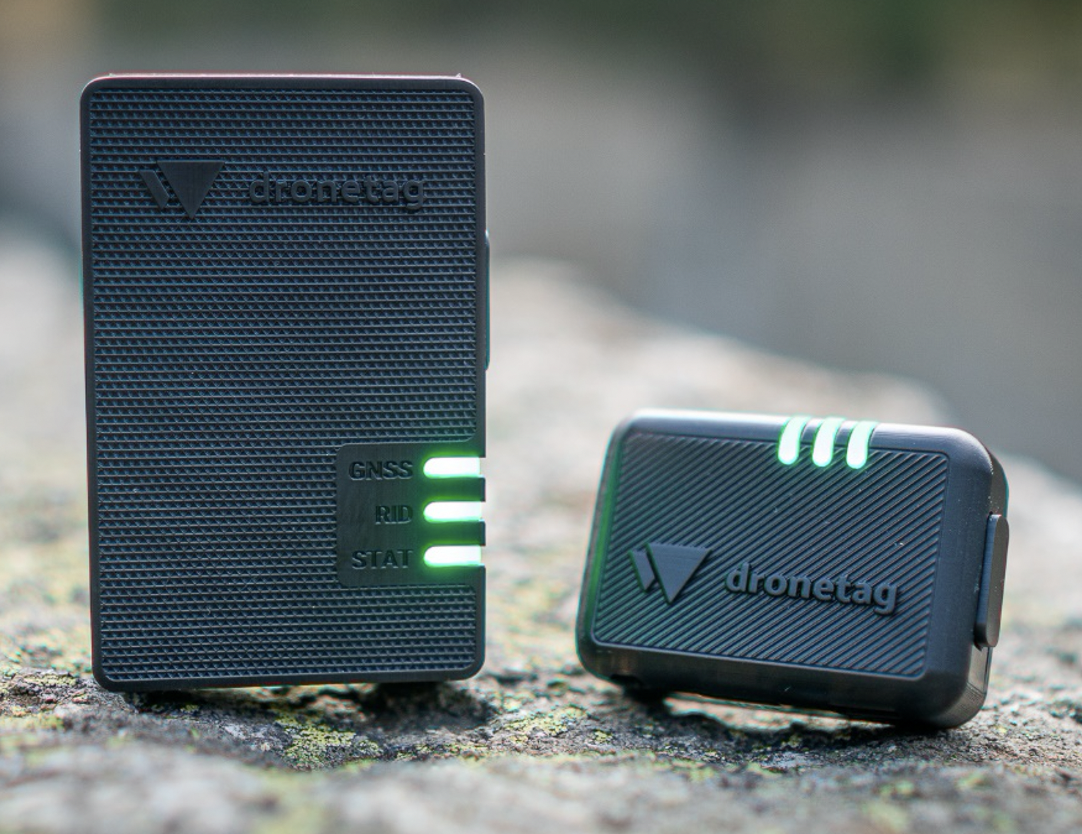 First FAA-Approved Remote ID Modules
Dronetag introduced their smallest and lightest Remote ID devices in 2022. Dronetag devices Mini and Beacon are the first FAA-approved drone Remote ID accessories listed in a Declaration of Compliance. Dronetag Mini and Beacon are completely independent of the drone brand and model. Their battery lasts up to 16 hours and can be charged directly from the drone. Dronetag Mini weighs 1.12oz, and Beacon only 0.56oz. Both devices are operated by one button and are accompanied by an app for device and flight management.
Dronetag Mini is an add-on device that transmits identification and location data to other airspace users via cellular networks and Bluetooth. The device is capable of both Network & Direct/Broadcast Remote ID. Network Remote ID is not a hot topic in the U.S. yet, but it is mandatory for planned U-Space projects and UTM applications in the EU.
The second add-on device, Dronetag Beacon, is a bare minimum for compliance in the U.S. and EU. It transmits data using Bluetooth to a range of two miles and covers all Direct/Broadcast Remote ID requirements.
"As a product design and customer experience-oriented company, all our devices are very easy to operate and provide users with only simple settings. Everything works with one click, and the device starts up in a matter of minutes," describes Lukas.

Standard Remote ID Drone Enabler
U.S. drone manufacturers are obliged to produce drones compliant with Standard Remote ID from the end of 2022. One of the easily-adopted solutions is Dronetag OEM solution called DRI—a small electronic part for drone manufacturers to integrate into their drone and equip them with Remote ID functionality. Dronetag's DRI is the smallest and lightest device offering affordable Direct Remote capability. It's the easiest way to acquire Remote ID technology without years of R&D and product testing. To drone manufacturers, Dronetag offers assistance with obtaining Remote ID approval by FAA
From takeoff to shut down, the drone with Remote ID broadcasts its identification details, location and altitude, drone velocity, control station location and elevation, time mark, and emergency status.
"Drones with our DRI instantly comply with EU and U.S. standards and regulations," says Lukas. "The only thing manufacturers must connect to our factory-ready modules are drone antennas and power supply—that is all it takes." 
If the manufacturer does not use MAVlink, PX4, or Ardupilot controllers, Dronetag offers customization to produce a version fitting their hardware. Due to the forwarding feature, the DRI doesn't take away any existing ports, making integration possible without costly adjustments.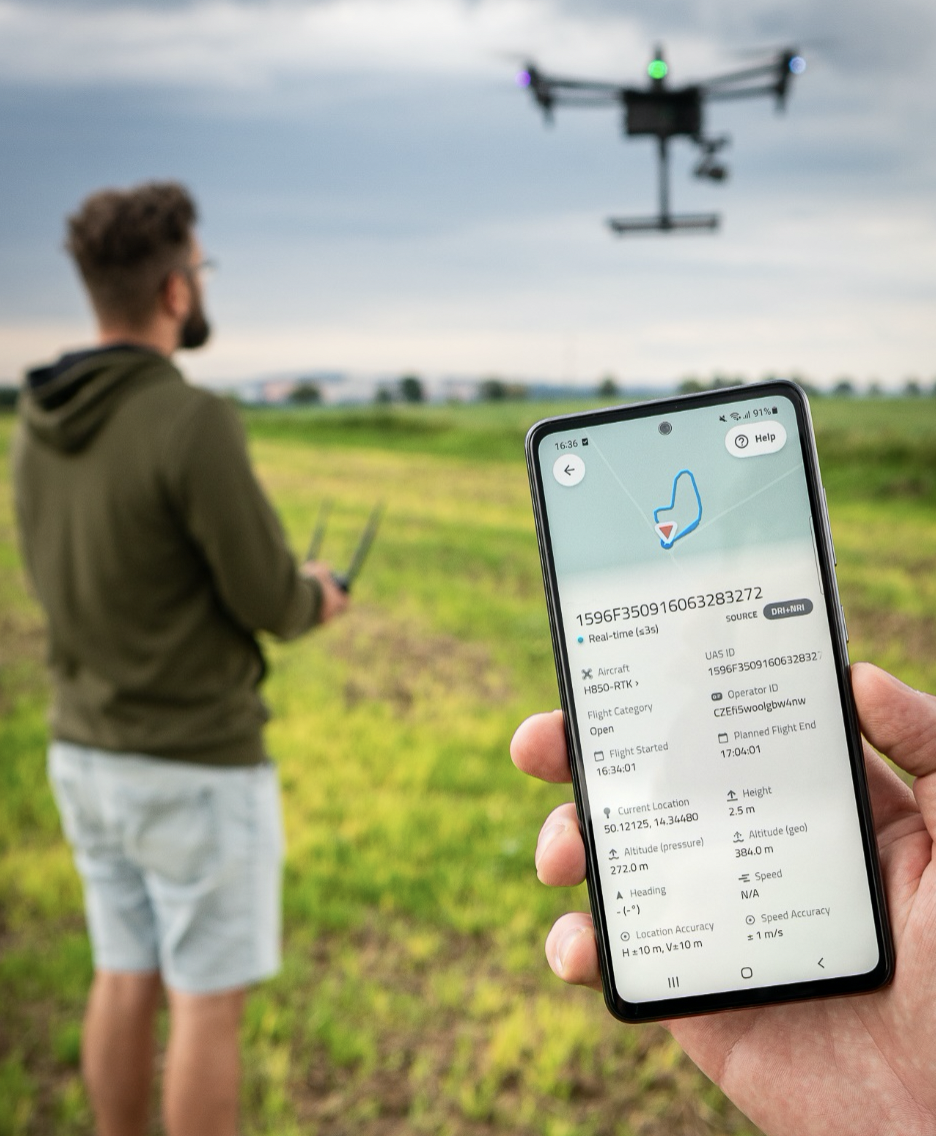 Software is a Key
Dronetag's Web and Mobile apps are a fundamental component of its ecosystem. Our flight-management app allows you to plan your flights, manage your inventory, and, most importantly, comply with the new European and U.S. Remote ID regulation.
The app is available for mobile devices (iOS and Android) and the web. You can download it and create your account for free. Naturally, you need a Dronetag IoT device and subscription to use the app's full potential.
Drone Scanner, is a public tool for scanning nearby flying drones. You can download it for iOS and Android devices for free. It is an application for scanning Remote ID data from Unmanned Aerial Vehicles nearby, such as identification and location. It gathers the data and presents them to the user on a map. Drone Scanner can track all the nearby flights over Direct Remote ID standards. You can browse real-time data about drones on a detailed map highlighting specific flying space zones.
The application is inspired by the OpenDroneID Android receiver application. In contrast to the OpenDroneID application, Drone Scanner is multi-platform. It offers a fresh, user-friendly design and additional features like drone labeling and tracking or exporting data to CSV format.
More to Come
"As there is still much to discover and improve in the drone market, we are currently developing three more products," says Lukas.
In the airspace management world, there is an unsolved question of securing low-level air traffic. A central system for its management doesn't exist. However, apart from drones, even parachutists, paragliders, recreational and sports aircraft, and others operate at low levels.
That's why Dronetag has started developing an ADS-L device that will be intended for those who want to be visible even during low-altitude flights. 
"Our ADS-L device will allow them to be identifiable as ADS-B devices—which are unfortunately very expensive for recreational pilots yet not very suitable due to their weight and dimension," explains Lukas. "So, Dronetag will develop its own transmitters focusing on size and weight, respecting the specifics of the low-altitude operations."
Another challenging area apart from data transmission is data reception. Dronetag plans to create receivers that should read data from drone Remote IDs and ADS-L. Anyone can use these receivers to monitor the desired area permanently. 
"Imagine it as a small box you buy, place it outside, and—voilá—it reads data from all drones and recreational aircraft moving around the location," says Lukas, adding that the data will be sent to the Dronetag server, which distributes it to the cloud.
Dronetag plans to produce a universal hardware receiver able to read not only Remote ID, but also radio communication between drone and operator. That means that data from all drones moving in the surrounding area will be readable by anyone. Operation of these readers will be easy.
"When you plug this device into your phone or tablet, it becomes a reader of all the drones moving around," says Lukas. "And not only those equipped with Remote ID. The Drone Scanner application itself receives data from Bluetooth and Wi-Fi, but not all drones transmit through these channels. The regulation requires Remote ID, but their drones are almost invisible if someone wants to bypass it and flies without digital identification. What cannot be bypassed, though, is drone radio communication and control connection."
Watch!
The Future is Drone Positive
The drone market is rapidly expanding and evolving. In the following years, we can expect to see a proliferation of drones being used in various industries, including agriculture, construction, transportation, and emergency services. Additionally, artificial intelligence and machine learning advances will enable drones to become increasingly autonomous and perform complex tasks with minimal human intervention.
As the capabilities of drones continue to expand and the cost of technology continues to decrease, drones will likely become an integral part of our daily lives, revolutionizing the way we live and work. Flying drones in the airspace with other aircraft, whether manned or unmanned, can pose significant risks. There is a potential for collision with other aircraft and interference with air traffic control communications and navigation systems. Additionally, drones may threaten personal privacy and security if they are not operated responsibly. Drone pilots must understand and adhere to all relevant regulations and guidelines to ensure the safe operation of their drones and the protection of others in the airspace.