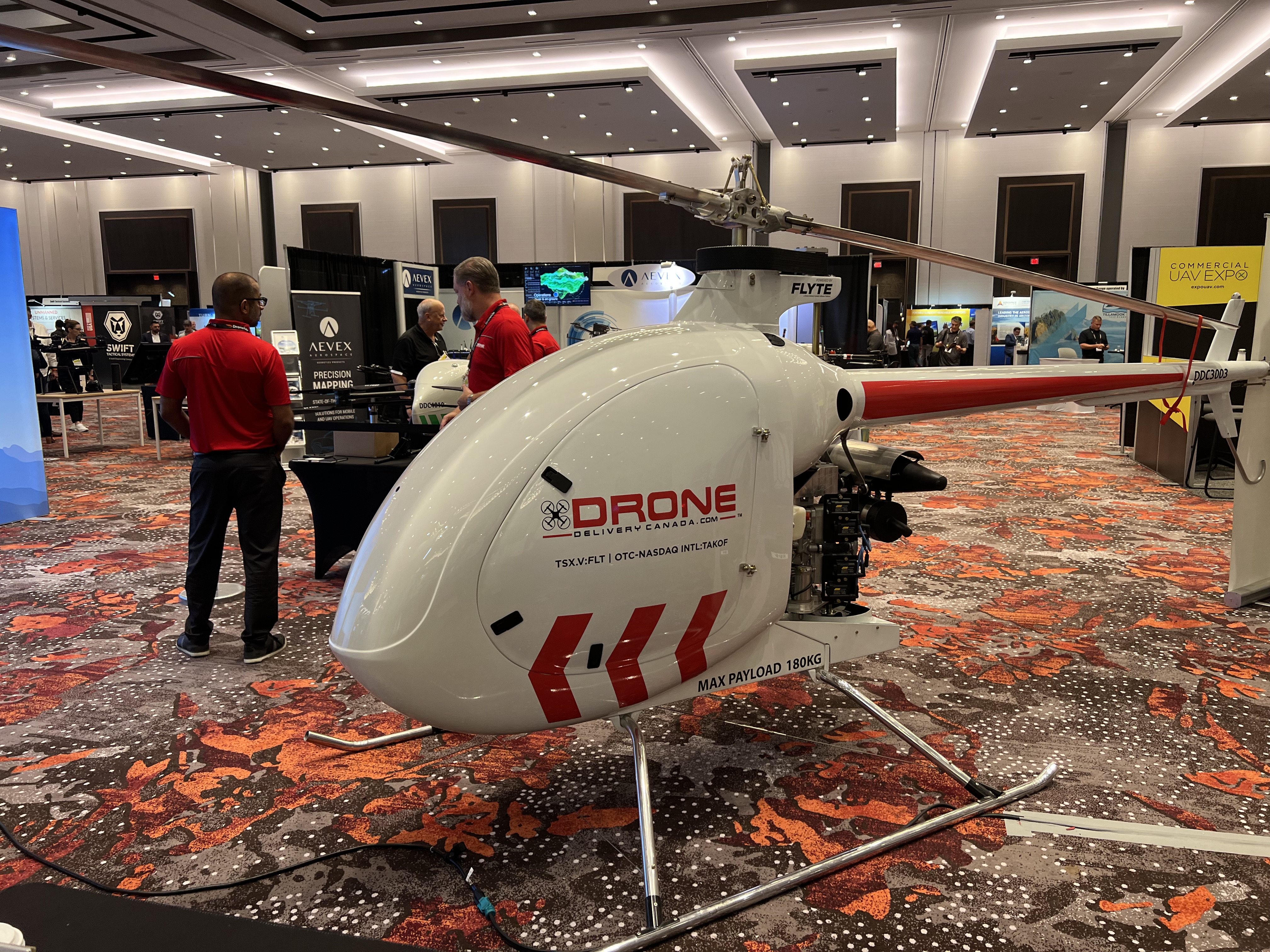 ---
9 September 2022
By Chris "The Drone Geek" Fravel
The third and final day of the Commercial UAV Expo at Caesar's Forum in Las Vegas, Nevada was a fantastic wind-down to an eventful and engaging event. We walked the exhibition hall once last time for 2022 and shared some enriching dialogue with a number of people from some of the most interesting unmanned aerial companies in the world.
The first conversation was with our new friends over at Drone Delivery Canada (see above photo). The drone they had on display was maybe two steps away from being a full-fledged helicopter (unofficial speculation). According to Drone Delivery Canada CEO, Steve Magirias, the drone was designed and developed by the company, who wanted to see an unmanned aerial platform capable of delivering large payloads to businesses and consumers alike. The drone is gas-powered and capable of carrying up to 400lbs (180kg) of goods and supplies. To say this was the most impressive drone (in terms of sheer size and payload capabilities) at the show would not be a stretch in the least.
After chatting with Drone Delivery Canada for a while, we made our way over to the Sony Electronics exhibit where the multimedia tech giant was featuring their Airpeak drone system. During our time investigating the Airpeak drone, we spoke with Gabriel Johnson, the senior product marketing manager for mobile communications and the Airpeak drones at Sony. He gave us a complete tour of the Sony Airpeak including a new product they'll be coming out with in the near future that allows Airpeak users to charge multiple batteries at once and store them when they are not in use along with a variety of other accessories. Gabriel also told us that while the Sony Airpeak is currently only compatible with the gimbal that holds the Sony Alpha series of cameras, they are looking to develop solutions that would allow the Airpeak to host payloads that are thermal and LiDar capable in the future. He also indicated that there will be an updated version of the Airpeak batteries that will see a 30% increase in flight time for the Airpeak. As one of the leading commercial/enterprise aerial imaging platforms, the Sony Airpeak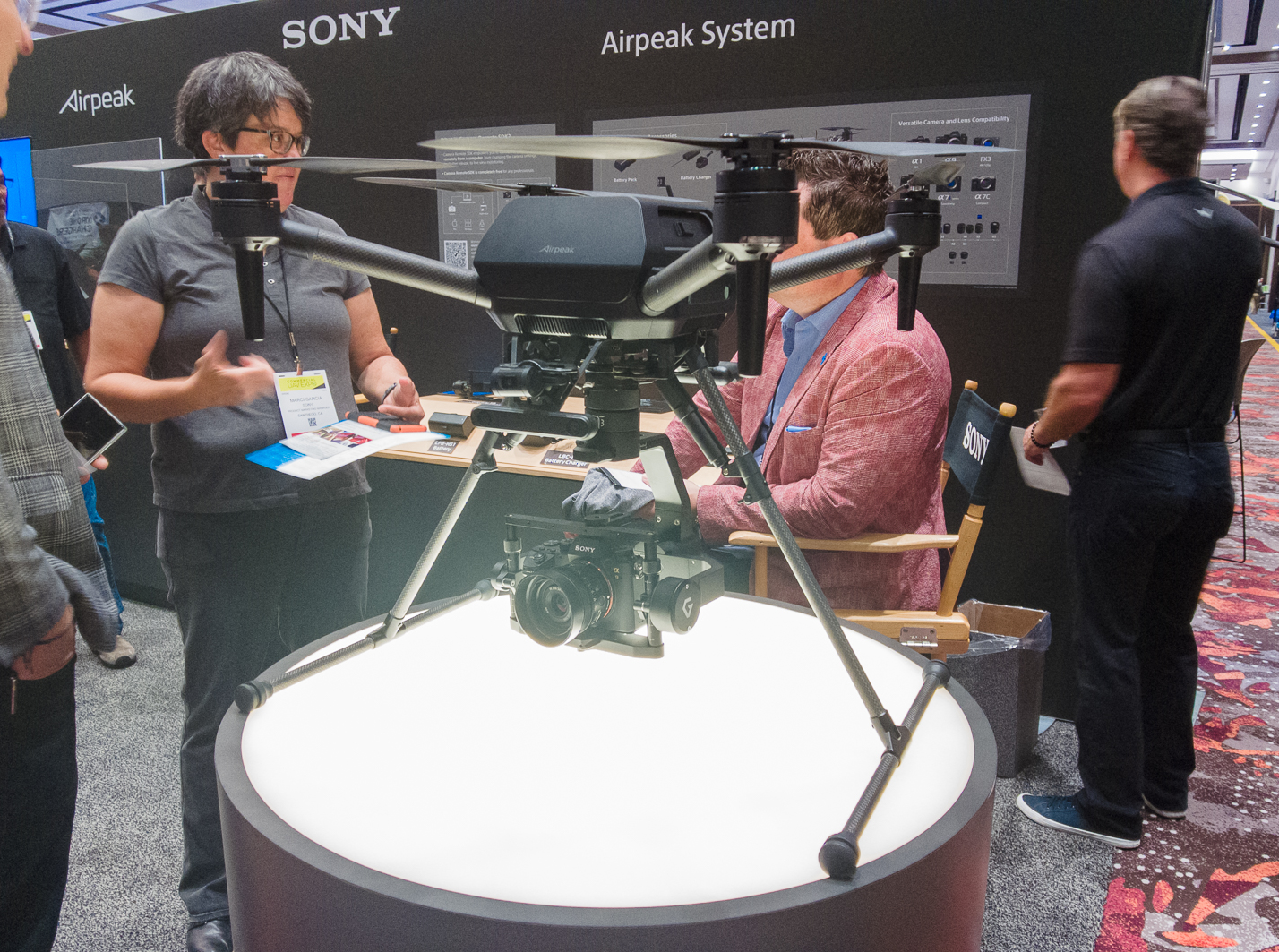 Sony Airpeak
Next we made our way over to the Brinc Drones exhibit where we met Brett Kanda and his team to talk about the inspiration for their tactical drone, the LEMUR S. According to Kanda and his team, the LEMUR S by Brinc Drones was designed in response to the Mandalay Bay shooting that occurred in 2017. The LEMUR S is an impressive piece of tactical equipment with a 31-minute flight time and 10-hour perch time. That means the drone can be reliably flown for 31 minutes and can even be landed to be on standby or tactically landed to provide up to 10 hours of audio and video surveillance while perched. It also has a glass-breaking apparatus that allows for tactical breaching of windows and glass doors without the threat of escalating armed stand-offs via the use of tactical explosives or charges. It can even open partially ajar doors and be used as a battering ram. The design purpose of this drone is simple: keep people safe without sacrificing reliable intel.
A conversation we had that was not directly related to drone technology, but I felt just as important as anything hardware or software related there was our conversation with Rob Oldroyd from the Moreton & Company insurance brokerage. Our conversation revolved around the importance of having liability and hull insurance on unmanned aircraft and the benefits of having a financial safety net in the event of a catastrophic failure or accident involving your drone(s). Moreton & Company provides insurance solutions for all forms of aviation and is actively working with multiple unmanned agencies and pilots to provide the best coverage possible.
One of our must-visit exhibition booths was at none other than the Federal Aviation Administration's (FAA). During our conversation with Kevin Morris, the FAA's "drone guy," he covered the newly implemented Part 107 recurrent knowledge online course requirements, the recreational flyers' mandatory TRUST certification, and the upcoming deadlines for remote identification. One thing pilots at all levels should note is that the first deadline is coming up this month for drone manufacturers to begin producing drones that will be compliant with the remote ID requirements. It won't be until September of 2023 that remote pilots will be required to broadcast a remote identification while flying.
Perhaps one of the most eye-catching exhibits in terms of interesting tech came in the form of Leica Geosystems. We spoke with Bryan Baker and Beshoy Daoud from Leica about their BLK portfolio of products and how they can be used in real-world applications. The Leica booth had the most incredible and futuristic-looking pieces of technology including a LiDar drone capable of reliable, fully-autonomous flight functions and a robotic quadraped that was not dissimilar to my dog back in Pennsylvania. Leica's mission is to provide a complete suite of geomeasurement solutions ranging from ground to aerial that work together in a cohesive ecosystem. Their BLK series of geosystem tools does exactly that.
Another drone with huge "curbside appeal" was from Quantum3D. The drone was exceptionally large in scale and had a matte finish that made it look like something a military might use for reconnaissance. After speaking with Quantum3D chief executive officer/chief financial officer, Murat Kose, and director of business development, Erol Aydin, we discovered that was precisely what it was designed to do. The technology behind the Quantum3D drone comes from a necessity to defend borders and identify threats to national security via illegal entry from outside interests. The technology can also be adapted and applied in search and rescue and emergency response efforts.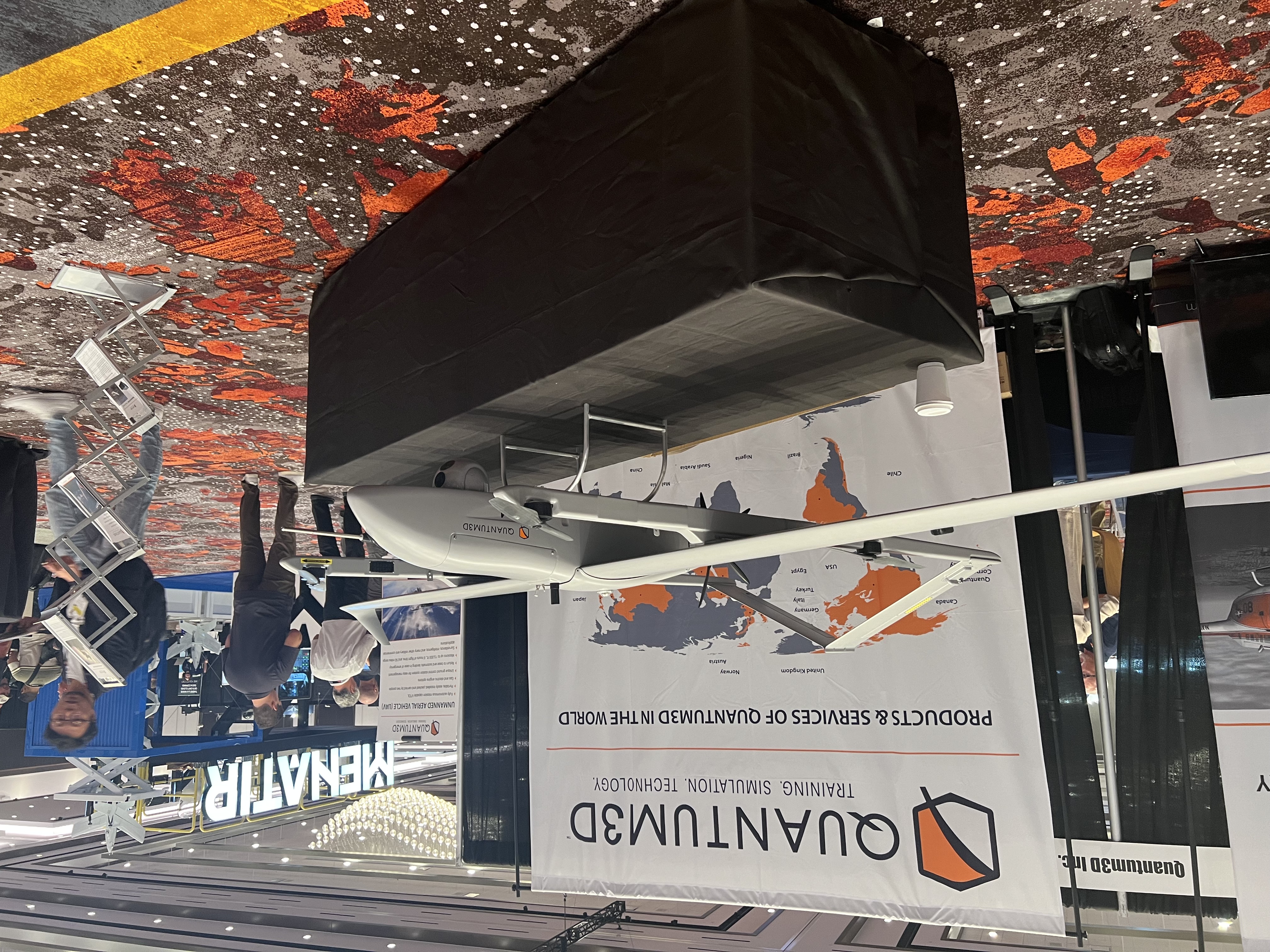 Quantum3D booth.
On day three we visited another educational facility embracing drone technology by developing a track within their curriculum specifically targeted at drone pilots in the form of Embry-Riddle Aeronautical University. An interview with Ron Garriga, who is the director of business development and professional education at Embry-Riddle, revealed a lot about the institution's goals for helping those interested in commercial remote piloting achieve their goals. Embry-Riddle Aeronautical University offers students comprehensive autonomous aircraft instruction that spans every avenue of the field. Whether their interest lies in developing software, managing business, manufacturing and engineering, piloting or managing UAS air traffic from the ground, Embry-Riddle provides their students the tools and instruction necessary to understand every facet of unmanned aircraft systems.
One stand that caught our eye with drone-related technology (not necessarily drone technology itself) was the company known as Fruity Chutes. A family owned and operated business, Fruity Chutes is a drone safety solution with a complete customization option for commercial drones that works by deploying a parachute when a drone experiences a catastrophic failure and is no longer able to sustain reliable flight. This aerospace recovery product was talked about in detail by company communications specialist, Janice Engelgau as well as her father and Fruity Chutes CEO, Gene Engelgau. The father-daughter duo shared that the parachutes are used for all types of rocketry, unmanned air vehicles (UAV) parachutes, multirotor and multicopter parachutes, drone parachutes, RC aircraft parachutes, and balloon research and are made from materials sourced in the United States and manufactured in the United States as well.
We wrapped up our time at the Expo by talking with Carl Berndtson about the work that went into the planning and executing the event. After talking with Carl, he introduced us to UAV Expo board member, Jeremiah Karpowicz who gave us his take on the show and plans for the future. The Commercial UAV Expo is a platform for networking and awareness within the commercial drone industry. It's an opportunity for professionals within the industry to make valuable connections and companies to spread awareness about their products and services in hopes to further advance the initiatives of the drone industry and the application of drone technology in the real world. As with anything, the board is working toward constantly growing the event to include more vendors, more guests, and more enrichment throughout the duration of the exhibition.
Along with our interview from days one and two, we will have these conversations and more for you on our YouTube channel within the coming days so you can learn more about these companies and the drone technology platforms they offer. The 2022 Commercial UAV Expo was an absolute blast for everyone who attended from The Droning Company. We look forward to being there again, bigger and better than ever.