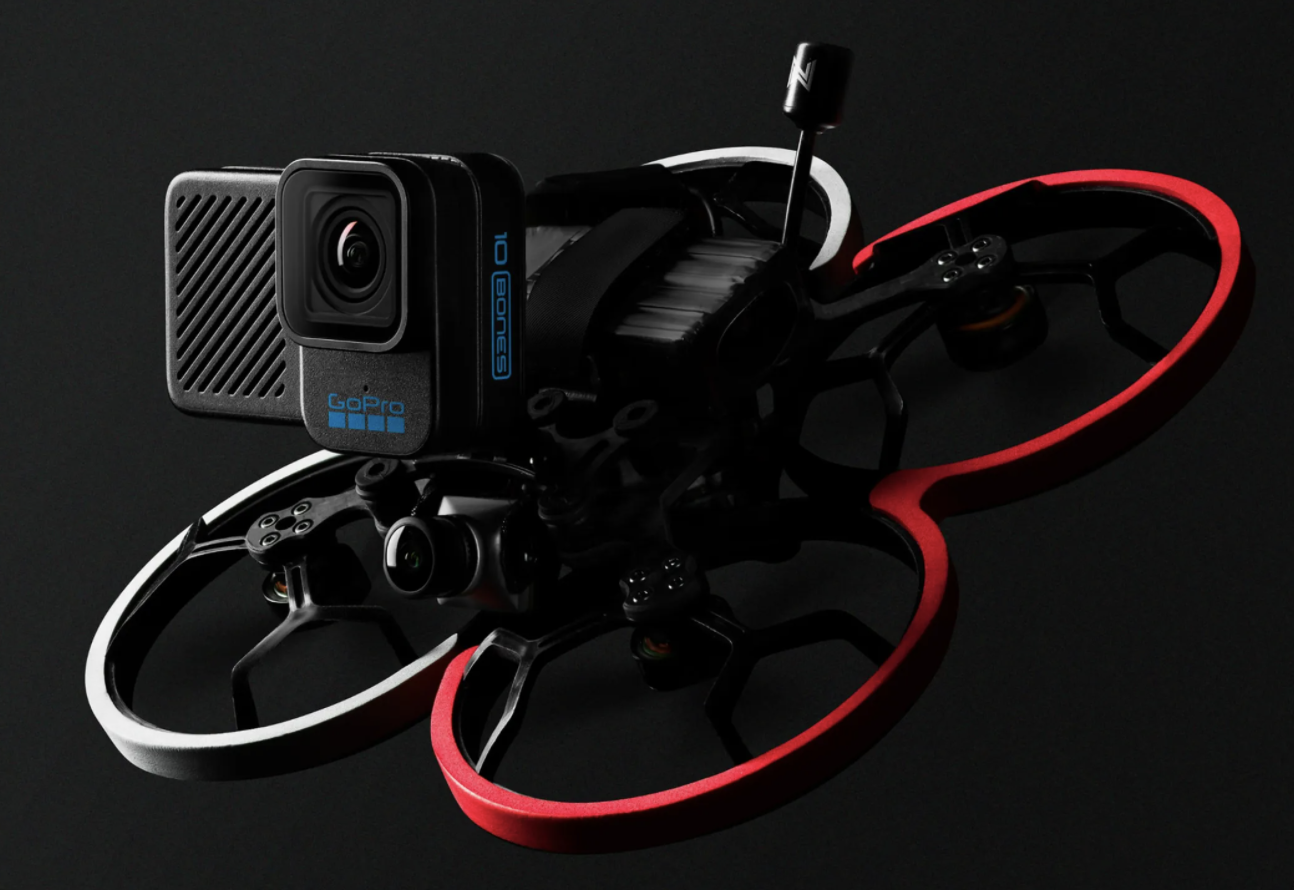 ---
Tiny FPV drones, flown by pilots using a headset for maximum flight control, can capture truly thrilling "racing" footage or other fast, furious, and astounding aerial videos. But FPV drones typically need to be light and nimble, which means conventional-sized drones are not optimum. In addition, pilots who seek to further lighten the load have jury-rigged stripped-down cameras to their drones.
It's somewhat reminiscent of the hot-rod era, where mechanically savvy WWII veterans returned home, and looking for something to do, started taking apart old roadsters, transforming them into mean street machines.
The Do-It-Yourself (DIY) brigade of drone pilots has not gone unnoticed by GoPro.
The company's new Hero 10 Black Bones [$499 or $399 with a one-year GoPro subscription] is super bare bones, and it's perfect for FPV flyers—if you have some skills to adapt the "naked" GoPro to your rig.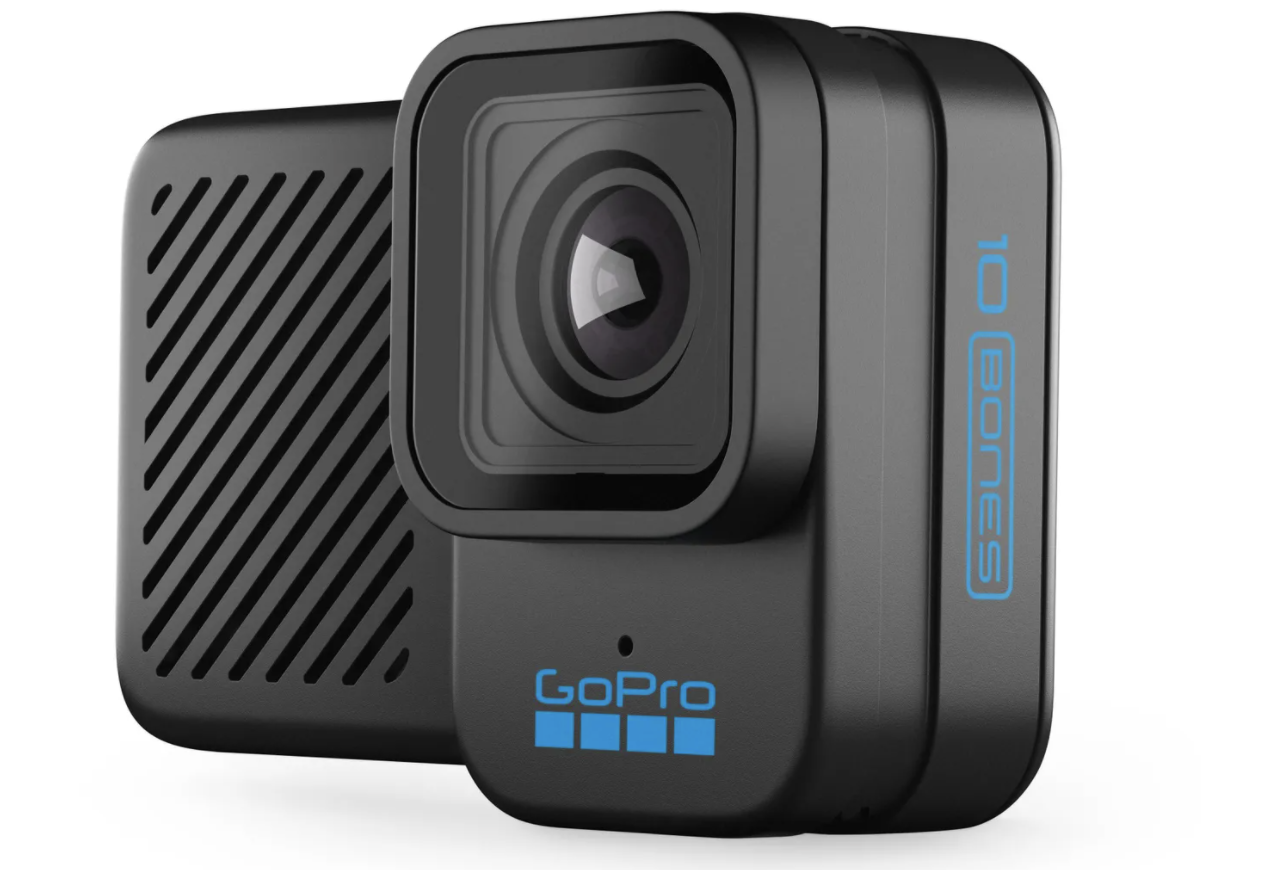 WHAT'S MIA?
The Hero 10 Black Bones doesn't have a battery, a display, a speaker, a metal chassis, or GPS and it's not waterproof. The lightweight casing offers some protection against crash damage, but don't expect the Bones to survive an epic smash up.
WHAT ARE THE "PROS?"
The biggest advantage of jettisoning practically all of the features of a standard GoPro is that the Bones weighs in at just 54 grams, making it an awesome passenger for FPV drones with 3-inch, or even 2.5-inch, propellers. The Bones also has new vents and a heatsink that offer cooling while the camera is shooting.
PREP 
To get the Bones mounted and working requires using the supplied socket on the back of the camera to connect to a battery using a GH 1.25 3-pin connector. The input voltage you need is 5V to 27V, which can be delivered by just about every LiPo battery pilots current use on FPV drones. You can use a standard GoPro mount adapter or a single-screw boss to get the device onto your drone. Getting the most out of the bare-bone Bones necessitates using some apps, and you can control the camera directly from your drone's controller (again, as long as you have some wiring and/or soldering chops). 
WHY?
Offering a seriously stripped-down anything—much less an add-on drone camera—is usually not an awesome business plan for those looking to impact the public market. But GoPro is committing to niche markets—and may continue to do so—as well as studying the behaviors of its customers. The company realized many of its cameras were already being cut to pieces—removing unneeded components and voiding warranties in the process—by FPV pilots looking to lower weight and maximize flight time. GoPro decided it could do a better job for these types of users if they did the slash and burn themselves.
"You've seen the rise of videos like flying into the bowling alley—or even the latest Tesla Gigafactory video—and those are all done by people who took the time to try to make a GoPro lighter," GoPro's Pablo Lema reported to theverge.com. "We're pretty uniquely positioned to attack unique verticals in image capture that other companies frankly don't or wouldn't have the appetite or tech to be able to. We also know the customers for a Hero 10 Black Bones aren't going to shy away from a soldering station. Attaching motors and control circuitry is how they build their drones to begin with."
WATCH OSCAR LIANG HERO 10 BLACK BONES AERIAL TEST
Product Details
5.3K60, 4K120 + 2.7K240 video resolutions
Includes Player + ReelSteady desktop software
HyperSmooth 4.0 stabilization is built-in
Control with onboard buttons, Quik app, The Remote² or drone transmitter
Using HERO10 Black Bones requires some soldering. Soldering equipment not included.
Includes free SD card
Available in the U.S. only