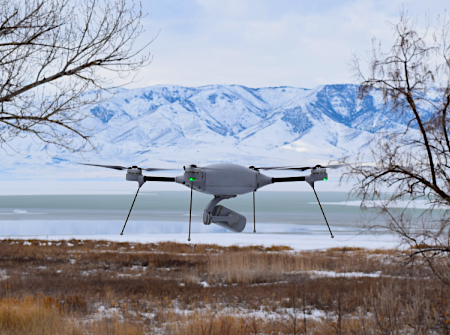 ---
3 November 2022
Thanks to Yahoo Finance doing all the work (hahaha), we can share the 15 biggest drone companies on the planet with The Droning Company community.
15
Parrot S.A. • $0.124 billion market capitalization
Founded 1994 in Paris, France. Offers commercial drones, software, and services.
14
Ondas Holdings • $0.167 billion market capitalization
Based in Waltham, Massachusetts. Operates Ondas Networks and American Robotics, which offers Scout Drone, an AI-powered drone with imaging payloads. AR is considered one of the most thrilling drone companies, as it is estimated the market for autonomous drones will exceed $100 billion.
13
EHang Holdings • $0.228 billion market capitalization
Operates an autonomous aerial-vehicle technology platform company in China.
12
Draganfly • $0.243 billion market capitalization
Founded in 1998 and based in Saskatoon, Canada. Draganfly makes commercial unmanned aerial vehicles. 
11
AgEagle Aerial Systems• $0.468 billion market capitalization
Founded in 2010 and headquartered in Wichita, Kansas. AgEagle designs autonomous unmanned aerial systems for the energy/utilities, infrastructure, agriculture, and government industries.
10
Kratos Defense & Security • $1.40 billion market capitalization
Operates as a contractor for the U.S. Department of Defense. Currently developing the XQ-58A Valkyrie—one of the few fully stealth drones in the world. 
9
Ambarella • $2.19 billion market capitalization
Devises semiconductor solutions for high-definition video, as well as ultra-HD compression, image processing, and deep neural network processing. 
8
AeroVironment • $2.24 billion market capitalization
Incorporated in 1971, and based in Arlington, Virginia. Designs, engineers, and manufactures unmanned aerial and aircraft systems. Along with Boeing, Lockheed Martin, and NVIDIA, AeroVironment is one of the largest drone companies in the world.
7
Eve Holding • $2.81 billion market capitalization
Headquartered in Melbourne, Florida. Develops urban air-traffic management systems, produces eVTOLs, and offers eVTOL service and support.
6
Joby Aviation • $2.87 billion market capitalization
Founded in 2009, and based in Santa Cruz, California. A vertically integrated air mobility company that is building an eVTOL optimized to deliver air transportation as a service.
5
Elbit Systems • $8.93 billion market capitalization
Incorporated in 1966 and based in Haifa, Israel. Develops  airborne, land, and naval systems, as well as products for defense, homeland security, and commercial aviation. 
4
Northrop Grumman • $84.36 billion market capitalization
Worldwide aerospace and defense company, and one of the biggest drone companies on the planet. 
3
Boeing • $85.73 billion market capitalization
Another monster aerospace corporation. Serves the commercial and defense aviation sectors, alongside manufacturing spacecraft and other systems for space exploration.
2
Lockheed Martin • $127.07 billion market capitalization
Massive security and aerospace company. Lockheed Martin's aeronautics division offers combat and air mobility aircraft, unmanned air vehicles, and related technologies.
1
NVIDIA • $344.33 billion market capitalization
Provides graphics, computing, and networking solutions internationally. NVIDIA Jetson is touted as the perfect platform to realize AI applications on their UAV, UGV, and other types of robotic hardware. One of the prominent drone stocks in which to invest.