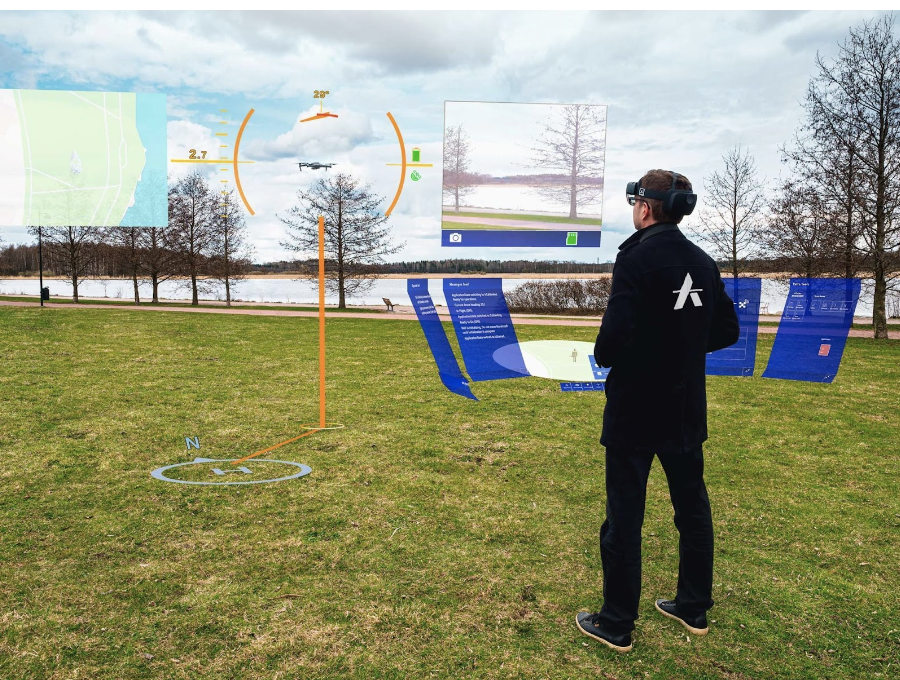 ---
28 April 2023
Professional drone pilots can't see their drones when they get more than 200m away. They become tiny specks in the sky at 100m and in low light they quickly vanish from view. 
Anarky Labs patented software AirHUD is the first real heads up display solution for professional drone pilots giving them unlimited situational awareness and allowing them to see the drone in the sky at all times.
We use augmented reality working with augmented reality (AR) glasses such as HoloLens 2 or Meta Quest Pro to raise situational awareness to completely new levels.

Our solution can help pilots perform missions or train drone pilots using simulations of drones for a variety of use cases.
Navigation 
The first example is in navigation, where AR can provide drone operators with a detailed view of their flight path, potential obstacles, and other hazards that they may encounter while flying. AR can also be used to create virtual boundaries or no-fly zones that can alert operators if they enter an area where it is not safe to fly. 
AR can be utilised to overlay relevant data on the AR glasses such as speed, altitude, and battery levels - giving pilots a better understanding of their UAV's (unmanned Aerial Vehicle) performance. This greatly enhances the general situational awareness of a drone when the operator is managing the flight. 
Search and Rescue 
Another application for augmented reality for drones is in search and rescue missions. By overlaying data onto the real world environment via the AR glasses, rescuers can have a better understanding of their surroundings when searching for people in need of help. AR could also be used to provide remote assistance during dangerous operations such as firefighting and hazardous materials response.
Security 
In the military or policing, drones are deployed as surveillance and reconnaissance tools to provide valuable intelligence on potential targets or threats. AR glasses could improve the reconnaissance capabilities, allow smaller drones to fly long distances beyond the visual line of sight and do investigations of dangerous tactical situations. We have a number of police forces using our software.
Conservation and Research
In the realm of conservation and research, drones have been instrumental in helping scientists observe wildlife from a distance without disturbing them. They can also be used to monitor environmental conditions such as forest growth or water levels. Using AR glasses pilots can for instance take control of long distance BVLOS flights and see other aviation data many kilometres away from the flight starting point.
Mining
The ability to display AR real-time data in hazardous, dark conditions with low ceilings, and obstacles everywhere is very useful in mining environments. For instance, miners can see where their drone is, from around corners, understand the telemetry and help them to identify any potential risks before putting themselves in potential danger. AR also helps visualise digging areas, facilitating the task of identifying the next areas to explore. 
Maintenance and Inspection 
Similarly, maintenance workers could use AR glasses with their drone to quickly locate damaged equipment or infrastructure within large facilities, ships, windmills, agricultural environments and many more difficult to navigate locations. The technology can help reduce human error and enhance safety for workers.
Watch!
AirHUD Training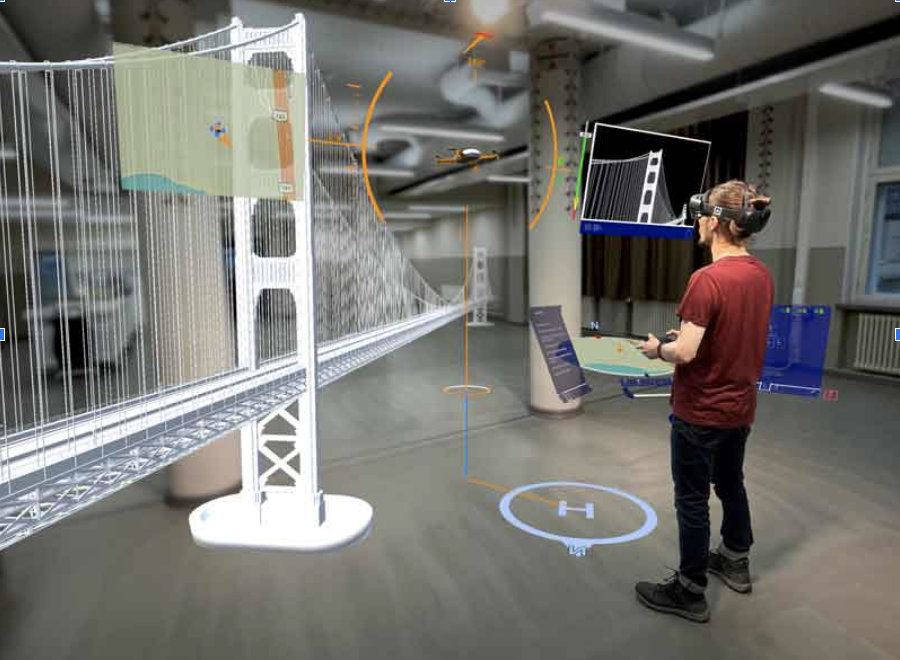 AirHUD training is now available for pilots who need to practise their drone flying skills in a safer way. You can fly a simulated drone anywhere you want, in any environment you want, meaning weather conditions don't matter. 
The software provides a safe and controlled environment for pilots to hone their skills, without the risk of damaging their drone.
With AirHUD Training, you'll feel as if you're actually flying the drone, making it easier to understand and master the controls.
AirHUD Training is perfect for beginners, hobbyists, and professionals alike. It offers real-time and authentic feedback on the controls, so you can see how your stick movements and other commands affect the flight of the drone. This allows you to make instant adjustments and perfect your flying skills.
This software has a lot of benefits over standard drone training.
AirHUD Training Benefits
The software offers a fast return on investment
Insurance savings as there is no need to take out premiums simply to train to fly the drones

Travel savings, as currently training is done face to face, often in different countries, it can now be done in your home, office, backyard or in the real environment.

Time savings, as training becomes weather independent

Fly a simulated drone in the classroom for basic controls training

Fly a simulated drone outdoors in real environment to hone the skills

Or Fly a real drone in real environment with the confidence and safety that AirHUD gives you

Simulate flights that follow EASA / CAA / FAA regulations

Practise all the complex flying scenarios before you take your real test
AirHUD Training Use Cases
Inspection Cases. With the AirHUD Training, you can simulate industrial inspections in a safe and controlled environment. Using the AR glasses, you can fly a virtual drone to inspect a real windmill, a bridge, a forest or a telecoms antenna allowing you to get real-time feedback on your performance. This allows you to improve your skills and become confident in your ability to perform industrial inspections before switching to the actual drone.
Industry Pilot Training. The AirHUD Training is an efficient and cost-effective way to train drone pilots. By using the AR glasses, pilots can train anywhere, at their own pace, without the need to travel to training centres in different parts of the world. This saves time and money. In addition, the AirHUD Drone Training provides a safer training environment, as pilots can practise flying and performing inspections without the risk of crashing the drone. This allows pilots to build their confidence and experience in a controlled environment, leading to better performance when flying an actual drone and gain accreditation.
Drone Enthusiasts. The AirHUD Training is an excellent solution for general enthusiasts who are looking to improve their drone flying skills without any risk. Imagine you just got a drone but are a bit worried about crashing it into a tree on your first flight. Augmented Reality (AR) glasses provide a realistic and immersive experience, allowing you to fly a simulated drone and get real-time feedback on your performance. You can train at your own pace and from the comfort of your own home, backyard or forest if you like. You can fly the simulated drone to explore different environments, practice flying in different weather conditions, and work on your aerial photography skills.
A Word from Our CEO
AirHUD and AirHUD training are software solutions designed to aid pilots in both learning to fly and actually flying in all the line of sight environments, VLOS, EVLOS and BVLOS. We're aiming to add our software to more AR glasses and drone platforms in the future but the way we develop is to always try to make the user experience as simple as possible when flying a drone. If you'd like a demo drop us a line and one of our team will be in touch.