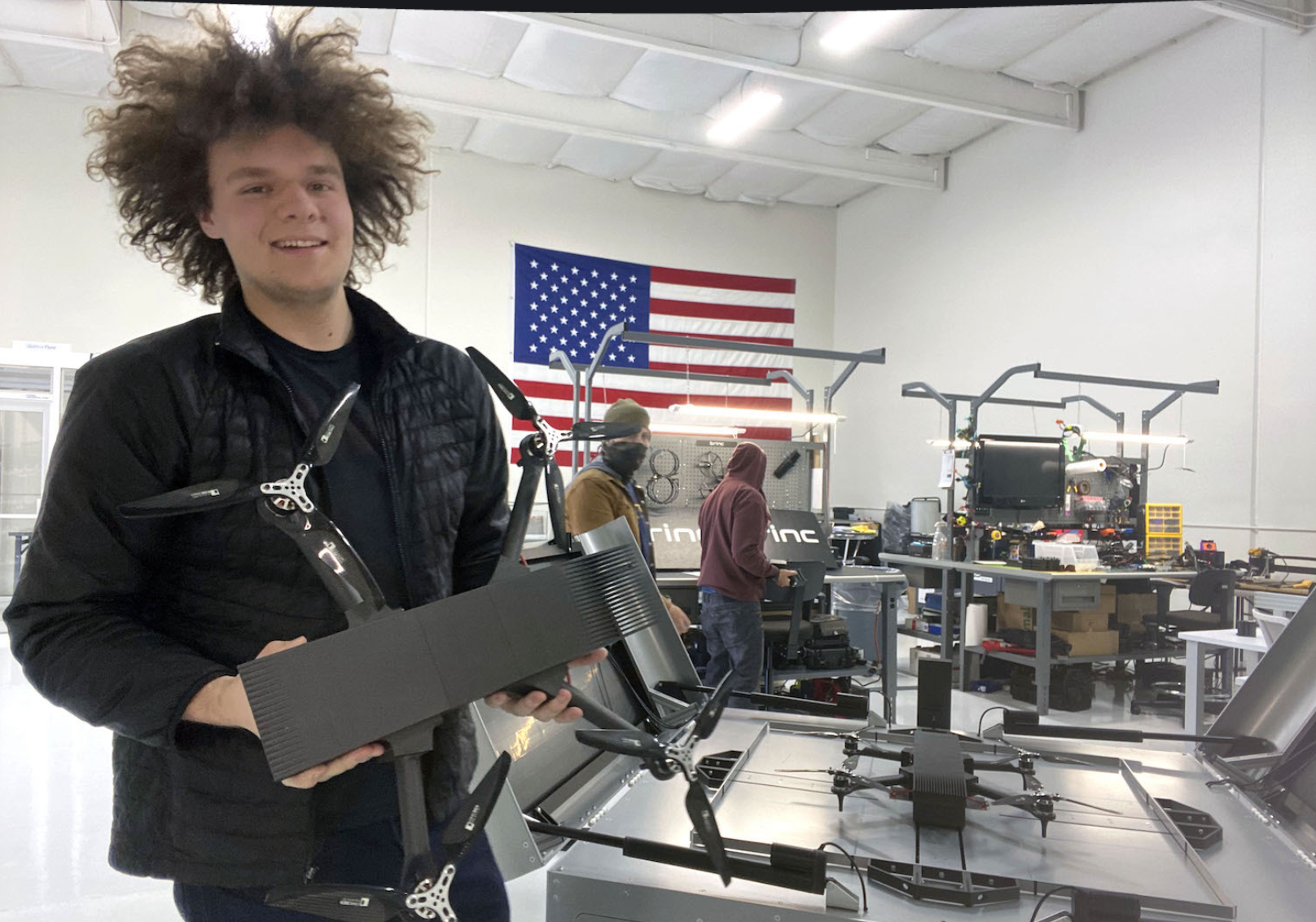 ---
Pictured above: Brinc founder Blake Resnick.
Brinc—a Seattle/Las Vegas drone manufacturer—has sent a team to a secret location in Poland to train Ukrainian forces how to deploy drones for rescue missions and Russian troop surveillance. Brinc has donated ten of their quadcopters and other supplies totaling around $150,000 to Ukraine, as well as sending company representatives to lead a two-day flight-training session.
The Brinc camp is part of an ongoing and growing campaign from companies across the globe to share expertise, technology, and other necessities to embattled Ukrainians.
During the top-secret sessions—the location kept hush-hush for obvious security reasons—Ukrainian helicopter pilot Olexi Kroshchenko received drone coaching from Brinc field representative, pilot, and trainer Chase Bailey. Kroshchenko hopes to use drones to fly into bombed-out buildings to seek out, and hopefully rescue, survivors.
"That is mind blowing," said Kroshchenko, after Bailey showed him how to steer a drone into an abandoned hatchback by first breaking the side window and then hovering inside the car. 
Waiting for his turn at the controls was Chernihiv, Ukraine rescue official Yan Koshman.
"There are many destroyed buildings and the conditions are too dangerous," said Koshman. "This drone can go where we can't."
But the training wasn't limited to rescue missions.
Ukrainian military officers were in the mix to learn how to deploy drones to ferret out Russian forces and send the locations to artillery batteries and strategic-reconnaissance teams.
The drone camp was made possible with help from the Ukraine Freedom Alliance—a nonprofit seeking to manage efficiencies during the onslaught of supplies and experise teeming over into the battlefield. Ten pilots from the Ukrainian Emergency Service joined military representatives for the Brinc sessions. 
The donated drones used for the pilot training were Brinc Lemurs, developed by Blake Resnick, the 22-year-old founder of the company. The Lemur is a good option for a war zone, as doesn't navigate via GPS, instead using the laser-based lidar, which is less susceptible to hacking. It also has excellent search-and-rescue features as it can smash tempered glass, force open doors, and can right itself ("turtle mode") if it finds itself knocked onto its back.
"If they find us, they shoot at us," said one of the trainees, underscoring the benefit of not having drones hacked and their positions revealed to hostile forces. "We have had to pack up and run."
FIND OUT MORE ABOUT THE LEMUR S TACTICAL DRONE
Sadly, it was another "war zone" that inspired Resnick to create the Lemur.
Still a teenager when the 2017 Mandalay Bay shooting killed 60 bystanders in Las Vegas, the tragedy prompted Resnick to devise a drone that SWAT teams could use to uncover shooters and aid hostages and other victims in high-risk situations.
At the training camp, Resnick was heartened to see the benefits of the sessions.
"Pretty impressive for so little flying time," he said while watching the training flights. "They are really motivated."