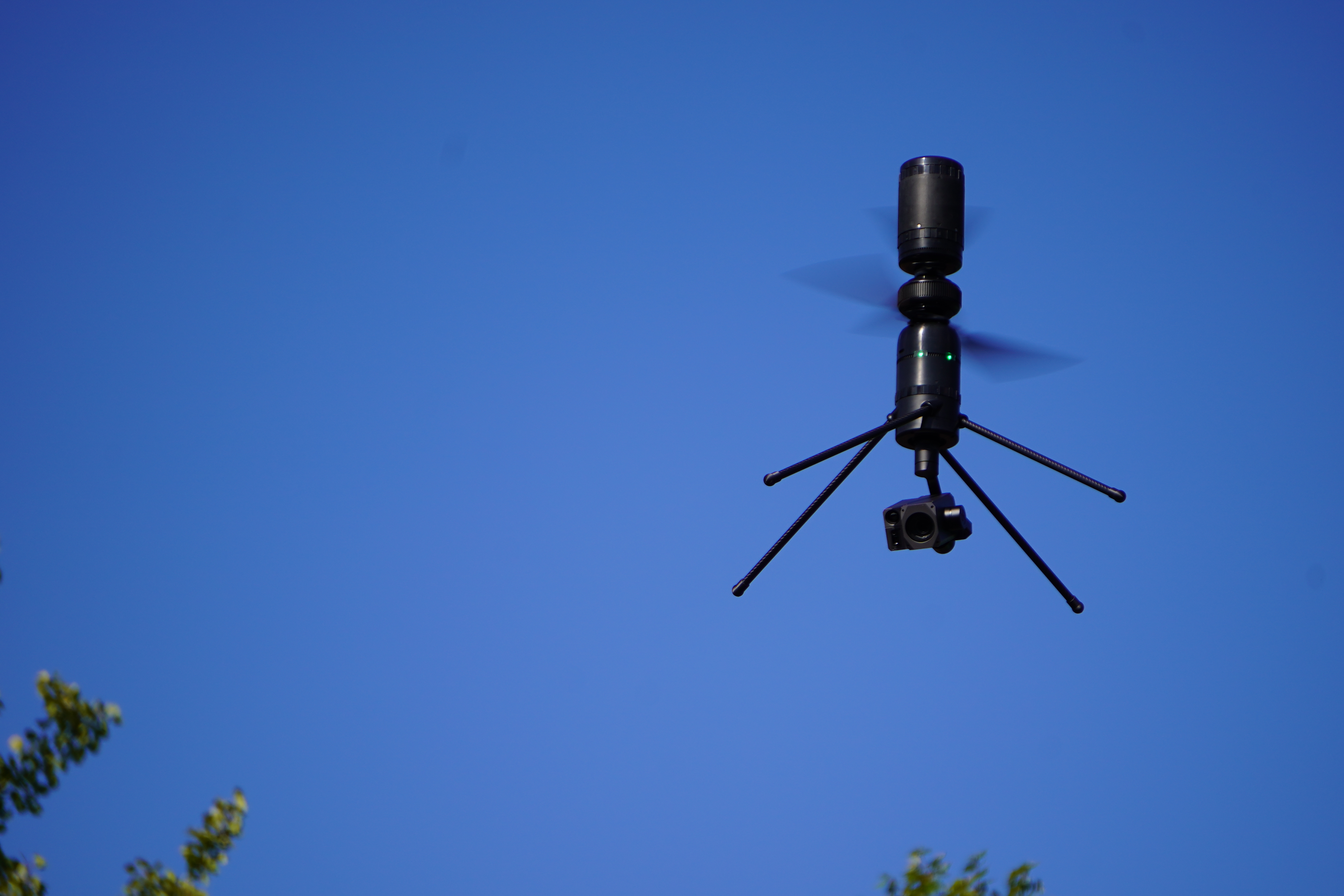 ---
12 December 2022
Ascent AeroSystems is a Massachusetts-based manufacturer of compact, high-performance, rugged, and reliable drones for government, public safety, and industrial markets. With a unique cylindrical configuration that's more portable and durable than conventional drones, Ascent's coaxials can fly longer, farther, faster, and carry more. Built for mission-critical operations in the toughest environments, hundreds have been delivered to customers worldwide.
Ascent's American-made unmanned aerial systems are based on a patented coaxial design and have been optimized for durability, flight performance, versatility, low noise, and easy ground handling, especially in harsh conditions. The cylindrical airframe design is inherently durable and easily encloses critical components like motors and electronics, enabling true all-weather capability in heavy rain, sleet, snow, sand, and high wind. Ascent's coaxials also provide unprecedented versatility, leveraging top and bottom connectivity for dual payload and battery support. Two centrally mounted counter-rotating rotor discs are far more efficient than a comparable quadcopter, and the Modular Open System Architecture (MOSA) also allows for the integration of virtually any payload or sensor.
Building on three generations of development, the product portfolio currently includes the flagship "Spirit" and the larger "NX30". The Company's expert team of engineers continues to expand performance and utility to meet the needs of UAV operators within public safety, government, and industrial markets.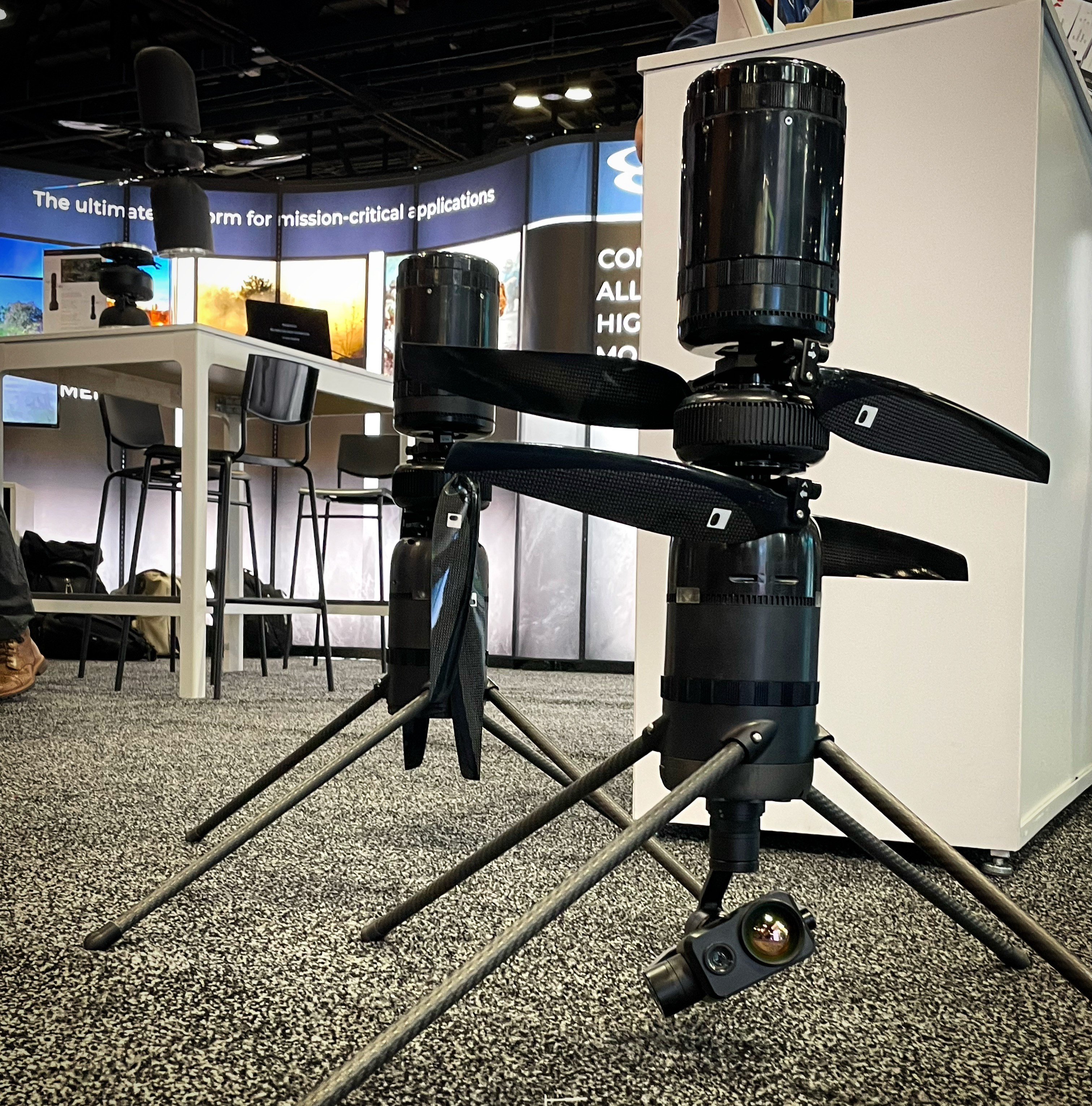 Targets
Ascent AeroSystems' has two primary target customer types: operators and system integrators. Operators seek turnkey, ready-to-fly solutions and can select from among a number of fully configured payload and control packages. System integrators leverage Ascent's existing vehicles as platforms in the development of fully integrated solutions. Ascent's coaxials are already optimized for reliable performance in harsh environments, and by using Ascent's coaxials as the airborne foundation, solution architects and engineers can focus on the software, sensors, and other areas of expertise rather than spending development resources on the aircraft.  
"While it might be relatively easy to build a quadcopter to establish a basic flight capability, operations at scale require reliable aircraft," says David Moro, Head of Vehicle Design. "Designing fit-for-purpose is actually quite hard, but the good news is we've done the hard work so integrators don't have to. This is all we do."
Opportunities
Ascent's business and product development teams continually seek to understand evolving customer requirements. Where existing aircraft designs aren't ideally suited, Ascent's engineers can take advantage of the highly scalable rotor design to quickly develop custom aircraft. The range of payloads and sensors available for UAVs is evolving rapidly and Ascent's modular, open architecture strategy provides existing customers the ability to easily upgrade as new options reach the market. A Payload Development Kit makes it easy for payload OEMs to integrate their products with Ascent's aircraft and for highly specialized operators to create custom capabilities.
Challenges
Like all UAV companies, Ascent AeroSystems is subject to the challenges of a relatively nascent market where users are still defining how best to employ UAVs at an enterprise level. Despite these challenges, Ascent AeroSystems' product strategy enables it to be a leader across enterprise UAV markets by demonstrating the ability to quickly upgrade airframes with the latest software and hardware technologies.  
Innovations
Throughout 2022, Ascent AeroSystems worked diligently to identify capability gaps across a number of industries and verticals. Whether the need was greater payload capacity, longer endurance, or a smaller form factor with a lower audible signature, Ascent's aircraft design team has the experience and expertise to rapidly meet these requirements. In April 2022, the company announced the NX30, a scaled-up Spirit configuration that provides even more payload capacity or extended on-station endurance for larger payloads.  The first deliveries to an undisclosed launch customer occurred in December of 2021. The company also provided a glimpse of a sub-250g coaxial to select customers beginning in August of 2022.  The availability of that model has not been released.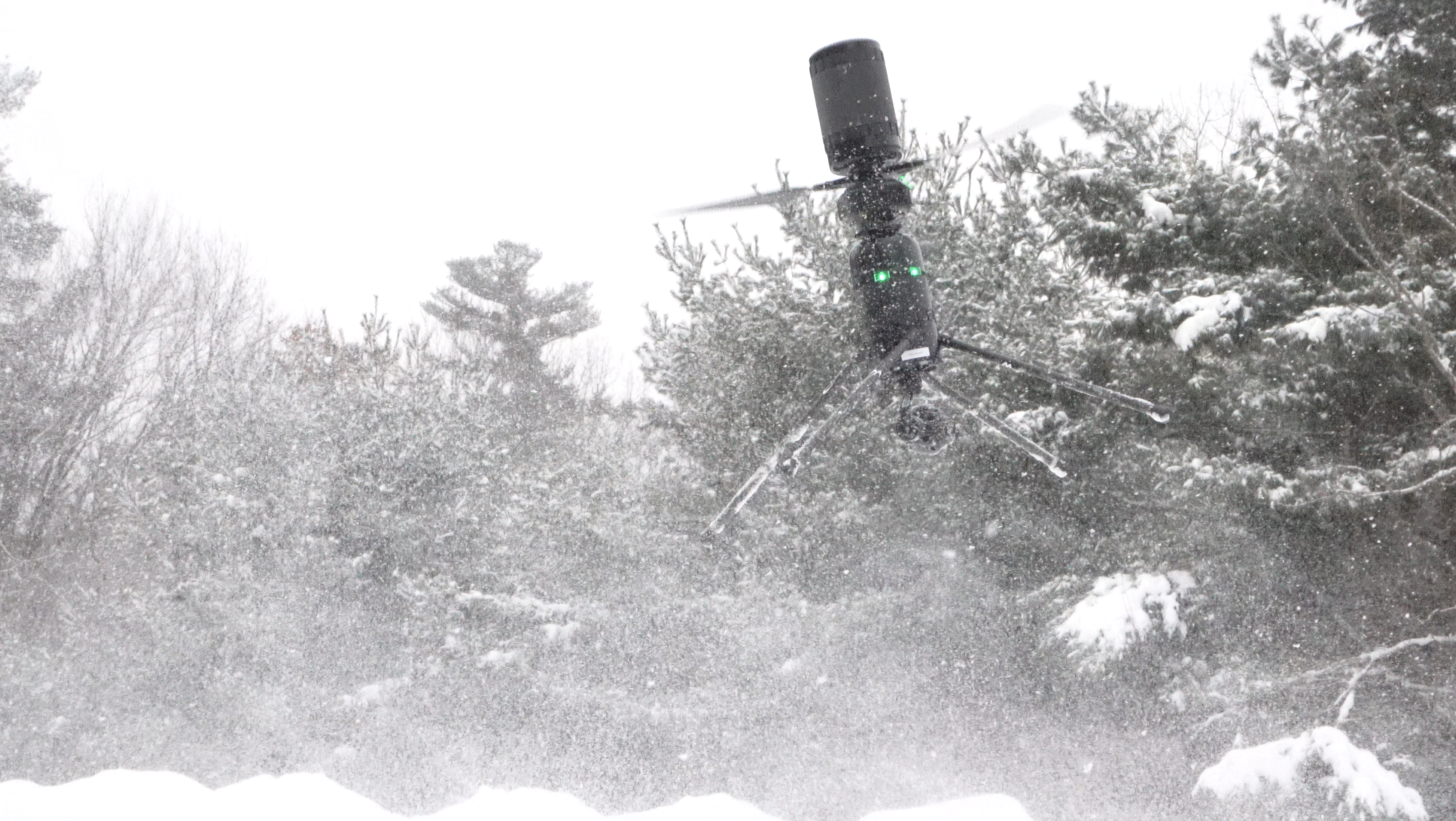 Compliance
In the United States, NDAA and compliance RemoteID continue to dominate the regulatory landscape for most UAS manufacturers.
In 2021, Ascent AeroSystems' Spirit platform was selected for a rigorous flight test and cyber vulnerability evaluation by the Defense Innovation Unit (DIU) under the Blue UAS 2.0 program. Designed to clear selected unmanned aerial systems for procurement by the Department of Defense (DoD) and other government agencies without the requirement for further testing or waivers, the Spirit was officially certified by the U.S. government in May 2022.
The Blue UAS Program is meant to speed up the technology adoption process within the U.S. Government. Traditional contracting can take up to 18 months, so by the time a new solution is "approved" requirements often change, and more advanced solutions are on the market. DIU's Blue UAS program not only validates the technology but also gives operators confidence in the system's performance capabilities.
"We've got class-leading dispatch reliability and performance—that's critical for all of our customers, including public safety agencies, enterprise operators, and drone service providers," says Paul Fermo, VP of Business Development. "In order to prove out both business and operational models for mission-critical operations like Drone as a First Responder (DFR), material delivery, and other enterprise network services, customers need a robust platform that can not only get the job done but also be compliant with new regulations. Ascent AeroSystems offers those solutions."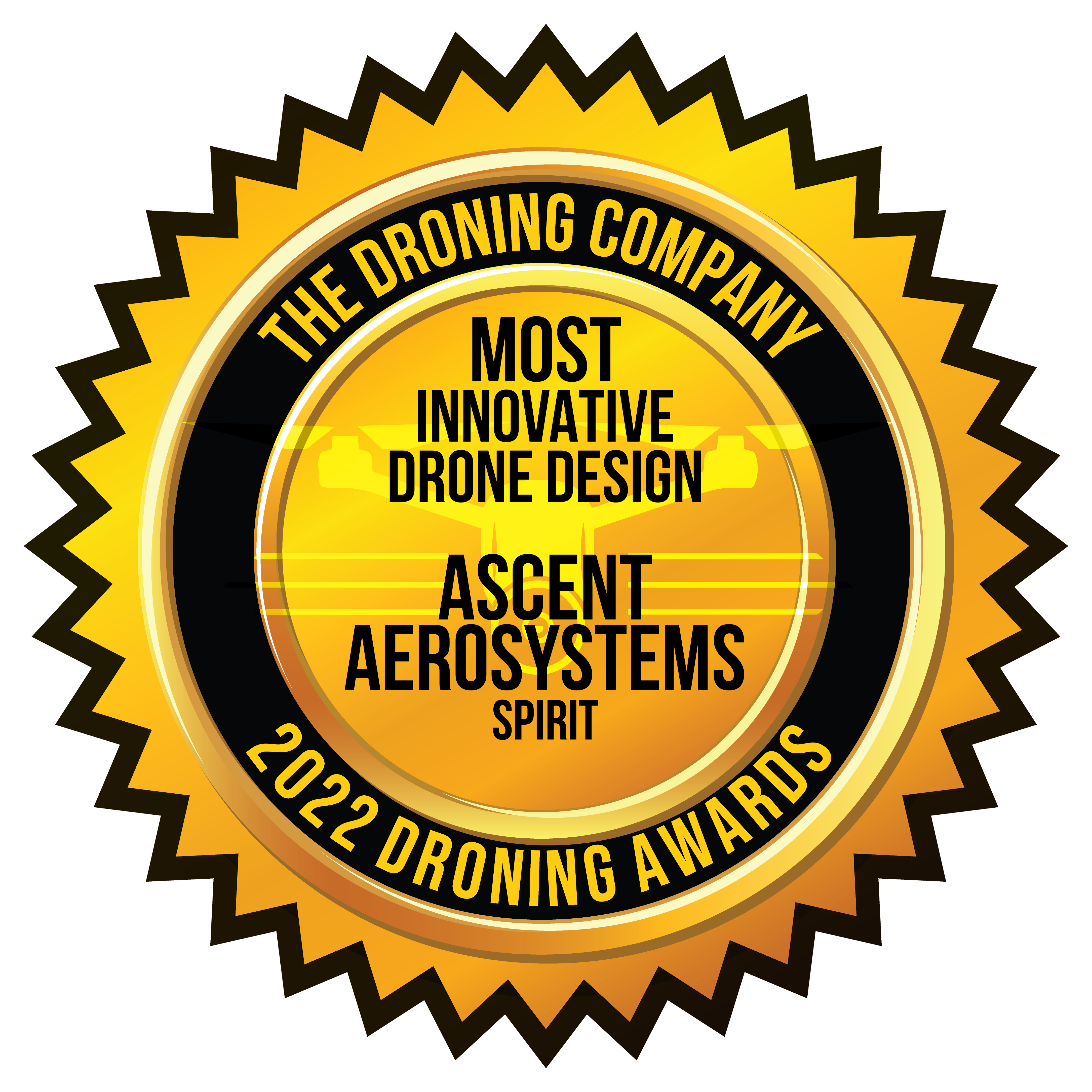 Ascent AeroSystems is the winner of the 2022 Droning Award for Most Innovative Drone Design.
Learn More
More information on Ascent AeroSystems' coaxial UAVs can be found at www.ascentaerosystems.com.
Follow on social media for real-time updates, product launches, and demo opportunities.
Contact Sales: Sales@ascentaerosystems.com
Ascent AeroSystems Contact Media: Media@ascentaerosystems.com
Watch!